Russian Forces in Syria Under Attack: Implications and Expectations
Publication: Eurasia Daily Monitor Volume: 15 Issue: 6
By: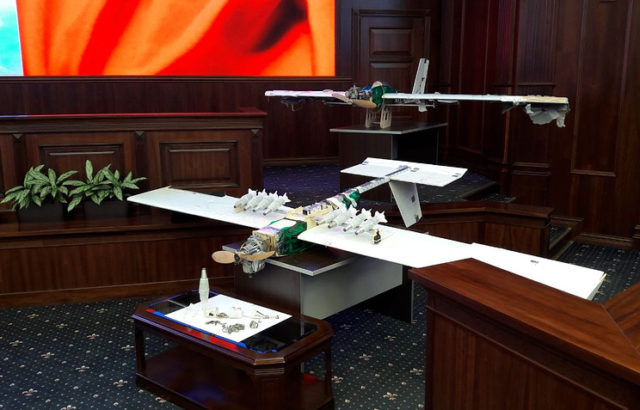 The Ministry of Defense of the Russian Federation announced, on January 4, 2018, that the Russian Armed Forces stationed at the Khmeimim airbase, in Syria, were attacked by "a group of militants." The armed assault, which occurred on December 31, 2017, claimed the lives of two Russian pilots (TASS, January 4, 2018). Commenting on the incident, the editor-in-chief of the military magazine Arsenal Otechestva, Victor Murakhovskii, attributed the attack to a "small mobile militant subversive group," possibly comprised of members of al-Nusra Front (former name for Jabhat Fateh al-Sham) (RBC, January 4, 2018). Alexander Khramchikhin, the president of the Institute of Political and Military Analysis, stated that since the December 31 shelling was carried out with mortars (from 1–2 kilometers away), Russian anti-aircraft forces were limited in their capability to thwart it (Demset.org, January 5, 2018). On January 3, Kommersant, referring to anonymous diplomatic and military sources, announced that aside from human losses, the militant attack destroyed four Su-24 bombers, two Su-35C fighter jets and an Antonov An-72 transport aircraft (Kommersant, January 3, 2018).
Attention soon turned away from the embarrassing episode after official reports revealed an attempted drone attack against Russian forces in Khmeimim and the naval logistical facility of Tartus (on the night of January 5–6). The drones were "triumphantly" destroyed thanks to the integrated use of the Pantsir-S1 (SA-22 Greyhound) surface-to-air missile and anti-aircraft artillery system, with the involvement of Russian Electronic Warfare (EW) forces (see EDM, January 11, 16, 2018). According to the defense ministry, the Syrian militants launched 13 unmanned aerial vehicles (UAV) at the Russian bases, and 7 of those drones were destroyed. More successes came on January 12, when it was reported that in a retaliatory strike, Russian forces apparently destroyed all the militants responsible for attacks on Russian bases in Syria that have taken place since December 31 (TASS, January 12, 2018). However, the actual "success" of the operation was seriously questioned by a number of international media outlets. In particular, a video of the operation posted by the Russian side contains visible inconsistencies (for example, 20 minutes of coverage is missing), which experts believe may be evidence that the recording was doctored (Kommersant, January 13, 2018).
Moscow's narrative pertaining to the series of attacks on Russian military bases in Syria since New Year's Eve suggests these incidents are being used by Russia to achieve several key goals:
– A pretext for the fortification and expansion of Russia's air bases in Syria. Available qualitative data pertaining to the recent attacks (images and video recordings) confirm multiple deficiencies (an overworked staff, inefficient use of resources and excessive concentrations of aircraft) faced by the Russian Aerospace Forces stationed at the Khmeimim airbase (Militarycolumnist.ru, December 4, 2017). Given the fact that the number of attacks against Russian forces has grown (a similar incident occurred on December 27), the Russian side is likely to introduce corrective actions.
– A weapon of information warfare. Following the militant strikes, Russian officials rapidly identified two main "culprits": the United States and Ukraine. Namely, during a briefing organized by the Russian defense ministry, authorities stated that the UAVs involved in the January 5–6 attack carried a specific explosive (pentaerythritol tetranitrate, whose destructive power exceeds RDX) that cannot be produced by amateurs and whose manufacturing is limited to "a number of countries, including Ukraine" (Tvzvezda.ru, January 11, 2018). Subsequently, Ruslan Belbek (a member of the Russian Duma who, prior to relinquishing his Ukrainian citizenship in 2014, was a Crimean politician) accused Ukrainian special forces of planning a "drone attack against targets located in Crimea" and alleged that this operation was being "coordinated by the United States Navy [USN]" (Pravda.com.ua, January 11, 2018). The "American involvement" soon became a dominant theme of the Russian propaganda onslaught.
Representatives of the Russian defense ministry further stated that the UAVs that took part in the attacks on Khmeimim and Tartu were launched from a distance of no less than 100 kilometers and were equipped with special technology (such as GPS navigation), meaning that "only technologically advanced countries were capable of supplying such means to the militants." Even though some elements of the drones could be acquired separately, the defense official claimed, "the assembly and effective employment thereof require advanced engineering knowledge and extensive practical skills" (TASS, January 11, 2018). Furthermore, it was underscored that on January 6, the USN Boeing P-8 Poseidon (capable of conducting anti-submarine, anti-surface warfare, and shipping interdiction, as well as early warning self-protection) was spotted in the area of the Mediterranean Sea—which the Russian side pointed to as a "strange coincidence" (TASS, January 10, 2018). In turn, Maria Zakharova, the official spokesperson of the Russian Ministry of Foreign Affairs, blatantly classified the January drone attack as a "provocation of our 'American partners,' aimed at destabilizing the peace process in Syria" (Tvzvezda.ru, January 12, 2018);
– A pretext for Russian military presence in Syria to increase. Prior to President Vladimir Putin's official declaration, on December 11, of the partial withdrawal of Russian troops from Syria, military officials claimed that any new subversive groups that appear on the "liberated territory" will be destroyed by "forces of [Syrian] governmental troops" (Kommersant, January 3, 2018). It appears, however, that the latest incidents undermine this statement, as it was specifically Russian troops who reportedly faced off against the militants. Additionally, ever more Russian experts argue that the number of attacks against Russian forces stationed in Syria is likely to only increase after these recent attacks (RIA Novosti, January 12, 2018).
Despite Moscow's efforts to drive the narrative on the violent incidents at Russian bases in Syria, the series of militant attacks raises questions of the effectiveness of Russia's Anti-Access, Area-Denial (A2/AD) strategy there. Notably, the A2/AD strategy rests in part on the integrated use of Pantsir-S1 and S-400 Triumf air-defense systems to provide resilience to Russian forces during the initial period of warfare. Many experts—among them General (ret.) Philip Breedlove (National Interest, June 29, 2016)—have claimed that in recent years Russia has either created or expanded A2/AD zones in Kaliningrad Oblast, Crimea and Russian bases in Syria. Yet, the troubled past few weeks, along with the successful US Tomahawk cruise missile strike on Shayrat airbase last year, raise doubts about actual Russian A2/AD capabilities considering the string of failures involving the Pantsir-S1 and S-400 systems. And all this casts a shadow of skepticism over Russia's true capabilities in other theaters.