RUSSIAN INFLUENCE ON THE UPSWING IN KYRGYZSTAN
Publication: Eurasia Daily Monitor Volume: 3 Issue: 100
By: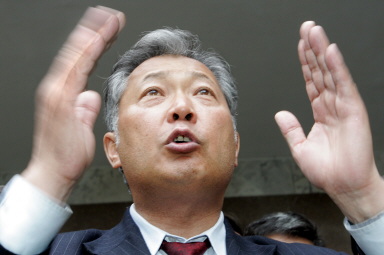 On May 19, President Kurmanbek Bakiyev told a visiting group of international journalists that Kyrgyz authorities would go ahead with the plan to ask the United States to vacate the Manas air base by June 1 unless Washington agrees to a massive increase in rent payments to Kyrgyzstan. A Pentagon delegation is expected to hold talks in Bishkek May 22-23 on the future of the base, "to consider this issue once and for all."
Bakiyev's thesis is two-fold: First, the U.S.-led active combat operations in Afghanistan are practically over, hence the Manas base is no longer as useful as it formerly was. And, second, the United States should pay "world-standard prices" as Kyrgyzstan defines them for using the base (Kabar, May 19). Bakiyev had first announced the June 1 deadline on April 19, five days before his visit with Russian President Vladimir Putin (see EDM, April 21). While the second part is arbitrary, the first part is completely inaccurate, as the U.S.-led coalition is actually embarking now on a major expansion of security and reconstruction operations in Afghanistan.
Meanwhile, Moscow plans to double the number of personnel and aircraft at its Kant air base (situated near Manas) by early next year, pending the completion of housing and hangars construction at Kant. Unlike the Manas base, which is only authorized to conduct Afghanistan-related operations, the Kant base is supposed to "guarantee" security in Kyrgyzstan and farther afield in Central Asia. Furthermore, unlike Manas, the Kant base pays no rent or other compensation to Kyrgyzstan, on the excuse that Kant is a component of the CIS Collective Security Treaty Organization (CSTO). That label notwithstanding, the Kant base is actually subordinated to Russia's own Fifth Air Army — as Russian Air Force Commander-in-Chief General Vladimir Mikhailov recently revealed (Interfax, May 12; Center TV, May 18).
Some Kyrgyz officials now propose that a CSTO base, or a part of the Kant base once it is augmented, be deployed to southern Kyrgyzstan to deal with possible cross-border raids such as the recent one by gunmen from Tajikistan. The idea of setting up such a base in the Osh region has been considered from time to time. Last year, Prime Minister Felix Kulov deemed it unnecessary. Unlike the Moscow-oriented Bakiyev, Kulov attempts to maintain an even-handed course in Bishkek's policy between Moscow and Washington. In the meeting with the press when Bakiyev warned the United States about the approaching June 1 deadline, Kulov declared himself in favor of a "multi-vector policy" (24.kg website [Bishkek], May 19).
On a parallel track, the authorities are encouraging the emergence of seemingly independent non-governmental organizations that oppose U.S. policies. On May 20, a "Forum of Kyrgyz Young Politicians" launched a signature-collection campaign in Bishkek against the U.S. proposal that Kyrgyzstan should join the International Monetary Fund's debt-write-off program for Heavily Indebted Poor Countries (HIPC). The program would institute IMF oversight of those countries' finances in return for writing off their debts, supporting budget-balancing measures, and improving their investment climate. However, the just-created Kyrgyz Young Politicians' Forum denounces the program as "good for the rich countries, not the poor ones" and demands a rejection of "IMF's ukazes" (Kabar, Interfax, May 19). The U.S. Embassy's public proposal last month that Kyrgyzstan join the HIPC triggered an outburst of anti-U.S. rhetoric from circles associated with Bakiyev.
The recently created "Coalition of People's Democrats" similarly demands that "the U.S. embassy should not interfere in the country's internal affairs" and is telling the public that "it is in the U.S. interest that there should be no prosperity in Kyrgyzstan … The USA is ready for anything to put a noose around the neck of independent Kyrgyzstan." Moreover, these People's Democrats are asking the U.S. Embassy to stop supporting the "odious" Coalition for Democracy and Civil Society led by Edil Baisalov (Kabar, May 18). The latter is a pro-U.S. group and Baisalov was recently injured in assassination attempt in downtown Bishkek in broad daylight by still-unknown perpetrators (see EDM, April 14).
Setting up dummy or Potemkin-type NGOs would seem to be beyond the abilities of the incumbent Kyrgyz authorities. It seems likely that political operative from Russia, who perfected this technique last year, assisted in the sudden emergence of such groups in Kyrgyzstan. Earlier this month, Russia's Federal Security Service (FSB) chief Nikolai Patrushev paid an unannounced visit to Kyrgyzstan; his countenance could be identified on television footage (RTR Russia Television monitored by the BBC, May 12).
The recently appointed chairman of Kyrgyzstan's National Security Service, Busurmankul Taabaldiyev, proposes that the institution's personnel be trained henceforth "exclusively in the specialized schools of Russia's services." Talks are well advanced with the FSB toward that end. Taabaldyiev unabashedly refers to the Kyrgyz agency's personnel as "Chekists" (Interfax, Itar-Tass, May 18).