Russian-Kazakhstani Energy Spat Favors China
Publication: Eurasia Daily Monitor Volume: 10 Issue: 58
By: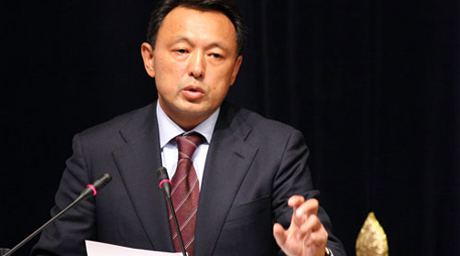 On March 7, Kazakhstan's parliament ratified the bilateral agreement with Russia on the duty-free import of Russian oil into Kazakhstani territory. The initial agreement on Kazakhstani-Russian cooperation in the field of energy was signed back in December 2010, but it did not exempt hydrocarbon supplies from export duties, in respect of Russia's request to examine further progress in this area separately from other integration issues. When Russia, Kazakhstan and Belarus agreed on the establishment of a customs union and the subsequent formation of the Common Economic Space starting on January 1, 2012, oil and gas supplies did not benefit from trade liberalization, as opposed to trade in industrial goods and services. According to the Russian side, trade in energy should continue to be governed by special provisions, since it was directly related to the Russian and Kazakhstani states' strategic interests—as both countries are major players on the Eurasian energy market (Newskaz.ru, March 7).
One of the tricky issues within Russian-Kazakhstani oil and gas relations was the establishment of a new export methodology that would preclude budgetary losses for either of the two partners as a result of progressive changes in their customs policies. During Vladimir Putin's visit to northern Kazakhstan last September to discuss regional cooperation with Nursultan Nazarbayev, a special protocol was signed in order to clarify the few remaining points. In accordance with this package of norms encapsulated in the 2010 framework agreement and its 2012 protocol, Russia agrees to supply duty-free oil and refined oil products to Kazakhstan in exchange for compensation until January 1, 2014. After that date, Moscow and Astana would operate on the basis of swap operations, which would merely resolve logistics issues (Kazakhstan selling its oil to China on Russia's behalf and Russia exporting its oil to Europe on behalf of Kazakhstan) (RIA Novosti, September 19, 2012).
While the final draft of the agreement was discussed in Kazakhstan's parliament, Oil and Gas Minister Sauat Mynbayev, who was presenting the text, drew numerous criticisms from the deputies. According to preliminary estimates, Russia is expected to supply 6–7 million tons of oil between March and December 2013, in which case its budget would lose over $2.4 billion worth of revenue that could have otherwise been obtained in the form of export duties. Additionally, the Russian budget is slated to lose almost $500 million worth of income from the supply of refined oil products, including gasoline. In order to partially offset these losses, Kazakhstan has agreed to export 1.5 million tons of oil to Russia, losing over $600 million from the non-payment of duty fees. It was previously proposed to apply the Kazakhstani export duty rate to the whole volume of supplies imported from Russia, but the latter vetoed this idea, because Russian export legislation uses higher duties (Newskaz.ru, March 7; transport-nefti.com, March 7).
In early March 2013, during his visit to Moscow, Kazakhstan's Deputy Prime Minister Kairat Kelimbetov said that his country would be compelled to revise its energy relations with Russia in the current context, where Kazakhstan is running mounting export deficits and the Customs Union still contains legal gaps as applied to the oil and gas trade. According to Kelimbetov, since oil and natural gas account for more than 25 percent of trade turnover among Russia, Kazakhstan and Belarus, the lack of progress on the energy front could make the whole integration project unattractive for Kazakhstan, with domestic consumers already measuring the overall negative impact of the Customs Union on their purchasing power. Kazakhstan is also dissatisfied with Russia's continued subsidies of the Belarusian economy, insisting on the necessity of fair mutual treatment and equal economic opportunities. In Kelimbetov's words, huge imbalances still persist with regard to the gas trade, as Gazprom continues to pay $300 for every billion cubic meters (bcm) of natural gas sold by Uzbekistan and Turkmenistan, whereas Kazakhstan sells its gas at $200 per bcm via its joint venture KazRosGas (Kommersant.ru, March 4).
While Minister Kelimbetov said that Kazakhstan might be interested in importing fewer Russian oil products and speeding up the modernization of its three refineries in order to reduce energy dependency on Moscow, a string of measures is already being envisaged on the Kazakhstani-Chinese bilateral front. On March 20, a KazMunaiGas official told the local press that Kazakhstan was considering the possibility of supplying over 1.5 million tons of oil per year to Chinese refineries for processing, within the framework of the so-called "tolling" schemes. Such schemes, widely used in the former Soviet Union after the collapse of the previously unified energy system, allow processing locally produced raw materials on a foreign territory without paying duties, but in exchange for a fixed fee. This could enable Kazakhstan to add to its domestic market almost 960,000 additional tons of gasoline on an annual basis, with Russia's share in Kazakhstani gasoline imports gradually falling from 40 to 20 percent over the course of the next several years. Furthermore, the Chinese refinery in Xinjiang ensures 90 percent processing against 60–70 percent at Kazakhstan's own refineries, currently in the process of renovation (Nur.news.kz, March 20).
In his interview to Russian journalists, Kelimbetov also said that Astana was mulling over the construction of a new gas pipeline to China, while it is already working on a supplementary branch of the Central Asia–China pipeline linking it to the biggest gas deposits on the Caspian Sea. By all appearances, the current difficulties in Kazakhstani-Russian energy cooperation are likely to see Beijing reinforce its commercial position in Central Asia, where Kazakhstan could follow Uzbekistan's and Turkmenistan's examples in choosing China as the principal destination of its future energy exports (Altyn-orda.kz, March 5).