Russian Putsch in Crimea Under Pseudo-Legal Cover
Publication: Eurasia Daily Monitor Volume: 11 Issue: 39
By: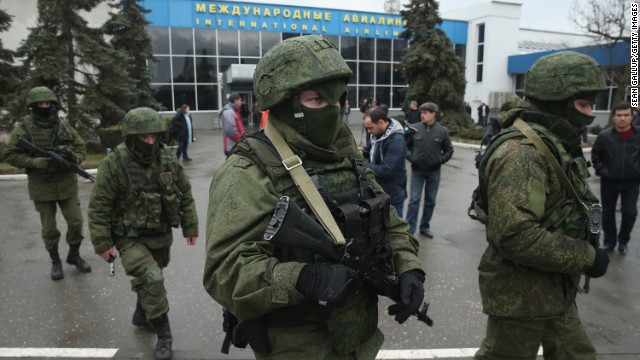 In the pre-dawn hours on February 27 in Simferopol, some 50 heavily armed Russian men in camouflage uniforms without identification marks seized the parliament and government buildings of the Crimean Autonomous Republic, which forms a part of Ukraine. That squad is presumed to be Russian special troops. During the night of February 27–28, another heavily armed unit, also looking like special troops, seized the Simferopol airport. Concurrently, local Crimean anti-riot police Berkut and armed civilians have installed two blockaded checkpoints on the Perekop Isthmus, on both roads that connect the Crimean peninsula with mainland Ukraine. The colors of the Russian Federation have been hoisted on the parliament and government buildings and the barricades.
Within the seized parliament building, barricaded and cut off from communications with the rest of Ukraine, an unverifiable number of deputies voted on February 27 to hold a Crimean referendum on May 25 on the issue of enlarging Crimea's autonomy vis-à-vis the central government in Kyiv (Interfax-Ukraine, UNIAN, Ukrainian Channel 5 TV, February 27, 28).
Under Ukraine's constitution, however, any referendum can only be held country-wide, not in any part or administrative jurisdiction of Ukraine. Accordingly, Crimea's constitution does not envisage any possibility of such a localized referendum. The unlawful referendum's scheduled date, May 25, is the same as the date of Ukraine's presidential election, underscoring the defiance to the central government and the rest of the country.
The same session of the Crimean parliament (again by an unverifiable number of votes, with no public attendance) dismissed the local Crimean government. That government, headed by Anatoly Mogilev, had tried to uphold the constitution (see below) and to discourage this "special session" from being called. Those same deputies nominated Sergei Aksyonov, leader of the small irredentist group Russian Unity, as the new head of the Crimean government.
Under the constitution, the nomination is subject to approval by the president of Ukraine. The country has an acting president at the moment (Oleksandr Turchynov), and there was no mention in Simferopol about seeking Kyiv's approval for Aksyonov's nomination. In one of his first statements, Aksyonov insisted that Viktor Yanukovych is still the president of Ukraine in a legal sense, having been ousted from office forcibly (Interfax-Ukraine, UNIAN, Ukrainian Channel 5 TV, February 27, 28).
The organizers of these actions profess to abide by Ukraine's territorial integrity and sovereignty. They disclaim intentions to "secede" from Ukraine. Instead, they claim that the goal of enlarging Crimea's autonomy is attainable through negotiation with Ukraine's central authorities, provided that these are "reasonable."
But this legal cover is very thin, given the use of force, with probable participation of Russian special troops, and the unlawful nature of the extraordinary parliamentary session. A senior-level delegation of Russia's Duma, visiting Crimea during the days immediately preceding this action, had openly encouraged it through assurances of support from Russia.
With hardly any international notice, let alone reaction, the city of Sevastopol has openly undertaken to secede from Ukraine. This action has proceeded without a semblance of legal cover. Under Ukraine's constitution, Sevastopol is a special-status city, distinct from the Crimean Autonomous Republic. The city of Sevastopol is subordinated directly to Ukraine's central authorities, which appoint the head of Sevastopol's state administration and other authorities in that city, including the law enforcement authorities there.
On February 23, however, a rally in Sevastopol's central square proclaimed Aleksey Chalyi as the "elected" mayor of Sevastopol (a position that does not exist legally) and, concurrently, head of an ad hoc coordinating committee with self-arrogated, expanded administrative powers. The Kyiv-appointed head of the administration of Sevastopol, Volodymyr Yatsuba, has resigned under pressure; but his deputy, Fedor Rubanov, held out.
Chalyi is a local businessman with Russian citizenship. In a further unlawful move, Chalyi has taken over the Sevastopol-based Berkut unit of riot police, transferring it from Kyiv's subordination into "the city's" subordination, i.e., his own. He will henceforth pay the Berkut unit's as well as ordinary police units' salaries. This move also defies Ukrainian Internal Affairs Minister Arsen Avakov's order to disband Berkut throughout Ukraine (Interfax-Ukraine, UNIAN, Ukrainian Channel 5 TV, February 23–27).
This chain of events began with Russian presidential aide Vladislav Surkov's two unpublicized visits to Crimea, earlier in February. President Vladimir Putin had recently assigned Surkov to supervise the affairs of Georgia's Russian-occupied territories of Abkhazia and South Ossetia. Apparently, Surkov has been tasked to extend his radius of action to Crimea.
During the third week of February, the Duma's delegation headed by Commonwealth of Independent States (CIS) Affairs Commission chairman Leonid Slutsky and other senior lawmakers descended on Crimea. In a series of inflammatory statements on television, they denounced the regime change in Kyiv as a "fascist" usurpation, portrayed Crimea as a part of the "Russian world," promised to fast-track legislation granting Russia's citizenship to Crimea's residents en masse, and pledged economic assistance to Crimea from Russia. A delegation from Russia's Federation Council is now scheduled to arrive in Crimea imminently (Russian Television Channel One, Rossiya TV, February 17–27).
Crimean groups loyal to Ukraine or otherwise interested in the status quo—including the Crimean Tatars—attempted to prevent the special parliamentary session from being called and held. Crimean medical authorities reported two killed and 35 injured in clashes as of the evening of February 27 (Interfax-Ukraine, February 28).
The troop intervention, however, ultimately ensured that the special parliamentary session was held, albeit with a dubious quorum, and unlawfully in all other respects.