Russian 'Referendums' in Ukrainian Territories Boosting Putin's Novorossiya Project
Publication: Eurasia Daily Monitor Volume: 19 Issue: 140
By: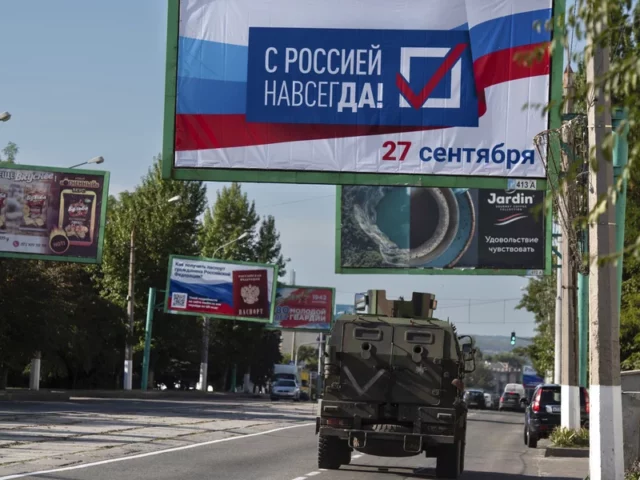 Eight years ago, Russia launched a hybrid war against Ukraine with the aim to seize Crimea and wrest six Ukrainian mainland provinces—Luhansk, Donetsk, Zaporizhzhia, Kherson, Mykolaiv and Odesa—away from Ukraine.
The Kremlin applied the Tsarist-era designation Novorossiya to that entire territory. Russian President Vladimir Putin closely identified himself with the Novorossiya project in 2014. He was passionate about it, this was his signature project and he seemed to regard it as potentially defining for his legacy.
It was also Putin's choice instrument for destroying Ukraine. The Kremlin considered several options for reordering that space, or at least parts of it: autonomous regions within a federalized Ukraine, separate statehood for some provinces, an undefined status of samostoyatel'nost (midway between autonomy and independence) or outright accession to Russia, depending on opportunities (see EDM, March 17, 19, 2014).
At any rate, the Kremlin achieved its objectives only (per Joseph Stalin's dictum) "as far as its army did reach" in 2014—namely, in Crimea, which Russia officially annexed and in parts of the Donetsk and Luhansk provinces, which Moscow turned into "people's republics" ("DPR/LPR"). The Novorossiya project failed everywhere else in that vast region due to lack of local support and a Russian military presence. President Putin has invoked the Novorossiya project from time to time since then, occasionally under the name of Prichernomorie (Black Sea coastal lands, or Black Sea hinterland) (see EDM, January 14, 2020).
At present, Moscow is taking great strides to accomplish the Novorossiya project in an updated form, staging referendums in the occupied territories, which Russia official terms "liberated": Luhansk, Donetsk, Zaporizhzhia and Kherson (see EDM, September 23). In his speech on September 21, Putin declared: "The liberated territories are, in particular, the historic lands of Novorossiya" (Kremlin.ru, September 21).
The Russian Armed Forces, fighting a full-scale war in Ukraine since February 24, have substantially enlarged the territories of the "DPR/LPR" and seized Kherson region almost entirely, as well as 70 percent of Zaporizhzhia region. The crucial ingredient that was missing in 2014 is present now, namely a Russian army of occupation. On September 23–27, Russia and the occupation authorities will stage referendums for the annexation of the enlarged "DPR/LPR," Kherson region and most of Zaporizhzhia region to Russia. Direct annexation has a finality to it that Novorossyia's hybrid solutions (samostoyatel'nost, "people's republics" and federalization) had lacked. Adding these annexations to that of Crimea, the Novorossiya project is coming close to fruition.
The Kremlin is orchestrating referendum procedures to make it appear that the initiative is coming from below in the four territories. The chronology suggests that Moscow gave the go-ahead on September 18 for immediate implementation.
On September 19, the "people's councils" (pseudo-parliaments) of the "DPR/LPR" resolved to stage the referendums in the two territories; asked both "heads" (glava) of the "republics," Denis Pushilin and Leonid Pasechnik, to approve the initiative; and mandated them to petition President Putin to endorse the referendums' anticipated result, namely the accession of the "DPR/LPR" to the Russian Federation with the status of "constituent republics." Pushilin and Pasechnik duly petitioned Putin on September 20 to that effect (Donetskoye Agentstvo Novostei, Lugansk Infocenter, September 19–21).
Also on September 19, in the Kherson and Zaporizhzhia regions, public associations affiliated with the occupation administrations called on the regional "heads" to petition Putin. The two administration heads, Vladimir Saldo and Yevgeny Balitski, did so on September 20, asking Putin to endorse their respective regions' accession to the Russian Federation with the status of "oblasts" (RIA Novosti, September 19-21).
Saldo and Balitski are the nominal heads of the military-civil administrations in those two regions (see EDM, July 28, Part One and Part Two). In their letters to Putin, however, Saldo and Balitski dropped the military part of their titles, apparently anticipating a transition to civilian administrations following the annexation. Russia has used the instrument of military-civil administrations outside its own territory. Kherson and Zaporizhzhia are, however, expected to find themselves directly a part of Russia after the referendum.
At the moment, the "LPR" effectively controls more than 90 percent of Luhansk region's pre-2014 territory; the "DPR," more than 60 percent of Donetsk region's pre-2014 territory; the Kherson occupation administration, more than 90 percent of the region's pre-2014 territory; and the Zaporizhzhia occupation administration, more than 70 percent of the region's pre-2014 territory.
Moscow and its four clients lay claim to the entirety of these regions' pre-2014 territories. They take the position that Ukraine has no title to the areas it still controls from those four regions. They declare that the referendums' results in the "liberated" territories will be deemed as also applicable to the areas currently under Ukrainian control. And they term those areas as "occupied" (zakhvachennyie) by Ukraine, as Putin did in his September 21 speech. This suggests that the Kremlin will persist with a greater-Russia irredenta in Novorossiya after these annexations.
Russia is set to enshrine these annexations in its constitution. This will make it practically impossible for any Russian leaders after Putin to consider the restitution of these territories to Ukraine in the future. Even at the level of public opinion in Russia, suggesting restitution will be deemed unconstitutional and liable for repression. Thus, Putin's Novorossiya legacy will outlive him into posterity, as the Russian leader himself envisaged in 2014 and has worked persistently for ever since.