Russian Regional Elections: Complete Predictability Can Become Unpredictable
Publication: Eurasia Daily Monitor Volume: 13 Issue: 154
By: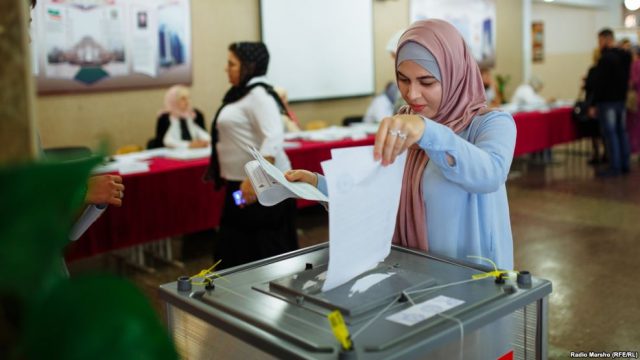 The September 18 Russian elections (see EDM, September 19) were not only for the State Duma. In this "single voting day," Russians also elected 7 governors and 39 regional legislative assemblies.
Governors in today's Russia are formally elected by a direct vote, but this system is not fully free (see EDM, March 25). Competitive and free gubernatorial elections in Russia lasted from 1996 to 2004, but that year President Vladimir Putin began to appoint governors from the Kremlin. Mass "white ribbon" protests in 2011–2012 (see EDM, December 13, 2011; June 11, 2012) forced the authorities to restore gubernatorial elections, but these are nonetheless fundamentally different from gubernatorial elections of 1996–2004. Specifically, today's contests seriously restrict the opportunities for potential candidates. According to the 2012 electoral law, gubernatorial candidates can be nominated only by political parties (self-nomination is a rare exception in some regions). Moreover, candidate hopefuls must pass the "municipal filter," gathering the signatures of 10 percent of all city and district deputies of their region (Rossiyskaya Gazeta, May 4, 2012).
Since the ruling United Russia party dominates almost all local legislative assemblies across the country, it, of course, has an advantage when it comes to nominating candidates for governor. In addition, the law states: "The President on his own initiative may consult with the political parties to nominate candidates for the post of governor." Considering the weight of presidential opinion in Russia, these "consultations" are rather perceived as recommendations—and are, thus, de facto appointments of governors.
Gubernatorial elections this year were held in the republics of Chechnya, Komi and Tuva; Tver, Tula and Ulyanovsk regions; and Trans-Baikal Territory. All the winning candidates in these regions are United Russia members, and each was appointed acting governor by Putin prior to the elections. Therefore, these gubernatorial elections passed with no surprises.
Chechnya's Ramzan Kadyrov gained almost 98 percent of the vote. Taking into account the specific situation in this republic, it was difficult to expect another result (see EDM, June 13). Yet, Putin has called Chechnya "an example of federalism" (Newsru.com, September 5).
Candidates in other regions did not beat Kadyrov's "record," but many came close (Izbirkom.ru, accessed September 23). For example, Sergei Gaplikov, received 62 percent of the vote to become the new governor of the Komi Republic, despite lacking any personal links to this region. In 2004–2010, he was the chairman of the Council of Ministers of Chuvashia, and in 2011–2014, he led the state corporation Olimpstroy, which built Olympic facilities in Sochi. He was appointed acting head of the Komi Republic in September 2015, after the arrest of former governor Vyacheslav Gayzer. Following this high-profile case, the local elites apparently all fell out of favor in Moscow (Kommersant, September 20, 2015).
In the Tula region, Putin's former bodyguard and aide-de-camp General Andrei Dyumin (Meduza, February 8) won with a score of 84 percent. His proximity to the president was evidently more important for Tula's regional elites and the voters than his "non-native" origin. Dyumin also has no connection to Tula—he was born in Kursk, and later served in Moscow.
The new governor of the Tver region, Igor Rudenya, a former federal agriculture official, is another "Moscow guest." He received 72 percent of the vote, but he had no serious opponents there—in this region, even the candidate from the Communist Party was removed.
On the contrary, a new governor of the Trans-Baikal Territory, Natalya Zhdanova, who received 54 percent of the vote, is a local native. This fact probably played in her favor, given widespread local patriotism in the Siberian regions.
The head of the Republic of Tyva, Sholban Kara-ool, who again won the elections, is also local native. He leads the region since 2007 and this time received 86 percent of the vote. But in Tyva, where the titular nation makes up 82 percent of the population, a victory by a non-indigenous politician would be nearly impossible.
The re-elected leader of Ulyanovsk, Sergei Morozov, is a veteran of Russian politics. He was first elected to his post in 2004, and was subsequently reappointed for two more terms by presidents Putin and Dmitry Medvedev. His election victory this year, with a score of 55 percent, indicates that this former police official secured appropriate political "stability" in his region: all candidates (even from the opposition party Yabloko) are free to register, but their chances for victory are overwhelmingly undermined by the authorities' powerful administrative resources.
On September 18, Russians also elected 39 regional legislative assemblies. In each case, United Russia came in first. The opposition party Parnas (Party of People's Freedom) received no seats at all. Only Yabloko succeeded in creating a small faction in the regional parliaments of St. Petersburg, the Republic of Karelia and Pskov region, as well as in municipal councils of Perm and Kaliningrad (Yabloko.ru, September 19).
Political analyst Vladislav Inozemtsev believes the electoral failures of the Russian opposition can be primarily ascribed to these parties' promotion of their leaders rather than developing a broad alternative program. The result is a paradox: for example, Grigory Yavlinsky calls for "a change in power" but himself has led Yabloko for 23 years (Snob.ru, September 21).
In principle, the Russian president may dismiss elected governors at any time and appoint their acting replacements. Indeed, in July of this year, Putin appointed his former bodyguard Evgeny Zinichev acting governor of Kaliningrad region (Meduza, July 29). Yet, Zinichev did not participate in the September elections, suggesting his appointment is "unlimited." This situation makes the governor's legitimacy uncertain.
Russian governors are further limited by the fact they have no real impact on the local economies. All major companies in Russia have a "federal" status and are managed from Moscow. In these conditions, governors can only ask the federal center to increase subsidies. This economic dependence drastically reduces the possibility for independent political action.
Arguably, the situation can only change with the emergence of regional political parties. But unlike during the 1990s, today's governors are themselves afraid of the emergence of local opposition forces and thus inhibit local patriotism. Moreover, they fear being branded as "disloyal" to the Kremlin.
At first glance, the solid predictability of the recent elections points to the stability of Putin's "vertical of power" regime. However, these elections were characterized by the lowest voter turnout in the history of post-Soviet Russia—less than 48 percent (TV Rain, September 19). Falling living standards in Russian regions—caused by the centralization of the Russian economy and its isolation from developed countries—could lead to new protests and other processes of political change, even if this seems unlikely at present. Yet, a century ago, no one foresaw the February 1917 Revolution, which overthrew the monarchy in Russia.