Russia's Caspian Flotilla, Dominant at Sea, Gains New Shore-Landing Capability
Publication: Eurasia Daily Monitor Volume: 15 Issue: 88
By: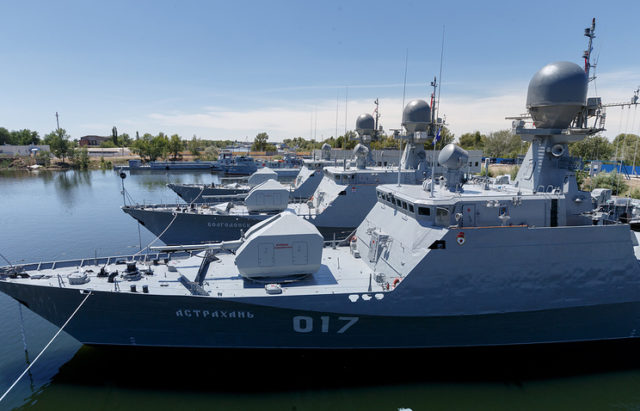 As the five Caspian littoral states—Russia, Kazakhstan, Turkmenistan, Azerbaijan and Iran—move toward an agreement on the re-division of the Caspian Sea (see EDM, November 7, 2017), an action made necessary by the collapse of the Soviet Union, Moscow has strengthened its flotilla there in order to ensure that it will remain the dominant power on that internal sea (see EDM, November 2, 2017). But now, in what must be a matter of concern to the other four countries, Russia's Caspian Flotilla has dramatically increased its ability to project power onto land as well. Moscow may at some point attempt to use this capability to suppress revolts on its own territory or alternatively seek to intimidate one or more of the other littoral states, especially those willing to cooperate with outside powers, like Turkey and the United States.
After a drawdown following the end of the Soviet Union, Russia's Caspian Flotilla has been expanding. Since 2014, it has added more than ten new naval vessels, refitted the remaining ones with more modern weaponry, and increased the complement of Russian sailors on them. Moreover, it has begun the process of rebasing its ships and men from Astrakhan to Kaspiysk in Dagestan. The move will improve the Caspian Flotilla's ability to respond rapidly to challenges anywhere on the Caspian—access from Astrakhan was restricted by narrow shipping lanes—as well as to project new power in the restive North Caucasus (see EDM, June 4). According to some estimates, 85 percent of the flotilla's vessels are either new or modernized (Voyenno-Promyshlenny Kuryer, May 30, 2018; Windowoneurasia2.blogspot.com, April 3, 2018; Armstrade.org, January 22, 2016).
In a new article in the influential Russian military publication Voyenno-Promyshlenny Kuryer, Moscow-based economist Aleksey Chichkin outlines both the reasons behind this buildup and calls for additional ships and weaponry as well. "It is difficult to overrate the importance of the Russian littoral of the Caspian Sea for the military-political security of the country," he writes. The geography of the region, including both oil and natural gas supplies on the seabed and pipeline projects from Central Asia to the West bypassing Russia make it so, especially as the West has supported the development of such pipelines in order to ensure that the Caspian is an east-west bridge for it rather than a north-south one for Russia (Voyenno-Promyshlenny Kuryer, May 28).
This threat is growing, Chichkin argues. Over the last three years alone, the amount of oil and gas bypassing Russia by these channels has increased by "more than 15 percent," while the amount of such natural resources flowing through Russian ports and littoral areas has gone up "only 10 percent." It does not take any imagination to see what that will mean if these trends continue without change. And while there has been some improvement in the handling of goods by Russia's Caspian ports over the same period, it has been small and has suffered from a lack of central coordination. Indeed, competition between Kalmykia and Dagestan for cargoes has often meant that shippers have gone elsewhere—meaning to ports Russia does not benefit from.
These economic threats, the military economist says, unfortunately are far less significant than military ones that stand behind them. Since at least 1994, Chichkin suggests, Washington has had a plan for putting US naval vessels into the Caspian to counter Moscow's ability to project power and to guarantee the flow of oil and gas from Central Asia via Azerbaijan to the West. (He does not mention but would undoubtedly cite more recent news that Ankara is planning to extend its rail lines to the borders of Nakhchivan, the western exclave of Azerbaijan—Turan Today, June 6.) These plans have now taken real shape, he continues, with the agreement earlier this year between Washington and Astana to allow US forces to transfer military goods destined for Afghanistan via Kazakhstan's Aktau port. He asserts that the United States is likely to build a permanent presence there that will constitute a base, however much both the US and Kazakhstan continue to deny that will happen (see EDM, April 26).
"The appearance of a NATO [North Atlantic Treaty Organization] base in Aktau," Chichkin says, "in essence is a direct threat to the security of the Russian Federation" and raises questions about Kazakhstan's commitment to its responsibilities under the Collective Security Treaty Organization (CSTO) and the Eurasian Economic Union (EEU). He cites the conclusion of Aleksandr Sobyanin of the Center for Traditional Cultures, in Moscow, that "the drift of Kazakhstan toward the US bears an anti-Russian character; at a minimum, for us it is undesirable that any American ships, especially of a military nature, should be in the waters of the Caspian."
Those who wonder how US ships might be introduced should remember that they could be moved overland through Azerbaijan or be flown in, he suggests. In the former case, Chichkin argues, that would make Baku complicit in these arrangements and thus also a threat to Russian national security, whatever anyone says.
In this situation, it is especially worrisome that a new Russian report suggests Moscow is transforming the Caspian Flotilla to be used against targets on the Caspian littoral, including both economic ones and nominally military ones, as in Aktau. Vadim Astafyev, the head of the press service for Russia's Southern Military District, announced this week (June 4) that Moscow is going to add 32 more armored personnel carriers (and the soldiers who might use them) to the Caspian Flotilla, nearly doubling the landing capacity of that naval group. That would make permanent the boost of 29 introduced temporarily in May for naval exercises (Voyenno-Promyshlenny Kuryer, June 5). In an indication that Moscow views such landing craft as an offensive weapon, the Northern Fleet announced training drills with them near Norway, several days ago (Mil.ru, June 5).
Obviously, this increase in capacity does not mean that Moscow is about to attack any of the Caspian littoral states or the facilities of third parties, such as the US in Aktau. But its expansion and modernization program, now supplemented by troops who have only one purpose—engaging in landing operations—makes that a credible threat, one that will certainly raise the political temperature in the region and beyond.