Russia's New Competitor: Could Ukrainian PMCs Halt Russian Advance?
Publication: Eurasia Daily Monitor Volume: 15 Issue: 147
By: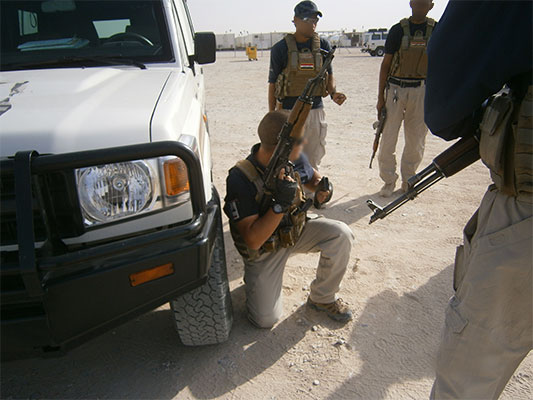 The heavy casualties suffered in early 2018 in Syria by the Wagner Group, a Russian private military company (PMC) working for the Kremlin, turned international experts' attention to these groups and other irregular forces as tools of Moscow's non-linear military operations and its commercialization of war. However, that notoriety eclipsed what had been an intensifying debate within Ukraine on granting legal status to similar (de jure non-existent, yet actively developing) Ukrainian private military enterprises. Illustratively, this past April, Yevhen Deidei, a Ukrainian politician and coordinator of the "Kyiv-1" Special Tasks Patrol Police battalion, offered the first specific proposal pertaining to legalizing PMCs in Ukraine (BBC News—Ukrainian service, April 5).
Ukrainian experts have long held predominantly negative views of the idea to legalize domestic PMCs. Three years ago, military expert Alexander Taran pointed to an obvious risk, saying that "given the weakness of the [Ukrainian] state, [PMCs] could easily become criminal structures" (Korrespondent.net, April 29, 2015). More recently, Alexander Musienko, another military expert, expressed doubt that PMCs, if legalized, would be used in the same manner as in the West. He suggested that "they will become a tool [for politicians] to fight for power" (Obozrevatel.com, March 2, 2018). A somewhat more nuanced opinion was expressed by Alexander Karakuts, who argued last February that even though "such companies are not beneficial to a country's image," it is a fact that "Ukrainian nationals are fighting in various countries, from Yemen to Iraq… [W]e need to let them do their job in Africa and the Middle East without fear of prosecution" (Obozrevatel.com, February 28).
As the domestic debate has unfolded, Ukrainian PMC Omega Consulting Group appears to have taken its first concrete step into entering a zone where Russian, Chinese, and Western interests already overlap: West Africa. On May 10, various Russian sources reported that this PMC had opened a branch in Burkina Faso (Africa's fourth-largest gold producer), aiming to win contracts from both local government and private individuals, while another Ukrainian private military outfit, UPMC, is allegedly also planning to enter the "African market" (Vzglyad, May 10). The Russian media's initial reaction to the news—a mix of irony and condescension—subsequently gave way to more sober assessments. Since the outbreak of military hostilities in southeastern Ukraine over four years ago, approximately 280,000 Ukrainians have gained some form of military experience. Given the fact that, even in the 1990s, "Ukrainian military experts were no less sought after than Russian ones" (News-front.info, June 21), experienced Ukrainian fighters are now likely to be even more in demand. According to an unnamed source who works on recruiting fighters for PMCs, "Ukraine is one of the top five countries providing personnel to various PMCs" (Strana.ua, September 12, 2016).
When considering the prospects of Ukrainian PMCs in the international market, the following key aspects should be taken into consideration: First, they tend to lack organizational experience and structure. In comparison with Russia, where PMCs are tied closely to the government (see EDM, July 13) and have been developing under the "umbrella" of the state for a considerable period of time, in Ukraine the first PMCs only date back to 2011–2013. Prior to this period, Ukrainians primarily served as a talent pool for other Western PMCs (mainly from the United Kingdom, including Erinys Iraq Ltd., SeaMarshall and Naval Guards) searching for inexpensive labor for risky missions (News.rambler.ru, July 25). Second, and at this juncture perhaps most importantly, there is a lack of support from the Ukrainian government. In an extensive interview last year, Andrey Kebkalo, a co-founder of two large Ukrainian PMCs, pointed to the fact that neither the Ukrainian government, nor the so-called "power ministries" (siloviki)—including the Ministry of Defense and the Security Service of Ukraine (SSU)—are keen to "engage in a constructive dialogue on the legalization of PMCs in this country." Furthermore, he claimed that "Ukraine simply does not require our experience and analysis… [C]onsulting is ordered by external players." Whereas, he has personally "been threatened by arrest by the SSU." Kebkalo concluded that "while we are working for other clients, including some in distant areas, where we are dealing with ISIS [the Islamic State], Ukraine is not interested in our services" (Diana-mihailova.livejournal.com, September 22, 2017). Information obtained from other sources, however, suggests that his current PMC is, in fact, cooperating with the Ukrainian Ministry of Defense (Strana.ua, September 12, 2016), although it is not clear what form this cooperation has taken. Given the nature of conflict in the Donbas region, the range of capabilities of this grouping—which includes, inter alia, "non-linear forms of warfare, anti-terrorist operations, intelligence gathering, radio-electronic intelligence, [and] special operations in the enemy's rear" (Omega-consulting.com.ua, accessed October 15, 2018)—could make it quite useful.
Finally, in order to be able to compete with Russian PMCs internationally, Ukrainian PMCs have to adopt strategies similar to those employed by the Russian side. The examples of Syria and the Central African Republic (CAR) explicitly demonstrate that Russian policy goes beyond employing PMCs in combat. By extending deals to training of local forces and major arms sale agreements, with PMC personnel acting as instructors ("advisors" in the Soviet terminology), Russian government policy makes Russian PMCs much more economically competitive (see EDM, August 1). Undoubtedly, such arrangements would be impossible for Ukrainian PMCs without support from the Ukrainian government and the siloviki. Until this happens, Ukraine's privately owned armed formations are destined to play marginal roles—serving minor customers or as potential employment pools for Western and/or Russian PMCs.