Ukraine's Strategic Aims in the Sea of Azov
Publication: Eurasia Daily Monitor Volume: 15 Issue: 147
By: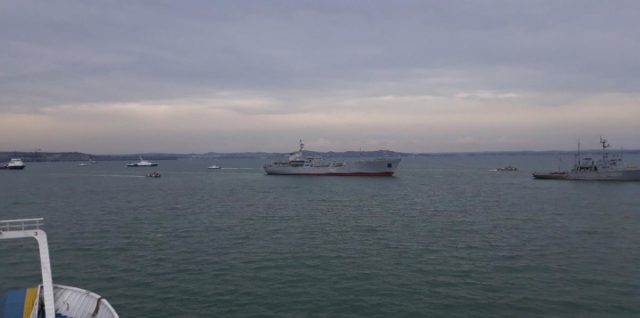 Today's (October 17) news of a tragic attack on a school in the Crimean coastal city of Kerch (UNIAN, October 17) snapped global attention back to this Russian-occupied corner of Ukraine, which itself borders on a precarious security situation in the Kerch Strait and Azov Sea. For the past year, Russia has been harassing Ukrainian vessels passing through the Strait to and from the Azov Sea, increasing the time it takes for them to reach Ukrainian ports or international waters—with serious economic and security implications for the country's southeast. In addition, continually strengthening Russian naval and maritime security forces have been challenging Ukrainian naval vessels in contested regional waters as well as close to Ukrainian shores (see EDM, April 12, May 8, 31, June 11). On October 12, Ukraine's President Petro Poroshenko signed a decree concerning the deteriorating situation in the Azov Sea (Rnbo.gov.ua, October 12). Specifically, the document claims Ukrainian sovereignty over its territorial waters in the Kerch Strait and the Sea of Azov as well as calls for measures to counter Russian superiority in these linked bodies of water.
The presidential decree legally reinforced Kyiv's earlier decision, on September 23, to send two Ukrainian supplementary naval vessels, the A500 Donbas (built in 1969) and A830 Korets (1973), through the Kerch Strait to the port of Berdyansk (UNIAN, September 23). The freedom-of-navigation operation not only aimed to reaffirm Ukraine's right to free passage through the Strait (Ukrinform, September 26), which Russia de facto dominates from both sides due to the annexation of Crimea. Ukraine was also likely testing the Russian reaction and observing the latter's reconnaissance and data gathering competencies. Finally, the Donbas and Korets' northward passage through the Kerch Strait was part of Ukraine's plans to establish a new naval base at Berdyansk for the Azov Flotilla, which it is now in the process of standing up. The Azov Sea naval base will comprise the third Ukrainian coastal outpost guarding a strategic chokepoint. The pre-existing other two are the West Naval Base (in Odesa), responsible for securing Ukraine's interests throughout the wider Black Sea, and the Southern Naval Base (Ochakiv and Mykolaiv), which defends the Dnieper River and its delta.
Following years of neglect, Ukraine is hurriedly tying to reinforce its naval capabilities in the Sea of Azov. In early September, two modern Gurza-M-class (Project 58155) artillery gunboats were deployed there (Mil.in.ua, September 8). And reportedly, Kyiv is considering buying three Danish Standard Flex 300 patrol vessels for 102 million euros ($117 million) (Mil.in.ua, September 13). Additionally, after almost five years of postponement, President Poroshenko finally officially received two Island-class Coast Guard cutters from the United States, while he was visiting Baltimore harbor (UNIAN, September 28). Writing on her Facebook page, Verkhovna Rada (Ukrainian parliament) First Deputy Chairperson Iryna Herashchenko asserted that the two US vessels would, following upgrades in the US, be sent to patrol Ukrainian waters in the Azov Sea (Uawire.org, September 30). Investigative reports from earlier this spring concluded that the main reason for the lengthy delay in Ukraine taking ownership of the US Island-class cutters was Poroshenko's desire to instead allow a Ukrainian shipyard he owns to benefit from government contracts for domestically built ships (Radio Svoboda, March 30).
Despite Ukraine's efforts to quickly stand up an Azov Flotilla, it is unlikely to be enough to challenge Russia's overwhelming regional naval presence. It is worth noting that the surface area of the Sea of Azov is roughly 39,000 square kilometers and is being patrolled by around 50–70 Russian "coast guard" vessels. For comparison, Norway's Exclusive Economic Zone (EEZ) is 2,385,178 square kilometers (so about 61 time larger), and it is "only" protected by 13–15 vessels (Author's off-the-record discussions, Brussels, October 3–7). Thus, to meet this challenge, Ukraine is looking at alternative approaches, including legal and deterrence-based strategies. First, Kyiv is weighing the possibility of backing out of its 2003 agreement with Russia, which had divided the Sea of Azov equally between them and prevented any foreign warships from entering the sea without both of their consent. By pulling out of this treaty, Ukraine and Russia's territorial waters in the Sea of Azov would, according to international law, extend only 12 nautical miles out from their respective coasts, while the sea's interior would become international waters. Additionally, this would legally free North Atlantic Treaty Organization (NATO) warships to enter the Azov Sea.
In connection to the above, Ukraine is also formulating a multi-faceted deterrence policy for the Sea of Azov based upon the following considerations:
1) Establish a strong defense system along the entire coastline under Ukrainian control;
2) Find an alternative way (i.e., internal Ukrainian waterways) for NATO vessels to enter the Sea of Azov;
3) Seek diplomatic and political support from NATO and the European Union (State.gov, August 31);
4) Use the international legal system (such as lodging a case against Moscow at the Permanent Court of Arbitration) to preserve Ukrainian sovereignty (Pca-cpa.com, August 31);
5) Seek to extend the Organization for Security and Cooperation in Europe's (OSCE) monitoring mission mandate to the shores of the Azov Sea, or establish some other form of international monitoring mission for this body of water;
6) Build up a full-fledged flotilla, in conjunction with costal defense and with direct technical military assistance from NATO, capable of deterring Russian aggression; and
7) Deploy minesweepers (to date, Kyiv does not possess such vessels) to the Azov Flotilla or, as an alternative, acquire Danish patrol boats.
Thus, both sides are strengthening their Azov Sea naval forces. But concurrently, Russia is pursuing an assertive policy designed to undermine the social and economic situation in southeastern Ukraine, to create conditions on the ground congenial to establishing a future land corridor to Crimea, as well as to take full control over the Azov Sea. To effectively counter this strategy, Ukrainian responses will need to be resolute as well as multidimensional.