SCP, TANAP, TAP: Segments of the Southern Gas Corridor to Europe
Publication: Eurasia Daily Monitor Volume: 11 Issue: 8
By: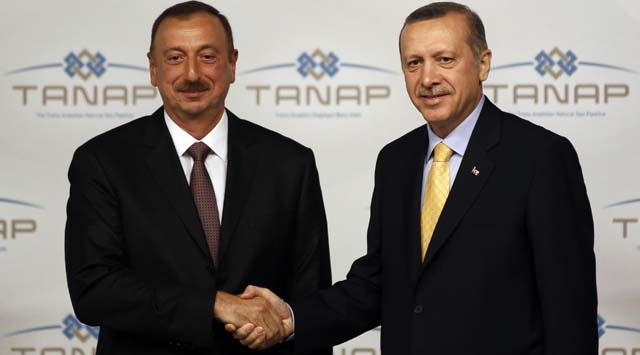 Full-scale investment approved at Shah Deniz, and supply contracts secured in Europe, make it possible for pipeline construction to proceed along the 3,500-kilometer Southern Gas Corridor, from Azerbaijan to European Union territory in Italy. The cumulative investments are estimated at $25 billion in the offshore gas project and $20 billion in the construction of transit pipelines. This is one of the largest energy projects in the global energy business in terms of investment costs, technical complexity, territory covered and multinational participation.
Three pipeline projects, along the route from Shah Deniz and Baku to Italy, comprise the Southern Gas Corridor (the European Commission is at work to add the fourth, a trans-Caspian gas pipeline from Turkmenistan to Azerbaijan).
The South Caucasus Pipeline (SCP), almost 700 kilometers in length, runs from Baku across Azerbaijan and Georgia to the border of Turkey. The line is dedicated to the transportation of Shah Deniz gas from Phase One of that field to Georgia, Azerbaijan and Turkey. Since 2006, Georgia receives its gas supplies almost entirely from Azerbaijan through this pipeline (Trend, December 17, 2013; Civil Georgia, December 18, 2013).
A consortium identical in its composition with the Shah Deniz producers' consortium, although a legally separate entity, owns and operates the South Caucasus Pipeline. Its current shareholding is comprised of BP (formerly known as British Petroleum, the project operator) with 28.8 percent of the shares, Azerbaijan's State Oil Company (SOCAR) with 16.7 percent, Norway's Statoil 15.5 percent, as well as Total of France, Russian Lukoil, and the National Iranian Oil Company at 10 percent each, and Turkish Petroleum with 9 percent of the shares. This composition reflects the recent adjustment whereby Statoil sold portions from its former stake to BP and SOCAR.
Designed with a 42-inch diameter and operating since 2006, the SCP has a first-stage capacity of 7 billion cubic meters (bcm) per year, but is chronically under-utilized at about 5 bcm in most years. With Shah Deniz production Phase Two anticipated at 16 bcm annually, on top of Phase One's 9 bcm, the SCP will be up for a capacity boost to 25 bcm per year by means of additional looping and two new compressor stations. The cost of this boost is estimated at $3 billion. This would fully accommodate Shah Deniz gas export volumes, but not much beyond that. The pipeline's status would change, from dedicated to Shah Deniz gas to dedicated to Azerbaijani gas (i.e., including non-Shah Deniz volumes).
The Trans-Anatolia Gas Pipeline (TANAP), approximately 2,000 kilometers in length, is planned to run from the Georgia-Turkey border to the Turkey-Greece border, feeding from the South Caucasus Pipeline and into the planned Trans-Adriatic Pipeline (see below). Once Shah Deniz production comes fully on stream, TANAP would take 16 bcm from the SCP line, drop 6 bcm in Turkey and carry 10 bcm toward EU territory.
Baku initiated and planned this project in 2011, signed a bilateral shareholder agreement with Turkey in 2012, and undertook to invest in the project as majority shareholder. Azerbaijan's initiative rescued the overall Southern Corridor project from imminent demise in 2012, by which time the European Union had failed to mobilize political and financial support for this grand design.
TANAP's current shareholding is comprised of SOCAR with 80 percent of the shares and operating rights, Turkey's state pipeline company Botas with 15 percent, and Turkish Petroleum with 5 percent (the latter is also a minority partner in Shah Deniz). Preliminary estimates of construction costs range widely from $7 billion to $12 billion. Ultimately, investment requirements will mainly depend on the capacity and scalability of the SCP and TANAP pipelines. The choice of diameter (48 or 56 inches) is under discussion. TANAP is envisaged to be scaled up in several phases through additional looping and compression power. Starting at 16 bcm annually, it would reach up to 31 bcm per year, depending on gas volume availability in Azerbaijan and beyond it.
SOCAR intends to offer minority stakes in TANAP to Shah Deniz partners while retaining a 51-percent controlling stake and the operating rights in SOCAR's hands. Statoil and Total have most recently declined their options to acquire minority stakes in TANAP (Statoil has actually reduced its major stakes in Shah Deniz and the SCP pipeline as part of a "rigid prioritization of investments" (see EDM, January 14), while Total does not have a strategic interest in this project). For its part, BP has agreed in principle to exercise that option and acquire a 12-percent stake in TANAP (naturalgaseurope.com, accessed January 13).
Turkish Prime Minister Recep Tayyp Erdogan has committed his government to support this project, and Energy Minister Taner Yildiz proposes to increase the Turkish stake in TANAP to 30 percent. Ankara seeks to maximize its role as a transit country for energy supplies to the EU (Trend, December 17, 2013; Anatolia News Agency, January 11, 2014).
The Trans-Adriatic Pipeline (TAP) will be the Corridor's segment on EU territory. Connecting with TANAP at the Turkey-Greece border, TAP is planned to run 870 kilometers across Greece, Albania, and on the seabed of the Adriatic Sea, terminating in southern Italy and connecting there with the Italian pipeline grid. TAP is designed to carry 10 bcm annually, scaling up to 20 bcm per year by adding compressor capacity, once the additional volumes materialize upstream (Trend, January 8).
TAP seems positioned de facto to pre-empt the first gas volumes (or the next 10 bcm per year) that would flow from Azerbaijan on top of the initial 10 bcm per year. The TAP consortium approved the Resolution to Construct on December 17, 2013, the same day when the Shah Deniz consortium approved its final investment decision.
TAP's shareholding has undergone radical changes. It is presently comprised of Statoil (the project's driving force all along), BP and SOCAR, with stakes of 20 percent each; Belgium-based Fluxys with 16 percent; Total with 10 percent; E.On Ruhrgas of Germany with 9 percent; and Axpo of Switzerland with 5 percent. BP and SOCAR, as major shareholders in Shah Deniz, have entered the value chain in TAP. The consortium's West European companies seem likely to market their respective gas volumes primarily in Western Europe.
For its part, SOCAR may decide to focus on Greece and Bulgaria with gas supplies and network development. SOCAR has acquired a controlling interest in the Greek gas transmission company DESFA and has earmarked 1 bcm per year for sale to Bulgaria, ideally through the Interconnector Greece-Bulgaria, in which SOCAR is about to become a shareholder through DESFA.