Will Kazakhstan Become a Full Partner in the Baku-Tbilisi-Kars Railway?
Publication: Eurasia Daily Monitor Volume: 11 Issue: 7
By: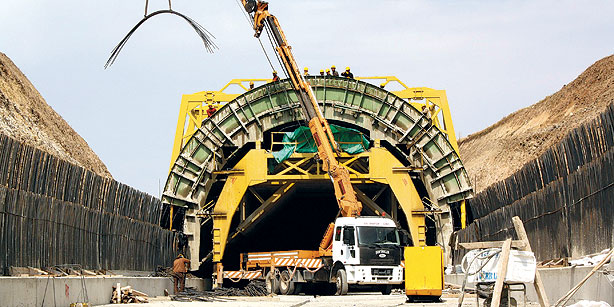 On December 11, 2013, Kazakhstan's ambassador to Azerbaijan, Amangeldy Zhumabaev, told a press conference that his country was interested in transporting its goods along the Baku-Tbilisi-Kars railway currently under construction—particularly for transporting Kazakhstani oil and grain
(Tengrinews, December 11, 2013).
Zhumabaev said, "For us it is very important to have access to foreign markets, we could supply not only oil and natural gas, but also other products. The Baku-Tbilisi-Kars railroad, which opens next year [2014], is a great opportunity for us. According to our data, the volume of freight traffic on this route will be 16 million tons, and we would like to see our products in this volume. Kazakhstan supplies Azerbaijan with more than 1 million tons of grain annually. We intend to increase this figure."
The 513-mile-long Baku-Tbilisi-Kars (BTK) railway, costing more than $613 million and scheduled to open in late 2014, has been discussed for two decades. When operational, the BTK will be the first Caucasian railway not under Russian domination since Russian rail construction began there in the late 1800s.
The project of a railroad linking Azerbaijan, Georgia and Turkey was first discussed in July 1993, following the closure of the Kars-Gyumri-Tbilisi railroad in the wake of the Azerbaijani-Armenian conflict. Because of a lack of funding at the time, the project was more or less abandoned (Central Asia–Caucasus Analyst, September 7, 2005). During the May 2005 inauguration of the Baku-Tbilisi-Ceyhan oil pipeline, seeing the feasibility of a trans-Caucasian energy corridor, the presidents of Azerbaijan, Georgia and Turkey revived the possibility of building the railroad (see EDM, December 14, 2005).
On February 7, 2007, the three leaders signed an agreement for the construction of the BTK railway. Later that month, Azerbaijani President Ilham Aliyev signed the "Implementation of measures within the Baku-Tbilisi-Kars project" decree, which committed Azerbaijan's State Oil Fund to financing the project. The State Oil Fund has, thus far, allocated $431.3 million, in addition to a $775 million loan to construct the Georgian portion of the railway on generous terms of 25 years at 1 percent annually (Informatsiia AMI Trend, March 2, 2013). When complete, the BTK will carry 15–30 million tons of cargo annually, and interlink with the European rail network via Turkey.
Why should the BTK be of interest to Kazakhstan? Kazakhstan Temir Zholy (Kazakhstani Railways—KZT) has made it a major priority to expand its role as a major player in East-West trade, which includes expanding transit trade with China. Last year, KZT's president, Askar Mamin, noted that Kazakhstan was building about 1,056 miles of new projects, including the new Zhezkazgan-Beyneu, Arkalyk-Shubarkol, Zhetygen-Khorgas and Ozen railway lines. Kazakhstan's railway company also met with Chinese partners to establish a $100 million terminal infrastructure in the Chinese port of Lianyungang. By 2020, the intent is to double the volume of transit traffic from 18 to 36 million tons (railways.kz, April 29, 2013).
Prior to the opening of the Khorgas line, China's sole link to Central Asia was the 286-mile line between Urumqi in China's Xinjiang province via Alashankow in China and Dostyk in Kazakhstan. Opened in 1991, the rail line currently carries 15 million tons of freight annually (Asia Times, January 24, 2013). On December 22, 2012, a second cross-border railway between China and Kazakhstan opened. The railway is composed of a 180-mile section in China and the remaining 180-mile section in Kazakhstan. They were joined at the Khorgas Pass in Xinjiang Uighur autonomous region. The Khorgas Pass is only 125 miles away from Kazakhstan's capital of Astana, and 415 miles from Urumqi, the major city in Xinjiang (Xinhua, December 22, 2012).
Accordingly, bilateral trade between China and Kazakhstan has increased from $370 million annually to more than $25 billion in the past two decades (Nihao-Salam, September 7, 2013). But the BTK railroad will allow yet another parameter for increased trade.
New tracks being laid for the BTK include 18 miles in Georgia and 47 miles in Turkey, while 448 miles of existing railway in Georgia and Azerbaijan is being modernized. A gauge-changing terminal is also being built at Akhalkalaki, Georgia, to enable freight to be transferred from the Soviet-era 1,520-milimeter gauge track used in Azerbaijan and Georgia to the 1,435-milimeter standard gauge used in Turkey and most of the European Union.
The BTK will not lack for customers; peripheral nations besides Kazakhstan are already eyeing the railway, with China expressing interest in shipping consignments along it (https://www.railway-technology.com/projects/baku-tbilisi-kars/).
For all three nations involved—Turkey, Georgia and Azerbaijan—the BTK offers a number of benefits. Azerbaijan acquires a westwards rail link secure from the problems that bedeviled its oil shipments during the brief August 2008 Russo-Georgian conflict, when military action shut down its oil shipments through Georgia. The BTK will allow Georgia to break out of its railway isolation, as its northern railway line through Abkhazia to Russia was severed during the same conflict. For Kazakhstan, BTK offers a southwestern railway link outside of Russian domination.
As for Turkey, in 2013 it completed its epochal Marmaray rail link under the Bosporus, connecting Asia and Europe. When the Edirne-Kars project, a $35 billion railway connecting eastern and western Turkey being constructed with Chinese assistance, is complete, Turkey will provide the "missing link" in an Asian-European rail network, giving China swift connections to send high-value products through Europe all the way to London (Today's Zaman, April 13, 2012).
The major potential losers when the BTK becomes operational will be the Russian Federation, which will lose its East-West railway monopoly via the Trans-Siberian that had dominated Eurasian rail trade for over a century, and Armenia, which will continue to be isolated as a major South Caucasian transit corridor becomes operational. Given the pressure Russia had applied on Kazakhstan to join its Customs Union, it will be interesting to see if similar pressure is applied over Kazakhstan's participation in the BTK "Iron Silk Road." And given that China is now both Kazakhstan's and the Russian Federation's number one trading partner, Astana is, once again, caught between East and West.