Some Ukrainians Fear Moscow Planning 'Bessarabian Republic' in Odesa
Publication: Eurasia Daily Monitor Volume: 11 Issue: 213
By: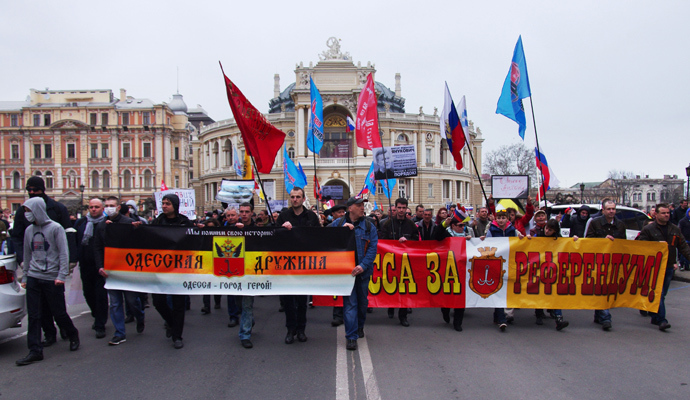 Since this summer, rumors have swirled that Moscow plans to create a Bessarabian People's Republic on the territory of Ukraine's Odesa Oblast. Some analysts have suggested that this would allow Moscow to build a bridge to the Transnistria region in Moldova and cut off Ukraine from the Black Sea (see EDM, August 11). Others, however, have argued that this is only a feint designed to force Kyiv to divide its attention. They assert that there is little likelihood such a project will ever truly take off, regardless of how much effort Moscow might eventually put behind it.
The rumors, current since at least late July (vesti-ukr.com, August 5), were the basis of a Ukrainian decision to step up defensive maneuvers in the Odesa region earlier this month (unian.net, October 9). But they have now become more widespread as the result of a report released last week by Ukraine's Da Vinci Political Consulting Group (davinci.org.ua, November 2014; vesti-ukr.com, November 27).
The new report says that Moscow is working to create such a republic perhaps as early as the spring of next year in order to increase Russia's control and reach throughout the region. Such a projection is especially disturbing because it suggests that the Russian authorities are making plans to continue their aggression in Ukraine even as they talk about wanting a ceasefire and extending it into Moldova as well.
The Da Vinci report says that "Russia can count on the activation of separatism in Bolgrad, Ismailsky, Reniysky, Atrsizsky, Kiliysky and Tarutinsky districts [of Ukraine's Odesa oblast]" after destabilizing the situation in Moldova's Transnistria and Gagauz regions. For the Kremlin, the report continues, "the spring of 2015 will be a key moment […] the most favorable for the launch of a new round of aggression against Ukraine."
The group's analysts say that Moscow is focusing on Odesa because of the large number of ethnic Russians in the population, the support for Russia's position in Transnistria, and the way in which the formation of such a people's republic could create "a second front" in Ukraine with which Kyiv would be forced to deal. While many in Ukraine are inclined to accept the conclusions of the Da Vinci report as well-based, others say that this is a psychological operation intended to destabilize the situation rather than the bellwether of some actual Russian action.
Artem Filipenko, the director of the Odesa office of the National Institute of Strategic Research, is one of those skeptics. He argues that there is no basis at present for the launch of such a project. "I can remember," the Odesa expert said, "that there was an attempt of establishing a Bujak Republic on this very same territory in 1991, when there were more favorable conditions for doing so… Now, the economic situation is much worse than it was 23 years ago," but instead of making the project more likely, it undermines the chances that it could succeed because people in the area recognize that their lives would only worsen if they were to follow this line (vesti-ukr.com, November 27).
"Beyond any doubt," he says, "one must follow the situation in this region carefully and take effective measures for the rebirth of the economy of Bessarabia," but thinking that Russian forces are about to create a second Donbas there only works into Moscow's hands and undermines Ukraine. Any effort to create a people's republic in the area would fall flat because of a lack of local support.
Odesa law enforcement agencies agree. According to them, "there are no separatist attitudes in the region," and if any agents should try to provoke them, the police and the Ukrainian special services stand ready to give them "a rapid and harsh reaction." The police in the southern Ukrainian city said that in its view, the Da Vinci report is part of a media war Moscow opened against Moldova in advance of the November 30 parliamentary elections in that country rather than being about Ukraine at all (vesti-ukr.com, November 27).
Those who doubt he possibility that Moscow will create another people's republic in another region of Ukraine almost certainly have the better arguments, but the existence of such reports works to Russia's advantage even if their content is untrue. First, it keeps everyone on edge, fearful that Moscow is about to do something even worse than it has so far. Given how far Vladimir Putin's actions have already surpassed most analysts' initial expectations, such fears are going to circulate regardless of what happens.
Second, even if they doubt such reports, Ukrainian officials have little choice but to track the developments and deploy resources in those places where they have reason to fear that Moscow is active. Russian agencies created the Donetsk and Luhansk "people's democracies" almost from nothing. No one in Kyiv can be sure that Russia's special services will not try to do the same again. And third, such reports play into Moscow's hands in another way by portraying Ukraine as a fragmented state that no one can or should help.