Taliban Victories in Helmand Province Prove Test for Afghan Government
Publication: Terrorism Monitor Volume: 14 Issue: 12
By: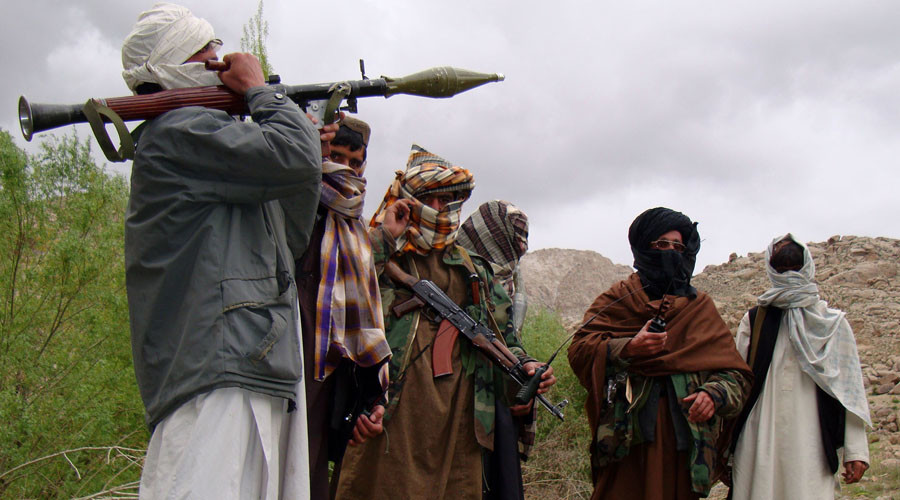 Days after a U.S. drone strike killed the Taliban leader Mullah Akhar Mohammad Mansur in southwestern Pakistan on May 21, Afghan lawmakers warned of the impending collapse of Afghanistan's largest province. "Helmand is on the verge of collapse; 58 people were martyred during a single night; isn't it shameful? Isn't it a shame for the [Afghan] minister of defense, president, chief executive and minister of interior?" Senator Hashim Alokozai asked in Kabul (Tolo TV, May 31).
His views were echoed on ground in Helmand where Karim Atal, the head of Helmand's provincial council, told journalists on May 30 that Lashkar Gah, capital of the southern Afghan province of Helmand, might be soon overrun by the Taliban. "If we don't get air support and reinforcements, Lashkar Gah and Helmand will fall within 48 hours," he said, warning "it is a mistake to view the ongoing fighting in Helmand as routine" (Gandhara, May 30).
The claim of Afghan lawmakers that Afghanistan's largest province was on the cusp of falling to the Taliban immediately set alarm bells ringing. An immediate influx of special forces and air strikes ultimately prevented Lashkar Gah, a city of 150,000, from falling to the Taliban. The group has ramped up efforts to capture the province, the epicenter of the multibillion-dollar global opium trade and long seen as a coveted prize by the insurgents.
In a sign of things to come, the May 21 killing of Taliban leader Mullah Akhtar Muhammad Mansur has barely dented the Taliban's efforts in this regard. Atal's claim shows just how close the Taliban are to overrunning Helmand.
Taliban Advance
By providing a bulk of recruits and funding through its drug trade, Helmand was central to the rise of the Taliban in the 1990s. When amid a civil war, the student militia quickly swept the Pashtun-populated regions in southern and eastern Afghanistan and conquered most of Afghanistan before the demise of their regime in late 2001.
After the end of major NATO combat operations at the end of 2014, which entailed the withdrawal of thousands of international troops, the Taliban set their sights on reclaiming Helmand. Bordering Pakistan and located in close proximity to Iran, this region has a territory of more than 58,000 square kilometers, larger than Switzerland. Most of the world's opium is grown and processed into heroin here, and the drugs are then smuggled to the West and the Middle East through Iran, Pakistan, and Central Asia. Control over, or a major share in, this multi-billion dollar illicit industry could boost the Taliban's strategic prospects.
The group notably refined their 2015 spring offensive, which typically follows the harvesting of opium crops in Helmand in multiethnic northern Afghanistan, making advances and briefly capturing the city of Kunduz in September.
In Helmand they made more steady progress. At the beginning of 2015, the insurgents controlled only two of Helmand's 15 districts – the desert district of Dishu in the south, near the Pakistani border, which has been a base for drug trafficking since the Soviet occupation of Afghanistan in the 1980s, and the desolate mountainous region of Baghran in the north – both of which have been under de-facto insurgent control since 2001 (Gandhara, June 24, 2015). By the end of the year, at least three more districts were in Taliban control, and another six were being contested.
Operation Zulfiquar
The Afghan military offensive to prevent the Taliban from expanding control in rural Helmand, known as Operation Zulfiqar, largely failed to stop the downward spiral in northern Helmand. Local lawmakers blamed the central government, apparently overwhelmed by political infighting and the biggest Taliban offensive in years. Abdul Majid Akhundzada, who represented the northern Kajaki district on the provincial council, warned of an imminent Taliban takeover of his constituency in June 2015: "The threat persists because nothing is being done to turn the Taliban tide," he said. "We have not seen any government reinforcements or other measures to push the Taliban out of our district" (Gandhara, June 24, 2015).
By July 2015, the Taliban were on the march across the rural agricultural regions of Kajaki and four surrounding districts of Nawzad, Sangin, Nahr-e Saraj, and Musa Qalah. Sharafuddin, an Afghan police commander who like many Afghans goes by one name only, complained that his men were exhausted after defending one of Afghanistan's major hydroelectric dams in Kajaki district for two weeks straight. "My soldiers are not lions. How long will they hold out against this unending onslaught?" he asked (Gandhara, July 02, 2015). The commander said the Taliban had rallied a special force called Red Division, which attacks security forces from all sides and has a constant supply of new fighters. "We don't have any tanks or air support," he said. "A few days ago, one of my soldiers died from his wounds because we had nothing to stop his bleeding or to evacuate him from Kajaki" (Gandhara, July 02, 2015).
Afghan security officials, however, downplayed the Taliban victories. "They were saying that they will topple the Afghan government this year, but you can see no such thing is happening," said Brigadier General Dadan Lawang, an Afghan army commander in Helmand (Gandhara, July 02, 2015).
While the government somehow defended the dam in Kajaki, the loss of Musa Qalah and Nawzad districts after intense battles in August 2015 proved a significant blow. The loss of Musa Qalah, in particular, gave the Taliban control over poppy cultivation and trafficking. The Taliban had repeatedly fought to reclaim Musa Qalah since 2001, leading to a major battle in 2007 against British and U.S. forces. Gaining control in August 2015 put them in a position to overrun all of northern Helmand and the entire province. "Unfortunately, Musa Qalah is now in the hands of the Taliban. It is a [strategically] vital district, and its fall implies the fall of Helmand," Abdul Hai Akhundzada who represents Helmand in the lower house of Afghan Parliament said (Gandhara, August 26, 2015).
Over the course of just a few months, the Taliban added the districts of Nawzad, Musa Qalah, and Nawmish to the Dishu and Baghran districts they already controlled. Breaking with the past, the Taliban and Afghan forces kept fighting over Nad-e Ali, Kajaki, Marjah, Khanashin, Sangin, and Nahr-e Saraj district despite the winter. This meant the insurgents were inching closer to the provincial capital Laskhar Gah in central Helmand. In an open letter to President Ashraf Ghani via Facebook, Helmand Deputy Governor Mohammad Jan Rasoolyar requested urgent reinforcements in late December 2015, urging immediate reinforcements to stop the Taliban's "rapid advance" (Gandhara, December 20, 2015).
Enter General Qahraman
At the beginning of this year, alarmed by the Taliban's advances, President Ashraf Ghani appointed former Lieutenant General Abdul Jabar Qahraman as the "operational commander" of all Afghan forces in Helmand on January 27. Qahraman, who represented Helmand in the lower house of Afghan Parliament, distinguished himself in the 1980s by launching some of the most successful counterinsurgency operations against the muhajedin, the Islamist guerillas backed by the United States and Pakistan at the time.
"People of Helmand, I promise you I will take away a general's uniform if he fails to [protect] you," Qahraman told Helmand residents (Gandhara, January 27). He pledged to do away with personal rivalries, endemic corruption, and a lack of coordination among the estimated 32,000 government forces, which are made up of national and local police and the Afghan National Army.
Qahraman's return to the scene was aided by some 500 U.S. soldiers who mainly focused on retraining thousands of Afghan Army soldiers operating under the umbrella of the Afghan National Army's 215th Maiwand Corps in Helmand. As Qahraman went on to improve the discipline, morale, and coordination of his troops, U.S. and NATO forces worked on increasing their capacity. By April, the 215th Corps had its own drone fleet to surveil Helmand form the air. The military effort was aided by a covert offensive by Afghanistan's intelligence agency, the National Directorate of Security, which created a secretive unit of 300 operatives to infiltrate Taliban ranks to take advantage of infighting among Taliban factions. "We have built the military capacity to face any eventuality in Helmand," Qahraman said (Gandhara, April 18).
Resurgent Taliban
Helmand's battlefield, however, painted another picture. By May, the Taliban's virtual siege of Lashkar Gah had been in place for nearly two months. The Afghan forces lost a precious opportunity to attack insurgents that month while a majority of Taliban fighters were busy harvesting poppies, a highly labor-intensive exercise. "We urged the government forces to abandon their defensive positions and attack the Taliban fighters who were busy harvesting poppies," said Abdul Tawab Qureshi, a military expert in Helmand, "but they preferred to remain bunkered, which encouraged the Taliban to mount a bold offensive." [1]
The emboldened Taliban mocked Qahraman. "The battle is now raging in Baba Ji, the door to Lashkar Gah and part of its fourth district, and it is consuming the enemy soldiers," read a Taliban statement sent to the media on May 10. [2] Locals see the Taliban control of Musa Qalah and their stranglehold over the region's drug trade as the key factor in pushing their offensive forward. "The Taliban can find enough recruits from among Musa Qalah's estimate 400,000 residents," said Abdul Baseer, a local tribal elder. "In the northern parts of the district, they have established large training camps and are ramping up their war effort." [3]
Helmand Governor Hayatullah Hayat said winning back control of Musa Qalah is a priority in order to reverse the Taliban advance. For Helmand residents, however, the government is running out of time. In an interview on Radio Free Afghanistan on June 2, Lashkar Gah resident Abdul Rauf Meharpur said: "The longer the government fails to establish security and reverse the Taliban's gains, the more they will lose people's faith and good will." [4]
In early June, Afghan President Ashraf Ghani visited Helmand to boost the morale of his troops and reassure locals that Kabul is paying full attention to the fighting in the region. "Those who say Afghanistan is in danger should think again. Because the security and defense forces are safeguarding this soil by sacrificing their lives," he told soldiers and officers at 215th Corp's headquarters in Lashkar Gah (Tolo TV, June 4).
It will be a difficult fight. A Helmand-based journalist said that after filling their coffers with drug money, the Taliban are now paying nearly $100 in monthly stipends to their fighters and are openly pressing farmers to donate a portion of their poppy proceeds in the name of Islamic taxes. Proceeds from the drug trade have helped the Taliban arm fighters with newer weapons. [5] Sources in Helmand say the insurgents have recruited 2,000 more fighters, including foreign jihadists, for their next attempt to overrun the province.
Notes
[1] From a Radio Free Afghanistan (Pashto) broadcast, May 30, 2016
[2] Qya Ahmadi, e-mail to author, May 10, 2016
[3] From a Radio Free Afghanistan (Pashto) broadcast, June 2, 2016
[4] Ibid.
[5] Author's interview, Mohammad Ilyas Daee, May 2016