The Long Arm of the Law(less): The PRC's Overseas Police Stations
Publication: China Brief Volume: 23 Issue: 11
By: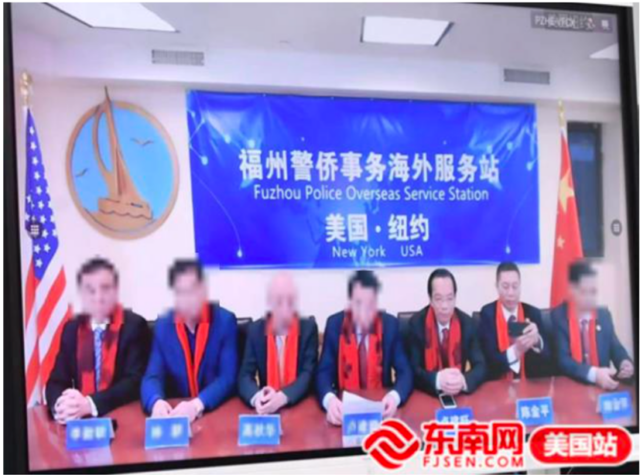 Introduction
In April, the FBI charged two Chinese-Americans, both U.S. citizens, with conspiring to act as agents of the government of the People's Republic of China (PRC) by establishing an "overseas police station" on behalf of the Fujian Public Security Bureau in New York. The defendants allegedly organized counter-protests against the Falun Gong, harassed a Chinese fugitive to return to the PRC and hassled a pro-democracy activist living in California.
On June 6, the UK Government Minister of State for Security, Tom Tugendhat, made a statement with an update on Chinese "Overseas Police Service Stations" reportedly located in Croydon, Glasgow and Hendon (UK Parliament, June 6). He stated that "the Police have visited each of the locations identified by Safeguard Defenders [the NGO that reported the locations], and carefully looked into these allegations to consider whether any laws have been broken and whether any further action should be taken. I can confirm that they have not, to date, identified any evidence of illegal activity on behalf of the Chinese state across these sites." The reactive approach in the UK is notably different from the US, where proactive intelligence led investigations by the FBI have led to multiple arrests.
International concern regarding the extent of law enforcement activity by Chinese agencies outside of their home country jurisdiction has recently increased. Such activity has been reported as "Chinese Overseas Police Service Centers" (Safeguard Defenders, September 2022), "Chinese Assistance Centers" (China Brief, January 5, 2019), joint patrols in Italy with local police, structured training to local police such as in the Solomon Islands, harassment and intimidation of Chinese dissidents, and extra-judicial action to return fugitives from overseas that effectively constitutes extraordinary rendition. These activities are characterized by their diversity and, as a result, should not be considered part of a single strategy. Rather, the multiple purposes served by Chinese police forces' expanding overseas activities can be better understood by tracing how these efforts have evolved over the past decade.
Since 1978, the successful opening up of the PRC's economy has fostered the international expansion of Chinese companies and contributed to large diaspora communities of Chinese nationals around the world. Following a surge of emigration in the 1990s, an estimated 10.5 million PRC citizens lived overseas by 2020. [1]  Since its launch in 2013, the Belt and Road Initiative (BRI) has become a global project linking Asia, Africa, Europe, Latin America and Oceania to the growing Chinese economy, involving projects in 147 countries costing the PRC an estimated $1 trillion. [2] The rapid economic growth from the early 1980s on also generated rampant corruption. The decade-long anti-corruption crackdown overseen by General Secretary Xi Jinping during his tenure has resulted in 4.4 million cases of corruption investigated (by the Central Commission for Discipline Inspection, CCDI). The efforts to root out corruption have also led the PRC to launch overseas "Fox Hunt" operations have apprehended over 9,000 overseas corruption fugitives "extradited" from 120 countries with over 20 billion yuan ($2.9 billion) repatriated (Xinhua, September 19, 2022).
The global economic expansion of the PRC has contributed greatly to the enlargement of the Chinese diaspora overseas to encompass workers, emigrants, dissidents, criminals and corrupt officials, which has required the Public Security and State Security agencies to take a new approach (China Brief, May 13, 2022). Workers, emigrants and dissidents must be monitored to assess their political stances, while criminals and corrupt officials must be pursued to face justice (or injustice) through the PRC legal system. This has required a new international outlook from PRC agencies. In addition, the growing Chinese diaspora is a primary target of the Chinese Communist Party's (CCP) United Front strategy. Such efforts should be considered in relation to the "Chinese Assistance Centers" as building the United Front has far greater long-term importance for the CCP than the pursuit of criminals.
There are a range of diverse activities attributed to these "overseas police stations" (or service centers), which require analysis to determine the aims and the PRC agencies involved.
The Public Security Bureau in New York
A key role of "overseas police stations" seems to be the harassment of Chinese political dissidents. This was illustrated in April, when the FBI arrested two Chinese nationals in New York "in connection with opening and operating an illegal overseas police station, located in lower Manhattan, New York, for a provincial branch of the Ministry of Public Security (MPS) of the PRC" (FBI, April 17). The defendants, aged 59 and 61, were charged with conspiring to act as agents of the PRC as well as obstructing justice by destroying evidence of their communications with an MPS official. The defendants allegedly established the first overseas police station in the U.S. for the Fuzhou Public Security Bureau, which is under the supervision of the Ministry of Public Security.
One of the defendants, Lu Jianwang, allegedly assisted the MPS since around 2015, including by organizing counter-protests against the Falun Gong (a religious group banned in the PRC) during President Xi Jinping's visit to Washington, D.C. that same year. A Deputy Director of the MPS who was a member of Xi's entourage during the visit presented a plaque to Lu, seemingly in reward for his assistance.
Both defendants are U.S. citizens, who belonged to a Fujian association established in Manhattan in 2013. They are reported by the FBI to have been recruited by an MPS official in Fujian Province in 2018 and subsequently tasked with ascertaining the locations of persons of interest in the U.S. Lu's relationship with the PRC authorities was not only with the MPS but also with officials from the United Front Work Department, in particular with a senior official of the Fuzhou All-China Federation of Returned Overseas Chinese (U.S. Department of Justice, April 5). He is also a member of the Fujian Provincial Political Consultative Conference (CPPCC). The national CPPCC and its provincial subsidiaries are the core United Front forums that facilitate collaboration with other political parties as well as political consultation with groups and individuals under the CCP's direction.
The defendants allegedly established the "Fuzhou Police Service Station for Overseas Chinese" in 2022 in a lower Manhattan office. The FBI believes that in January 2022, the Fujian Public Security Bureau held a ceremony in Fuzhou, the provincial capital, marking the establishment of a worldwide chain of "overseas police service stations."
The FBI case provides insight into how such "overseas police service stations" may function. An MPS official asked defendant Lu Jianwang in March 2022 to confirm the location of a Chinese political dissident living in California. The dissident was a leader of protests against the PRC government during the 1989 Tiananmen Square protests, an advisor to a former U.S. Congressional candidate and the target of a harassment operation organized by the PRC Ministry of State Security (MSS) involving arrests by the FBI in March 2022.
The FBI also identified Chinese news media reports from April 2022 that reported on the role of the Fujian Police Service Center for Overseas Chinese and explained how they help Chinese nationals in the U.S. renew their driver's licenses via a WeChat application submitted to the Traffic Management Center of the Fujian Public Security Bureau. It is not yet clear if the driver's license renewal process was a cover for the United Front and political harassment activities or if the services were actually provided on location.
Chinese Assistance Centers
In a January 2019 article for the Jamestown Foundation's China Brief on "Chinese Assistance Centers" Grow United Front Work Department Global Presence," Matt Schrader detailed an international network of thirteen "Chinese Community and Police Cooperation Centers" (hereafter: "police cooperation centers") established by PRC expatriates (China Brief, January 5, 2019). This was the first credible reporting of what was assessed to be an international expansion of the PRC's law enforcement activities.
As Schrader observed in 2019, the "overseas police centers" established in South Africa appeared closely related to "Overseas Chinese Service Centers" established since 2014 in at least 39 countries. This assessment held that these centers were involved in providing services to locally resident Chinese, but with clear links to the CCP United Front Work Department. This indicates that the centers are a channel for United Front activities targeting the global Chinese diaspora.
The global Chinese diaspora is a primary target of the CCP's United Front Work strategy. Since the formation of the CCP, United Front Work has been a means of co-opting political and social groups to support the dominance of the CCP and has further developed into a key tool that the Party uses to engage with the global Chinese diaspora (Jamestown Foundation, April 12). The expansion of Public Security and State Security activities targeting the Chinese diaspora outside the PRC has been well reported in recent years, but United Front activities remain less well understood.
A recent example of the alleged political influence of United Front related groups is in Canada, where multiple politicians claim to have been victims of such activities. Erin O'Toole, a former Conservative Party leader in Canada, claimed recently that the Canadian Secret Intelligence Service (CSIS) briefed him that the United Front Work Department "organized and directed" groups of people to "amplify misinformation efforts" against him. In addition, PRC agencies also allegedly targeted him by disseminating misinformation and undertaking voter suppression efforts (Globe and Mail, May 30). In May, Canadian Member of Parliament Jenny Kwan stated that she has also been briefed by the CSIS that she has been targeted by the PRC government because of her advocacy work for human rights in Hong Kong and  Xinjiang (Vancouver Sun, May 29).
Chinese Overseas Police Service Centers
In 2022, the NGO Safeguard Defenders published the investigative reports: "110 Overseas: Chinese Transnational Policing Gone Wild" (Safeguard Defenders, September 2022 and "Patrol and Persuade: A follow-up investigation to 110 Overseas" (Safeguard Defenders, December 2022).
Safeguard Defenders states that 230,000 people suspected of fraud and telecom fraud were successfully persuaded to return to the PRC. This does not seem likely to be related to the global network of "overseas police centers." The endemic fraud conducted by and against Chinese nationals, as well as nationals of other countries, is largely conducted from Southeast Asia. Fraud syndicates have been especially active in Cambodia, Laos, Myanmar, the Philippines and Thailand, where large numbers of PRC nationals, along with gangs from Mainland China, Hong Kong and Taiwan, have gravitated (China Brief, March 25, 2022). Safeguard Defenders has claimed that there are 102 overseas police service stations in 53 countries, which is a far wider geographical scope than necessary to combat the largely Asia-based fraud epidemic targeting Chinese nationals.
The figure of 230,000 people persuaded to return to the PRC requires clarification. In fact, the PRC government has stated that between April 2021 and July 2022, "police nationwide resolved about 594,000 telecom and online fraud cases, and 230,000 people involved were re-educated or persuaded to return from overseas, significantly reducing the number of Chinese nationals going abroad to commit crimes against Chinese citizens" (PRC State Council, September 19, 2022), which indicates that a part of this number were people within the PRC (i.e. those "re-educated"). The global network of "overseas police centers" do not contribute to combatting the largely regional fraud problem in Asia, and other purposes should be considered as more likely.
It is noteworthy that the instructions from some local authorities to not travel to nine countries with serious fraud crime problems, Myanmar, Cambodia, the United Arab Emirates, the Philippines, Thailand, Laos, Malaysia, Turkey and Indonesia, unless necessary, were issued by county or provincial authorities. No indication of such instructions originating from the MPS has been discovered.
Indeed, in 2019, 250,000 Chinese nationals were reportedly living in Cambodia, but after the government announced a ban on online gambling operations, 6,000 left each day, with a total of 120,000 people departing after two weeks (Radio Free Asia, September 6, 2019). As Safeguard Defenders notes, tens of thousands of fraud suspects have been "persuaded" to return to the PRC from Cambodia and Myanmar, where major hubs of telecom and online fraud are located. The proximity of Cambodia and Myanmar to the PRC's land borders are why so many Chinese criminal groups have established fraud hubs in those countries and are also the reason many Chinese nationals have travelled to these locations.
The role of "overseas police stations" has been well clarified by the Taiwanese government, which has extensive experience in dealing with covert PRC activities. In May, the National Security Bureau (NSB) of Taiwan reported to the Legislative Yuan that the PRC has been operating over one hundred "police-qiao (diaspora) service stations" since 2016 to track political dissidents as well as criminals. The NSB reported that the "police stations" operate from convenience stores, restaurants and private homes and are used for surveillance of overseas Chinese nationals and to persuade fugitives to return to China. The NSB also reported that most of the "police service stations" are supervised by Public Security Bureaus of Wenzhou, Lishui and Qingtian cities in Zhejiang Province, Nantong City in Jiangsu Province, as well as Fujian Province (Focus Taiwan, May 23). Taiwan NSB Director General Tsai Ming-yen confirmed at the Legislative Yuan that the PRC "secret overseas police" may be active in Taiwan, though they take different forms, and he warned citizens to remain alert to the threat of covert surveillance by illegal Chinese overseas police stations (Taiwan News, April 26).
The PRC government has stated that there are "no so-called overseas police stations" and that "the relevant institutions helped overseas Chinese who could not return to China due to the pandemic renew their driving license and perform physical examination. Hence, the government maintains these are not so-called police stations or police service centers at all. Rather, they have been organized by local Chinese groups and volunteers who helped provide venues for the services, not Chinese police personnel.
Beijing avers that given the evolving COVID situation and making services available online, "the relevant service centers have been closed" (PRC Ministry of Foreign Affairs, May 16). Interestingly, the PRC government has admitted that such service centers exist, but denies they provide any "police" services.
In response to the UK Government statement in June, the PRC Ministry of Foreign Affairs spokesman, Wang Wenbin, stated that "China strictly abides by international law and respects other countries' judicial sovereignty. We've made our position clear on the issue more than once. The truth is that there are no so-called "secret police stations" (Ministry of Foreign Affairs of the PRC, June 7). This continued denial comes after clear evidence from Chinese government websites of "overseas police service centers" operated by provincial Public Security Bureau offices.
The operation of police centers in foreign countries without consulting host nation governments  is a breach of the United Nations Vienna Convention on Diplomatic Relations of 1961, which in Article 12 states that "The sending State may not, without the prior express consent of the receiving State, establish offices forming part of the mission in localities other than those in which the mission itself is established." (United Nations, April 18, 1961). The provisions of the Vienna Convention relating to sending government representatives to other countries requires mutual consent. The PRC government has disregarded this requirement having admitted that "local Chinese groups" were engaged to assist other Chinese nationals with certain government services. This seemingly contravenes international law and may also breach related local laws in the countries where "the relevant service centers" have been located.
Joint Patrols with Local Police Forces
The expansion of PRC law enforcement activities has been most visible with joint patrols with local police in other countries. In 2016, following an agreement between the PRC and Italy, four Chinese officers joined Italian officers for joint patrols in Rome and Milan. The joint patrols were reportedly intended to safeguard Chinese tourists through Chinese-language assistance. As part of the reciprocal agreement, four Italian police officers went to Beijing and Shanghai to patrol with Chinese police. In 2017, the Chinese police joint patrols were expanded to Florence and Naples with eight officers deployed. Liao Jinrong, director of the Ministry of Public Security's International Cooperation Bureau, stated that such joint patrols were also being considered with Austria and Spain (PRC State Council, April 25, 2017).
By 2018, ten Chinese police officers were traveling to Rome, Milan, Venice and Prato for joint patrols (China Daily, May 30, 2018), which seemed to be occasions for showing off uniforms and holding a ceremony rather than actual law enforcement. In 2019, Chinese police officers traveled to Rome, Milan, Turin and Padua for three weeks of patrols, the fourth year of the joint patrols (China Daily, November 6, 2019). Multiple "overseas police service centers" have been identified in Italy.
In Croatia, six Chinese police officers joined the first joint patrol in 2018 in Zagreb for one month during the peak tourist season. Notably, Croatia hosted 87 foreign police officers from about 20 countries for joint patrols, hence, the PRC was hardly the only country involved (China Daily, August 15, 2018). However, no "overseas police service center" has been identified in Croatia.
In Serbia, six Chinese officers from Hebei Province conducted joint patrols with Serbian police in Belgrade and Novi Sad (Xinhua, September 16, 2019). An "overseas police station" has allegedly been established in Belgrade, although it is not linked to the joint patrols.
Collaboration with other police agencies is not new for the PRC. In March, PRC officers took part in the 127th Mekong River joint patrol with law enforcement authorities of Laos, Myanmar and Thailand. Three Chinese vessels were involved in the continue focus on cracking down on cross-border crimes along the Mekong River, which is a vital waterway for cross-border shipping. The PRC authorities have been conducting joint patrols on the river since December 2011 (MPS, March 23).
The joint patrols have a real law enforcement purpose in regions such as the Mekong River, where piracy pervades, and the People's Armed Police has made some headway in combating the problem through cooperation with neighboring countries. However, in most other regions, joint patrols are largely a diplomatic tool. Italy and Serbia are both part of the BRI and consequently, the PRC has used MPS officers as part of charm offensive efforts in both countries as well as to further its security interests by building collaboration with overseas police agencies. However, PRC police joint patrols in other countries are not directly related to "overseas police stations" and should not be conflated with them.
Training Local Police 
In addition to joint patrols, PRC police officers are also increasingly engaged in training and cooperation with overseas police agencies.  In 2022, as examined in China Brief, the PRC and the Solomon Islands finalized a security agreement that was leaked on social media (China Brief, July 15, 2022). The deal included provisions for "China to send police, armed police, military personnel and other law enforcement to the Solomon Islands to assist in maintaining social order, protecting people's lives and property, providing humanitarian assistance, carrying out disaster response, or providing assistance on other tasks agreed upon by the Parties; China may, according to its own needs and with the consent of Solomon Islands, make ship visits to, carry out logistical replenishment in, and have stopover and transition in Solomon Islands, and the relevant forces of China can be used to protect the safety of Chinese personnel and major projects in the Solomons" (Dr. Anna Powles, Twitter, March 24).
The agreement led to the deployment of a China Police Liaison Team led by Zhang Guangbo, an officer of the rank of Commissioner third class, who stated that this PRC presence was intended to protect the safety of Chinese communities in the Solomon Islands as well as contribute to overall stability in the islands (Embassy of the PRC in the Solomon Islands, March 4). The PRC also sent police riot equipment to the Solomon Islands to better equip the local police (MPS, January 6, 2022). However, no "overseas police service center" has been identified in the country.
Extraordinary Rendition in All but Name?
A key part of MPS activity in relation to "overseas police service stations" is to track down fugitives wanted for corruption in the PRC. The "Fox Hunt" and "Skynet" programs to chase fugitives who had fled overseas were launched during President Xi Jinping's tenure after 2012. The MPS launched "Fox Hunt" (猎狐) to locate the more than 18,000 officials who had reportedly fled overseas taking over 800 billion yuan ($125 billion) with them, largely to Asia- Pacific countries with large Chinese communities (China Daily, November 12, 2014).
"Sky Net" (天网) was launched in 2015 and involved multiple agencies. The State Supervisory Commission pursued fugitives and stolen goods for duty-related crimes. The Ministry of Public Security tracked down officials hiding abroad. The People's Bank of China targeted offshore companies and underground banks that transferred illicit money overseas. Finally, the Supreme People's Court and the Supreme People's Procuratorate undertook judicial action against those apprehended for crimes (Central Commission for Discipline Inspection, March 3). "Sky Net" has been a holistic, whole-of-government global program, which seems to have led "overseas police stations" to effectively engage in extraordinary rendition.
Conclusion
The issue of "overseas police stations" or "service centers" is complex and needs to be considered holistically in the context of the continued expansion of PRC policing internationally as well as CCP United Front efforts and other influence activities around the world. Safeguard Defenders has assessed that the "overseas police stations" are linked to the nationwide campaign by the PRC to combat fraud and telecommunication fraud perpetrated by Chinese nationals living abroad, as well as other activities. However, the vast majority of Chinese fraud suspects are located in Asia, notably in Cambodia, Myanmar and Thailand, whereas the "overseas police centers" are largely located in Europe. As a result, "overseas police stations" are unlikely to be primarily concerned with dealing with criminal fraud suspects. Rather, they are likely focused instead on ensnaring fugitives fleeing punishment for corruption, intimidating political dissidents and influencing the Chinese diaspora and foreign political systems (Jamestown Foundation, April 12). Such stations may possibly also perform administrative work, such as renewing driving licenses, but this explanation may also be a clumsy cover story.
The Jamestown Foundation's China Brief found in 2019 that "overseas police centers" were established in at least 39 countries from 2014 on. Safeguard Defenders have identified 102 "overseas police stations." The Director General of the Taiwan National Security Bureau has stated that there are over one hundred. The FBI has reported that the Public Security Bureau in Fujian Province has established a worldwide chain of "overseas police service stations."  Hence, an extensive network of informal PRC service centers that are utilized for public and state security purposes clearly exists.
However, the evidence thus far indicates that this network of "overseas police centers" has been established by city and provincial Public Security Bureau offices. There is no indication that the national Ministry of Public Security Bureau directed the establishment of these centers. As a result, it is unclear if this is part of a wider strategy on Beijing's part or simply improvisation by provincial officials who have grasped an opportunity to improve their performance indicators by returning fugitives wanted for corruption violations, silencing political dissidents and influencing Chinese nationals in other countries. The network seems to have been improvised and to have developed on an ad hoc basis.
In addition, the use of "Overseas Chinese Service Centers" in United Front activities is likely to be a key part of their role. CCP United Front operations cut across PRC government departments, and hence, collaboration between public security and state security agencies is a given. The denials of the operations by the PRC government are disingenuous. Beijing contends that these "overseas police stations" are not law enforcement entities, but in reality are assistance organizations, which are themselves unlawful in much of what they do. The disclosures by Safeguard Defenders in 2022 as well as the Jamestown Foundation in 2019 have shed light on this aspect of the expansion of PRC overseas law enforcement and United Front activities. A critical next step is enforcement action against this activity by appropriate law enforcement agencies in each jurisdiction where they are located.
Martin Purbrick is a writer, analyst, and consultant. He spent over 32 years in Asia working in the Royal Hong Kong Police serving in Special Branch and the Criminal Intelligence Bureau, followed by senior leadership roles managing financial crime risk with several major companies. Martin is an Honorary Fellow at the Keele Policing Academic Collaboration (KPAC) of the Keele University focused on public order and criminology in Asia.
Editor's Note: This piece exceeds the standard length for China Brief articles but is being published due to its timeliness and reader interest.
Notes
[1] See Heidi Østbø Haugen and Tabitha Speelman, "China's Rapid Development Has Transformed Its Migration Trends," Migration Policy Institute, January 28, 2022.
[2] See James McBride, Noah Berman, and Andrew Chatzky, "China's Massive Belt and Road Initiative," Council on Foreign Relations, updated February 2, 2023.