The 'Privatization of Force' Presses on in Russia (Part Two)
Publication: Eurasia Daily Monitor Volume: 20 Issue: 35
By: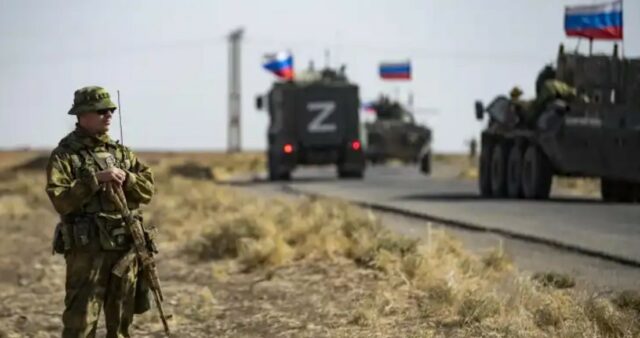 A February 7 press release from the Main Directorate of Intelligence of the Ukrainian Ministry of Defense of Ukraine (GUR) revealed that one of Russia`s largest energy companies, Gazprom Neft, is now considering the creation of its own private military company (PMC) (Gur.gov.ua, February 7). This may mean the ushering in of a new dimension of a developing domestic "arms race" within Russia—that is, the emerging competition between state and private actors for influence, in which PMCs and other shadow (para)military formations are being used as key actors. In fact, a glance at other developments in the realm of privatized force in Russia further corroborates these reflections.
Recently, news started to circulate about a PMC, directly connected to the Russian Ministry of Defense, operating in the area of Vuhledar—a site of recent massive losses for the Russian army (Radio Svoboda, February 10). This was reported by the spokesman for the Eastern Group of the Ukrainian Armed Forces, Serhiy Cherevaty. He stated that, in the area of Vuhledar, a Russian PMC named "Patriot"—which is allegedly sponsored directly by the Ministry of Defense and personally by Russian Defense Minister Sergei Shoigu—has been active in operations. Cherevaty further alleged that the Patriot PMC was created as a direct competitor to the Wagner Group (Focus.ua, December 28, 2022).
That said, it should be pointed out that the Patriot PMC is by no means a new actor in the industry; detailed analysis of the group in English-language outlets was first conducted in 2018 (see EDM, August 1, 2018). At the time, the group's activities were primarily traceable to the African continent. The group was first mentioned when the All-Russian Officers' Assembly, a national war veterans' organization, published a document that was signed by, among others, Colonel General (ret.) Leonid Ivashov (president of the Academy for Geopolitical Problems), who made a statement in late 2021 calling on Russian Vladimir Putin to not make a strategic mistake and abstain from attacking Ukraine. Overall, the document implored the Russian authorities to legalize the use of PMCs (Newsrbk.ru, July 6, 2018). The document also mentions that, in 2018 alone, Russian PMCs were active "not only in Syria but also in the Central African Republic [CAR], Sudan, Yemen, Libya and a number of other African and Arab countries" (Radio Svoboda, July 6, 2018). In addition to the Wagner Group, the document referred to the PMC Patriot, which has allegedly been active in Syria since the spring of 2018 and was later spotted in Africa. An overview of open-source material on Patriot conducted by this author in 2018 suggested the following characteristics are inherent to this PMC (Chvk.info, accessed July 27):
Composition—The company is said to be primarily comprised of professional Russian military men with significant fighting experience.
Payment—The salaries paid out by Patriot to its fighters ($6,300–$15,800 per month) is said to be much more generous than Wagner ($2,500–$3,500 per month). However, contracts offered usually do not exceed one to two months.
Tasks and Functions—Unlike the Wagner Group, which is concerned primarily with military operations, Patriot is thought to specialize in providing physical protection for statesmen and important persons. This division of responsibilities (as well as disputes about contracts for protecting gold mines in the CAR) is apparently leading to growing animosity between the two PMCs as both look to expand their commercial opportunities (Ura.news, July 5, 2018).
Command and Control—Some experts have claimed the existence of strong ties between Patriot and the Russian Ministry of Defense, which was confirmed by Ataman Shabaev (one of the signatories to the PMC petition described earlier). Other sources provide information on existing connections between Patriot and the Russian Main Intelligence Directorate (GRU), which allegedly "packs" this PMC with members of the GRU Spetsnaz (special forces) (Graniru.org, July 5, 2018).
Furthermore, in July 2022, Russian news channel TV Rain (Dozhd) partially corroborated this description of Patriot. During an interview, an unnamed representative from the Russian Ministry of Defense stated that "a new Russian PMC [apparently, Patriot] is securing construction of a Russian military base in Burundi." The company and its activities are said to be "coordinated by the Foreign Ministry, the Aerospace Forces and the FSB [Federal Security Service]" (Tvrain.ru, July 5, 2018). Later, Igor Girkin (Strelkov) stated that, in Syria, three Russian PMCs were active: the Wagner Group (sponsored by Yevgeny Prigozhin), Redut PMC (related to Russian billionaire and Putin`s close associate Gennady Timchenko), and Patriot PMC, which is directly sponsored by the Russian Ministry of Defense and Shoigu. In a related comment, Ivashov stated that Patriot is primarily composed of acting members of the GRU Spetsnaz, military lawyers and other members of the Special Operations Forces (Trtrussian.com, June 1, 2021). In 2022, Patriot PMC seemingly disappeared; it was not mentioned in the context of operations or tasks in Syria or Africa. The company later re-appeared in late 2022 and early 2023 within the scope of Russia's war against Ukraine. Apparently, this means that the Russian Ministry of Defense is also keen to become a stakeholder in Russia`s growing (yet, technically illegal) industry of private military contractors. As demonstrated by the Wagner Group, entities of this type are equally suited for not only outsourcing (para)military needs but also becoming key factors in the struggle for power and influence inside Russia.
Moreover, in addition to Russian oligarchs and the Ministry of Defense, other forces within Russian society have expressed a vivid interest in organizing PMCs of their own, thereby becoming stakeholders in the industry. Specifically, Chechen head Ramzan Kadyrov has stated his plans to create a PMC of his own, referring to the example "set by our good brother Yevgeny Prigozhin" (Interfax.ru, February 19).
In closing, considering the visible trend toward the growing development of "semi-state" shadow armies in Russia—which, unlike the 1990s, are now composed of battle-hardened professionals—three final corollaries should be made. First, the level of violence and criminalization within Russian society is likely to skyrocket in the next several years. Second, following Prigozhin's example, some local authorities (at the governor level) may be keen to start investing in similar (para)military organizations. Third, and perhaps most consequential, if the domestic situation stagnates, Russia may well repeat, at least in part, the fate of its historical predecessor during the "Time of Troubles" (1598–1613), with mercenaries and shadow armies becoming the main authority in the country.