TURKEY OFFERS ROUTE TO EUROPE FOR IRANIAN AND TURKMEN GAS
Publication: Eurasia Daily Monitor Volume: 4 Issue: 140
By: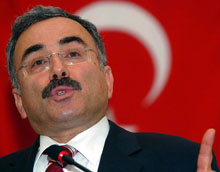 On July 13 in Ankara, Turkish Energy and Natural Resources Minister Hilmi Guler and Iranian Oil Minister Kazem Vaziri-Hamaneh signed a memorandum of understanding (MOU) on gas deliveries from Turkmenistan and Iran to Turkey and via Turkey to Europe. A deal along these lines could, if finalized:
open the last available gas corridor to Europe ("fourth corridor") outside Russian control;
rescue the Nabucco pipeline project (originally planned for Iranian gas);
give Turkmenistan for the first time an overland outlet to Turkey and farther afield, circumventing the Caspian Sea instead of crossing it;
provide direct access for Iranian gas westward, diversifying the European Union's supplies away from dependence on Gazprom; and
put some counter-leverage into European hands ahead of 2010, when some major supply agreements with Gazprom are up for renegotiation.
These are also the goals of U.S. policy. But they conflict with a decade-old U.S. agenda of preventing the development of Iranian gas resources, although Iranian gas could provide a competitive alternative to Russian gas in Europe. Turkish officials, seeking to avoid U.S. sanctions for dealing with Iran, are indirectly addressing this inconsistency in U.S. policy in their comments on the July 13 MOU.
Under the MOU, 30 billion cubic meters of gas would enter Turkey annually from Iran and from Turkmenistan via Iran. Most of this amount would be pumped via Turkey to Europe. Of this amount, Iran would provide 20 billion cubic meters annually from the super giant South Pars field. Iran would award the Turkish Petroleum Corporation (TPAO) the right to develop the South Pars blocks — also known as "phases" — no. 22, 23, and 24 — without a tender and on a buy-back arrangement.
Furthermore, Iran would transit 10 billion cubic meters of Turkmen gas annually to Turkey for pumping to Europe. It is not yet clear whether Iran would have to construct a new pipeline from Turkmenistan or whether it could use the existing pipeline, Korpeje-Kurt Kui. The latter carries Turkmen gas for consumption within northern Iran — the sole outlet for Turkmen gas not going to Russia. The line's maximum capacity is some 13 billion cubic meters annually, but it is being underutilized.
According to Turkish officials, Iranian and Turkmen gas reaching Turkey would be added to Azerbaijani gas through the planned Nabucco pipeline to Europe. Turkey's Botas company proposes to build the pipeline's stretch on Turkish territory, using transit revenue from the Baku-Ceyhan oil pipeline to finance part of the costs of the gas line. Iran is prepared to give Turkey a discount on the price of gas in return for the access of Iranian gas through Turkey to European markets. This project gives Turkey a chance to become a gas-trading country, rather than a gas-transiting country, at least for part of the volumes involved.
Under the MOU, Turkey and Iran are setting up a planning group for a one-month reporting period, to be succeeded by two joint groups: on gas field development and on transport and marketing, respectively.
Gas entering from Iran would make it unnecessary for the Nabucco consortium to buy Russian gas in desperation. Lacking access to Turkmen and Iranian gas, the Nabucco project's managers recently considered turning it into a joint project under dominance of Gazprom, which would have supplied up to 70% of the gas for the planned pipeline. Now, however, the proposed Turkey-Iran-Turkmenistan deal could rescue the Nabucco project from outright death or a Gazprom takeover.
U.S.-suggested alternatives to Iranian gas are not regarded as effective or credible in the countries concerned. Gas volumes expected from Azerbaijan cannot alone support both the Nabucco and the Turkey-Greece-Italy pipelines at the same time — and soon enough to win the race against Gazprom for European markets. Developing hypothetical gas fields in the Iraqi Kurdistan — or capturing associated gas from northern Iraq's oil fields — is precluded by the security situation for the foreseeable future.
Top-level Turkish officials are actively defending the Iran project in the Turkish media from possible U.S. objections. Prime Minister Recep Tayyip Erdogan, Minister Guler, and the Botas Director-General for Strategy, Cenk Pala, among others, describe the project's importance in terms of meeting Turkey's and Europe's gas needs from sources other than Russia, supporting the EU's supply diversification goals, and enabling Turkey to become a major energy corridor to Europe. Facing deadlock on the trans-Caspian pipeline project from Turkmenistan, as Guler notes, Turkey seeks access to Turkmen gas via Iran. From Erdogan on down, Turkish officials predict that Washington may initially resist the project but would ultimately understand the Turkish and European interests involved.
Most of this defense seems preemptive, but some of it responds to U.S. State Department spokesman Sean McCormack's July 16 criticism of Turkey's "timing" for this agreement with Iran.
In fact, the Turkish move is particularly well timed, coming not a moment too soon. It responds to Russian President Vladimir Putin's systematic offensive in May and June, planned for completion in September. Those moves include: the agreement of intent with Turkmenistan to reinforce and prolong Russia's monopoly on Turkmen gas; the agreement to incorporate Austria into Gazprom's transit and storage network; and the agreement to build a South Stream pipeline from Russia to Italy, bypassing Turkey (see EDM, May 14, 16, 17, 29, 31, June 5, 25). The first of these Russian moves would kill the proposed trans-Caspian pipeline for Turkmen gas to Europe. The second would defeat the Nabucco project for Europe. And the third could foreclose Europe's last alternative corridor, also defeating Turkey's goal to become that corridor (a goal that Turkey had recently hoped to achieve with Gazprom, given the deadlock on the trans-Caspian and Nabucco projects).
However, Turkey's MOU with Iran is giving Turkmenistan a non-Russian option just in time, ahead of a Russian-Turkmen intergovernmental agreement, which Putin wants signed in September. The Turkey-Iran MOU also keeps the Nabucco project alive. It maintains the opportunity to integrate the Baku-Erzurum pipeline for Azerbaijani gas with the Nabucco project, to reach Europe. And it gives Turkey a chance to become a transit corridor, not with Gazprom but outside its control, in keeping with EU- and U.S.-promoted supply diversification goals.
(Anatolia news agency, Zaman, Turkish Daily News, Radikal, July 15-18)