Turkey Transfers Drone Warfare Capacity to Its Ally Azerbaijan
Publication: Eurasia Daily Monitor Volume: 17 Issue: 144
By: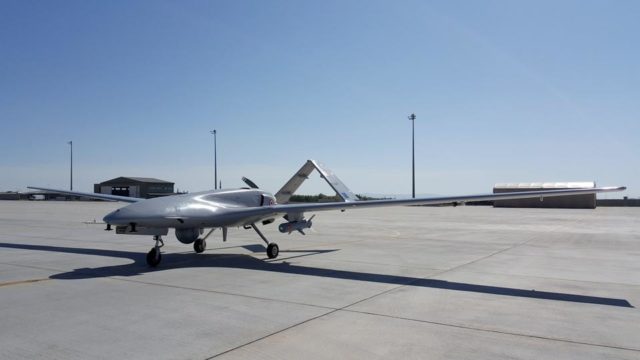 During the fierce clashes along the Karabakh front, which erupted on September 27, Azerbaijan demonstrated advanced drone warfare capabilities, showcasing its defense-technological edge over Armenian forces. Interestingly, the Azerbaijani drone campaign strongly resembled Turkey's Operation Spring Shield against the Syrian Arab Army back in early 2020. Apparently, Ankara has not only transferred unmanned aerial systems (UAS) to its natural ally in the South Caucasus but also a complete robotic warfare doctrine and concept of operations (CONOPS).
Turkey's Operation Spring Shield was launched following the February 2020 joint strike by the Russian Aerospace Forces and the Syrian Arab Air Force against the Turkish contingent in Idlib. The attack claimed the lives of 36 Turkish troops (Hurriyet, February 29). Spring Shield's CONOPS was designed to compensate for the absence of large maneuver units on the ground to execute land warfare tasks, as well as the lack of manned aircraft in the Syrian skies. The military planning, instead, was based on drone warfare and an innovative CONOPS, focusing on the integration of land-based fire-support (artillery and multiple-launch rocket systems) and unmanned aerial systems (YouTube, February 28). The operational art intended a high tempo to overwhelm the Syrian Arab Army. In doing so, surgical strikes by Turkish drones systematically targeted the Syrian mobile air defenses, most notably, the Russian-manufactured Pantsir short-to-mid-range mobile surface-to-air missile (SAM) systems. Meanwhile, heavily massed Turkish land-based fire-support weaponry, along with the buildup of the 2nd Field Army (İkinci Ordu), intensively hit Syria's northern deployments. Turkish artillery and rocket fires operated in close coordination with drone warfare assets, providing intelligence, surveillance, target acquisition and reconnaissance (ISTAR).
In several respects, the Azerbaijani military planning and operational art during the recent Battle for Karabakh mimicked the Turkish Armed Forces' way of warfighting during Operation Spring Shield. First, open-source intelligence suggests that the Azerbaijani land-based fires were in close coordination with unmanned aerial systems tasked with intelligence, target accusation, and battle damage assessment. The Azerbaijani artillery salvos during the night of October 7 demonstrated the aforementioned features especially clearly (Mod.gov.az, October 8). The second major similarity was the systematic hunt for the enemy's mobile air defenses. At the outset of the Karabakh clashes, the Azerbaijanis diligently chased Armenian SAMs with drones. Within two weeks, 60 pieces of Armenian SAM systems—mostly 9K33 OSA and 9K35 Strela-10 short-range air defenses and at least one S-300 component that was sent to the frontier—were destroyed by the Azerbaijani Armed Forces (Twitter.com/wwwmodgovaz, October 7). Finally, an important pillar of Azerbaijan's drone use has been information operations. The Azerbaijani Ministry of Defense has released daily updates utilizing drone footage on its YouTube and Twitter accounts. This was also the case for Turkey's Operation Spring Shield.
The military alliance between Ankara and Baku has visibly paid off for the latter in the September–October Battle for Karabakh. And drone warfare, in particular, has come to the forefront as perhaps the most critical pillar of Turkish-Azerbaijani bilateral defense ties. This will reinforce the preexisting trajectory of ever-more-intensive bilateral arms transactions, especially in robotic warfare.
First, Turkish drone design and production capacity has reached a critical mass when it comes to tactical and medium-altitude/long-endurance (MALE) systems, opening the door to increasingly higher-end sensors and larger combat payloads entering service. The Akıncı (the Raider), from the makers of the "Pantsir-hunter" Bayraktar TB-2, promises to be one such valuable asset. The Akıncı, scheduled to enter service in Turkey next year, will offer some 1,350 kilograms of combat payload. According to Baykar, the producer of the Akıncı UAS, the system will be able to carry a broad selection of weaponry, including SOM-A air-launched cruise missiles, with a range of more than 250 kilometers and a 230-kilogram warhead. Additionally, the Akıncı will carry advanced sensors, including an active electronically scanned-array (AESA) radar (Baykarsavunma.com, Roketsan.com.tr, accessed October 15). If realized, such a feature could offer a robust deep-strike capability to the Akıncı, making it attractive for Baku in the future.
An alternative system also likely to appeal to Azerbaijan is the Aksungur. From the makers of Turkey's other signature drone, the ANKA, Tusaş's Aksungur has a 750-kilogram combat payload for strike missions as well as a synthetic aperture radar/ground-moving target indicator (SAR/GMTI) as its principle sensors. This combination makes Aksungur a perfect fit for destroying mobile surface targets such as convoys, road-mobile ballistic missile systems, and maneuver platforms in all-weather conditions (Tusas.com, October 9). One should also note that any export success by Tusaş or Baykar would inevitably pave the way for Turkey's primary smart munitions–producer, Roketsan, to also consolidate its entry into the lucrative Azerbaijani weapons market.
While Azerbaijan possesses state-of-the-art loitering munitions procured from Israel in its arsenal, a lighter and more affordable solution might be STM's Alpagu fixed-wing kamikaze drone. Weighing only 1.9 kilograms, the Alpagu (and its rotary-wing sister, the Kargu) could equip Azerbaijan's special operations units as an organic force-multiplier weapons system. Moreover, Turkey's STM attaches utmost importance to boosting its drones' swarming and other AI-based capabilities—promising technology for the modern and future battlefield (Stm.com.tr, accessed October 15).
Finally, for some time, Turkey's Presidency of Defense Industries, the country's main procurement body, has been working on unmanned ground vehicles (UGV), a category that, until now, had taken a back seat to energetic Turkish drone warfare and UAS development efforts during the 2010s (Anadolu Agency, May 9). While the aforementioned aerial systems will be ready-to-go solutions, Turkey and Azerbaijan may end up jointly focusing on more futuristic endeavors in the UGV sphere as well.
Turkey's growing entry into the Azerbaijani drone market is critical for several reasons. From a geopolitical standpoint, it marks a new era in the "Two States & One Nation" (İki Devlet & Bir Millet) paradigm, which created the ideological foundation for closer bilateral ties. Turkey's dronization trend is now being transferred to Azerbaijan, becoming a tactical game changer in Karabakh. From a defense economics standpoint, Baykar's Bayraktar TB-2 is securing a firm foothold in the Azerbaijani weapons market, which, heretofore, had been dominated by Israel. As noted above, other Turkish systems could soon follow suit.
That said, one should mention a caveat: Following Azerbaijan's systematic use of the Bayraktar TB-2, Canada, which provides a critical camera sub-system for the drone, adopted a targeted embargo against Turkey (Yeni Safak, October 6). Likewise, considering the influential Armenian lobby in the West, particularly in the United States, any Turkish weaponry that incorporates systems and sub-systems from foreign providers could face difficulties in fulfilling future export orders to Azerbaijan.