Ukraine Survives Without Coal From Russia-Controlled Donbas
Publication: Eurasia Daily Monitor Volume: 14 Issue: 67
By: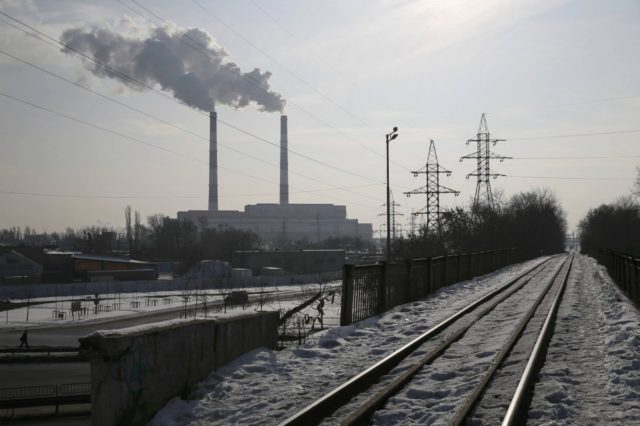 In spite of a blockade on shipments of anthracite coal from occupied Donbas to Ukrainian thermal power plants (TPPs) since this past winter, the country has thus far avoided blackouts. Moreover, Ukraine has managed to increase power generation by 2.1 percent year over year in January–April (Interfax-Ukraine, May 13). This was mainly thanks to heavy reliance on nuclear energy, but warm weather and lower consumption by industry also helped. Ahead of the next heating season, which kicks off in October, Ukraine is going to replace Donbas-sourced anthracite with imported coal, while also converting its thermal power plants to use alternative fuels.
Ukrainian nationalists began to block roads leading into the Moscow-backed so-called Donetsk and Luhansk "people's republics" (DPR, LPR) at the end of January, protesting against what they saw as profiteering from the war by Ukrainian tycoon Rinat Akhmetov at consumers' expense (see EDM, February 24, 28). They claimed that the government agreed to pay for coal extracted at Akhmetov's mines, located in the Russia-controlled areas, according to the so-called Rotterdam-plus formula, so it was as expensive as if it were shipped from the Netherlands (Zn.ua, February 17). Because of the blockade, Ukrainian TPPs were left without anthracite from the DPR and LPR territories, and the government warned in February that almost a third of Ukraine would face blackouts by April. Still, the protests gained momentum, and in March Ukrainian President Petro Poroshenko banned all cargo traffic with the occupied eastern territories. As a result, five out of the six Ukrainian TPPs that used to burn anthracite stopped operations in April (see EDM, March 29).
But even with many of its TPPs offline, Ukraine was not plunged into blackouts, thanks to a combination of factors. February and March were unusually warm, so less coal was used for heating. Industry also consumed less power because the Donbas blockade not only affected power generation, but also subdued output in metallurgy and the engineering industry. For example, after growth last year and in January, metal production plunged year on year by 4.3 percent in February and by 2.2 percent in March (Ukrstat.gov.ua, accessed on May 16). Also, thermal power was partially replaced with nuclear power, so the share of nuclear plants in power generation jumped from 52 percent in 2016 to 57 percent in January–April (Interfax, May 15). However, Ukraine cannot continue to heavily rely on nuclear reactors, as it will be necessary to shut them down for scheduled maintenance later in the year. Meanwhile, domestic power consumption is likely to grow, as the economy continues to expand.
To remedy this situation, Ukraine plans to increase coal imports, while adapting its TPPs to use lower-quality G-grade coal, which is extracted outside the occupied areas and can be easily imported, in place of anthracite. The Ukrainian government does not want to increase coal imports from Russia on principle, because of the war, so Prime Minister Volodymyr Groysman suggested buying coal from as far as the United States, South Africa and Australia (Ukrinform.ua, March 21). However, that might be prohibitively expensive, given the transportation costs involved.
On April 25, Sakhnakhshiri, a company based across the Black Sea in Georgia, won a tender to deliver 700,000 tons of coal to Ukraine to the state company Tsentrenergo, which runs two of the five power plants stopped due to the coal shortage. Sakhnakhshiri is to deliver coal to Ukraine in May–December. However, there have been doubts about this supplier, showing the pitfalls Ukraine may encounter while looking for a replacement to Donbas anthracite. Sakhnakhshiri faced only one competitor in the tender, a little-known firm registered in Poland but linked to a Ukrainian citizen, whose bid price was only $38 higher than Sakhnakhshiri's. So there was little or no competition (Liga.net, April 26). Furthermore, Georgia's former president Mikheil Saakashvili said on his Facebook page on April 27 that Sakhnakhshiri might end up buying coal for Ukraine in Russia, and he questioned the transparency of the deal. Georgia, said Saakashvili, could not produce so much coal of the quality asked by Tsentrenergo. Coal bought from Russia may turn out to be coal that was originally shipped to Russia by the DPR-LPR authorities.
Meanwhile, both the government and Akhmetov's DTEK, Ukraine's biggest private energy company, are working to convert their TPPs to G-grade coal. DTEK CEO Maksym Tymchenko said in an interview that one of his firm's TPPs was currently being converted, and conversion of another plant was already planned (Epravda.com.ua, April 27). DTEK also began to buy anthracite from South Africa (Dtek.com, April 13). Energy Minister Ihor Nasalyk told a recent government meeting that power units at two of Tsentrenergo's TPPs would use G-grade coal by the end of 2017. Along with the construction of new power transmission lines from nuclear plants and new hydropower units, this should allow Ukraine to replace about four million tons of Donbas anthracite in power generation, Kyiv hopes (Mpe.kmu.gov.ua, April 26).
Ukraine has learned to survive without natural gas purchases from Russia's Gazprom (see EDM, February 11, 2016). This year, it is learning to live without coal from the areas controlled by Russia-backed militants. This is vital for Ukraine's highly energy-dependent industry, which is expected to increase production this year, supporting GDP growth for the second year in a row, after deep recession in 2014–2015.