Ukraine Will Not Hold Elections During Wartime
Publication: Eurasia Daily Monitor Volume: 20 Issue: 174
By: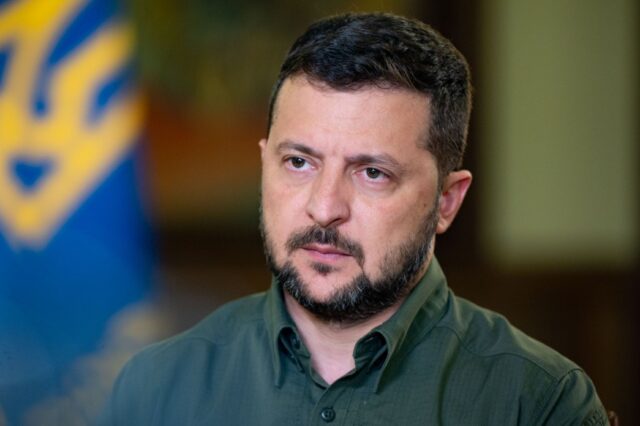 Ukrainian President Volodymyr Zelenskyy has ended a debate that he himself had helped spark. Zelenskyy told the nation on November 6 that Ukraine cannot hold elections while fighting a war for survival: "This is a time for cohesion, not division and wrangling. … Not for distracting society with politicking or the pursuit of particular interests. … Playing lightheartedly with elections is absolutely irresponsible now in a time of war. … This is a time for defense, for the battle on which the fate of the state and people depends. No time for such distractions that only Russia would hope to see in Ukraine. I believe that elections would be untimely now. … There must be no opening for [inner] conflicts and foreign games against Ukraine" (President.gov.ua, November 6).
The Ukrainian parliament's four-year tenure technically expired at the end of October. Zelenskyy's five-year term in office will expire at the end of March 2024. Ukraine's Law on the State of War (воєнний стан, originally codified in 2000 and briefly applied in 2018) and the Electoral Code, however, prohibit holding presidential and parliamentary elections or referendums in a state of war. Zelenskyy introduced and parliament approved the state of war on February 24, 2022, for 90 days, which has been rolled over eight times since then. Moreover, under Ukraine's constitution, the president and parliament shall each exercise their functions until a duly elected president and parliament is sworn in. From a legal point of view, elections need not be held for the duration of the war. Nor are they feasible in practice so long as the war rages on (see below).
Over the past two months, Zelenskyy's inner circle has considered the possibility of calling elections next spring, presumably combining the presidential and parliamentary elections. This would be legally feasible without lifting the state of war, but rather modifying the Law on the State of War and Electoral Code to allow for the holding of elections in wartime. The pro-presidential majority (Servant of the People party) could easily pass the necessary amendments in parliament and then exercise its prerogative to call elections.
Zelenskyy's team deemed it important to uphold Ukraine's international reputation as a democratic state by not postponing the elections any further. With Russian President Vladimir Putin expected to run for re-election in March 2024 and sail through, Ukraine supposedly should not fail to hold its own elections. At the same time, Zelenskyy's team envisaged capitalizing on the president's record-high popularity ratings to pump new life into the low ratings of the pro-presidential party through fresh elections. With the war possibly headed for a stalemate, holding elections before that would be preferable to holding them after a disappointing outcome in the war. Meanwhile, wartime elections would ensure that popular generals such as Valery Zaluzhny and other officers would stay in the military and not compete for elective office. These considerations sourced to insider officials were widely reported in Ukrainian media until Zelenskyy's November 6 speech to the nation (Zn.ua; Ukrainska Pravda; Unian, passim).
Those deliberations had apparently inspired the Ukrainian president to offer a series of public statements that seemed to open the prospect of calling elections soon. Zelenskyy indicated that he was ready to run for re-election while the war continues, as he would not desert his post during wartime. He announced that he would not run again after the end of the war. Zelenskyy seemed determined to disprove accusations that he avoided elections for fear of losing power, and he did not want Ukraine to live without elections for several years to come.
At the same time, the Ukrainian leader listed the preconditions for holding elections and running for a second term of office. These included: enacting legislative amendments in parliament (see above); properly organizing the electoral process in spite of wartime conditions, guaranteeing the right to vote for soldiers at the front and Ukrainian refugees abroad; ensuring that voters, candidates, domestic and foreign election observers, and journalists are safe from Russian air strikes while campaigning and voting; and ensuring state expenditures on electoral campaigns not detract from defense spending. Of all these prerequisites, only the first (acquiescence by the parliament) seems attainable (Suspilne TV, August 27; Zn.ua, August 31, September 5; Ukrinform, October 4; Ukrainska Pravda, October 11; New Voice of Ukraine, November 1).
Concurrently, the Ukrainian parliament's chairman, Ruslan Stefanchuk, announced that he was consulting with his European counterparts on the advisability of holding elections in Ukraine on schedule (Ukrinform, October 24). Foreign Minister Dmytro Kuleba confirmed as recently as November 3 that Zelenskyy was weighing the pros and cons of holding elections in the spring of 2024, in spite of the daunting challenges (Ukrinform, November 3). In sum, these messages looked like trial balloons, and the list of prerequisites could be seen as obstacles to holding elections in wartime.
That list of prerequisites evidenced at least two major omissions: first, deregulating the daily unified television newscast known as the News Marathon and, second, some legal and political act to offset the effects of not holding elections at this time in the Russian-occupied territories. Whether it is advisable to fully deregulate TV news broadcasting in wartime and to exclude the occupied territories from Ukrainian elections before exhausting the possibilities of liberation present genuine dilemmas at this time.
Civil society organizations generally oppose the holding of elections in wartime on the grounds that political infighting among parties and politicians would dangerously weaken Ukraine in its struggle against Russia. Democratic prerequisites (including those that Zelenskyy named) are unattainable so long as the war continues. Absent these prerequisites, attempting to hold elections would only impair and discredit the process.
This is the current national consensus in Ukraine. According to the Razumkov Center's opinion survey in September, 69 percent of Ukrainian voters (in government-controlled territory) oppose holding presidential and parliamentary elections during wartime. And according to the Kyiv International Institute of Sociology's survey in October, 81 percent of voters believe that any elections should be held after the end of the war (Kiis.com.ua, October 30, 31; Zn.ua, November 1).
On November 8, the Ukrainian parliament approved the president's motion to prolong the state of war and general mobilization for another 90 days—from November 16, 2023, through February 14, 2024. This move precludes holding presidential elections on the regular schedule in March 2024, given that electoral legislation stipulates a term of three months for pre-election campaigning (Ukrinform, November 8). By the same token, it allows the incumbent parliament to continue functioning so long as the state of war continues. 
The war has accelerated and deepened the transformation of Ukraine's political system. Zelenskyy, aided by his parliamentary majority, launched that transformation after taking power in 2019, with de-oligarchization of the political processes and centralization of executive power in the presidential office. The war, however, risks taking that transformation in some unintended directions: an unraveling of the pro-presidential majority in parliament, loss of popularity by the Servant of the People party, and the prospect of full "re-pluralization" of Ukrainian party politics once elections can be held again.