Ukraine's Slow-Moving Counteroffensive: Russia's Evolving Defensive Tactics (Part Three)
Publication: Eurasia Daily Monitor Volume: 20 Issue: 136
By: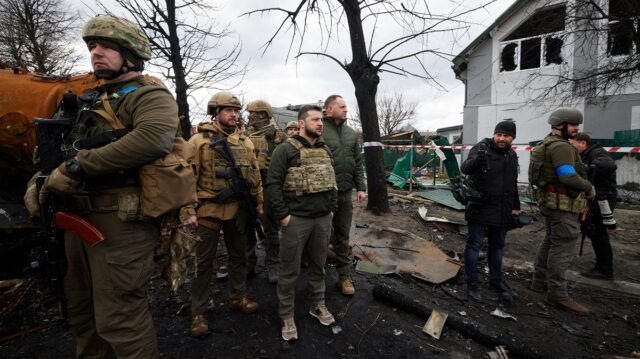 As the Ukrainian counteroffensive presses ahead, reports have increasingly characterized the effort as a campaign with steady gains, but heavy losses (Kyiv Post, June 13; Radio Free Europe/Radio Liberty, June 25; Commonspace.eu, June 27). At some level, Ukraine's mounting losses can be attributed to the evolution of Russian defensive tactics on the battlefield. Learning from the mistakes in failing to repel the Ukrainian counteroffensive during the fall of last year, Russia's military leaders have adjusted their tactics and further reinforced the second and third lines of defense (see Part Two).
This transformation reflects the conclusions of the Russian Armed Forces Combined Arms Academy, which evaluated the Kherson battles during several command and staff war games in an aim to develop promising tactics for improved maneuver defense (Vm.ric.mil.ru, April 22). In essence, such an approach seeks to achieve objectives by conducting reconnaissance and firing operations along Russia's supply lines to protect from increasingly accurate Ukrainian strikes, as well as progressively building up defensive forces to repel Ukraine's main strike groups. These efforts primarily seek to repel attacks, launch counterattacks and conduct consistent raids and ambushes. Such operational capabilities, in turn, allow Russian forces to hold key areas along the entire line of contact.
All this will inevitably lead to changes in Russia's defensive approach, the composition of the army's operational structure, as well as the methods of action for front-line formations and units. Thus, the Kremlin has presented a plan to divide the Russian army's defensive lines into three functional areas: the "cover," "main defense" and "waiting" areas (Mil.ru, accessed August 14). During the Kherson operation, irrigation canals were used as primary fortifications, while in the Zaporizhzhia direction, Russian engineer forces showed their expertise in digging deep and effective trenches. Along this section of the front, the Russian Armed Forces were able to implement this concept at a total depth of up to 70 kilometers (km) and were able to set up the defensive lines as shown and described below:
Russian Forward-Looking Defense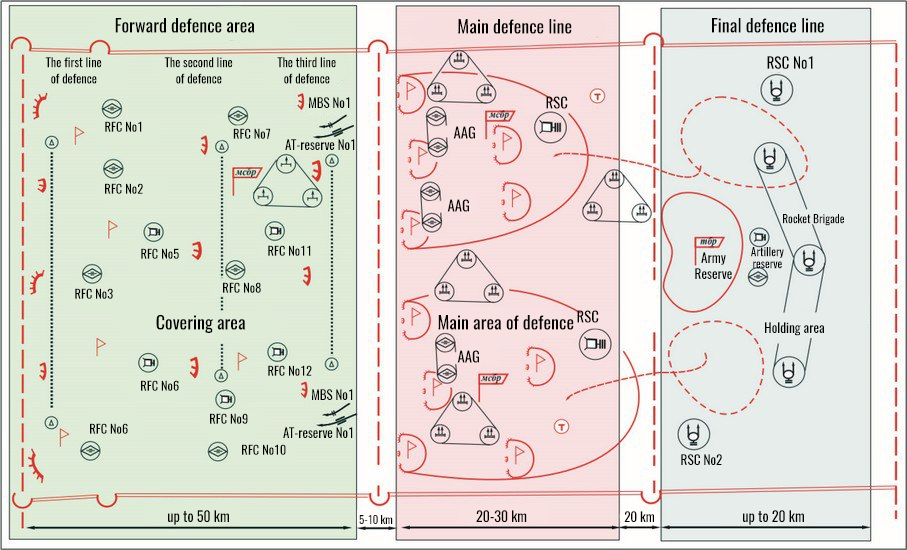 (Source: Vm.ric.mil.ru)
"The cover area is intended for the massive application of reconnaissance and attack complexes, as well as for the conducting of maneuver defense by the forces and means of the cover formations and units. The main defense area is created for the deployment of the army's main forces … and their subsequent defensive and offensive actions aim to prevent further enemy advances or to defeat individual breakthrough groups. The waiting area is intended for deployment and maneuver of dispersed formations and units from the main army forces before they enter the main area, as well as for the location of reserves, separate formations of branches of the army, special forces and army aviation" (Vm.ric.mil.ru, April 22).
The methods for conducting a defensive operation in this manner may include:
Inflicting losses on the enemy during its advance by using large quantities of precision munitions, forcing it to engage the main forces while still in the cover area;
Advancing and deploying the main forces along prepared or unprepared defensive (firing) lines in the main defense area; and/or
Imposing a final defeat on the enemy's strike groups in the main defense area by holding the defensive and firing lines and launching a series of fire attacks and counterstrikes.
Army aviation operations for this concept were also tested during the Kherson operation. When revealing the advance of columns of Ukrainian armored vehicles, their movements were specified and the "entry points" for the range of Russian aircraft were determined. Moreover, air power dynamics were analyzed to establish targeting for air crews, place the main strike group on readiness alert, ensure cover by helicopters equipped with electronic-warfare capabilities, control forward air communications and observe the target area with drones.
After that, operationally, the Russian High Command had to decide whether to redirect the group in the air or mobilize the group placed on alert. In this, the first two to three pairs of fighters flew toward the defensive zone in 10- to 15-minute intervals. The interval was then increased to around 25 minutes, and maneuvers continued for almost two hours, when a number of Ukrainian columns had been destroyed or dispersed from the kill zone (Mil.ru, accessed August 14). Then, up to five pairs of attack helicopters were used to provide consistent fire on Ukraine's columns, with an average flight time of 35 minutes. Detection of Ukrainian forces by Ka-52 and Mi-28 helicopters through improved sighting systems was achieved at a range of 10 km. Additionally, Vikhr-1 anti-tank guided missiles were launched by the Ka-52s at a range of 9 km, with the missiles being guided by the helicopters' navigators right up until they hit their targets. In this case, attack aviation was redirected to areas where Ukrainian units had been stooped by the initial onslaught. The successive air strikes were then carried out with unguided rockets, covering not only the stopped columns but also nearby wooded areas where other troops might be hiding. Examples of these combat operations are shown in the figures below:
Detection of Ukrainian Convoy by Ka-52 Helicopter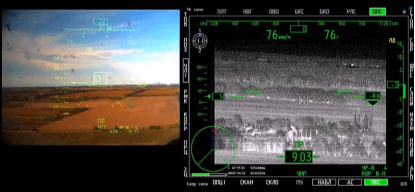 Detection of Ukrainian Tank by Ka-52 Helicopter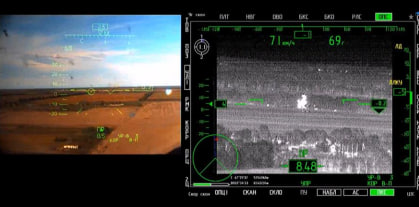 76th Russian Air Assault Division Targets and Destroys Ukrainian BTS-4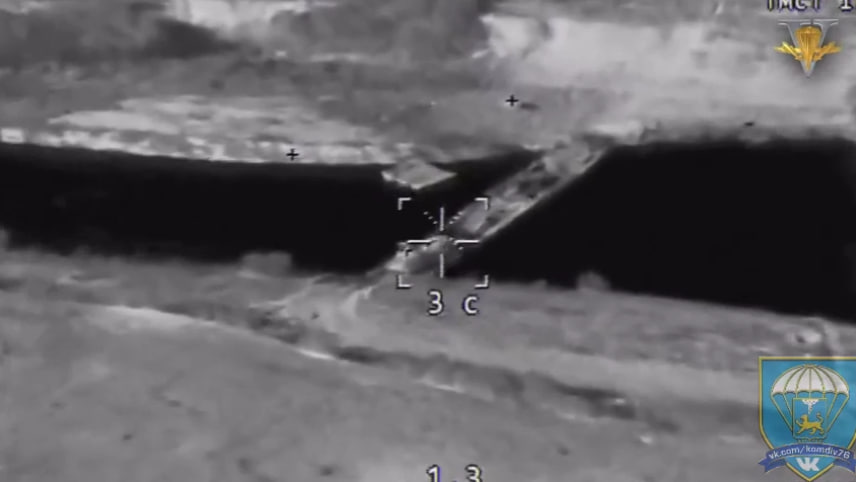 (Source: Telegra.ph)
Building on these adjustments for the current counteroffensive, the Russian military has been more effective in resisting Ukraine's assault brigades, even those equipped with Western tech. For example, Russia's refreshed defensive concept allowed its units to successfully push back and seriously weaken one Ukrainian brigade armed with M2A2 Bradley armored infantry fighting vehicles and Leopard 2A6 tanks, with the Ukrainian units eventually abandoning the vehicles (Twitter.com/oryxspioenkop, June 9). This case is perhaps the most illustrative example of the Russian High Command's improved concepts for maneuver defense.
Thus, while much coverage has been given to Ukrainian forces' impressive adaptability on the battlefield, similar adjustments are being made on the Russian side and cannot be ignored. Moving forward, it seems that the success of Ukraine's future operations and the overall effectiveness of Western aid will be predicated on devising an approach that can counter Moscow's recent tweaks to its front-line defenses.