Moldova Reduces Russian Embassy Staff in Lead-Up to Busy Electoral Season
Publication: Eurasia Daily Monitor Volume: 20 Issue: 135
By: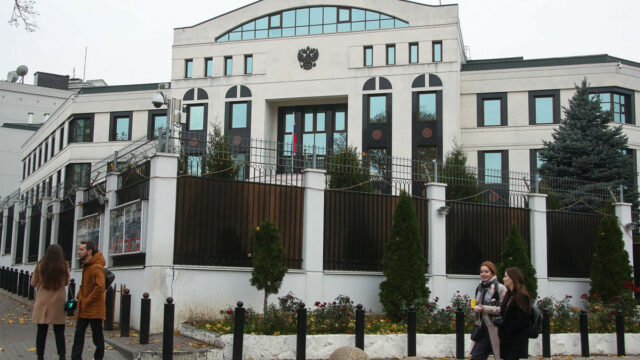 On August 18, the Russian Foreign Ministry banned entry to the country for 20 Moldovan officials, 18 of which come from the ruling Party of Action and Solidarity (PAS) (Radio Free Europe/Radio Liberty, August 18). This came in response to Moldova's supposed "unfriendly" policy, when on July 26, in an unprecedented and surprising move, Chisinau announced the decision to achieve parity with the staff of the Russian embassy in the country, thus demanding that Russia reduce the size of its mission to 10 diplomats and 15 technical personnel (Mfa.gov.md, July 26). In practical terms, this means expelling over 20 Russian diplomats and more than 20 technical personnel (Kommersant, July 26; Radiomoldova.md, July 26). Those staff members expelled were given the directive to leave by August 15, and, according to Russian state news agency TASS, they did so aboard Tu-214 aircraft operated by the Russia's Special Flight Squadron (TASS, August 14).
Public data on the number of personnel at the Russian embassy in Moldova is unreliable, but it is believed to be around 70. In addition, Russia reportedly deploys eight people at its Center for Science and Culture in Chisinau, under the auspices of Rossotrudnichestvo, a federal agency de facto run by the Russian Foreign Ministry, as well as another five in the "migration bureau" connected to its consular section (Deschide.md, July 26). While not all of these employees carry diplomatic status, they are all part of Russian efforts to undermine the current Moldovan government and replace it with one loyal to Moscow.
The Moldovan authorities' decision was seemingly triggered by an investigative report published by The Insider, which reported that the Russian embassy in Chisinau is used as a center for signals intelligence (The Insider, July 24). The report's authors counted 28 various types of antennas for intelligence gathering on the embassy's buildings, which is significantly higher than their number at the Russian embassy in Brussels (Fsb.dossier.center, April 18). Furthermore, the investigation claimed that, besides identified personnel from the Russian military intelligence service (GRU), it observed 23 people working for Russia's Foreign Intelligence Service (SVR) technical department that deals with such technology. The antennas are reportedly used for intercepting governmental and commercial communication; collecting intelligence from information systems, including by coordinating cyberattacks against Moldovan governmental agencies; and running Russian agent networks in Transnistria and Gagauzia. Thus, the Russian embassy practically became a center for intelligence and hybrid operations against Chisinau and a hub for supporting active measures in the region (e.g., Russia's war against Ukraine).
As part of the Moldovan authorities' comprehensive response, the Security and Intelligence Service denounced bilateral agreements between local municipalities within Moldova, including those in Transnistria and Gaugazia, and the Russian Federal Security Service (FSB) and the SVR, which allowed their personnel to freely travel to Moldova's Transnistria region and even open offices in Tiraspol (Radiomoldova.md, July 31). The FSB used this to deploy operatives who guided and even managed departments of the local so-called "ministry of state security" in Tiraspol.
In truth, The Insider investigation was only the final straw that finally overcame the hesitation of those Moldovan officials who feared upsetting Moscow and gave impetus to confronting Russia. A similar attempt led by the Moldovan Defense Ministry in 2018 to reduce the Russian military attaché office to one representative, which aimed to curb Russian military intelligence work in Moldova, faced extreme resistance in the Foreign Ministry and ultimately failed. At that time, Russia also manipulated the European Union and Organization for Security and Co-operation in Europe to pressure Chisinau by exploring their interest in the "5+2" negotiations format (see EDM, November 8, 2019). Additionally, Moscow claimed that such a move by Chisinau would inhibit the work of the Joint Control Commission (JCC), a leading structure of the Russia-built "peacekeeping" mechanism in Transnistria that is meant to monitor and address violations in the "security zone."
Coincidentally, in response to the most recent row, the current head of the Russian delegation at the JCC, Aleksandr Andreev, invoked a similar argument, stating that Moldova's expulsion of Russian diplomats would "create risks of failure in maintaining peace and stability" in the Transnistria region, given that "Russia is the principal mediator in the Transnistrian conflict's settlement" (Deschide.md, July 27).
Overall, the true trigger leading to Chisinau's drastic decision to reduce the Russian embassy staff came from the growing fear of being unable to resist Moscow's active efforts to overthrow the incumbent Moldovan government. This concern was accurately summarized by Moldovan Foreign Minister Nicu Popescu in a recent interview to local media. Popescu described a series of grievances that the incumbent government in Chisinau has with Russia, reflecting "hostile and disrespectful policies." The Kremlin's controversial approach includes repeated incidents in which Russian missiles have violated Moldovan airspace, using natural gas to influence Chisinau's political decisions, increased Russian attempts to destabilize Moldova by inciting violent protests (Ecfr.eu, March 17), expanded interference in Moldova's electoral processes, open support to separatism in Transnistria and Gagauzia and illegally maintaining military troops on Moldovan territory (see EDM, October 19, 2020, August 4, 2022, May 9; YouTube, August 1).
Moldova is entering an intensive electoral period, facing general local elections in November 2023, presidential elections in 2024 and parliamentary elections in 2025. While the incumbent government has made genuine efforts to advance democratic reforms, the lack of suitable technical expertise and poor statecraft, including the strategic timidity of the ruling elites and their inconsequential policies, have significantly undermined reform efforts. This, in turn, has disrupted the high expectations of the Moldovan population, which gave the ruling PAS a parliamentary majority in 2021. The failure to finalize substantial reforms over the past two years has effectively eroded the popularity of the incumbent government: In a recent poll, 53 percent of respondents indicated their belief that the country is heading in the wrong direction, while PAS shows signs of losing popular support (Tvrmoldova.md, March 9; Ipre.md, July 11).
Thus, the risk is growing that the next elections could strip PAS of its legislative majority and might even force it into opposition. As a result, leaving a strong Russian capability for destabilizing Moldova intact would exacerbate these risks, as Moscow would further extend its intelligence networks within the country, strengthen its ability to incite violent protests and increase its interference in electoral processes. Decreasing the Russian embassy staff provides temporary relief for Chisinau, as it will take time for the Kremlin to figure out how to reorganize its intelligence efforts in Moldova in hopes of effectively influencing the results of the country's forthcoming elections.