Understanding China's Response to North Korean Missile, Nuclear Tests
Publication: China Brief Volume: 16 Issue: 5
By: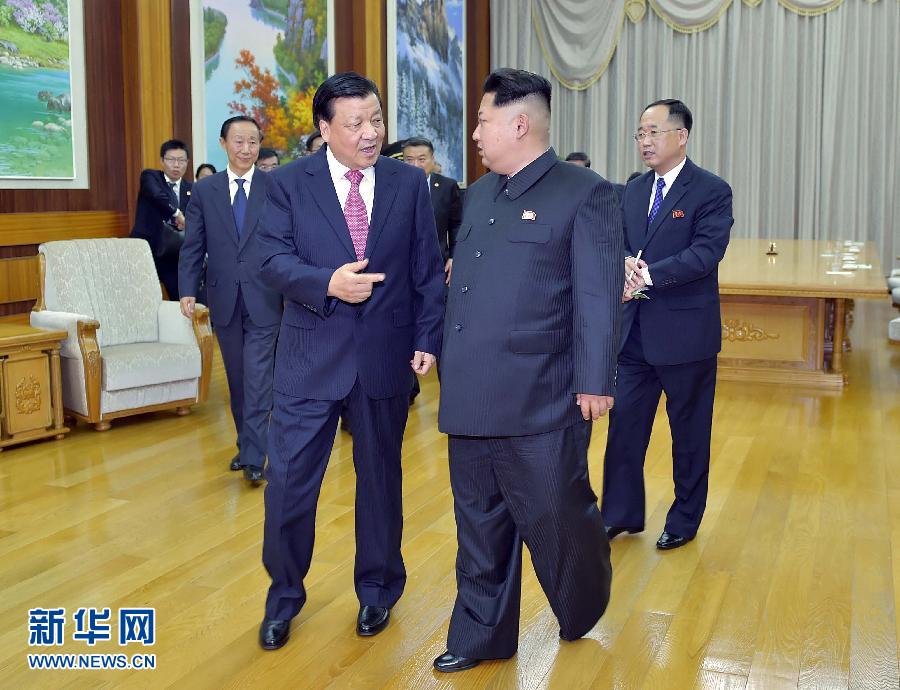 North Korea's test of a hydrogen bomb and subsequent launch of a satellite have again placed the onus on China to exert greater pressure on its erstwhile ally. A key element missing from most analyses of these developments is an examination of how China has responded over time, which requires looking back a few months to understand Beijing's calculus as to how and why to punish North Korea.
Pyongyang's association with "erratic behavior" and "provocations" can make it difficult to decipher evidence of the Kim regime's willingness to embrace China in their on again, off again relationship. The visit of CCP Standing Committee member and propaganda Chief Liu Yunshan to Pyongyang in October 2015 was one such case in point. That visit was not laden with extraordinary achievements, but it accomplished its purpose as a baseline for China's coordination with the Kim regime: a letter from Xi Jinping was presented to Kim Jong-un, implying some kind of future meeting between the two men, and the visit served as another explicit signal of China's support for Kim's government. Unusually for Chinese leaders, Xi and Kim have hitherto not met; Kim Jong-un previously met Vice Premier Li Keqiang in October 2011 and Vice President Li Yuanchao in July 2013. The meeting between Kim Jong-un and Liu Yunshan also resulted in a mutual commitment to deepening high-level dialogue between the CCP and the Korean Workers' Party. Nevertheless, during his four-day visit, Liu failed to extract an explicit pledge from Kim Jong-un not to test weapons or rockets, and may not even have met with top North Korean diplomats tasked with the nuclear negotiating portfolio such as Kim Kye-kwan (Xinwen Lianbo, October 10, 2015; Huanqiu Shibao, September 19, 2013). The meeting between Kim Jong-un and Liu momentarily improved propaganda coverage in the Chinese media for North Korea, probably due to Liu's conversations with his DPRK counterpart, leading senior propagandist Kim Ki-nam (Huanqiu Shibao, October 12, 2015). A series of violent incidents on the border with North Korea have soured public opinion, leading to largely negative coverage in Chinese media (Huanqiu Shibao, January 6, 2015; China Brief, July 2, 2015).
The most tangible evidence of an improvement in relations before the nuclear test and satellite launch in January is from a conversation between Liu Yunshan and DPRK Vice-Chairman Choe Ryong-hae. Choe has been in and out of the Western media spotlight as a possible target for purges, but he is one of the few individuals in positions of power now in Pyongyang who is close to untouchable. Choe's father worked with the Chinese Communist Party in the years of anti-Japanese guerilla fighting, and his ties to the Kim family are essentially unassailable. He has also represented the DPRK as a personal envoy from Kim Jong-un to both Xi Jinping's "Victory Day" celebration on September 3, 2015, and in bilateral discussions with the General Secretary in May 2013 after a spring of crisis on the peninsula (Huanqiu Shibao, August 24, 2015). With Liu, Choe pledged to engage in "abundant cultural and people-to-people exchanges"(丰富人文领域交流), a promise again repeated in Liu's meeting with DPRK elder statesman Kim Yong-nam (PRC Embassy in Pyongyang, October 14, 2015). These meetings were almost certainly the high-level institutional origin of the December visit to Beijing, two months later, by the Moranbong Band, a state-run rock band and court orchestra with links to the Korean People's Army and many personal ties to the Kim family. While the "Sea of Blood" Opera Troupe was the top instrument of the late Dear Leader Kim Jong-il's soft power strategy with China, in terms of cultural outreach from Kim Jong-un's North Korea, there could be no higher group or effort than the Moranbong. The Moranbong Band visit might be easy to dismiss as yet another quaint trait of North Korea, but the importance of such groups in the DPRK and the evident agreement from North Korean leaders shows that it was a meaningful move. Is it possible that the Band's visit actually functioned as evidence of solid Sino-North Korean relations, rather than instability? What seems to have been lost amid discussion of the Band's visit and subsequent rapid departure from Beijing was a more dispassionate breakdown of the composition of the North Korean delegation, something which could at least reveal which institutions are coordinating with which counterparts.
The PRC Embassy in Pyongyang noted that the North Koreans sent senior propagandist Kim Ki-nam to see off the band and speak to the Chinese interlocutors, along with Vice Foreign-Minister Ri Gil-song (who appears to handle the China portfolio in the DPRK Foreign Ministry, along with Southeast Asia), and a high-level representative of the Korean People's Army Political Bureau. The PLA and KPA have had seemingly few contacts in recent years, and the inclusion of the DPRK's army chorus (known as the State Merited Chorus) along with the Moranbong Band on the trip ought to indicate that the North Koreans made an effort to reach out and revive these ties through their musical ensembles.
The PRC's Ambassador to North Korea, Li Jinjun, heard from Kim Ki-nam that boosting exchange and cooperation in the cultural field is beneficial for deepening understanding in public opinion [民意] of the two countries and consolidating the foundation of their friendship." Kim further stated that he hoped that the China visit by the chorus and the cultural delegation and their performances there would provide an important turning point [重要契机] in promoting the development of the DPRK-China relations and boosting exchange and cooperation between the two countries in the field concerned" (PRC Foreign Ministry, December 9, 2015).
Unfortunately, the North Koreans did not send Kim Ki-nam with the Moranbong Band to Beijing, leaving the DPRK Embassy in the city to run affairs, which quickly developed problems. Almost immediately after their arrival at a Beijing hotel, the North Korean musicians were accosted by an aggressive South Korean reporter, who one Chinese writer speculated was to cause the North Koreans to question the level of security being provided by their Chinese hosts (Powerapple, December 11, 2015). Shortly after the Moranbong Band arrived in Beijing, Kim Jong-un stated that the country had hydrogen bomb capability, and the Band canceled their concerts, leaving abruptly. Relations which might have made an improvement in the wake of Liu Yunshan's visit instead quickly deteriorated, a trend that was only reinforced when Kim subsequently made good on his boast with an underground nuclear test on January 6, 2015.
Response to the Tests
In the immediate aftermath of the nuclear test, the press response was incensed. A lead editorial in Huanqiu Shibao called North Korean nuclear weapons "a deep-set deformity at the axis of the DPRK's security policy," going on to explain that nukes "could not compensate for the feeble national economy as well as critical deficiencies in other areas in the field of defense." The article went on to assert that North Korea was unfairly treating nuclear weapons like some kind of ticket which would bring surrounding states to bring it tribute, and, in a reference to Kim Jong-un's "Byungjin line" of parallel nuclear development and economic benefits, criticized the idea that "nuclear weapons would guarantee that North Korea would have every resource and opportunity for the comprehensive development brought to its door as "completely unrealistic" (Huanqiu Shibao, January 6, 2016).
How much did the fourth North Korean nuclear test result in tangible changes to Chinese policy toward its isolated neighbor? Beijing's domestic response to North Korean nuclear tests certainly took a tangible turn. A press release from the Chinese Ministry of Environmental Protection, carried by People's Daily, indicated that North Korean radiation was to be seen publicly as a threat to the security and stability of the border region along the Yalu and Tumen rivers. The Chinese Communist Party was eager to show the population on the Chinese side of the border that every precaution was being taken to protect them from nuclear accidents or accidental fallout from the DPRK side of the border (People's Daily, via Yanbian News, January 12, 2016).
Justifying Chinese opposition to the North Korean nuclear program by describing Chinese nuclear waste or fallout from North Korea is now a common theme among hawkish commentators. Since Retired Lt. General Wang Hongguang's 2013 essay on the theme, the specter of nuclear radiation along China's northeastern frontier is now sufficiently developed to justify more explicit public discussion of disaster and collapse scenarios in North Korea (Huanqiu Shibao, December 16, 2013.
After North Korea's missile launch in early February, Wang Haiyun, a retired PLA General and former military attaché for the PLA in Moscow, published a strongly-worded assessment entitled "China must prevent the outbreak of any chaos or war on the nation's doorstep" (Huanqiu Shibao, February 16, 2016).
Wang helped inflame the situation by leading off his editorial with a statement that "Western media have been spreading the rumor that the US, South Korea and Japan "have already decided to take military action against North Korea at the end of February" [已决定2月底对朝鲜实施军事打击]. Wang's criticisms of North Korea in the article are notable; his quote that "China will not sacrifice its own national interests to go rescue a regime which does not take advice" was widely distributed as indicative of Chinese thinking. But his work is also wrapped in much stronger invective toward the United States.
Even his call to arms to prepare for possible conflict in Korea is not framed as anything remotely anti-North Korean: "We must quickly make relevant military preparations, for instance the method of response to U.S. and Japanese fleets entering our maritime space, the method of response to Washington's deployment of the missile defense system in South Korea, and how to deal with possible pollution along our border caused by military strikes on North Korean nuclear targets by the U.S., Japan and South Korea." It is only with his concluding words that North Korea itself is seen as the danger, one that is relatively easily handled: "We also need to fully consider how to cope with large-scale waves of refugees and military deserters flooding in from North Korea" (Huanqiu Shibao, February 16, 2016).
Another ostensibly hawkish view on North Korea emerged in an interview with Qiao Liang, a PLA Air Force General (Zijing, February 28, 2016). While Qiao's remarks were quoted in English-language media as being exclusively critical of North Korea, his complaints never verged into criticism of the North Korean system itself, and were are invariably wrapped in a much greater scorn for Washington and concern over U.S.-ROK military cooperation. General Qiao and General Wang's writings, along with public comments from PRC Foreign Minister Wang Yi and NPC Spokesperson Fu Ying, indicate that Chinese-North Korean relations are again on a downswing, but not totally on the rocks.
Brotherly Sanctions
Lastly, it is worth recalling that the brunt of the trade with North Korea is siphoned through the Liaoning and Jilin province border regions, an area where China is in dire need of economic stimulus. China has recently called for revival of this traditionally strong industrial area. The border areas with North Korea are also areas where the PRC has had some difficulty enforcing its own rule of law. Against this background, sanctions enforcement is framed by Chinese officials and state media as stern brotherly love, not punishment of a global rogue. Though China's leadership is clearly displeased with North Korea, the reality of daily contact and trade along the borders, and though circuitous, the endurance of high-level contacts between the two neighbors indicates that China's long-term game with North Korea remains intact.
Adam Cathcart is Lecturer in Chinese History at the University of Leeds (UK). He has presented policy papers on North Korea's northern regions to, Chatham House, the Korea Economic Institute of America, and the UK Foreign Office, and does regular fieldwork on the Chinese-North Korean border. He is also the editor of the SinoNK.com research website. Adam Cathcart can be followed on Twitter @adamcathcart.