US, Russia Opt to Keep Lines Open on Energy, Despite Trading Barbs
Publication: Eurasia Daily Monitor Volume: 15 Issue: 129
By: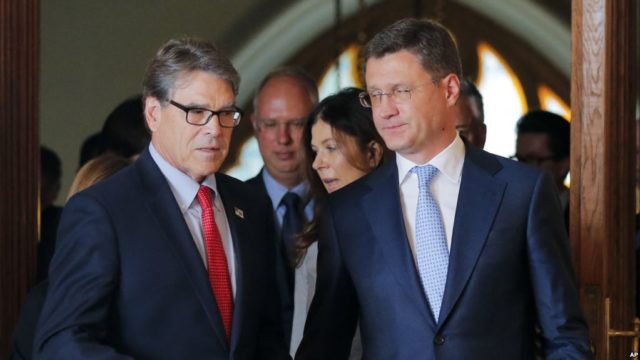 The United States and Russia have repeatedly traded accusations of the other side using oil and natural gas as geopolitical weapons, particularly as the bilateral relationship has grown increasingly tense (Neftegaz.ru, September 14). Nevertheless, when US Secretary of Energy Rick Perry and Russian Energy Minister Aleksandr Novak met in Moscow last week (September 13), the two officials pointedly agreed to keep the lines of communication open, especially since the two powers play leading roles in the global energy market. Deputy Russian Prime Minister Anton Siluanov also notably joined the Moscow talks (Energy.gov, September 13; TASS, September 14).
Perry's trip to the Russian capital reciprocated a visit Novak made to Washington last June (TASS, June 27). However, the US Energy Secretary's visit came as Moscow and Washington's relations have been deteriorating further over the latest planned imposition of US sanctions on Russia. First of all, the US imposed sanctions in August over the poisoning of former Russian spy Sergei Skripal and his daughter Yulia, in Salisbury, the United Kingdom, last March (see EDM, September 6). Second, US Senator Lindsay Graham recently introduced the so-called "sanctions bill from hell," designed to crush the Russian banking sector, as a deterrent to prevent Moscow from interfering in the 2018 US elections (RT, September 16).
Secretary Perry's charge that the Kremlin is using energy as a political weapon of course dampened the possibility of constructive dialogue with Novak. Whereas, the Russian counterpart alleged that Washington is doing the same by trying to derail the Nord Stream Two pipeline that will supply more Russian gas to Germany and beyond (Energy.gov, September 13; TASS, September 14). The United States has threatened European countries participating in this project with sanctions (see EDM, May 10, July 23).
Moscow contends that US opposition to Nord Stream Two stems from its desire to export more liquefied natural gas (LNG) to Europe (TASS, July 25). Indeed, the shale revolution has led to the United States becoming one of the world's largest gas producers. But unlike Russia, the US only started exporting this resource last year. And in fact, the bulk of US LNG exports are currently destined for Asia, with only 13 percent ending up in Europe. (Eia.gov, August 31). That said, the United States is projected to become the third-largest LNG exporter by 2020, trailing only Australia and Qatar (Eia.gov, March 27). So by then, it will likely also sell more to Europe.
Just as in their June meeting, Novak failed to dissuade Perry from supporting US sanctions against Nord Stream Two's European energy firm participants—Engie, OMV, Shell, Uniper and Wintershall. Last year, the United States enacted key legislation—the Countering America's Adversaries Through Sanctions Act (CAATSA)—which enables the government to sanction these companies and thus strongly delay or even entirely hobble the pipeline project (Treasury.gov, accessed September 17). But it has yet to impose this powerful financial tool.
In Moscow, Perry not only "reiterated the [Donald Trump] Administration's staunch opposition against" the Nord Stream expansion, but also accused the Kremlin of using cyberattacks to try to infiltrate the US electricity grid (Izvestia, September 14). This represented the first time that a US official had publicly made such an accusation in a meeting with Russian officials.
Yet, in a prior interview with CNBC, Novak contended that Washington is also using energy as a weapon in its Iran policy. The United States has threatened to sanction countries that do business with Iran's petroleum industry—a move that, the Russian energy ministry head asserted, interfered in the global oil market (Minenergo.gov.ru, September 12). He later added that Washington's efforts to maintain the dollar as the only currency in which international trades are settled also amounts to using economic policy as a political weapon (Rambler.ru, September 13).
Given the sharp geopolitical disagreements between Washington and Moscow, as well as anti-Russian sentiment in the US Congress in response to Russian election interference and other aggressive actions over the past several years, the Kremlin would be naive to expect significant improvements in energy ties with the Washington. And yet, it has shown a surprising willingness to keep energy-related communications channels open. Specifically, Novak and Siluanov expressed to Perry Moscow's desire to reactivate the US-Russia Energy Working Group, a now-dormant element of the Russia "reset policy" put in place under former US President Barack Obama (Energy.gov, September 13). Novak and Siluanov's overture signaled that the Kremlin acknowledges the United States is a global energy player while underscoring Russia's indispensability to the smooth functioning of world energy markets.
Illustratively, Russia and Saudi Arabia were key to the OPEC+ oil-production deal forged in late 2016 and extended the past two years. The volume and price stabilization agreement involves members of the Organization of the Petroleum Exporting Countries (OPEC) and important non-OPEC producers, particularly Russia (see EDM, April 2, June 25). During his visit to the United States this year, Saudi Arabian Crown Prince Muhammad Bin Salman said it was possible the OPEC+ deal could be extended 10 to 20 years (Arab News, March 27).
Meanwhile, the Kremlin wants to see the Gas Exporting Countries Forum forge a similar deal for gas. Russia plays a central role in this group, along with Qatar and Iran (Izvestia, September 13). The Forum does not set binding production quotas; it serves as a communication mechanism among large gas producers. But it has the potential to become an OPEC-type cartel if sufficient political coordination could be achieved by its members.
Despite confrontational positions in many energy and geopolitical matters, the United States and Russia are bound to work together in certain areas of mutual interest, such as to maintain stability in the global commodity markets and nuclear security. This clearly requires keeping their bilateral communication channels open. Still, their opposing positions on narrower subjects such as European energy security and the Ukrainian and Syrian conflicts will preclude such a dialogue from crystalizing into strategic cooperation in the energy sphere for the foreseeable future.