Wave of Post-Plebiscite Repressions Makes Russia More Dangerous
Publication: Eurasia Daily Monitor Volume: 17 Issue: 101
By: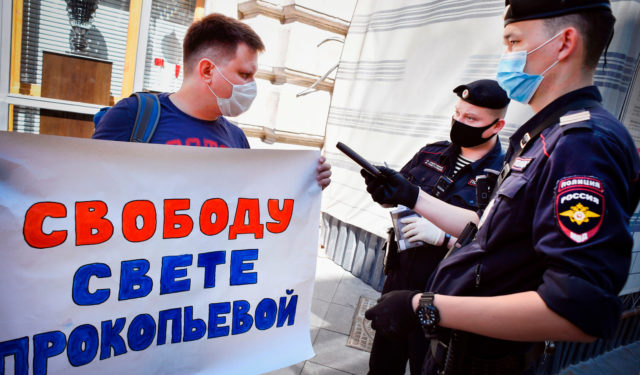 Russian President Vladimir Putin's political "triumph" in securing approval for the set of amendments to the constitution in a public vote on July 1 (see EDM, July 2) has brought neither cheerful celebrations nor benevolent rewards to loyal subjects. Instead, the government has begun meting out selective punishments in numerous cases of dissent. In the run-up to the crudely manipulated plebiscite (see EDM, June 15, 22, 29), the enforcers of autocratic order had to demonstrate restraint so that the propaganda campaign mobilizing votes for Putin's proposal would not be upset by protests. Those delayed repressions have now been unleashed, however; and the siloviki—from the police to the country's various security services—now feel free to hit any target of their choice (Republic.ru, July 9). Putin's capacity to control their appetites and quarrels has been weakened by his need to resort to blatant falsifications of much-diminished public support. And this fraud sets a new standard for future elections, in which actual levels of popularity of the irreplaceable leader will lose their final shred of importance (The Insider, July 7). Russia's continued transformation into an authoritarian police state will likely have noticeable consequences for its foreign policy.
The most impactful case of repression over the past two weeks has been the arrest of Ivan Safronov, Jr., a former defense correspondent for Kommersant, who has been accused of treason and selling state secrets to the North Atlantic Treaty Organization (NATO) (see EDM, July 9). Russian journalists have engaged in what protests they could against this assault on one of their own; and a petition demanding that the authorities reveal the substance of the accusation garnered 50,000 signatures in its first day (Novaya Gazeta, July 7). Meanwhile, the case of Vladimir Neelov, a military expert who investigated the activities of private security companies and was sentenced to seven years in prison for treason, has received much less attention (Fontanka, July 2). Moreover, Valery Mitko, a well-known researcher of Arctic geopolitics, accused of selling state secrets to China, is still under investigation (Meduza.io, June 15). With each case, the Federal Security Service (FSB) further stretches the definition of treason, making any research into military-security matters or discussions with foreign partners liable to prosecution with extreme prejudice (Ezhednevny Zhurnal, July 9).
Another high-resonance political bombshell was the July 9 arrest of Khabarovsk Krai governor Sergei Furgal on charges of contracting several murders in 2004–2005 (Kommersant, July 11). In September 2018, Furgal won regional elections against a Kremlin-favored candidate and proved himself a capable and popular administrator—which only increased the ire in Moscow (RBC, July 9). Demonstrations in support of the Khabarovsk head will almost certainly not alleviate his punishment. In the course of the struggle against the COVID-19 pandemic, Putin delegated significant authority to the governors, and now he needs to reassert his dominance; Furgal was chosen to serve as an example to the others (Snob.ru, July 9). What makes regional matters more prominent now than ever before is one of the newly adopted amendments to the constitution, which codifies central control over local authorities and asserts Russia's territorial integrity as an inviolable proposition (Carnegie.ru, July 10). Expressing criticism over the annexation of Crimea can be prosecuted as a federal crime akin to treason; and the opening of court hearings on the case against Mustafa Cemilev, the leader of the Crimean Tatars, is supposed to establish this norm (Grani.ru, Kommersant, July 9).
The Russian State Duma (lower chamber of parliament) is now preparing to reexamine all international treaties and agreements and check their compatibility with the primacy of Russian legislation, as enshrined in the newly revised constitution (Znak.ru, July 9). Interpretations of human rights are also certain to be curtailed and distorted, while most forms of protest activity could be criminalized as extremism (Novaya Gazeta, July 9). New caveats and conditions in the application of international norms will make it possible for Moscow to outright reject the rulings of the European Court of Human Rights, which has begun deliberations on the case presented by the Netherlands regarding Russia's responsibility for the downing of Flight MH17 over eastern Ukraine, on July 17, 2014 (Newsru.com, July 10).
Curtailing international obligations may encourage the Russian special services; thus, the wave of domestic repressions is likely to be followed by a wave of "active measures" abroad. One early sign of this uptick was the murder of exiled Chechen activist Mamikhan Umarov in Vienna last week (July 4) (Kavkazsky Uzel, July 6; see EDM, July 8). Chechnya's strongman, Ramzan Kadyrov, has never been shy about silencing his critics, and he is glad to see Moscow's propaganda machine amplifying his accusation of Western special services supposedly having perpetrated this crime (RIA Novosti, July 9).
The most convenient target of the new surge of Russian aggression remains Ukraine, and breaking the deadlock in the Donbas war zone could be seen as an accomplishment suitable for Putin's "elevated" status. Dmitri Kozak, his representative in the talks with Ukraine, called the proceedings in the Minsk process "absurd" (Izvestia, July 9). Moscow is irritated with Kyiv's persistent presentations of its claims in various international courts, even if the rewritten constitution provides legal cover for Moscow to dismiss any of the verdicts (Lenta.ru, July 7). The  policy of subjecting Ukraine to heavy pressure short of a renewed invasion heretofore worked fine for Russia; but in the anticlimactic post-plebiscite moment, Putin may decide to show greater decisiveness (Rosbalt, July 7). His choice is between a new military offensive and an incorporation of the occupied parts of the Donetsk and Luhansk regions into Russia. The latter could likely be accomplished with less effort and risk (Snob.ru, July 6). His recent article on the causes of World War II, in which he described the annexation of Estonia, Latvia and Lithuania in 1940 as perfectly legitimate, provides a blueprint for staging fake expressions of public will in the desperate and devastated territories that used to make up the industrial heart of Ukraine (New Times, July 3).
Having wasted so much political capital on executing constitutional reforms, Putin has discovered that he now can rely only on repression to deal with public discontent fueled by the deepening crisis and offended by the blatant fraud in the voting. He may resent his dependency on the emboldened enforcers but is in no position to check their self-serving activism. The only group of siloviki that has so far refrained from showing its strengthened grasp on power is the military top brass. Yet, they are set to play a key role in connecting domestic repression with external aggression.