Will "Core of the Leadership" Xi Jinping Rule for 15 Years Or More?
Publication: China Brief Volume: 16 Issue: 5
By: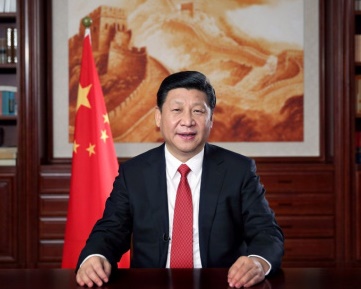 In December 2015, Chinese President, Communist Party Secretary and Central Military Commission Chairman Xi Jinping took on the additional title of "Core of the Leadership" ("领导核心"). This is just one of several recent signs indicating that a Maoist-style personality cult is being built around the 62-year-old leader. Within China's party-state apparatus, the President and General Secretary of the Chinese Communist Party (CCP) has issued new instructions on cadres' professing "absolute loyalty" to the leadership. While visiting the party's three most important mouthpieces, Xi called upon journalists to "remain in a high degree of unison with the party central authorities in thought, politics and action." While some of Beijing's observers have wondered whether a new ideological campaign is beginning 50 years after Mao Zedong kicked off the disastrous Cultural Revolution (see
China Brief
, February 4), others have focused on a question that is of more practical significance for China's overall development: whether Xi's personality cult is geared toward prolonging his rule from the usual 10–15 years. This issue has assumed added importance as preparations for the 19th Party Congress next year—one of whose major tasks is to induct younger-generation leaders to the Politburo and the Politburo Standing Committee (PBSC)—will begin shortly.
Last week, the propaganda apparatus circulated Xi's instructions that all cadres study an article written by Mao Zedong entitled "The Work Methods of Party Committees." In the 1949 piece, the Great Helmsman urged cadres to cleave closely to the banzhang(班长)literally "head of the class" or generally speaking, "the boss"—and "don't make [groundless] comments behind his back" (People's Daily, February 26; Cable TV [Hong Kong], February 26). [1] This echoed Xi's earlier dictums that, at least according to his detractors, were aimed at imposing uniformity of thinking among cadres. Last year several senior officials, including the former Party Secretary of Hebei province Zhou Benshen and former Governor of Sichuan province Wei Hong, were detained for investigations for wangyi (妄议), "making groundless criticisms," and of "being disloyal" to the top leadership (Caixin.com, February 4; News.China.com, January 10). Given Xi's new status as "core of the leadership," these cadres were in effect disciplined for failing to profess fealty to Xi. After all, infractions such as wangyi and disloyalty—which were only recently inserted into the Party's list of disciplinary violations—have been interpreted as overly vague and subject to the arbitrary interpretations of the top leadership (Apple Daily [Hong Kong], November 2, 2015; BBC Chinese, October 20, 2015).
During his inspection tour of the People's Daily, Xinhua News Agency and China Central Television (CCTV), Xi seemed to be merely echoing the CCP's traditional propaganda policies when he asked editors and commentators to "love the Party and protect the Party" through "materializing the party's will, reflecting the Party's views, and safeguarding the Party's authority" (People's Daily, February 20). However, in light of the larger-than-life status that Xi has assumed, an equals mark may well have been drawn between the Party and Xi. As respected Beijing-based historian Zhang Lifan noted regarding Xi's tour of the three news institutions, "Xi's message is 'I'm the only big boss, and you must serve me well'" (Ming Pao [Hong Kong], February 20). Xi's demigod-like status in the Maoist mold was illustrated by the marvelous qualities now being ascribed to him. A young female journalist on CCTV's staff described shaking Xi's hand, as "full of flesh and particularly warm." The journalist reportedly did not wash her hand for the rest of the day (VOA Chinese, February 28; Eastday.com [Shanghai], February 28).
The most significant political fallout of Xi's one-upmanship is that he could discard the well-established party tradition of a top leader holding power for no more than ten years. [2] As a result of Deng Xiaoping's institutional reforms in the early 1980s, the Chinese Constitution stipulated that a premier or state president cannot serve for more than a decade. The CCP Charter, however, sets no tenure limits for positions such as CCP General Secretary or the heads of powerful organs such as the Central Military Commission, merely stating that no one can enjoy life tenure and that cadres "with age and health issues" should retire. Moreover, the concept of "core of the leadership" seems to imply a special status, meaning Xi would follow a different set of rules and not be bound by fixed terms of office.
Since late 2015 these developments have increased speculation that Xi would serve at least until the 21st Party Congress of 2027, when he will be 74 years old (Ming Pao, February 15; Radio Free Asia, February 8). In a country that respects old age, recent leaders, including Deng and former President Jiang Zemin, have remained influential well into their eighties.
The clearest indication of Xi's desire to stay in power for an additional 15 years or more is whether the supreme leader is eagerly grooming Sixth-Generation officials (a reference to cadres born in the 1960s) for promotion to the PBSC at the 19th Party Congress. At the 18th Party Congress four years ago, only two Sixth-Generation rising stars made it to the ordinary Politburo. They are Guangdong province Party Secretary Hu Chunhua (born 1963) and Chongqing municipality Party Secretary Sun Zhengcai (b. 1963). Hu, a former first secretary of the Communist Youth League (CYL), is a protégé of former President Hu Jintao, who heads the CYL Faction in CCP politics. Sun, a former minister of agriculture, is considered close to former Premier Wen Jiabao. If Xi were sticking to traditional norms, he would promote Hu (unrelated to Hu Jintao) and Sun to the PBSC at the 19th Party Congress in preparation for their assuming the top posts of general secretary and premier at the 20th Party Congress slated for 2022.
It is not a secret, however, that Xi wants to buck the tradition of having his predecessor pick the next general secretary. This tradition of the "cross-generation designation of successors" goes back to the 14th Party Congress of 1992, when Deng Xiaoping handpicked Hu Jintao as the successor of Jiang Zemin. Similarly, Jiang nominated Xi as former President Hu's successor at the 17th Party Congress of 2007. Xi is said to be particularly dead-set against Hu Chunhua, a standard-bearer of the rival CYL Faction, succeeding himself (Chinadigitaltimes.net, January 15; Radio Free Asia, August 17, 2015). Meanwhile, Xi is grooming his own Sixth-Generation cadres for top party slots. The fact that almost all of these neophytes seem to lack the stature and experience to make the PBSC next year does not seem to worry Xi. In fact, this could become a convenient pretext for delaying the leadership turnover process for five years. In other words, the PBSC to be endorsed at the 19th Party Congress will still be dominated by Fifth-Generation leaders (a reference to top cadres born in the 1950s) such as Xi and Premier Li Keqiang. The up-and-coming stars affiliated with Xi may only be inducted to the PBSC at the 20th Party Congress. After training them for five years, the Fifth-Generation "leadership core" may officially hand over the baton in 2027.
So far, most Sixth-Generation cadres close to Xi who have enjoyed the limelight consist of the General Secretary's personal aides and former secretaries. Take, for example, Ding Xuexiang (b. 1962), a capable administrator who was Xi's right-hand man when the latter served as Party Secretary of Shanghai in 2007. Ding, a mechanical engineer by training, became Director of Xi Jinping's Office and Vice-Director of the CCP Central General Office (CCPCGO) in mid-2013. In January 2016, Ding was promoted Executive Vice-Director of the CCPCGO. This was an indication that he might take over the CCPCGO and become a Politburo member at the 19th Party Congress. The incumbent CCPCGO Director, Li Zhanshu, who is also a Politburo member, will likely be inducted into the PBSC next year (Hong Kong Economic Journal, February 15; Chinaelections.com, August 24, 2015).
Equally dramatic has been the rise of Zhong Shaojun (b. 1968), who was a senior cadre in the Organization Department of Zhejiang when Xi was Party Secretary of the province from 2002 to 2007. Zhong moved with Xi to Shanghai—and then to the Zhongnanhai CCP leadership compound when Xi was promoted to the PBSC in 2007—as Xi's personal aide. In 2013, Zhong, who had had no military experience, was parachuted into the People's Liberation Army hierarchy as Director of the Office of the CMC Chairman and Deputy Director of the CMC General Office (CMCGO). Zhong played a pivotal role in helping his boss chase down "corrupt tigers," particularly cronies of the two disgraced CMC vice-chairmen, Generals Xu Caihou and Guo Boxiong. Zhong is slated to become Director of the CMCGO—an office that has gained influence during the Chinese military's ambitious restructuring during the past few months—at the 19th Party Congress (South China Morning Post, March 11, 2015; Reuters, April 17, 2014).
Other Sixth-Generation officials with rosy promotion prospects include Li Shuli (b. 1964), who was Xi's assistant when the latter was president of the Central Party School from 2007 to 2012. Li, whose current position is Head of the Disciplinary Inspection Bureau of the Beijing municipal party committee, may be given a top post in the ideological and propaganda establishment. Then there are the Party Secretary of Guizhou Chen Min'er (b. 1960) and Governor of Zhejiang Province Li Qiang (b. 1959). Both were troubleshooters for Xi when he was Zhejiang party boss. Chen and Li Qiang have a reasonably good chance of making the ordinary Politburo at the 19th Party Congress (Apple Daily, February 2; Radio Free Asia, September 8, 2015).
Indeed, while former Presidents Jiang Zemin and Hu Jintao both managed to build up huge personal cliques—the Shanghai Faction and the CYL Faction respectively—the so-called Xi Jinping clique is only at its embryonic stage (China Brief, February 15, 2013). This is one more reason why "core leader" Xi finds it necessary to stay for at least three five-year terms so as to build up his own coterie of successors and followers, part of whose job will be to safeguard what most observers predict will be a controversial legacy. That this may constitute a body blow to the institutional reforms that Deng introduced in order to prevent the return of Maoist norms is apparently of little concern to Xi, whose ambition seems to be to become a Mao Zedong of the 21st Century.
Dr. Willy Wo-Lap Lam is a Senior Fellow at The Jamestown Foundation. He is an Adjunct Professor at the Center for China Studies, the History Department and the Program of Master's in Global Political Economy at the Chinese University of Hong Kong. He is the author of five books on China, including "Chinese Politics in the Xi Jinping Era: Renaissance, Reform, or Retrogression?," which is available for purchase now.
Notes:
Mao Zedong, "党委会的工作方法," Mao Zedong's Selected Works, People's Press, 1967, pp. 1330–1334. Available online at <https://www.marxists.org/chinese/maozedong/marxist.org-chinese-mao-19490313.htm>.
Former President Jiang Zemin served as General Secretary of the Communist Party from 1989 to 2002, and as Central Military Commission chairman from 1989 to 2004. However, Jiang rose to the Chinese Communist Party's apex in exceptional circumstances: he replaced incumbent general secretary Zhao Ziyang immediately after the Tiananmen Square massacre of June 1989.