Year 2020 in Review: The Scorched-Earth Political Strategy of the Pro-Russian Ex-President Dodon
Publication: Eurasia Daily Monitor Volume: 18 Issue: 10
By: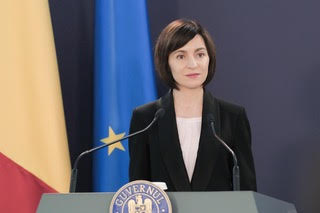 In a recent interview, the Russian president's spokesman Dmitry Peskov remarked that Moldova's president Maia Sandu had more than enough domestic challenges demanding her attention than requesting the withdrawal of Russian military forces from the Transnistrian region (Newsmaker.md, January 5; Newsmaker.md, November 30, 2020). This statement contains two key messages—one direct and another implicit—that summarize well Moldova's key developments in 2020 while hinting at what should be expected this year. ­
The direct message refers to Russia's refusal to consider ceasing its military occupation of over 10 percent of Moldova's territory. Russia keeps a military presence in and control over Transnistria disguised as a peacekeeping operation that violates the United Nation's minimal standards of peacekeeping—the consent of the concerned parties and impartiality. Russia has been manipulating and misleading the West, by skillfully making use of Western participation in respective international formats. For instance, Moscow exploits the US and EU through the OSCE and its infamous "5+2" format, cashing in their participation to produce and project legitimacy for what is technically military aggression. In other words, since the Russian operation in Transnistria is illegitimate from the point of view of international law, the EU and US presence in the current negotiations formats does no less than legitimize politically Russian control of the peacekeeping agenda and mechanism. And it is this fact that precludes any genuine progress in the conflict resolution process. Similar models have been applied by Russia in Georgia and Ukraine.
Besides, Peskov's statement along with other similar reactions—including by President Putin—revealed that Russia did not change its strategy towards Moldova in particular and the post-Soviet area generally (Newsmaker.md, December 17, 2020). Following the latest war between Armenia and Azerbaijan over Nagorno-Karabakh, several prominent Russian analysts suggested the emergence of pragmatism and the departure from revisionism in Russian foreign policy (Carnegie.ru, November 12, 2020; Russiancouncil.ru, November 4, 2020). Moldova became the litmus test that contradicted that claim in a stark way. If Russia indeed had evolved to be a pragmatic actor, giving up its post-Cold War revisionist policies, its key state institutions would have not rejected Sandu's request for its troops' withdrawal from Transnistria. Moreover, Moscow's pretense to be defending the interests of ethnic Russians abroad is not credible, as the Russian government severely violates the rights of its citizens on its own territory.
The second, implicit message, refers to several critical domestic challenges that Moldova is facing, and which were deliberately created by the Russia-funded Party of Socialists, led by former president Igor Dodon (Ziarulnational.md, December 12, 2020). Following his consolidation of power at the end of 2019 and the beginning of 2020, Dodon transformed Moldova into the first post-Soviet country that lost its sovereignty to the Kremlin to the degree Warsaw Pact countries had in the past, becoming technically a client-state (EDM, November 12, 2019; EDM, February 18, 2020). Not even Belarus was so malleable to Russian influence until Lukashenka was cornered by post-electoral domestic protests. Former president Dodon managed to acquire control over all three branches of power in Moldova. Given his party's financial dependence on Russia as well as his family business links to the Russian government, this control was transferred by proxy to Russian authorities.
Dodon's grip on the Constitutional Court weakened when his former party member Vladimir Turcanu received a no-confidence vote in April 2020 and was replaced as the court's chairperson (Protv.md, April 24, 2020). However, Dodon's control over the parliament has strengthened, as he lured legislators from the Democratic Party, formerly controlled by Moldova's fugitive strongman Vlad Plahotniuc (Newsmaker.md, March 16, 2020; EDM, June 26, 2019). Dodon also fully controlled the government, as revealed by his regular weekly meetings with the prime minister and speaker of the parliament that he chaired and widely popularized. Dodon's control over the parliament allowed him to practically shut down the legislature during the pandemic, claiming emergency powers and using the government to rule unconstrained (Moldova.europalibera.org, August 3, 2020).
While Dodon's apparent strategy was to use the pandemic to increase his political capital before the new presidential elections, the government's failure to manage the public health crisis had the opposite effect. Usually, Moldovan citizens are quite apathetic politically, as a large segment of the population does not trust the government to be able to change their lives. The pandemic and the consequent realization that a corrupt and dysfunctional government can cost their lives or life savings forced voters to reconsider. Coupled with the perception of a viable alternative in the face of Maia Sandu, this logic led to unprecedented voter turnout in presidential elections, despite the pandemic (SWP-berlin.org, December 2020).
Having lost the elections and Democratic Party's support, Dodon quickly replaced the four cabinet ministers from this party and travelled repeatedly to Moscow, meeting with the deputy head of Russia's presidential administration, Dmitry Kozak and other officials (Protv.md, November 11, 2020; Ziarulnational.md, November 19, 2020; Zgd.md, December 24, 2020). He likely sought further support from Moscow and consulted on political strategy—shortly thereafter he formed a new majority with the party of the fugitive oligarch Ilan Sor (Adevarul.ro, December 4, 2020). Dodon's tight work with the Russian intelligence and Russia's presidential administration was widely documented by several journalistic investigations (Rise.md, October 20, 2020; Dossier.center, October 19, 2020).
Dodon tried to force Sandu to nominate a new government (Newsmaker.md, November 30, 2020). Failing to do this, he directed the executive's resignation (Zgd.md, December 23, 2020), aiming to exploit the political and economic problems it created by blaming them on Sandu and her party before the snap parliamentary elections in 2021. As part of his strategy to undermine the new President Maia Sandu, Dodon's Party of Socialists adopted a set of laws that were criticized by the International Monetary Fund (IMF) as undermining Moldova's macroeconomic and financial stability (Protv.md, December 18, 2020). Sandu, however, refused to accept the departures of the ministers of economy, finance, and health until a new government was appointed (Deschide.md, January 4). The three ministers are responsible for areas with a critical impact on public opinion and welfare, affected by the laws the Party of Socialists hastily voted in December, as part of their scorched-earth political strategy. Dodon, freshly reinstalled as the Socialist Party leader, went to Moscow immediately after President Sandu's official visit to Ukraine (Unimedia.md, January 12). It is expected he will try to exploit the Sandu-Zelensky meeting and joint declaration to secure further support and advice from the Kremlin, portraying himself as the sole protector of Russian interests in Moldova (Presedinte.md, January 12).