Amid High-Level Personnel Reshuffle, Moscow Retains Hard-Nosed Policy Vis-à-Vis Ukraine
Publication: Eurasia Daily Monitor Volume: 17 Issue: 23
By: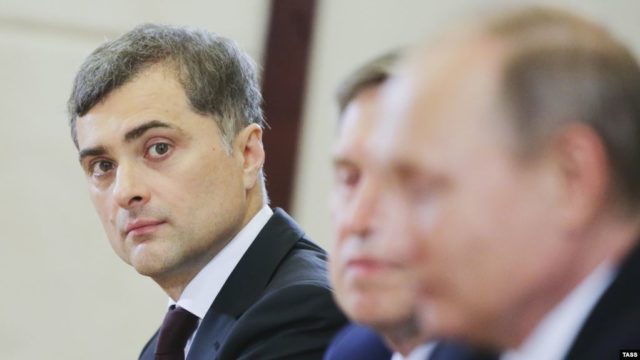 On February 18, President Vladimir Putin signed an ukaz (executive order) dismissing his long-time cohort and political advisor Vladislav Surkov (55). The Kremlin tradition known as nomenklatura requires that someone dismissed from a top job be immediately provided with another one. A couple of weeks after the Russian government resigned on January 15, 2020, Kremlin spokesperson Dmitry Peskov announced, "All former cabinet ministers have been found new jobs" (Interfax, February 2). Surkov's dismissal came without any such cushion. Peskov told journalists, "They [Putin and Surkov] met and his [Surkov's] voluntary resignation was accepted. A person as talented as Surkov will find a job" (Ura.news, February 18).
Surkov was born in Chechnya, the son of a Chechen father and an ethnic-Russian mother; reportedly, he was named Aslambek Dudayev at birth. In the 1990s, Surkov worked as a public relations and advertising manager for top Russian oligarchs Mikhail Khodorkovsky and Mikhail Fridman. In 1999, as Putin was taking over the Kremlin, Surkov joined the presidential administration as deputy chief of staff—a position he held until 2011. Surkov is credited with formulating the anti-liberal though formally democratic facade of Putin's authoritarian regime known as "sovereign democracy." After 2011, Surkov occupied positions of deputy prime minister and presidential aide. Since 2014, he was in charge of Ukraine as the crisis expanded with Russia annexing Crimea and fueling the protracted armed conflict in Donbas. Surkov has supported the Russian nationalist Donbas war veteran volunteer movement and, apparently, assured the former fighters, "Moscow will never sell out Donbas, which will never be reintegrated with the rest of Ukraine" (Moskovsky Komsomolets, December 16, 2019).
It seems that Surkov's recent dismissal was tied to his opposition to the Kremlin's official support for the so-called Minsk Two peace accords, signed on February 12, 2015. Minsk Two reestablished a ceasefire in Donbas, expanded the Organization for Security and Cooperation in Europe's (OSCE) observer mission there, and laid out a roadmap for a political conflict resolution process involving the eventual reunification of the territory with Kyiv-controlled Ukraine but with Donbas receiving a measure of autonomy. Putin publicly reiterated his full support for the Minsk accords during last December's "Normandy framework" (Ukraine, Germany, Russia, France) summit in Paris. At the same time, Putin accused Ukraine and its new leader, President Volodymyr Zelenskyy, of refusing to fully implement the Minsk conditions (see EDM, December 12, 2019).
On January 25, 2020, Alexei Chesnakov (Surkov's known confidant) reported that Surkov had submitted his resignation "because of a change in the Kremlin's Ukraine policy." According to Chesnakov, "Putin will decide when to publish the ukaz [on Surkov's replacement], but Surkov's decision to resign is firm—he will be meditating for a month and after that will tell the public his motives and further plans." The Kremlin did not deny the notorious presidential advisor's decision to step down, but the administration adamantly denied any change of policy on Donbas and Ukraine. In turn, Dmitry Kozak (61)—Putin's long-time associate from St. Petersburg, who lost his job as deputy prime minister in the January 2020 cabinet reshuffle—was transferred to the Kremlin as deputy chief of the presidential administration, in charge of Ukrainian policy (Newsru.com, January 25). Kozak moved from St. Petersburg to the Kremlin in 1999, together with Putin, and has occupied different top positions throughout the government since then. Kozak is well known as a political pragmatist, a man who can make things happen; while Surkov is a visionary and writes novels. Rumors have swirled since late last month that Russian attitudes toward the Ukrainian issue could, indeed, change with Surkov's resignation: It could become more "pragmatic" to incentivize and draw in Zelenskyy, who had built his successful presidential election strategy in 2019 on the promise to end "the war"—i.e., the low-intensity armed conflict in Donbas. Putin's agreement to participate in the Paris "Normandy" summit on Ukraine last December, together with German Chancellor Angela Merkel, French President Emmanuel Macron and Zelenskyy was seen in Kyiv, Moscow and Europe as a hopeful sign (Moskovsky Komsomolets, January 25).
Surkov's resignation and Kozak's appointment are now official. But apparently, the Kremlin's denial of any substantial change in Ukrainian policy is also true. Zelenskyy was recently severely castigated in Moscow for allegedly "siding with Poland" on the issue of allocating historical blame on Joseph Stalin for his collusion with Adolf Hitler in 1939. For Putin, the Great Patriotic War of 1941–1945 and the 75th anniversary of Victory Day on May 9, 2020, are major political issues that shall determine Russia's past and future as well as his own political legacy. The Russian president has personally engaged in blistering public denunciations of alleged Western-sponsored "Russophobic" historical opinions questioning Stalin's actions and the August 1939 Molotov-Ribbentrop pact. Publicly accusing the Soviet Union of being responsible together with Nazi Germany for the outbreak of World War II may soon become a felony in Russia (Kommersant, January 28).
Zelenskyy "siding with Poland" was seen as showing his true "anti-Russian" colors. On February 18, 2020, the relative lull in fighting in Donbas was broken by a massive bombardment in the Luhansk sector of the line of contact. Both sides accused the other of launching an offensive to breach the front, which, in Donbas, is little more than a line of strong points and pickets with gaps in-between. Apparently there was no actual "offensive" on February 18—only a skirmish, but with lots of firepower involved. The fighting soon died down, though it left several men dead and wounded on both sides. In Kyiv, however, this unexpected outbreak caused some panic and political bickering: The opposition in the Verkhovna Rada (parliament) alleged the Ukrainian military had retreated under the attack and abandoned several defensive positions (Militarynews.ru, February 19). Zelenskyy's defense minister, Andrei Zagorodnyuk, denied any retreat—only one forward observation post was temporarily abandoned under intense fire, he claimed (Militarynews.ru, February 19).
The February 18 "provocation" should be read as a political message: Zelenskyy's key political goal of "ending the war in Donbas" could easily and at any time go up in smoke, and with it his political career, if he continues to demonstrate disloyalty to Putin on major issues. Additionally, it signals that Surkov's departure was primarily a personal issue and does not augur a change in Russia's strategic policy vis-à-vis Ukraine (Moskovsky Komsomolets, February 19). The "pragmatic" Kozak may, in fact, accelerate the integration of Donbas into Russia more effectively than visionary Surkov ever could (Politnavigator.net, February 19; see EDM, January 30, February 5).