Russia Boosts Its Military Contingent in Georgia's Occupied Territories
Publication: Eurasia Daily Monitor Volume: 17 Issue: 22
By: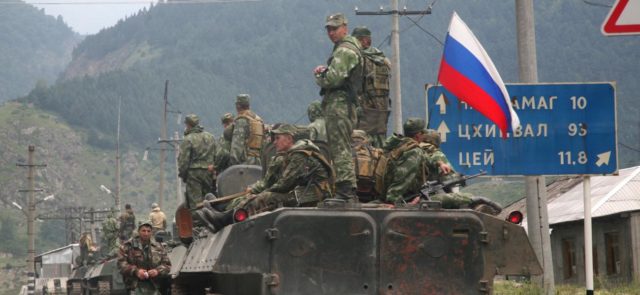 In the northwestern Syrian province of Idlib, the Russian Armed Forces—mainly via their "proxy," Bashar al-Assad's Syrian Arab Army—are confronting Turkish military units (see EDM, January 30, February 18), putting severe strains on the Moscow-Ankara relationship. But Russian military activities along Turkey's borders are not limited to Syria. Notably, Russia has in recent weeks been bolstering its military contingents in the neighboring South Caucasus region—not only in the occupied territories of Georgia, but also in Armenia (Al-monitor, February 11).
Last January, Georgia's State Minister for Reconciliation and Civic Equality Ketevan Tsikhelashvili said at a European Parliament Foreign Relations Committee session in Brussels that the military situation in Abkhazia and South Ossetia "is not static. It is dynamic in a negative context." He added, "Both, Abkhazia and the Tskhinvali region [South Ossetia], are becoming more isolated and militarized. The number of Russian military personnel there has increased to 10,000 from 8,000." According to the Georgian state minister, "130 military exercises each year have turned the occupied territories, and especially South Ossetia, into a major military base" (Interpressnews, January 21).
Teona Akubardia, who formerly (2014–2018) served as the deputy secretary of Georgia's National Security Council, underlined in a February 14 interview with this author that Russia's moves to strengthen its illegal military bases in Georgia's occupied regions, the deployments of new weapons and military personnel there, as well as intensive military training "should be seen as part of the Kremlin's revisionist policies." Akubardia noted, "Moscow views Georgia as part of its own 'zone of privileged interests.' "
According to the former National Security Council official, "It is through this prism that we should consider the problem of Russia strengthening its armed presence in the occupied territories of Georgia. The occupying contingents of Russia in Abkhazia and Tskhinvali are actively involved in ensuring the military component of Russian politics. Undoubtedly, this poses a threat not only to Georgia, but also to the entire Black Sea region and is contrary to international law" (Author's interview, February 14).
Akubardia further argued, "Georgia cannot cope with Russia's military aggression by itself. Therefore, it is very important to fulfill the promises of NATO [North Atlantic Treaty Organization] membership in a timely manner and to strengthen Georgia's defense capabilities." As the expert noted, "Our country is an important contributor to NATO and an ally of the United States as a strategic partner in the implementation of various programs. Georgia's participation in the Defender Europe 2020 military exercises in this regard is a sign of political support for the country and military compatibility for NATO and the United States." Georgia, she reminded, "shares Western values and makes a significant contribution to maintaining international peace in Afghanistan" (Author's interview, February 14).
Meanwhile, the editor-in-chief of the military-analytical magazine Arsenali, Irakli Aladashvili, asserted that the strengthening of the Russian military presence in the South Caucasus is noticeable not only in Georgia but also in Armenia. "In 2020, Russia plans to double its military contingent at the 102nd military base in Gyumri, Armenia," Aladashvili argued. The military expert said that, in the coming months, instead of 5,000 Russian troops, 10,000 soldiers and officers will be deployed in Gyumri. He explained that the 102nd Russian military base in Armenia, the 7th base in Abkhazia and the 4th base in Tskhinvali region are all integrated directly under the Southern Military Command of the Armed Forces of Russia (Author's interview, February 13).
Aladashvili confirmed that following the August 2008 Five Days War, Russia replaced its so-called peacekeepers on Georgian territory with ordinary military personnel stationed in breakaway Abkhazia and South Ossetia. It then gradually built up the military potential of these units, including by supplying them with new weapons. Aladashvili underscored that by deploying surface-to-air missiles in Abkhazia and South Ossetia, the Russian military can now control the sky above Georgia proper (Author's interview, February 13). And as the analyst from the information agency Ongo.ge, David Avalishvili, emphasized, "The Russian army is located just 400 meters from the Batumi–Tbilisi–Baku highway—the only land route Turkey can use to reach mainland Azerbaijan" (Author's interview, February 13).
The events in Syria have compelled Georgia into reluctantly choosing between Russia and Turkey (see EDM, October 23, 2019). However, considering Ankara's support for Georgia's NATO aspirations, Turkish aid for economically developing the Adjara region, as well as Russia's latest moves to further militarize the occupied territories, Tbilisi's choice should theoretically be much more straightforward. Furthermore, Moscow has additionally been supplying weapons to the separatists in Abkhazia and is modernizing the so-called "Abkhazian army." Georgian analysts contend that by strengthening the breakaway territory's local military forces, Russia is planning for new conflict contingencies with Georgia and wants to create the illusion that it is not Russia, but Abkhazian and Ossetian separatists who are fighting against Georgia (see EDM, September 25, 2019). In addition, Russia continues to launch rounds of cyberattacks against Georgia to disable the latter's key state, financial and commercial infrastructure (see EDM, November 14, 2019).
In response, Georgia plans to take an active part in this year's historically massive Defender Europe 2020 exercises, which will involve 20,000 soldiers from the continental United States—the largest such trans-Atlantic training deployment in more than 25 years. Importantly, these NATO maneuvers will partially be held in Georgia (1tv, October 8, 2019). Tbilisi's involvement in this North Atlantic Alliance show of force will be a strong signal to Georgia's northern neighbor about the West's continued interest in the security situation in the South Caucasus.