Russia Faces New Demands and Conditions From Bulgaria
Publication: Eurasia Daily Monitor Volume: 17 Issue: 22
By: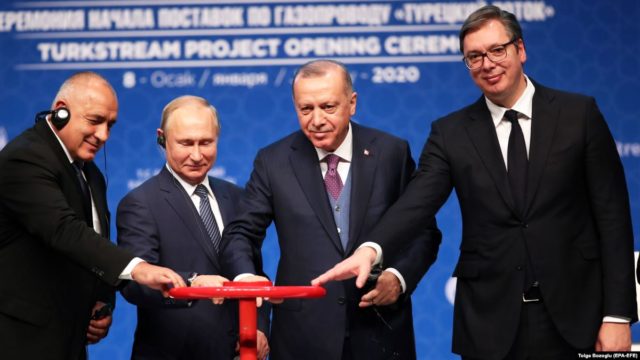 Tensions between Russia and Bulgaria looked on the verge of resolution at the end of last month. But trust between the two countries has since declined.
In late January, Bulgaria announced its intention to replace half of its Russian natural gas consumption with volumes from the United States (Lenta.ru, January 28). The Russian media angrily likened this declaration to "blackmail," designed to extort lower prices (Aftershock.news, February 3). Nonetheless, passions soon calmed down. And according to the latest information, Bulgargaz is in the final stages of negotiations with Russian Gazprom; the parties hope to reach an agreement to significantly reduce gas prices for Bulgaria by the end of February (TASS, February 11).
It appears, however, that the front-and-center debate over gas prices drew attention away from much more serious bilateral frictions. Notably, on January 24, Bulgarian authorities announced the expulsion of two Russian diplomats. The Bulgarian Prosecutor's Office revealed that the decision was motivated by information received from the State Agency for National Security about suspected espionage activities by these two Russians with diplomatic immunity (Prb.bg, January 24).
The expulsion of the pair of Russian diplomats came on the heels of an earlier espionage scandal: namely, three Russians criminally charged with the attempted assassination of arms dealer Emilian Gebrev as well as his son and colleague (BBC News—Russian service, January 23). In November, Bellingcat, The Insider, and Der Spiegel issued the results of their joint investigation into the Gebrev case. The journalists and researchers concluded that as many as eight Russian military intelligence (GRU) officers may have been involved in the Bulgarian arms dealer's poisoning by an unknown nerve agent (Bellingcat.com, November 23, 2019). In December, the Prosecutor's Office in Sofia confirmed Russian involvement in the poisoning of the entrepreneur. Gebrev himself claims he may have been the target of the Russian special services because his company supplied weapons to Ukraine (Dnevnik.bg, December 10, 2019).
The assassination attempt on a Bulgarian citizen on Bulgarian soil, conducted with such disregard for unrelated casualties via the use of a deadly neuroparalytic substance, looks especially jarring given Sofia's well-known reputation for friendly relations with Moscow. Indeed, in 2016, Bulgarian expert Georgy Dimitrov complained that Bulgaria never completely escaped undue Russian influence because, according to him, all key positions in the country—including Prime Minister Boyko Borisov—are in one way or another tied to the former Communist Party and the Committee for State Security (Bulgaria's KGB). "A year after his appointment as mayor of Sofia, in 2006, Borisov boasted that he was the only foreign guest of the Federal Security Service (FSB) in Moscow during an anniversary celebration of the FSB Vympel special forces. Bulgaria's head of government even recently noted that the Soviet KGB is "an organization from which many experts could learn a lot," the Bulgarian commentator recalled (Lb.ua, November 4, 2016).
Dimitrov also lamented Bulgaria's dependence on Russian oil and gas and pointed out that the Bulgarian army still heavily relies on Russian equipment (Lb.ua, November 4, 2016). Bulgaria's dependency on Russian energy sources was noted two years earlier by the German publication Deutsche Welle, reporting that, in the wake of Moscow's invasion of Ukraine, the European Union was calling on Sofia to find alternatives to Russian gas (Deutsche Welle—Russian service, June 14, 2014). Finally, in May 2019, Greece and Bulgaria began to build an interconnector pipeline that will allow Sofia to import gas from sources other than Russia. However, the project is not slated for completion until the end of this year (Tsn.ua, May 23, 2019).
And directly cutting against these plans to seek non-Russian sources of energy, Bulgaria (along with neighboring Serbia) actually pledged to build necessary infrastructure needed to transit Russian gas to Europe coming from the newly inaugurated TurkStream pipeline. On January 9, 2020, at a grand ceremony in Istanbul, Turkish President Recep Tayyip Erdoğan and Vladimir Putin officially opened TurkStream. Serbian President Aleksandar Vučić and Bulgarian Prime Minister Boyko Borisov were also present at the ceremony (see EDM, January 23).
In Bulgaria itself, this initiative caused mixed reactions. The Sofia-based Atlantic Council of Bulgaria, however, sharply criticized the project. In particular, it noted that TurkStream fulfils only Russian needs, which are "alien" to Bulgaria's national interests, adding, "There is a real danger that Bulgaria will be used as a Russian Trojan horse in the EU and NATO [the North Atlantic Treaty Organization]" (Atlantic-council.bg, March 2, 2019).
The Bulgarian Atlantic Council also pointed out that the new gas-transit deal changes existing agreements with Gazprom, leading to losses of a billion dollars in revenues for Bulgaria. According to the authors of the appeal, the money Bulgarian taxpayers are investing in the construction of new gas pipelines will only begin to pay off around 2040 (Atlantic-council.bg, March 2, 2019). Nevertheless, Gazprom head Alexei Miller said last month that Bulgaria has already begun to actively build a gas transportation system for TurkStream (RIA Novosti, January 12, 2020).
Against the background of Bulgaria's largely friendly behavior toward Russia, Moscow's belligerent activities on Bulgarian territory demonstrate both distrust of a close international partner and complete disregard for the latter's interests.
A similar situation recently occurred in Serbia. Namely, Serbian President Aleksandar Vučić's reliably Moscow-friendly positions on many issues did not prevent Russia from recruiting Serbian citizens for espionage purposes or establishing paramilitary youth training camps on its territory (see EDM, October 24, 31, 2018 and December 3, 2019). And at present, Russia's severely hard-nosed negotiating posture is forcing its closest ally, Belarus, to seek new partnerships in the West (see EDM, February 11, 13, 2020)
The Kremlin behaves similarly in the Middle East. It presents itself as a staunch supporter of Iran, even as it cultivates close connections with the Afghan Taliban, against whom the deceased General Qasem Soleimani fought (Krymr.com, March 3, 2017). Russia is also friendly with Israel, Iran's greatest regional enemy (YouTube, January 27). According to the director of the Belarusian Center for Strategic and Foreign Policy Studies, Arseny Sivitsky, Moscow skillfully exploits regional Shiite-Sunni conflicts in order to maintain a certain level of tensions in the hope that this will contribute to rising oil prices (Krymr.com, January 11, 2016).
Though perhaps apocryphal, Russian emperor Alexander III supposedly once said, "Russia has no friends. Its only reliable allies are its army and navy." Judging by Moscow's behavior, this motto threatens to become a self-fulfilling prophecy, indeed leaving Russia friendless on the world stage.