As Raids Continue, Fractures Are Growing in Russian Border Defenses
Publication: Eurasia Daily Monitor Volume: 20 Issue: 92
By: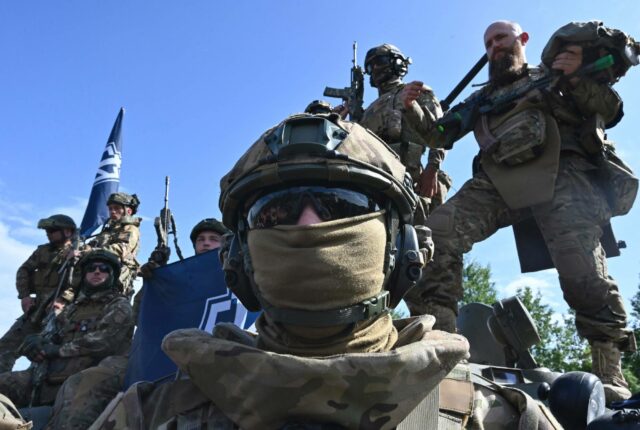 The raids in the Belgorod region of Russia on May 22 and June 1 have built on the success of earlier border incursions (see EDM, May 31). Whereas the raid on Sushany in early March 2023 was carried out by a small squad of foot soldiers, in Grayvoron, operatives used wheeled vehicles that were supported by tanks and helicopters, which did not cross the border. During the raid on June 1, both tanks and BMP fighting infantry vehicles were used during the raid to cross the border. This indicates that those planning these operations consider the previous raids to have been successful and have since learned from them.
This means that more personnel and funds are being allocated for similar future actions. For such operations, some reports seem to indicate that units from the Ukrainian Armed Forces may participate, as the volunteer fighters from the Freedom of Russian Legion (RDK) and Russian Volunteer Corps (RVC) are not enough (T.me/readovkanews, May 23). Additionally, Mykhailo Podolyak announced that the number of volunteers in the RVC may increase in the next few months, perhaps even up to 5,000-strong. It should also be stressed that the raid on Grayvoron involved Polish volunteer formations (Twitter.com/WarNewsPL1, June 4). With the Russian government losing control over the conduct of the war, these raids could increasingly target more regions of the Russian Federation (YouTube, June 3).
The incursions into Russian territory have a special character. Taking a closer look at the areas where the raids have taken place, it becomes apparent that they pass through historical and ethnic Ukrainian territories that are now part of Russia. Such territories include Starodubschina in northern Ukraine and the immediate Belgorod region, also known as "Sloboda Ukraine" (Petrimazepa.com, March 10, 2019).
Indeed, these historically Ukrainian regions are facilitating the establishment of loyalist networks that can assist the Ukrainian Armed Forces. And the Kremlin, rather worried about these prospects, has attempted to cultivate local assets in these territories. For example, in the early months of the invasion, the Russian Federal Security Service (FSB) sought to develop an "inside agent" in the form of the head of the Bryansk Post in the village of Klimovo, which had been repeatedly subjected to shelling from Ukrainian territory. Yet, ostensibly in protest, the post office head and other officials publicly refuted these attempts, saying business would carry on "as usual" (Newsbryansk.ru, April 14, 2022).
In fact, this event is but one of hundreds of similar cases. The FSB's Department of Military Counterintelligence is full of negative reports and analytical notes from those Russian regions bordering Ukraine (Belgorod, Bryansk, Kursk, Voronezh and Rostov) regarding their inability to conduct agent-based operations with the local population. Many of the Russian citizens in these regions are reluctant to cooperate with state security agencies due to deep mistrust and the fact that the FSB itself constantly suspects local residents of being involved in the shelling (T.me/vchkogpu, June 4).
In seemingly hoping to diminish the significance of Ukraine's shelling of Russian border towns, reports have indicated that Russian social networks have begun "automatically deleting" post that mention "Shebekino," which has roiled the local population. In response, locals engaged in a so-called "flash mob" on Russian social media channels, as posts with the phrase "Shebekino is Russia" proliferated rapidly (EurAsia Daily, May 30).
Moreover, not only Ukraine has an interest in these border regions. Recently, Yevgeny Prigozhin, leader of the notorious Wagner Group, addressed the owners of big businesses in the Belgorod and Kursk regions as well as the management of state-owned enterprises. Prigozhin claimed that these companies employ "volunteer militia," and he asked to give these volunteers leave for military training at Wagner facilities to prepare "for a possible enemy invasion attempt on the territory of Russia" (Radio Free Europe/Radio Liberty, May 24).
In November 2022, Prigozhin said he would fully fund militia training centers in Russia's border regions (Meduza, November 6, 2022). He suggested that 25 percent of the employees of the private companies would "serve in the trenches," while 75 percent would continue to work. Employees would then be rotated regularly: "one week in the trenches, three at home and at work."
While it is not absolutely certain which companies Prigozhin was addressing, one could postulate that he was targeting the largest and most influential entities in the region. Thus, the five-largest enterprises in the Belgorod region are (Dnb.com, accessed June 6):
Lebedinsky Mining and Processing Plant, with an annual turnover of 282 billion rubles ($3.44 billion) and owned by Alisher Usmanov's Metalloinvest;
Tefco-Kaskad, an oil and fat company with an annual turnover of 205 billion rubles ($2.5 billion) and whose largest shareholder is Valery Kustov (38.9 percent);
Stoilensky GOK, an iron ore company with a turnover of 182 billion rubles ($2.22 billion) and owned by Vladimir Lisin's NLMK;
Ugarov JSC, a metallurgical plant with an annual turnover of 162 billion rubles ($1.98 billion) and also part of Alisher Usmanov's asset structure;
Sk Korocha ZAO, a cattle-breeding and meat processing plant with an annual turnover of 61 billion rubles ($743.9 million) and closely linked Miratorg.
Looking more closely at these entities, it becomes clear that mining and processing plants are the common thread here. And in fact, the mining industry in the Kursk region has an industrial-agrarian orientation as well (Tsargrad.tv, November 20, 2022). Furthermore, Belgorod is also home to the Belgorod Jewelry Factory. Following its merger with Adamas, the Belgorod factory became one of the three-biggest players in the Russian jewelry market (Kommersant, June 24, 2021).
Prigozhin's interests in Russia's border regions are directly tied to cultivating access to rare earths and minerals, which pairs well with his efforts in Africa where rare metals play a central role. This also partly explains why Prigozhin is engaged in undermining the Russian Ministry of Defense and questioning the actions of the Russian Armed Forces. On May 29, he called for the mobilization of 200,000 men from the population of the Belgorod region, which would be equal to almost 300 battalions (T.me/concordgroup_official, May 29). While this would be impossible to accomplish, the Wagner chief seems to be counting on stoking distrust in the Russian top brass, hoping perhaps for a complete transfer of control.
Beyond Ukraine and Prigozhin, the participation of Polish and Belarusian volunteer units in the border incursions have not gone unnoticed in Minsk. Thus, in late May 2023, the Belarusian military began to build fortifications in the Gomel region bordering Ukraine (Svaboda, May 29). For his part, Polish General Waldemar Skrzypczak declared that, if possible, one should help the Belarusian opposition forces in solving Belarus's problems "by force." He added that the raids in Russia's border regions can only encourage a similar military operation in the Brest region to consolidate and create a real alternative center to official Minsk (Polsatnews.pl, May 23).
Ultimately, as the raids on Russian border towns have increased in intensity and operational complexity, they have revealed the weaknesses of the Russian military's border defenses. And as the Kremlin scrambles for solutions, Kyiv is surely considering how to maximize the strategic advantage that these incursions could provide.