New Rumors on Lukashenka's Ill Health and What Really Matters
Publication: Eurasia Daily Monitor Volume: 20 Issue: 92
By: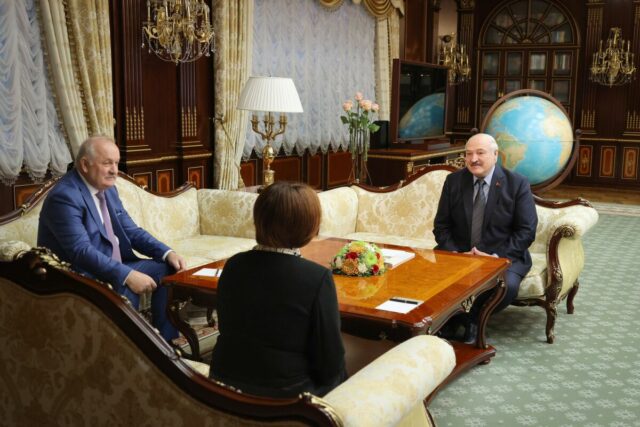 "The reports of my death are greatly exaggerated," Belarusian President Alyaksandr Lukashenka may soon be repeating these words that are commonly attributed to Mark Twain. Less than two weeks after unsubstantiated rumors about Lukashenka's health condition subsided (see EDM, May 24), a new rumor captured public attention even on a grander scale. On May 27, Valery Tsepkalo published a tweet, according to which on May 25, Lukashenka was "urgently transported to Moscow's Central Clinical Hospital after his closed-door meeting with [Russian President Vladimir] Putin. Currently, he remains under medical care there. Leading specialists have been mobilized to address his critical condition. Blood purification procedures have been conducted, and Lukashenko's [sic] condition has been deemed non-transportable" (Twitter.com/ValeryTsepkalo, May 27). The tweet received 4.5 million views and led to at least a dozen publications in the opposition media.
Beyond Belarus and its exiled opposition, many media outlets, including Western ones, reported Lukashenka's hospitalization on the sole basis of Tsepkalo's tweet (e.g., Newsweek, May 28). To be sure, Tsepkalo was the Belarusian ambassador to the United States, head of Minsk High-Tech Park and a 2020 presidential hopeful. Currently, he is a political émigré in opposition not just to Lukashenka but also to Svetlana Tikhanovskaya's Vilnius-based "cabinet." On April 7, a Belarusian court sentenced Tsepkalo to 17 years behind bars in absentia (Svoboda, April 7).
On May 29, Tsepkalo doubled down on his earlier assertion with a Twitter post stating, "Lukashenka spent several days in the Central Clinical Hospital in Moscow. Rehabilitation was carried out. The last available information about Lukashenko's [sic] condition and stay in the hospital was on Saturday [May 27]. It is known that doctors prohibited him from traveling by air. There is no information how, when and if he was delivered to Minsk, as the doctors signed the nondisclosure paper" (Twitter.com/ValeryTsepkalo, May 29). This time, his tweet has received "only" 58,400 views. The problem is that, on May 29, Lukashenka received Russian central banker Elvira Nabiullina in his Minsk office, and the televised part of the meeting suggested that Lukashenka had recovered from hoarseness in his voice earlier, which was attributed to an adenovirus, and appeared altogether fine (Belta, May 29).
Apparently, this did not give pause to Tsepkalo, and, in a June 1 interview with Ukrainian journalist Alesia Batsman, he insisted that Lukashenka suffers from some kind of an incurable disease and can only be sustained temporarily by hormonal therapy (YouTube, June 1). By June 3, this interview had 4,400 views.
Yury Drakakhrust of Radio Free Europe/Radio Liberty did not take Tsepkalo's information at face value and published an article titled "The Effect of Plausibility. How Tsepkalo 'Buried' Lukashenka" (Svaboda, May 30). According to Drakakhrust, there are three versions that could explain Tsepkalo's motive for publicizing a hoax. First, it is a conspiracy theory: somebody deliberately spread disinformation through Tsepkalo to manipulate public opinion. The second version is along the lines of Chinese whispers, or what Russians call, a "broken phone." After all, various rumors are circulating in Moscow, where Tsepkalo, a graduate of Moscow State Institute of International Relations (MGIMO) has multiple contacts. By word of mouth, a possible visit of Lukashenka to a hospital could easily turn into gossip about an almost comatose state. Finally, it is possible, remarks Drakakhrust, that Tsepkalo himself consciously decided to conduct such an information operation. And if this last version is true, then it "testifies to this politician's excellent understanding of how the world media work. At least now, Tsapkalo's name has been heard by millions of people in the world."
Seasoned Belarus-watchers remember that the first version of Lukashenka's medical "abnormality" belonged to Dmitry Shchigelsky, a Belarusian psychiatrist, who in the late 1990s managed to "diagnose" Lukashenka while watching his televised speeches (Kompromat, January 16, 2001). Shchigelsky later emigrated to the US and was implicated in the plot to subvert Lukashenka by coup (see EDM, April 19, 2021), for which several people received long prison sentences (see EDM, September 14, 2022).
As the spreading of rumors about Lukashenka's ill health and imminent passing has never stopped, moreover, on May 29, in an interview with the Belarusian service of Radio Free Europe/Radio Liberty, the Russian blogger Mark Feygin suggested that the Kremlin may soon poison Lukashenka (Svaboda, May 29)
It may make sense to add two possible scenarios to Drakakhrust's list. One is wishful thinking. As the Belarusian expert himself acknowledges, "People want to listen to what they want to hear." However, given the exceptional tenacity of certain rumors, one may invoke an obsessive-compulsive disorder on the side of those spreading them.
Furthermore, among other things, these rumors distract from what really matters. For example, a new escalation of hostility with Poland has just taken place following Minsk's rejection of Warsaw's pleas to release Andrzej Poczobut, a jailed journalist and an activist of the Union of Poles in Belarus. In response, on June 1, Poland closed its borders to Belarusian and Russian truck operators (TASS, May 29). For its part, Minsk spelled out its own claims to Warsaw. These include "training and recruitment of paramilitary formations for the implementation of terrorist acts in the Republic of Belarus"; "maintenance of structures whose open goals are a violent change of power in Belarus"; "barbed wire installation against people and wild animals in Białowieża Forest, a World Heritage site, on the border between Poland and Belarus"; and "deterioration of transit conditions for pan-Eurasian transport" (Zerkalo, June 1).
Similarly, the leaders of the exiled opposition mostly residing in Poland and Lithuania are pushing the issue of an alternative Belarusian passport for exiled Belarusians. They have discussed this idea in Washington and Brussels (Svaboda, May 29). On the one hand, there is a perceived need for such documents, as the passports of these opposition figures are about to expire, or may have expired, and they cannot receive new ones from Minsk. On the other, the issuance of such passports smacks of solidification of their holders' detachment from their home country—a detachment that has already acquired such informal dimensions as differences in attitudes (see EDM, January 5). Getting carried away by unsubstantiated rumors about Lukashenka's health may be one such dimension.