Beijing Speaks on the Proposed Group of Seven Expansion
Publication: China Brief Volume: 21 Issue: 6
By: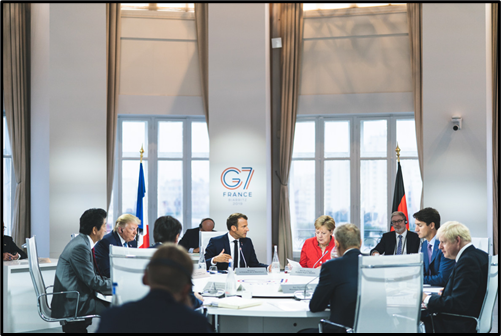 Introduction
Leaders of the Group of Seven (G7)—an informal bloc of industrialized nations which includes Britain, Canada, France, Germany, Italy, Japan and the United States—met virtually on February 19 in preparation for an upcoming June summit. The meeting focused on intensifying health cooperation; expanding vaccine development and deployment; "build[ing] back better" global economies in response to the ongoing Covid-19 pandemic and foregrounded sustainable development and climate change cooperation (G7 UK 2021, February 19). Although containing China did not feature directly in the official readout from the virtual meeting, the White House had previously stated that U.S. President Joseph Biden would raise the need to "strengthen our collective competitiveness and the importance of updating global rules to tackle economic challenges such as those posed by China" (White House, February 18). After the event, media reports heralded the event as a beginning in U.S. President Joseph Biden's efforts to create an alliance of democratic allies to compete with China (Axios, February 19, Reuters, February 19).
Further demonstrating the G7's significance as a site for conflict between China and the West, Beijing hit back against the G7 meeting before it even took place. Chinese foreign ministry spokesperson Hua Chunying (华春莹) warned, "We oppose the imposition of rules made by several countries on the international community under the pretext of multilateralism. We also oppose the practice of ideologizing multilateralism to form values-based allies targeting specific countries" (PRC Ministry of Foreign Affairs, February 19). The state tabloid Global Times was blunter, criticizing the G7 as old-fashioned "clique politics" based on "ideological divides," and quoted a researcher from the state-affiliated China Institute of Contemporary International Relations (CICIR) who explained, "when [the G7] talks about tackling challenges posed by China, it actually means besieging China" (Global Times, February 18).
The Chinese foreign ministry had earlier said that such cliquish "behaviors" would "only push the world towards divide and even confrontation" (South China Morning Post, February 17). China's wariness about the G7 was heightened last year after Boris Johnson offered invitations to India, South Korea and Australia to attend the G7 Summit in December, which was widely seen as a move aimed at countering or balancing China's growing global influence (South China Morning Post, December 16, 2020). Given these developments, this article takes a closer look at Beijing's view of the Western-led G7 grouping and its response to the G7's proposed changing membership in the emerging post-pandemic geo-economic order.
The G7 in China's Worldview
As China's economic and military power grows, it has assumed an increasingly assertive role in international society. As part of a drive for "national rejuvenation," China under the leadership of President Xi Jinping (习近平) has sought to build up the global power projection capabilities of the People's Liberation Army (PLA), expand its foreign influence under the umbrella of the Belt and Road Initiative (BRI) and wield its growing discourse power to gradually shift norms and standards in multilateral governance forums. Prior to the downturn in bilateral relations, China promoted a strategic "G2" grouping in which foregrounded the centrality of the U.S.-China dyad in international relations (People's Daily, November 14, 2014; Global Times, June 10, 2013).[1] This aligned with Beijing's self-perception as a global superpower. Deeply integrated in the global economy, Beijing has at the same time consistently sought to maintain its independence; thus, while depending on emerging powers to secure its sources of wealth China also acts as a 'balancer' to diffuse rising pressures against the existing liberal international order.[2] As such, China has gradually moved away from being a normative "system taker" to being a "system shaper" and "system maker."[3]
China's focus on maintaining economic ties with the U.S. and its allies and partners—including Japan and India—while simultaneously championing multipolarity highlights a major tension in its self-identification as a "great power" (大国, daguo).[4] It has manipulated regionalism to oppose a primarily Western-driven universalism abroad and reinforced nationalism at home to guide its global competitiveness via state-driven projects such as the BRI.[5]
Since 2016, Beijing has consistently criticized the G7 as a platform for "political purposes" and responded aggressively to the grouping's criticisms as destabilizing attacks on Chinese sovereignty (Consulate General of the PRC, April 8, 2016). Beijing expressed its "strong [dissatisfaction]" of a 2017 G7 meeting that made "irresponsible reference[s]" to the East and South China Sea maritime disputes (PRC Ministry of Foreign Affairs, May 28, 2017). More recently, Beijing "firmly oppose[d]" the G7's joint statement on China's national security law imposed on Hong Kong last June, and hit back against another G7 joint statement on Hong Kong electoral reforms in March as being "flagrant interference" in China's domestic affairs and a "vicious smear" (PRC Ministry of Foreign Affairs, June 18, 2020; PRC Ministry of Foreign Affairs, March 15). A commentary in the state media agency Xinhua complained that the G7's statement on Hong Kong's electoral reforms "goes against the facts and exposes the group's hypocritical nature" (Xinhua, March 14). Such reactions show that Beijing sees the G7 as an anti-China bloc and an attempt by Washington to maintain its supremacy in the international order through alliance politics. In an attempt to discredit the framework, Chinese media has increasingly painted the G7 as irrelevant in the new era (CGTN, August 25, 2019).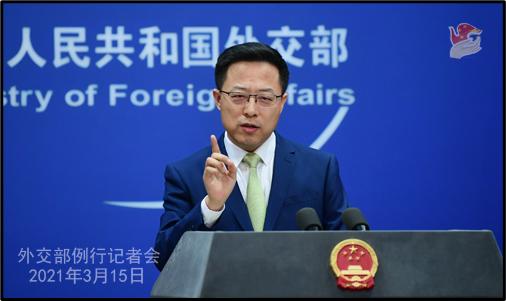 G7 Expansion vs. China's Realpolitik
In response to criticisms that the G7 was outdated and unrepresentative, the former U.S. President Donald Trump first proposed adding India, Australia, South Korea (and reportedly also Russia) as permanent members last May, making the G7 a more accurate grouping of the world's largest advanced economies that nonetheless noticeably left out China (Indian Express, June 1, 2020). Following the cancellation of the 2020 G7 Summit (set to be hosted by the U.S.) due to the coronavirus pandemic, the UK formally invited India, Australia, and South Korea to attend the 2021 G7 as guest nations to aid inclusive post-pandemic "build back better" goals (Gov.uk, accessed March 23). The expanded G7 would build on the UK's earlier proposed grouping of 10 democracies (D10), which was first introduced as a consortium for like-minded partners to collaborate on 5G infrastructure development (Foreign Policy, June 10, 2020).
Beijing has dismissed the UK's proposal to expand the G7 as "just an interpretation"—and therefore not yet a fact (PRC Ministry of Foreign Affairs, January 19). But at the same time, official statements have repeatedly emphasized that China opposes "abusing the name of multilateralism for bloc politics," and ongoing vocal criticisms of the G7 speak to its importance in China's eyes. Chinese experts have said that Washington's efforts to form an "anti-China choir" at the G7 were futile, noting that China was the "engine of world economy," and closely linked with G7 member states (Global Times, February 15). But this interpretation meshes poorly with the reality that tensions over illegal technology transfers; trade disputes; sovereignty violations in the South China Sea and on the India-China border as well as growing condemnation of human rights violations in Tibet, Xinjiang and Hong Kong have eroded many of China's bilateral relationships with G7 member states over the past year.
In the past, China has alternately used the tag of a developing and developed economy to gain allowances at the WTO and IMF, manipulating the narrative of its global standing on a case-by-case basis to gain significant advantages. The G7's expansion would close the gap between developed and developing economies, effectively undermining such tactics while also inviting countries in China's immediate backyard closer to the West. But not all current members agree with this approach. Following reports in January that Johnson had suggested asking guest nations to sign an "Open Societies Charter" with the existing G7 member nations in June, Japan pushed back over concerns that such a move would risk "institutionaliz[ing]" and diluting the existing framework after a turbulent 2020 (Japan Times, January 28; Asia Times, January 29).
China views its exclusion from debates on expanding the G7 to be more "symbolic than substantive," especially considering its position as the world's second-largest economy and the only economy that grew in 2020 amid the pandemic (Global Times, June 2, 2020). To Beijing, its exclusion from the G7 signals the Western-dominated bloc's refusal to change with the times, as well as a U.S.-led political endeavor to contain China. Somewhat trollishly, Russia responded to suggestions of an expanded G7 back in June by saying that it was a "step in the right position" but that China's participation would also be needed (TASS, June 2, 2020).
Alliance politics and China's G7 outlook
Chinese media have vocally criticized the G7's expansion as part of an emerging "Cold War" style of alliance politics that sits poorly with China's growing economic and political power (Global Times, August 16, 2020). Yet as China continues to pursue aggressive tactics towards Hong Kong and Xinjiang and in the South China Sea, last year's foreign policy achievements, including the Regional Comprehensive Economic Partnership (RCEP) and the EU-China Comprehensive Agreement on Investment (CAI), have been shaken. China was the first (and so far only) state to ratify the RCEP during annual legislative meetings in March, although the Japanese Cabinet has also approved a bill to do so (South China Morning Post, March 9; Kyodo News, February 24). European pushback against the CAI grew after details of market access offers were released in mid-March and snowballed after tit-for-tat sanctions on human rights abuses in Xinjiang were announced. As of the time of writing, EU talks to ratify the CAI have been put on hold (European Commission, March 12; Reuters, March 23).
Nevertheless, China has expressed its interest in becoming a party to the Japan-led Comprehensive Agreement for Trans-Pacific Partnership (CPTPP) (Global Times, November 21, 2020; Xinhua, February 2). Japan's hesitation to expand the G7, despite its close ties with India and Australia, is based upon its hopes for an expanded CPTPP with China as well as lingering concerns over South Korea (Asia Times, January 29). Under Prime Minister Yoshihide Suga, Tokyo has attempted to reshape its relationship with Beijing. But Japan also signaled its willingness to criticize Chinese "coercion and destabilizing behavior" during recent 2+2 ministerial meetings with the U.S. (South China Morning Post, March 16).
President Xi's speech at the 2021 World Economic Forum (WEF) Davos summit focused on encouraging coordination in macroeconomic policy to "jointly promote [the] strong, sustainable, balanced and inclusive growth of the world economy" (CGTN, January 25; Xinhua, January 25; China Daily, January 25). The statement comes amid a rise in global initiatives post-pandemic that put China on guard, including the Supply Chain Resilience Initiative (SCRI) envisioned by Australia, Japan and India, and an emerging 'Quad Plus' mechanism that includes Brazil, New Zealand, Israel, South Korea and Vietnam. Xi's specific emphasis on macroeconomic policymaking, which has been at the heart of the G7 since its first summit in 1975, also indirectly signals China's wariness over the G7's expansion in light of these growing anti-China measures.[6]
Conclusion
In essence, an expansion of the G7 to include India, Australia and South Korea is not in China's economic or security interests—particularly given Beijing's continued exclusion. Beijing's escalating rhetoric shows that it is preparing for a more proactively anti-China alliance-driven political environment, as reflected in an expanded G7 which overtly excludes China. As Beijing attempts to maintain and expand its regional spheres of influence, it will seek to keep the U.S. (and the West at large) away from its backyard. Should the G7 expansion become a reality, Beijing would be faced with a widespread anti-China economic grouping.
Dr. Jagannath Panda is a Research Fellow and Centre Coordinator for East Asia at the Manohar Parrikar Institute for Defence Studies and Analyses (MP-IDSA), New Delhi. He is the Series Editor for "Routledge Studies on Think Asia". Dr. Panda is the Co-Editor/Author of "Chinese Politics and Foreign Policy under Xi Jinping: The Future Political Trajectory" (Routledge, 2020). He is also the author of "India-China Relations: Politics of Resources, Identity and Authority in a Multipolar World" (Routledge, 2017), and "China's Path to Power: Party, Military and the Politics of State Transition" (Pentagon Press, 2010).
Notes
[1] Jinghan Zeng and Shaun Breslin, "China's 'New Type of Great Power Relations': A G2 with Chinese Characteristics?", International Affairs 90, no. 4 (June 20, 2016), pp. 773-794.
[2] Thomas Kane, "China's Foundations: Guiding Principles of Chinese Foreign Policy," Comparative Strategy 20, no. 1 (2001), pp. 45–55.
[3] Zeng and Breslin, 2016.
[4] Gilbert Rozman, "China's quest for great power identity," Orbis 43, no. 3 (July 31, 2000), pp. 383-402, https://www.sciencedirect.com/science/article/abs/pii/S0030438799800787.
[5] David Armstrong, "Chinese Perspectives On The New World Order," The Journal of East Asian Affairs 8, no. 2, pp. 454-481 (1994), https://www.jstor.org/stable/23254266 (accessed February 8, 2021).
[6] Alissa Wang, "G7 performance on macroeconomic policy," The Global Governance Project, December 10, 2020, https://www.globalgovernanceproject.org/g7-performance-on-macroeconomic-policy-3/.