Biden and Putin Project Optimism After Resolving Practically Nothing in Geneva
Publication: Eurasia Daily Monitor Volume: 18 Issue: 97
By: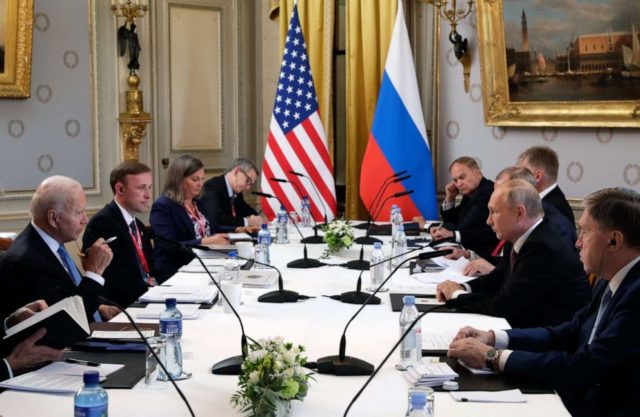 United States President Joseph Biden and his Russian counterpart, Vladimir Putin, met in Geneva, Switzerland, on June 16, for their first summit since Biden took office. Both countries have been stuck into a vicious spiral of diplomatic, military, political and economic confrontation. Most predictions ahead of the Geneva summit were, thus, restrained, downbeat or dismal, with both the Kremlin and the White House warning the public not to expect too much. Initial low expectations allowed both presidents and their teams to spin the summit results post factum as a significant success, with Putin talking of "glimmers of hope" and Biden projecting optimism. A half-page-long, three-paragraph joint communiqué was produced, denouncing nuclear war and promising the formation of a joint working group on arms control and strategic stability (Kremlin.ru, June 16).
Last January, Biden, together with Putin prolonged the 2010 New START nuclear arms limitation treaty for five years, until February 2026, when the agreement will terminate without any possibility of further prolongation (see EDM, January 28). By then, something new must be thought up by the newly formed strategic stability working group; but that will be an uphill task. Deep divergences exist between Washington and Moscow on how to count and verify their various new strategic and non-strategic nuclear and non-nuclear, precision long-range weapons. The two sides additionally disagree on whether or how to take into account the expanding US and Russian missile-defense capabilities. Nor do their policies align on how to treat Chinese nuclear arms, particularly if Beijing adamantly refuses to join the talks.
The US and Russian heads of state decided to upgrade their diplomatic ties by ordering the return of Ambassadors Anatoly Antonov to Washington and John Sullivan to Moscow. Antonov was recalled three months ago "for consultations," after Biden, in an ABC News pre-taped interview, was asked whether he considers Putin "a killer," and the US leader replied, "Mmm hmm, I do" (see EDM, March 18). Washington refused to act in kind and recall Ambassador Sullivan from Moscow, so the Russian authorities de facto expelled him on April 22, after "recommending" he return to Washington, DC, for "consultations." Now, apparently, the "killer" incident has been resolved (Interfax, June 16).
That issue proved relatively easy to tackle. But the US Department of State and the Russian Ministry of Foreign Affairs will now have to form another working group to negotiate the much thornier matter of restoring their diplomatic missions, which have been handicapped by sanctions, repeat retaliatory expulsions of diplomats, refusals to grant visas to replacements, and Moscow forcing the US embassy to fire all its locally hired staff (see EDM, August 3, 2017 and May 26, 2021). The Russian side says it is ready to, more or less, restore everything to how it was before this diplomatic tit-for-tat crisis began, but it demands that the US begin by handing back control of two country retreats (dachas)—one in Long Island, New York, designated for use by the Russian United Nations mission, and the other in Maryland, for the Washington, DC, embassy (Mid.ru, May 19). The two dachas were taken over in December 2016 by the outgoing administration of President Barack Obama. Washington argued then and since that the dachas were being used by Russian intelligence for spying. Moscow, in turn, took away a relatively small dacha residence in the Moscow suburb of Serebryany Bor that was leased to the embassy even before the Cold War and apparently not used all that much. Handing the dachas back to the Russians could cause Biden serious internal political problems.
Washington and Moscow will also be jointly working on a possible prisoner exchange package, but both acknowledge the complexity and time-consuming nature of this process. Another working group will be looking into cybersecurity issues. Yet Moscow has adamantly rejected its involvement in any cyberattacks against US targets, while US authorities contend the opposite (Interfax, June 17). The multiple working groups established in Geneva by Biden and Putin may well become bogged down in a quagmire of endless Cold War–style bickering as neither side trusts or believes the other.
At a press conference following the summit in Geneva, Putin accused the US of designating Russia an enemy and of financing the Russian opposition to overthrow his regime. He refused to release from prison opposition leader Alexei Navalny, saying the latter "deliberately broke the law by leaving Russia to obtain medical treatment abroad while under two suspended sentences" (after apparently being poisoned by the nerve agent Novichok in August 2020, in Tomsk) and has only himself to blame (Kremlin.ru, June 16). Of course, Navalny was transported to Germany unconscious, in a coma.
The core conflict between Moscow and the West is not arms control issues, human rights, democracy, cyberattacks, or the composition of their respective diplomatic missions. These are not the reasons for the deepening confrontation but manifestations of it. Some 20 years ago, under President Putin, Russia was perusing a policy of increasingly close military and political partnership with the US and the North Atlantic Treaty Organization (NATO), with even the possibility of de facto membership in the Alliance. What changed this situation so dramatically was the so-called "Orange Revolution" in Ukraine, in 2004, which overturned the rigged election of Moscow-friendly presidential candidate Viktor Yanukovych. Ukraine and Georgia, which had its own "Rose Revolution" in 2003, began to knock on NATO's door. Putin saw and still sees Ukrainian and, to lesser extent, Georgian Euro-Atlantic aspirations as an existential threat and totally unacceptable Western poaching in Russia's backyard. Since then, the Russian state and military have been preparing plans and building up capabilities for a practically inevitable showdown with the West that they believe will occur sometime in the mid-2020s (see EDM, December 10, 2020 and February 11, 2021).
Today, Ukraine and its Euro-Atlantic aspirations make up the focal point of the confrontation between Russia and the US and its allies. A massive Russian armed force remains poised on the borders of Ukraine, ready for a regional war to essentially prevent further Ukrainian Western integration—a war that Russian planners are apparently prepared to escalate into an all-European one. Still, according to Kremlin spokesman Dmitry Peskov, the problem of Ukraine's Euro-prospective NATO membership was practically not discussed in Geneva, even though for Moscow "this is really a red line [casus belli]" (Militarynews.ru, June 17).
Biden and Putin did not invite each other to visit their respective countries, nor did they agree to any follow-up summit. According to Biden, the true value of the Geneva meeting may become clearer in six months. Indeed, if war is avoided until then, it may count.