China Pursuing Dominance of Northern Sea Route
Publication: Eurasia Daily Monitor Volume: 15 Issue: 104
By: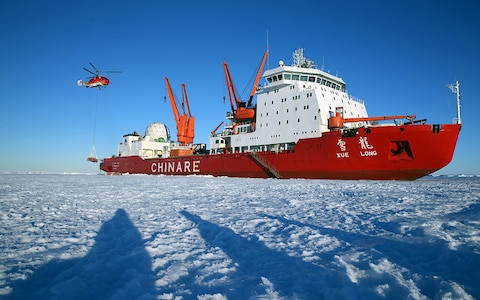 In January 2018, Beijing issued a White Paper on its strategic approach to the Northern Sea Route (NSR). The document notes China wants to take advantage of this shortcut to Europe and the possibilities it opens for extracting natural resources from the Arctic seabed as a result of global climate change. At the same time, the White Paper stresses that China will pursue these objectives by cooperating closely with the Russian Federation and other Arctic powers (Xinhua, January 26). But China's actions both before and especially since that date suggest that it is actually seeking not equality with others in the global frozen North, but rather a dominant position. And this prospect has already prompted some Russian commentators to suggest China wants to reduce Russia to the status of "a younger brother" in the Arctic (Nezavisimaya Gazeta, June 29; IA REX, July 12).
China's expansive moves in the region have, to date, taken three forms. First, it is increasing its share of orders for goods carried across Arctic waters by the ships of other countries—especially those of the Russian Federation—something that gives it clout in Moscow in particular (IA REX, July 12). Moreover, China is boosting its ownership stake in ships flying the Russian flag. Second, it has launched a program to build both ice breakers and ice-capable ships so that it will be able to carry more of the goods and raw materials it wants with its own vessels rather than having to rely on anyone else's. And third—and perhaps most dramatically in terms of Beijing's long-term goals—Chinese firms are establishing drilling platforms in areas of the Arctic Ocean that Moscow claims as part of its exclusive economic zone (EEZ). Similarly, it is building port facilities on Russian territory that are located far from China and that may soon eclipse Russian ones.
All three of these developments merit close attention, both for what they say about China's intentions as well as Beijing's increasing upper hand regarding a region and waterway Moscow has long insisted are exclusively Russian.
When it comes to Chinese domination of orders shipped along the NSR, this is nothing surprising. Indeed, Russian President Vladimir Putin has long insisted that the reason for the development of that sea passage in the first place is for goods and raw materials to pass back and forth from Europe to Asia (see EDM, April 29, 2016). And since China is the largest producer and market on the Asian continent, it has not surprisingly become Moscow's biggest customer seeking access to the NSR. But the Kremlin leader has always insisted that Russia must control this passageway; and some in the Duma have even pressed for excluding the ships of other countries. At present, Russia would appear to dominate this route, given that it is the only country with four nuclear-powered icebreakers and one nuclear-powered container ship in the region. Moscow has ordered three additional icebreakers of this class, but delivery dates are uncertain (IA REX, July 12).
However, even now, Russia's dominance is more ostensible than real given that several of the most important ships, while operating under a Russian flag, in fact belong at least in part to China or other countries. The Vladimir Rusanov, a liquefied natural gas (LNG) carrier that came online this year, is jointly owned not by Russia but by Japan's Mitsui Company and China's COSCO shipping corporation. Whereas, a second ship, the Edward Toll, is owned not by Russia but by Canada's Teekaw Company. Thus, Russia's oft-claimed Arctic maritime monopoly is apparently no longer in place and will likely decline further in the next decade (The Barents Observer, June 29).
With regard to the second issue, Chinese shipbuilding, the situation is even clearer and, from Moscow's perspective, more threatening. Although China is not an Arctic power on the basis of geography, three weeks ago its National Nuclear Corporation called for bids from Chinese yards to construct Beijing's first nuclear-powered icebreaker (Global Times, June 22). Once completed, that ship will join the Ukrainian-built Xue Long (Snow Dragon), an icebreaking research vessel that attracted widespread attention last summer for sailing across the central portion of the Arctic ice cap, far north of the Russian coastline (The Barents Observer, August 21, 2017; see EDM, October 3, 2017). With its own icebreaker, Beijing will be able to convoy ships across the NSR without any dependence on Russia. The new ship and its support vessels will not be ready for at least five years; but by building it, Beijing has sent a clear message about its intentions.
And with regard to the third issue—China's involvement in the development of offshore oil and gas fields as well as construction of seaports on Russian territory—it is clear Beijing is not waiting for the construction of ships to make a move. Its oil and gas drilling platforms, which first arrived in the Arctic region several years ago, are back in force, operating under Russian licenses of one kind or another (Rosmorport.ru, June 26, 2018; The Barents Observer, June 27, 2018). But that is not the most dramatic development in this regard.
In March, a large Chinese delegation came to Arkhangelsk to reach agreements on Beijing-financed development of both a seaport there and a new 800-kilometer railway needed to link that region to parts of Siberia and northern Russia with significant oil and gas deposits (Fmprc.gov.cn, March 22, 2017; The Barents Observer, March 27, 2017). The Russian news agency TASS reported that China is committed to financing all three phases of both projects and to have them completed by 2025 (TASS, March 16, 2017).
Russia, of course, will profit from some of this activity. But China will benefit even more. Beijing will not have dominance over the Northern Sea Route immediately; and Moscow may yet block or at least seek to limit China's role there. Nonetheless, Beijing is clearly showing that it intends to be an Arctic power even without having an Arctic coastline.