Sofia Is Helping Moscow Bypass Ukrainian Gas Transit
Publication: Eurasia Daily Monitor Volume: 15 Issue: 104
By: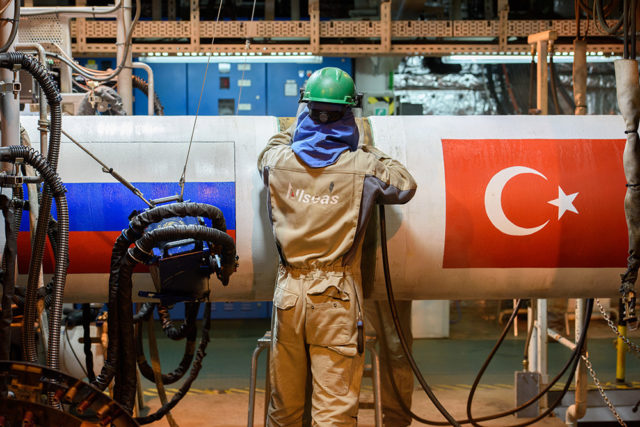 German support for Russia's plans to double the capacity of the Nord Stream natural gas pipeline under the Baltic Sea has, in turn, encouraged Bulgaria's aspirations to develop a regional gas hub with Russian help. Sofia has been seeking a similar arrangement with Gazprom to secure Russian gas transit through Bulgaria via an onshore or offshore branch of the TurkStream natural gas pipeline from Russia to Turkey along the Black Sea seabed. This pipeline is currently under construction. In order to approve the gas hub project, the European Commission has stipulated, however, that Bulgaria needs to become a gas trader, not merely serve as a gas transit country, by securing at least three different sources of natural gas supplies for the potential Balkan gas hub (Cibal.eu, June 27).
The two new Russian pipeline projects—Nord Stream Two, with a projected capacity of 55 billion cubic meters (bcm), and TurkStream, with a capacity of 32 bcm—would divert almost all of the Russian gas transit currently passing through Ukraine, to Germany and Turkey. In 2017, Gazprom delivered 155 bcm to European Union member states and another 23 bcm to non-EU members (including Turkey), with 93.5 bcm transiting Ukraine (Gazpromexport.ru, accessed July 12).
If Nord Stream Two is built, over 70 percent of all Russian natural gas exports to the EU will be transported through a single route to one country, Germany. And if TurkStream also becomes a reality, almost 90 percent of all Russian gas exports to Europe and Turkey would be delivered to two countries, Germany and Turkey.
Bulgarian Prime Minister Boyko Borisov introduced the idea of building a Balkan gas hub near the city of Varna shortly after the demise of the South Stream project in December 2014. Sofia did not expect the cancelation of the proposed South Stream gas pipeline by Russian President Vladimir Putin, although it had to suspend construction work under EU pressure in June 2014. Borisov had hoped that the European Commission and Gazprom would ultimately come to an agreement on the project's compliance with EU laws and that Bulgaria would eventually become a major transit country for Russian natural gas, benefiting from Moscow's promises of low prices, large investments and thousands of jobs. When that dream evaporated, Bulgaria was faced with the prospect of paying hefty fines to Gazprom for reneging on its contractual obligations when it suspended the project. That danger finally passed last May, when the European Commission requested that Moscow withdraw its claim against Sofia for 800 million euros ($937 million) in contract cancelation penalties as part of an agreement settling the EU's anti-monopoly probe against Gazprom (Mediapool.bg, May 24).
Borisov, however, remained anxious about Putin's attitude toward Bulgaria since the Russian leader had blamed Sofia for South Stream's failure. He was noticeably apologetic toward Putin during their meeting in May to discuss Russian gas deliveries for the prospective Balkan gas hub (Debati.bg, June 2; see EDM, June 21). The Bulgarian government started negotiations with Russia on the potential revival of South Stream in 2017, as the construction of TurkStream advanced. Among the proposed options was an offshore spur of TurkStream that would go directly to Varna, where a large gas storage facility would be built. Another option would be linking TurkStream with the Bulgarian gas network via a pipeline link with Turkey (Capital.bg, June 9, 2017).
Alternative options for Russian gas exports to Europe include building a new pipeline from Turkey through Greece to Italy or, alternatively, using the capacity of the future Trans-Adriatic Pipeline (TAP), one of three pipelines comprising the Southern Gas Corridor designed to transport Azerbaijani gas to Europe. But none of these choices would be beneficial to Bulgaria. Gazprom has already indicated that it wants to take advantage of the EU Gas Directive, which mandates reserving capacity for third-party gas suppliers in all European pipelines. However, TAP's initial capacity of 10 bcm is exempt from the EU regulation for 25 years; and when it is expanded to 20 bcm in the future, only half will be available for alternative suppliers (see EDM, February 16, 2017). This makes the two options through Bulgaria more viable for Gazprom, particularly since the Bulgarian government is eager to carry the burden of negotiating with the EU.
Although Prime Minister Borisov has obtained the support of Turkish President Recep Tayyip Erdoğan and Russian President Vladimir Putin for his pet project, securing gas supplies from three sources, as the European Commission requires, will not be easy, as evident from a feasibility study partially funded by the European Commission (Mediapool.bg, May 30, June 12). Sofia obtained 920,000 euros ($1.07 million) of EU funding for the study. In March, the government contracted the Bulgarian-Swiss company Consult for 2.27 million euros ($2.65 million) to provide an assessment of the market and a technical feasibility study of the Balkan gas hub project, determine its business model, as well as recommend a project financing mechanism (Investor.bg, March 15).
The preliminary results of this analysis by Consult were presented in Brussels in June. The report claims that 11 countries are interested in the potential development of a Balkan gas hub. The gas supplies would come from three sources: Russia, Azerbaijan and local gas production in Bulgaria and Romania. However, Bulgarian natural gas production is negligible, while Romania is unlikely to ship offshore Black Sea gas to its southern neighbor; thus, local gas production should be excluded from the list of potential sources. Moreover, so far Bulgaria has a contract with the Shah Deniz Consortium for the delivery of only 1 bcm of Azerbaijani gas. This volume may grow in the future, but it is unlikely to reach 15 bcm in order to match the Russian natural gas quantities Sofia is negotiating with Gazprom. Hence, Bulgaria's gas hub would be primarily fed with Russian gas.
Nevertheless, the Commission would have a tough time objecting to Bulgaria's pursuit of a regional gas hub if Gazprom is allowed to build the Nord Stream Two pipeline. The EU's indecisiveness regarding the expansion of Nord Stream in the Baltic is setting a precedent that almost inevitably will be followed elsewhere.