Chinese PSCs in South Asia: The Case of Pakistan
By: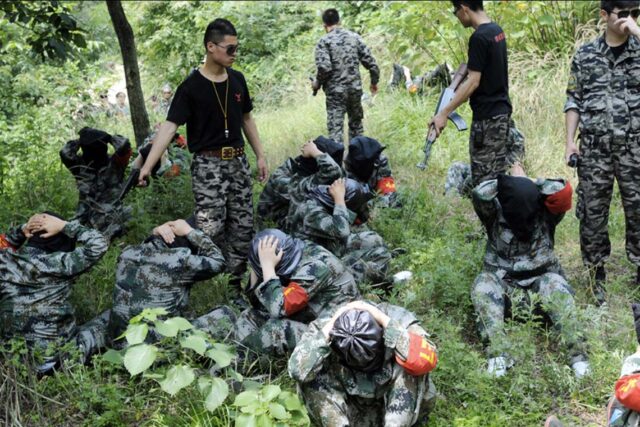 Executive Summary
Being the central pillar of Beijing`s Belt and Road Initiative (BRI) strategy in South Asia, economic and investment activities in Pakistan pose a series of security risks and challenges for the People's Republic of China. For now, in pursuit of physical security of Chinese nationals and assets in the country, the Chinese side mainly relies on local security providers. Yet, given the growing number of security incidents and frequent inability of the Pakistani side to ensure the safety of those Chinese nationals working in the country, Beijing has intensified its requests concerning the option of using its own security providers on Pakistani soil.
While several Chinese private security companies (PSCs) are known to have operated on Pakistani territory, their activities were not conducted on a permanent basis; nor were the Chinese permitted to either use force or act independently from their Pakistani counterparts.
Public perception of the prospects for Chinese PSCs' deployment in Pakistan—acting on a permanent basis and as de-facto semi-independent agents—is viewed negatively by Pakistani experts, policymakers and politicians. In addition to growing anti-Chinese sentiments (in certain parts of the country that are particularly dependent on the BRI), the deployment of Chinese PSCs in Pakistan might lead toward a surge of Sinophobia in the country, which most likely will be used by Islamic radicals and underground militants for their own purposes.
The majority of Pakistani experts do not believe that Chinese PSCs will be deployed in Pakistan (on a permanent basis) anytime soon. Nor do they believe that they will become an effective tool in solving the grave security issues faced by Chinese nationals in the country. They believe instead that deployment of Chinese PSCs might result in both further aggravation of the security milieu in the country and lead toward a weakening of ties between Islamabad and its other strategic partner, the United States.
Despite adverse macroeconomic and political trends, China`s outbound direct investments (ODI) in 2022 experienced a sizeable increase. Data provided by the Ministry of Commerce (中华人民共和国商务部) indicates that Chinese ODI totaled 985.3 billion yuan ($146.5 billion)—a 5.2-percent year-on-year increase.[1] Despite a visible decrease between 2021 and 2022,[2] a large part of China's ODI goes to Asia and BRI-related countries (Association of Southeast Asian Nations, Pakistan, the United Arab Emirates and Bangladesh).[3]
At this juncture, South Asia—a region where China has deep-rooted strategic economic, business (as relatively untapped and poorly integrated into global trade markets[4]) and geopolitical (to curb India[5]) interests—is playing an increasingly important role for China. In light of the extremely tense and complex ties with New Delhi, Beijing's key to the region is Pakistan. Being neither the wealthiest nor most politically stable South Asian country, Pakistan nonetheless plays a pivotal role for China—both as a factor of domestic stability and a strategically important transportation and logistical artery for foreign economic relations. Yet, China's ambitious plans may be hindered by negative trends and developments in Pakistan—including mushrooming violence, political instability and a challenging macroeconomic environment—which may become a serious hindrance for Beijing in realizing its plans.
As such, this paper looks at how China might deal with security challenges in Pakistan and, more specifically, what could be the role of private security companies (PSCs) in addressing these issues. In addition to a vast collection of secondary data (primarily Pakistani sources), the report benefits from the insights of three Pakistani experts that have been interviewed (in written format) for this project.
Zia Ur Rehman, a freelance journalist and researcher specializing in security issues, human rights, minorities and politics[6];
Adnan Aamir, a journalist covering Chinese interests in Pakistan for Nikkei Asia[7];
Kiyya Baloch, an independent analyst tracking the insurgency and following the China-Pakistan Economic Corridor.[8]
South Asia at a Glance
South Asia—a sub-region of Asia located on the Indo-Gangetic Plain and peninsular India—includes Bangladesh, Bhutan, India, Pakistan, Nepal, Sri Lanka, as well as Afghanistan and the Maldives.[9] Due to its strategic geographic location, wealth in natural resources, as well as rapidly growing labor and consumer markets (it is the most densely populated region in the world), the region's geo-strategic and economic importance has dramatically increased. From ethnic-cultural, religious and linguistic points of view, South Asia presents one of the world's most diverse areas, which simultaneously makes it home to a number of grave conflicts with extreme destructive potential. For instance, the aggravation of the Indian-Pakistani confrontation could have detrimental consequences that reach far beyond the region.
From an economic perspective, South Asian countries demonstrated a period of robust growth between 2009 (6.9 percent) and 2016 (7.7 percent), which "led to notable increases in health, education, and living standards."[10] Yet, as noted by the World Bank, potential growth could be seriously limited by "tightening financial conditions, with large downside risks in most countries given limited fiscal space and depleting reserves."[11] Another serious matter of concern is the unstable security environment, stemming from both inter-state tensions as well as non-state actors, which have dramatically increased following the US withdrawal from Afghanistan in 2021 and the Taliban's ascension to power.
While each country in the region is important in its own way, two actors clearly tower above the others. In addition to India—the region's only economic superpower and the world's most populous country—the Islamic Republic of Pakistan is a regional actor of significant strategic importance. To begin with, from a geographic (thus logistical) point of view, the country occupies a key position at the nexus of the Middle East, South Asia, Central Asia and the Indian Ocean. Moreover, Pakistan—a country with the world's second-largest Muslim population (after Indonesia)—plays a pivotal role in the Islamic world and maintains strategic ties with both the United States and China.
China and Pakistan
Geopolitical Aspect: From Partnership to 'All-Weather Friendship'
The Chinese-Pakistani relationship considerably strengthened after the Sino-Indian border dispute (1962), which transformed India into a matter of concern for both Beijing and Islamabad. To further strengthen bilateral ties—which were increasingly taking on the form of an anti-India alliance—Pakistan ceded the Shaksgam Valley (claimed by India) to China, while Beijing began providing Islamabad with weaponry and assisted with its nuclear weapons program.[12]
Yet, despite growing cooperation, Sino-Pakistani ties did not mature to the status of strategic partners until the 2000s. It has been argued that the change in the status of bilateral ties was primarily triggered by two factors. First, a qualitative change in the US-Indian relationship, which greatly alarmed the Chinese political elite; and, second, China's launch of the Belt and Road Initiative (BRI), which positioned Pakistan as China's pivot in South Asia and demonstrated the scope of Beijing's economic and geopolitical ambitions.[13] This change in bilateral ties was officially confirmed during former Chinese Premier Li Keqiang's (李克强) visit to Pakistan (May 2013), which resulted in the issuing of "The Joint Statement of the People's Republic of China and the Islamic Republic of Pakistan on Deepening the Overall Strategic Cooperation Between the Two Countries."[14] The agreement envisages a furthering of strategic cooperation in eight areas—politics, economics and trade, connectivity, maritime and aerospace matters, humanities, defense and security, as well as international and regional cooperation.
By 2015, during President Xi Jinping`s visit to Pakistan, bilateral relations between Islamabad and Beijing were upgraded to an "all-weather friendship" (全天候友谊).[15] In 2023, Chinese Premier Li Qiang (李强) reiterated this characterization, calling China and Pakistan "good neighbors, friends and brothers." He also added, "Both sides should maintain high-level exchanges and promote greater progress in bilateral cooperation in various fields and jointly promote the construction of a closer China-Pakistan community of shared future in the new era." Notably, in his statement, the Chinese politician specifically stressed that his country "hopes that Pakistan will continue to create a favorable environment for Chinese institutions and personnel in the country and ensure their safety."[16] This underscores one of China`s main concerns with regards to the further integration of Pakistan within the BRI—namely, the security of its material assets and Chinese nationals working in the country.
Economic Aspect: The China–Pakistan Economic Corridor
Despite overtly negative trends in its economic development, with its economy expected to grow by only 0.4 percent in the 2023 fiscal year,[17] Pakistan remains one of China's regional investment priorities, which is reflected in the construction of the costly (and much criticized) China-Pakistan Economic Corridor (中巴经济走廊; CPEC). CPEC's role for the BRI is crucial, and its economic impact is expected to go well beyond Pakistan itself.[18] Some experts have compared CPEC's potential impact on Pakistan with that of the Marshall Plan and the post–World War II reconstruction of Europe.[19] Initially valued at $46 billion, the current value of all CPEC-related projects stands at $65 billion as of 2022.[20]
While Beijing's plans to create a corridor stretching from the Chinese border to Pakistan's deep-water ports on the Arabian Sea date back to the 1950s,[21] the first concrete steps in this direction ensued only in the 1990s and were mainly related to the idea of economically and logistically connecting China's turbulent Xinjiang region with neighboring regions—all the while promoting economic development in the province as a prerequisite for social instability.[22] In the 2000s, the Pakistani side also came to appreciate the strategic importance of China's prospective involvement in the modernization of the Port of Gwadar—located at the junction of international sea shipping and oil trade routes—which could become a factor of Pakistan's economic revitalization through the modernization and establishment of transportation routes, tourism, telecommunications and the exploration of natural resources.[23]
CPEC was officially launched on April 20, 2015, when Xi and then–Pakistani Prime Minister Nawaz Sharif signed 51 agreements and memorandums of understanding that aimed to transform the Pakistani economy and connect the deep-sea ports of Gwadar and Karachi to the Xinjiang region. This in turn would allow China to reduce the economic and political risks associated with maritime operations in the Strait of Malacca and the South China Sea. The project is expected to be fully completed in three stages by 2030.
While some experts—as well as Chinese and Pakistani officials—praise the mega-project,[24] others doubt its economic sustainability. Adnan Aamir presented three points challenging the overtly optimistic forecasts. First, he argued that the railway would need to pass through the hard terrain of the Karakoram region. With the Karakoram Highway remaining closed for four months in winter, the only feasible way to bypass the snow-capped mountains is to build a tunnel under the mountains, which will dramatically raise costs and which may become challenging from an economic standpoint. Secondly, Aamir explained that the proposed cost of $58 billion, out of which only $25.4 billion has been spent so far, is too high to be practical, especially considering that the entire CPEC project has a total estimated value of $50 billion. Third, according to the author, CPEC's existing rail project sets a gloomy precedent. The Main Line 1 (ML-1) section, the largest section within CPEC, seeks to upgrade railway infrastructure in Pakistan from Karachi to Peshawar. The project has an estimated value of $10 billion—far less than the China-Pakistan railway, though still substantial. Yet ML-1 has not materialized eight years after the inception of CPEC due to disagreements on financing terms and political instability in Pakistan.[25]
Another serious issue that might jeopardize the success of the CPEC is the security situation in one of its pivotal areas—the city of Gwadar. In addition to terrorism and extremism-related concerns, the locals are increasingly unhappy with China's methods in deepening its involvement. As one analysis stated, "Gwadar being a center of economic development did not manage to change the fate of its people. … It became the source of frustration over local people's alienation from local development projects, which are mostly managed by the Chinese or officers from other provinces of Pakistan. … The people of Gwadar also feel their identity and ownership of their homeland is under threat. They believe the rapid influx of Chinese workers and businesspeople may destroy their identity by causing demographic change."[26]
On top of that, a final issue of concern is Pakistan's heavy indebtedness to China—as of 2021, Islamabad held $27.4 billion in external debt to China[27]—which makes the country incredibly dependent on (and thus susceptible to) a more powerful counterpart.
Security Aspect of the Sino-Pakistani Partnership
Sino-Pakistani security-related ties are premised on three main pillars, which, over time may be extended to four. First, Pakistan participates in the Quadrilateral Cooperation and Coordination Mechanism—established in 2016 and includes Afghanistan, China and Tajikistan—which aims to strengthen regional counterterrorism cooperation.[28] Notably, following the Taliban's ascension to power, this mechanism was not dismantled; its most recent convention took place in May 2023. Interestingly, during that meeting, the Chinese side expressed its willingness to "strengthen strategic communications and policy coordination with Afghanistan and Pakistan through the trilateral cooperation mechanism [and] formulate a roadmap for cooperation in such fields as politics, security and economy. … The three countries agreed to advance cooperation on the Belt and Road Initiative, support the extension of the China-Pakistan Economic Corridor to Afghanistan, promote connectivity among the three neighbors and the region, and improve the cross-border trade system, with a view to enhancing trilateral economic integration and achieving sustainable development."[29]
Second, China has supported certain measures aimed at ensuring security within major urban areas in Pakistan—somewhat akin to several Central Asian countries.[30][31] For instance, Beijing has been assisting Islamabad with the implementation of so-called "safe city" projects, which seek to facilitate policing and surveillance through the use of the most up-to-date technologies, ranging from closed-circuit television cameras to unmanned aerial vehicles.[32] Similar projects have already been implemented in Islamabad, Lahore, Karachi, Peshawar, Quetta and Gwadar.[33]
Third, cooperation in the realm of conventional arms and weaponry deliveries dates back to the 1960s. A dramatic intensification of cooperation positioned China as Pakistan's leading provider of arms (by value), while Pakistan has become China's largest arms recipient.[34] The intensification of Sino-Pakistani arms deals led General Qamar Javed Bajwa, former chief of the Pakistani Army Staff, to call both militaries "brothers in arms" determined to protect their common interests.[35] Some studies have argued that, in terms of frequency and quality of joint military exercises, Pakistan may have acquired the status as China's primary partner. Starting in 2018,[36] rumors, though dismissed at the time, about Beijing asking Islamabad to provide military access to Gwadar have been circulating. Unfounded several years ago, these assertions were revived in 2023,[37] leading some experts to argue that "China is clearly developing the capability to turn Gwadar into a naval port."[38]
Fourth, Beijing is seriously considering the prospect of Chinese PSCs establishing a permanent presence on Pakistani territory to protect Chinese material assets and nationals working in the country. As of now, this area is not well developed, though the Chinese side is increasingly furthering requests on the matter. At the moment, the Pakistani authorities seem to resent the idea of Chinese paramilitary personnel being permanently deployed on their territory. Nevertheless, the country's overarching indebtedness to China and the lack of alternative funding—access to the International Monetary Fund's Extended Funding Facility program might be hindered by internal developments in the country—puts Pakistan in a rather precarious position with respect to Chinese requests and demands.[39]
Many experts note that, despite the optimistic recent statements by both Chinese and Pakistani top officials—such as Vice Chairman of the Chinese Central Military Commission Zhang Youxia (张又侠), Pakistani Army Chief General Syed Asim Munir[40] and the director of the Chinese Communist Party Central Foreign Affairs Commission, Wang Yi (王毅)—"economic ties lag far behind military engagement" in Sino-Pakistani relations. Thus, Beijing could push harder to safeguard its interests in Pakistan,[41] which in turn could lead toward the development of both conventional and unconventional forms of security cooperation.
China in Pakistan: Security Risks and Challenges
Security Risks in Pakistan: An Overview
Despite the fact that some countries and organizations consider the improvement of the security situation in Pakistan to be largely adequate—for example, the European Union has removed Pakistan from its "list of high-risk third countries"[42]—in fact, the country's security environment remains extremely challenging. According to the latest Global Terrorism Index score (2022), Pakistan was ranked sixth (between Syria and Iraq) regarding the impact of terrorism on its internal security.[43] One of the most recent examples of violence—which has been on the rise in 2023[44]—was the incident in Khyber Pakhtunkhwa province, where at least 12 people died in blasts at the Counter Terrorism Department. Earlier, an attack by a suicide bomber in the city of Peshawar killed more than 80 officers.[45] Overall, between December 2022 and January 2023, Pakistan experienced more than 100 attacks by Islamic radicals, primarily represented by the Tehrik-i-Taliban Pakistan. This group is commonly referred to as the "Pakistani Taliban," and their main long-term goal is to establish an Islamic regime in Pakistan based on their understanding of Sharia law.[46]
Other groups that present a serious challenge to Pakistan's stability are the Barelvi Tehreek-i-Labaik Ya Rasool Allah (or Labaik), Baloch Raji Aajoi Sangar (BRAS), East Turkestan Islamic Movement and Balochistan Liberation Army (BLA). Incidentally, the track record of the BLA, and its close associates, the BRAS, suggest that these two formations may present the most serious challenge to the Chinese side.[47]
Security Threats Leveled Against China
In Pakistan, China faces two interconnected problems: radical Islamist groups, many of which are purposefully targeting Chinese nationals,[48] and Sinophobia, which has been on the rise in some of the country's specific regions. For instance, in Balochistan (one of the key junctions for Chinese economic interests in the country), the local population—and this is extensively used by Islamic militants—is alarmed and upset by the skyrocketing influence of Chinese companies that are exclusively interested in exploiting local resources while paying next-to-no attention to the local needs. Back in 2015, Brahumdagh Bugti, leader of the Baloch Republican Party (living in exile in Switzerland) and grandson of the nationalist leader Nawab Akbar Bugti, argued that "Chinese economic projects in Baluchistan were aimed at 'colonizing' the province and must be resisted."[49] According to Malak Abdul Wali, central vice president of the Balochistan National Party: "Our concerns over Chinese investment in Balochistan have always been ignored. Without acknowledgment of the sovereignty of local residents over the coast and resources of the province, the anarchy will not improve. Gwadar is bound by Baloch history and identity, and it has more significance than economic benefits."
Moreover, Abdul Ali, a senior leader of Jamiat Ulema-e-Islam in the province, also argued that "Chinese companies extracted copper and gold deposits without any local, national or international supervision," and, contrary to national and international law, "Chinese companies did not invest in education, health, or infrastructure in Chaghi District. In Balochistan, with the Chinese projects, local partnerships for the benefit of local residents were not considered. Because of these … exploitative policies, political tensions escalated. … The federal government should consider the concerns of the local population regarding Chinese investment in Balochistan." As stated by the BLA in their messaging, attacks and violence were "an attack on Chinese economic interests in response to China's exploitative plans in Balochistan."[50] Muhammad Javed, a Quetta-based senior security official, further added: "It can be said with certainty that the major reason for the acceleration in attacks by Baloch militants is to foil the ongoing foreign investment, which continues to thrive."
A very similar sentiment was conveyed in a statement by National Party chief and former chief minister of Balochistan, Abdul Malik Baloch, who said, "If steps were taken keeping in mind the realities on the ground regarding the CPEC project, the situation would not have been so dire. Gwadar is the aorta of Balochistan. When the local population will not benefit from this most important strategic asset, how can you possibly improve the situation and end the resistance?"[51] In that same vein, Husain Haqqani, South Asia director at the Hudson Institute, stated that "the target of the Baloch nationalists is the Pakistani state, which they see as an oppressor. They target China because they think that might get them Western and Indian support, and also because they see China's backing as important for Pakistan's security establishment. No investor, including China, wants to deal with constant violence or a long-running insurgency. The Baloch might be weak and outnumbered but they have been consistent in their battle with the Pakistani state for years while getting little international support."[52]
Incidentally, a masked BLA commander in a recent video address asserted: "China, you came here without our consent, supported our enemies, helped the Pakistani military in wiping out our villages, but now it is our turn. The Baloch Liberation Army guarantees that the China-Pakistan Economic Corridor will fail miserably on Baloch land." He warned the Chinese leadership to quit Balochistan or "witness retaliation from Baloch sons and daughters."[53]
Examples of some of the most recent (and significant) attacks aimed against Chinese nationals on the Pakistani soil are presented in the table below.
| | | | |
| --- | --- | --- | --- |
| Date | Event | Location | Outcome |
| August 2018 | Suicide Attack on Chinese Engineers | Dalbandin (Balochistan) | Three Chinese Nationals Wounded |
| November 2018 | Attack on the Chinese Consulate | Karachi | Four People Killed |
| May 2019 | Attack on the Pearl Continental Hotel | Gwadar | Five People Killed, Six Injured |
| June 2020 | Attack on the Pakistan Stock Exchange | Karachi | Three Security Guards and a Policeman Killed |
| July 2021 | Bombing of a Bus | Kohistan Region | Nine Chinese Workers Killed |
| April 2022 | Suicide Attack Near Confucius Institute | Karachi | Three Chinese Teachers Killed |
Source: Author.
At this juncture, it is important to consider Beijing's position regard the possible aggravation of Pakistan's security environment. In 2021, following the death of nine Chinese nationals in Kohistan region, Chinese Premier Li Keqiang openly urged the Pakistani side to find and severely punish those responsible.[54] Later in 2022, after a number of incidents, Xi expressed "deep concern" over the security of Chinese nationals working in Pakistan on CPEC projects and sought a "reliable and safe environment" during his conversation in Beijing with Sharif.[55] During another 2022 meeting, Chinese People's Liberation Army (PLA) General Zhang Youxia urged his Pakistani counterpart General Qamar Javed Bajwa to address the growing threats to Chinese nationals working on CPEC projects.[56]
This means that, despite China's reported "full confidence in the Pakistan side's protection of Chinese citizens and property in Pakistan,"[57] well-informed Pakistan experts and security analysists believe that discontent within the Chinese military-political elite over the growing number of security incidents and attacks against Chinese nationals in Pakistan is increasing. For instance, Ejaz Haider, a renowned security analyst, has argued that it is "deeply disconcerting that, despite being engaged with and against Afghanistan and in Balochistan, our [Pakistani] intel capabilities are less than satisfactory."[58] For his part, Aamir, alleged that a number of attacks have created distrust between China and Pakistan. Specifically, he argued, "Especially after the Confucius Institute attack in April this year, the Chinese came up with a proposal to bring its security to guard Chinese citizens. Pakistan politely turned that proposal down. … Some sources have informed me that all new Chinese investments remained defined by Pakistan agreeing to the Chinese proposal for allowing Chinese security firms here or not."[59] This aspect becomes particularly important in light of recent developments in Pakistan—marked by increasing violence and the Pakistani Taliban moving into new territories[60]—which is likely to result in the further deterioration of the security environment in the country.
Chinese PSCs in Pakistan
China Requests Placing Its PSCs in Pakistan
To protect Chinese nationals and assets, the Pakistani side has earmarked considerable resources including a Special Security Division (SSD) raised in 2016 whose sole task is to protect CPEC assets. Overall, there are two SSDs—the 34th (created in September 2016) and 44th (developed in 2020) Light Infantry Divisions—with 15,000 troops each.[61] Yet, given the spiking number of attacks and the aggravated security milieu in Pakistan, these efforts might not be enough to ensure the comprehensive security of Chinese nationals and assets. In turn, this might make the question of Chinese paramilitary presence on Pakistani territory even more relevant.
Notable talks about the possibility of relying on PSCs for Chinese nationals in the country first emerged in 2015. At the time, it was reported that the Punjab Police were considering withdrawing security from those Chinese working on private projects, "apparently owing to the shortage of force and excessive police engagements in security and law and order duties." Thus, it was announced that "the police authorities are mulling over advising three categories of Chinese to hire private security before withdrawal of officials from them." Importantly, it was also stated that "the decision to review the security arrangements of Chinese nationals working on private projects was taken at a high-level meeting chaired by the provincial home minister."[62]
Among other protective measures, China and Pakistan agreed to use bullet-proof vehicles for all outdoor movements of Chinese nationals working on CPEC projects.[63] Yet, apparently, these and other steps failed to drastically address the security concerns of the Chinese side. As a result, in 2022, the Chinese Ministry of State Security (国家安全部) asked Pakistan to allow a Chinese PSC (the entity was not specified in open sources) to operate inside the country. Reportedly, the Pakistani Interior Ministry objected and offered assurances that Pakistan's security forces are able to protect Chinese nationals and assets.
Incidentally, according to Pakistani sources, this request was not the first: the issue was considered in 2016 as well. At that time, explaining the unfeasibility of the request, Ahsan Iqbal, the Pakistani planning minister overseeing CPEC, told local media that "there can be tensions between Chinese security companies and the local population. It is preferable that Pakistani security personnel and agencies deal with local security problems, as it will not create conflicts between China and the local population."[64] In 2022, according to Azaz Syed, an Islamabad-based journalist covering Pakistani security, China formally sought permission from Islamabad to establish a Chinese PSC in Pakistan but "the ministry emphatically turned down the request, saying that no other country may open a security company in Pakistan as doing so would not only violate Pakistani law but also compromise the country's security."[65] An unofficial explanation for rejecting the Chinese request was based on Russia's abominable example of employing the quasi–private military company (de facto a state-sponsored mercenary group) the Wagner Group.[66] Instead, the Pakistani side suggested relying on the Foreign Security Cell at the Chief Police Office, a body established to coordinate the security of all foreign nationals, especially Chinese citizens, in Pakistan.[67]
The Pakistani PSC Industry at a Glance
Pakistani law is quite explicit regarding the activities of foreign PSCs in the country. Following an incident in January 2011, when a private contractor for the US Central Intelligence Agency shot and killed two reportedly armed men in Lahore[68]—the Pakistani minister of the interior at the time, Rehman Malik, barred all foreign security companies from operating in Pakistan.[69] Thus, under Pakistani law, foreign security providers are not permitted to operate within the country, while domestic PSCs must follow provincial legislation constraining their practices and operations.[70]
Yet, as noted by some experts: "The ordinances … do not specify the issue of foreign ownership or joint ventures, while the Companies Ordinance of 1984 allows for foreign investment and joint ventures in general but makes no specific mention of private security companies. … The fact that the ban on foreign-owned security companies operating in Pakistan was a political decision has resulted in a legal grey-zone for joint ventures between Pakistani and foreign private security firms."[71] As a result, the local PSC industry presents quite a puzzling picture: the large size of the industry and multiplicity of security providers (approximately 600 PSCs are registered) are hamstrung by the fact that many of these companies are either de-facto dysfunctional,[72] lacking quality training and discipline,[73] or enmeshed in corruption scandals.[74] Thus, the ability of Pakistani PSCs to be effective protective tools for Chinese nationals and assets in Pakistan remains questionable.
Chinese PSCs in Pakistan: What Is Known?
A study of various sources identifies at least three Chinese PSCs that have reportedly operated in Pakistan. First, the website of Frontier Services Group (先丰服务集团; FSG)—a Hong Kong-based PSC, formerly run by Blackwater founder Erik Prince—states that the company has performed missions in the "northwest regional division" (includes Pakistan, Afghanistan, Kazakhstan and Uzbekistan).[75] While no specific details pertaining to FSG's activities in Pakistan are known, it is worth noting that, on May 27, 2021, FSG and Pakistan's Daewoo Gas held a ceremony for the signing of an agreement regarding cooperation between the two parties on a liquefied natural gas (LNG) supply chain project in Pakistan. According to the official statement, FSG will cooperate with Daewoo Gas and "actively explore business opportunities in security, logistics, insurance and other [unspecified] fields."[76] In 2022, Daewoo Gas signed a Master Engineering Procurement Construction and Finance contract with China National Chemical Engineering Construction Company (CNCEC), under which CNCEC would design, construct and finance an offshore LNG terminal in Pakistan.[77]
Second, China Overseas Security Group (中国海外保安集团; COSG) states publicly that it has a branch located in Pakistan.[78] One Chinese source claimed that, due to the fact that "Chinese employees are legally restricted from carrying or using firearms, Chinese security companies generally work with local organizations to hire local personnel. In Pakistan, for example, the China Overseas Security Group cooperates with a local security company with close ties to the Pakistan Navy."[79] According a study conducted by the Mercator Institute for China Studies, "COSG in Pakistan went a step further towards offering more hands-on services in 2018. The company reported that its Pakistan branch, called the Pan-Asia Group, took part in live-fire training of management personnel and first-line security guards, with the aim of providing security for overseas Chinese in light of the deteriorating security environment."[80] Some recent, though unconfirmed reports, have suggested that COSG (reportedly linked to the PLA) has encountered financial troubles due to the unprofitability of many BRI-related endeavours.[81] For now, however, it remains unclear how this reported development will affect the company and its Pakistan-related activities.
Third, Hanwei International Security Services (汉卫国际安全护卫有限公司) claims to have established subsidiaries and offices in several countries—Laos, Sri Lanka, Iraq, Nigeria, South Africa and Papua New Guinea—as well as in Pakistan.[82] This PSC specializes in protecting oil-drilling platforms,[83] and other activities for this PSC have not been specified.
There is, however, one nuance related to the activities of these PSCs on Pakistani soil. As stated by Adnan Aamir in a written interview, "All these Chinese PSCs have worked with Chinese capital and managers, but the gun-holding personnel were Pakistani citizens. So, none of the Chinese PSCs have been allowed to bring in Chinese personnel for protection duties. Pakistani laws allow for controlled investment in the private security sector, where the Chinese had invested, and they managed operations through Pakistani staff."
Thus, for now it would be adequate to argue that the activities of Chinese PSCs in Pakistan have been conducted at an ad hoc (i.e., non-permanent) and very basic (without participation in armed escorts or high-risk missions) level. Moreover, Chinese PSCs had to closely collaborate with Pakistani counterparts, which limited the range of tasks and their freedom of operations in the country.
Prospects of Chinese PSCs in Pakistan: Local Outlook
Based on in-person and written interviews, as well as secondary data, it seems that the majority of Pakistani experts and policymakers negatively assess the idea of foreign (in this case, Chinese) PSCs operating in Pakistan. The majority of them converge on the opinion that the access of foreign PSCs could compromise Pakistan's sovereignty and independence and is unlikely to have a major positive effect on the security situation in the country.
According to Saeed Aziz, director of a Karachi-based PSC, "Pakistan is a sovereign country, and it should not allow another country to use its [PSC]. … Instead of providing security to Chinese interests in Pakistan, the deployment of Chinese [PSCs] will further worsen the security situation in the country, particularly in Balochistan."[84]
For his part, Zia Ur Rehman doubts that Islamabad will allow Beijing to use its PSCs in expanded roles. Even if this does happen, "Chinese PSCs do not have such expertise and preparedness [as Western PMSCs]," which are unlikely to become game-changers for the Chinese in terms of ensuring their physical security in Pakistan. He also argues that, under this scenario—namely, the appearance of Chinese PSCs in Pakistan on a permanent basis—the security situation will not improve; on the contrary, it will aggravate the space since "China does not know the complex situation of militancy in Pakistan."
Furthermore, Rehman believes that, in this case, US-Pakistani ties may complicate matters to an even greater extent, since "the US is already showing, indirectly, its concerns over the Chinese intentions to expand its presence in the region through PSCs." This is particularly important in light of the US role in Pakistan's economy. According to recent reports, "The United States has long been Pakistan's largest export market—importing more than $5 billion in Pakistani goods in 2021, far surpassing any other country. The United States has also been a leading investor in Pakistan for the past 20 years."[85] Additionally, US businesses have a strong presence in Pakistan. In 2022, more than 80 wholly- or majority-owned US subsidiary firms were registered with the American Business Council of Pakistan and the American Business Forum.[86]
Moreover, Kiyya Baloch has argued that "even if Beijing successfully deployed its private security companies (PSCs), their operational activities would likely be limited to specific areas." Moreover, he stated that even though, thus far, Islamabad has successfully resisted permitting Beijing to deploy its PSCs in Pakistan, "if this scenario materializes, we should expect growing resistance from certain groups within Pakistan." Specifically, he mentioned that individuals "within Pakistan's influential military and political circles would likely express dissatisfaction with such a development [and] Pakistan's Western allies would likely exert pressure on the country" should this happen.
Aamir also doubts the prospects of Chinese PSCs appearing in Pakistan in the near term. Furthermore, he does not believe in their ability to protect Chinese citizens from the multifaceted security threats in the country. Yet, he asserts that "China will be more confident about the security of its citizens when they control the security apparatus. China is voicing the idea [of deploying its PSCs in Pakistan] more frequently now because it believes that security is becoming a major problem for its interests in Pakistan every passing day. It is more of a self-reassuring effort by China rather than any meaningful increase security of its personnel."
According to Aamir, the prospect of China deploying its PSCs in Pakistan raises two main concerns: "First is that most of the Chinese personnel do not understand the local languages in Pakistan. So, the chance of violent confrontation with the Pakistani public increases when Chinese security people are protecting their citizens. That is something that the government of Pakistan wants to avoid as it will give a bad name to the friendly image of China among the minds of Pakistani citizens. Secondly, Pakistan understands that providing security to the Chinese or any other country is a strategic utility of Pakistan, which it wants to sell for monetary gains and strategic influence. Therefore, Pakistan will lose that utility if it is no more protecting Chinese interests in Pakistan." He also adds that, "by asking to bring in their own PSCs, China wants to take security-related matters into its own hands. Once Chinese PSCs are here then it is natural they will be involved in intelligence gathering." The analyst, however, does not believe that intelligence gathering is the driving factor behind Beijing's drive to install their PSCs in Pakistan.
Finally, it makes sense to quote Umair Jamal, a correspondent for The Diplomat based in Lahore, who asserted that China's requests to place its PSCs in Pakistan has a more strategic and troublesome aspect to it. Notably, he argues that, "contrary to what Pakistan may want others to believe, it has serious issues of commitment and ability as far as its capability to deal with militancy is concerned. Currently, Pakistan's national security institutions appear to be more engrossed in managing domestic politics than focused on wiping out terrorism. Commitment doesn't only come from increasing the number of security personnel to guard a building, road, or project site. It also requires policymakers to make fundamental decisions on challenges at the policy level and then work on a robust plan to implement them. Pakistan has failed at all levels in this regard."
Jamal further adds that it is no surprise that "China prefers to secure CPEC projects with the presence of private security firms. This is nothing less than a vote of no-confidence against Pakistan from one of its closest allies. The deployment of Chinese security firms can complicate things for Pakistan's policymakers as they will have to explain the decision to Pakistanis. Ideally, Beijing may not want the deployment of its security personnel in Pakistan but probably sees no other way as Pakistan continues to fail. Beijing is aware that the deployment of Chinese security personnel in Pakistan could raise anti-China sentiments across Pakistan, particularly in Balochistan, where Baloch militants are describing Beijing as an 'occupier.' Perhaps Beijing is pushing Pakistan only to make it realize the gravity of the situation and what may happen if the attacks on Chinese nationals continue."[87]
Conclusion
In spite of the serious risks and security threats faced by the Chinese side in its economic and business activities in Pakistan, there is every reason to believe that these will not hinder Beijing from completing its objectives in implementing the CPEC-related plans. In this, macroeconomic conditions and developments could become far greater obstacles. Most likely, in its attempt to protect the lives of Chinese nationals in Pakistan, Beijing will continue relying on a combination of Pakistan's state-owned and privately provided (local PSCs) resources. As a result, some Chinese PSCs—acting in conjunction with local PSCs and performing basic security services—may well take part in certain activities on Pakistani soil.
That said, based on written responses received from Pakistan-based experts as well as a great deal secondary data, three aspects pertaining to the activities of Chinese PSCs in Pakistan should be highlighted. First, it is unlikely that Islamabad will concede to Beijing's requests and allow Chinese PSCs to be deployed (unsupervised) on its territory on a permanent basis. Second, the Chinese side itself—given the innate weaknesses of its PSCs industry as well as concerns about China's image and reputation—might not be willing to go ahead with pressing Islamabad on allowing the use of its PSCs in Pakistan. Third, even in the case that Chinese PSCs are deployed on Pakistani territory on a permanent basis, these structures are unlikely to make a difference, and, given the high complexity of tasks and their structural weaknesses, are unlikely to become game-changers and guarantors of security for Chinese nationals in the country.
Notes
[1]"China's Outbound Direct Investment Rises 5.2% to $145b," February 10, 2023, https://english.www.gov.cn/archive/statistics/202302/10/content_WS63e5fdd8c6d0a757729e69d3.html.
[2]Green FDC, "Brief: China Belt and Road Initiative (BRI) Investment Report H1 2022," July 24, 2022.
[3]Loletta Chow, "Overview of China Outbound Investment of 2022," EY, February 16, 2023, https://www.ey.com/en_cn/china-overseas-investment-network/overview-of-china-outbound-investment-of-2022.
[4]Amin Ahmed, "South Asia Least Integrated Region for Trade," Dawn, March 15, 2020, https://www.dawn.com/news/1541009.
[5]Harsh V. Pant, "As India and China Compete, Smaller States Are Cashing In," Foreign Policy,  January 24, 2022, https://foreignpolicy.com/2022/01/24/india-china-competition-investment-sri-lanka-maldives/,
[6]Zia Ur Rehman, written interview with author, May 11, 2023.
[7]Adnan Aamir, written interview with author, May 11, 2023.
[8]Kiyya Baloch, written interview with author, May 16, 2023.
[9]World Atlas, "The Countries Of South Asia," accessed on April 28, 2023, https://www.worldatlas.com/articles/the-population-and-economy-of-the-south-asian-countries.html#:~:text=The%20Countries%20Of%20South%20Asia%20%20%20,%20%20415.6%20%204%20more%20rows%20.
[10]The World Bank, "Selected Countries and Economies," accessed on May 1, 2023, https://data.worldbank.org/indicator/NY.GDP.MKTP.KD.ZG?end=2021&locations=8S&start=2009.
[11]The World Bank, "South Asia," April 4, 2023, https://www.worldbank.org/en/region/sar/overview.
[12]Manjari Chatterjee Miller, "How China and Pakistan Forged Close Ties," Hindustan Times, October 2, 2022, https://www.hindustantimes.com/opinion/how-china-pakistan-forged-close-ties-101664721640366.html.
[13]Miller, "How China and Pakistan Forged Close Ties,"
[14]"The Joint Statement of the People's Republic of China and the Islamic Republic of Pakistan on
Deepening the Overall Strategic Cooperation between the Two Countries," https://policy.asiapacificenergy.org/sites/default/files/Joint%20Statement%20of%20China%20and%20Pakistan
%20on%20Deepening%20the%20Overall%20Strategic%20Cooperation%20between%20the%20Two%20Countries%20%28EN%29.pdf.
[15]Li Qingyan, "China-Pakistan 'Iron Brotherhood': 70 Years Hand in Hand," CIIS, September 8, 2021, https://www.ciis.org.cn/english/COMMENTARIES/202109/t20210908_8122.html.
[16]Global Times, "China, Pakistan Should Make CPEC Model Project of BRI: Chinese Premier to Pakistani Counterpart," April 28, 2023, https://www.globaltimes.cn/page/202304/1289936.shtml.
[17]The World Bank, "Sustained Reform Commitment Is Needed to Overcome Pakistan's Economic Crisis," April 4, 2023, https://www.worldbank.org/en/news/press-release/2023/04/03/sustained-reform-commitment-is-needed-to-overcome-pakistan-s-economic-crisis#:~:text=According%20to%20World%20Bank%E2%80%99s%20latest%20
Pakistan%20Development%20Update%3A,impacts%20of%20the%20unprecedented%20floods%20of%20summer%202022.
[18]CPEC, "Official Messages", accessed on May 10, 2023, https://cpec.gov.pk/
[19]Arun Mohan Sukumar, "What the Marshall Plan Can Teach India About the China-Pakistan Economic Corridor," The Wire, January 10, 2017, https://thewire.in/uncategorised/marshall-plan-india-china-pakistan-economic-corridor.
[20]Asif Shahzad, "Pakistan's Sharif Lands in Beijing to Discuss Economy, Debt," Reuters, November 1, 2022, https://www.reuters.com/world/asia-pacific/pakistans-sharif-lands-beijing-discuss-economy-debt-2022-11-01/
[21]Mahnaz Z. Ispahani, Roads and Rivals: The Political Uses of Access in the Borderlands of Asia, (Ithaca, NY: Cornell University Press, 1989).
[22]Gaye Christoffersen, Xinjiang and the Great Islamic Circle: The Impact of Transnational Forces on Chinese Regional Economic Planning, (London, UK: Cambridge University Press, February 12, 2009), https://www.cambridge.org/core/journals/china-quarterly/article/abs/xinjiang-and-the-great-islamic-circle-the-impact-of-transnational-forces-on-chinese-regional-economic-planning/6627F3CDB7E5DB40FBB5D5B1243339B4.
[23]"CPEC: Whose Project Is This?," August 23, 2017, https://fp.brecorder.com/2017/08/20170823211718/.
[24]Stephen Chen, "China-Pakistan Railway 'Worth It' at Estimated US$58 Billion: Study," South China Morning Post, April 27, 2023,
https://www.scmp.com/news/china/science/article/3218413/china-pakistan-railway-worth-it-estimated-us58-billion-study.
[25]Adnan Aamir, "No, China Is Not Planning to Spend $58 Billion on a Railway Connection to Pakistan," The Diplomat, May 4, 2023, https://thediplomat.com/2023/05/no-china-is-not-planning-to-spend-58-billion-on-a-railway-connection-to-pakistan/.
[26]Muhammad Bezinjo, "Pakistan's Port City Gwadar in Chaos," The Diplomat, January 7, 2023, https://thediplomat.com/2023/01/pakistans-port-city-gwadar-in-chaos/.
[27]Katharina Buchholz, "The Countries Most in Debt to China," Statista, March 29, 2023, https://www.statista.com/chart/19642/external-loan-debt-to-china-by-country/.
[28]Joshua Kucera, "Afghanistan, China, Pakistan, Tajikistan Deepen 'Anti-Terror' Ties," Eurasianet, August 4, 2016.
[29]"China, Afghanistan, Pakistan pledge to enhance cooperation on security, counter-terrorism," Xinhua, May 7, 2023, http://www.china.org.cn/world/2023-05/07/content_85271081.htm.
[30]Sergey Sukhankin, "Tracking the Digital Component of the BRI in Central Asia, Part One: Exporting 'Safe Cities' to Uzbekistan," China Brief vol. 21. no. 3, February 11, 2021, https://jamestown.org/program/tracking-the-digital-component-of-the-bri-in-central-asia-part-one-exporting-safe-cities-to-uzbekistan/; Sukhankin, "Tracking the Digital Component of the BRI in Central Asia, Part Two: Developments in Kazakhstan," China Brief vol. 21, no. 9, May 7, 2021, https://jamestown.org/program/tracking-the-digital-component-of-the-bri-in-central-asia-part-two-developments-in-kazakhstan/.
[31]National Bureau of Asian Research, "Where the Belt Meets the Road: Security in a Contested South Asia," Asia Policy vol. 14, no. 2, 2019, https://www.nbr.org/wp-content/uploads/pdfs/publications/asiapolicy14-2_where_the_belt_meets_the_road_rt_apr2019.pdf.
[32]"Punjab Government's Safe Cities Project: Safer City or Over Policing?," August 14, 2018, https://www.privacyinternational.org/news-analysis/2228/punjab-governments-safe-cities-project-safer-city-or-over-policing.
[33]Jahanzaib Haque, "Exclusive: The CPEC Plan for Pakistan's Digital Future," Dawn, October 1, 2017, https://www.dawn.com/news/1361176.
[34]Sameer P. Lalwani, "A Threshold Alliance: The China-Pakistan Military Relationship," US Institute Of Peace, March 2023, https://www.usip.org/sites/default/files/2023-03/sr-517_threshold-alliance-china-pakistan-military-relationship.pdf.
[35]Economic Times, "FBI Says It Has Sabotaged Hacking Tool Created by Elite Russian Spies," May 9, 2023, https://economictimes.indiatimes.com/news/defence/fbi-says-it-has-sabotaged-hacking-tool-created-by-elite-russian-spies/articleshow/100109322.cms.
[36]Ben Blanchard, "China Not Asked for Military Access to Gwadar, Pakistan Admiral Says," Reuters, October 26, 2018, https://www.reuters.com/article/us-china-defence-pakistan-idUSKCN1N00QC.
[37]Economic Times, "China Could Project Military Power From Pakistan's Gwadar Port," March 28, 2023, https://economictimes.indiatimes.com/news/defence/china-could-project-military-power-from-pakistans-gwadar-port/articleshow/99055468.cms.
[38]Economic Times, "China Could Project Military Power From Pakistan's Gwadar Port."
[39]"Pakistan, China Agree to Enhance Military-to-Military Cooperation," April 27, 2023, https://theshillongtimes.com/2023/04/27/pakistan-china-agree-to-enhance-military-to-military-cooperation/.
[40]Abid Hussain, "China to 'Deepen and Expand' Military Ties With Pakistan," Al Jazeera, April 27, 2023 https://www.aljazeera.com/news/2023/4/27/china-to-deepen-and-expand-military-ties-with-pakistan.
[41]International Crisis Group, "China-Pakistan Economic Corridor: Opportunities and Risks," June 29, 2018, https://www.crisisgroup.org/asia/south-asia/pakistan/297-china-pakistan-economic-corridor-opportunities-and-risks.
[42]Abid Hussain, "EU Removes Pakistan From List of High-Risk Countries," Al Jazeera, March 29, 2023, https://www.aljazeera.com/news/2023/3/29/eu-removes-pakistan-from-list-of-high-risk-countries.
[43]"Overall Terrorism Index Score," accessed on May 7, https://www.visionofhumanity.org/maps/global-terrorism-index/#/.
[44]Murtaza Hussain, "Pakistan on the Brink: What the Collapse of the Nuclear-Armed Regional Power Could Mean for the World," The Intercept, February 12 2023, https://theintercept.com/2023/02/12/pakistan-economy-crisis-imf/.
[45]Al Jazeera, "At Least 12 Killed in Blasts at Pakistan Counterterrorism Office," April 24, 2023, https://www.aljazeera.com/news/2023/4/24/several-killed-in-bomb-attack-at-pakistan-police-station
[46]Tilak Devasher, "Pakistan's Taliban Challenge: With Over 100 attacks in Two Months, Islamabad Faces Grim Security Situation," January 17, 2023, https://www.firstpost.com/opinion/pakistans-taliban-challenge-with-over-100-attacks-in-two-months-islamabad-faces-grim-security-situation-11998532.html.
[47]Zarak Khan, "Islamabad Rejects Chinese Bid for Private Security Company in Pakistan," June 21, 2022, https://pakistan.asia-news.com/en_GB/articles/cnmi_pf/features/2022/06/21/feature-01#:~:text=In%202021%2C%20Balochistan%20witnessed
%20a%2093%25%20increase%20in,Pak%20Institute%20for%20Peace%20Studies%2C%20an%20Islamabad-based%20think-tank.
[48]As noted in one article, "Even though Beijing and Islamabad are close friends and strategic partners, Pakistan has consistently been the location of the highest number of terrorist attacks against Chinese nationals in any country," For more information, see Abdul Basit and  Raffaello Pantucci, "Why Terrorists Will Target China in Pakistan," Foreing Policy, August 27, 2021, https://foreignpolicy.com/2021/08/27/why-terrorists-will-target-china-in-pakistan/.
[49]Shamil Shams, "China Deal Usurps Balochistan," DW, April 24, 2015 https://www.dw.com/en/brahamdagh-bugti-china-pakistan-deal-usurps-balochistans-resources/a-18405846.
[50]Abdul Ghani Kakar, "Unchecked Chinese Profiteering Blamed for Rise of Militancy in Balochistan," July 3, 2020, https://pakistan.asia-news.com/en_GB/articles/cnmi_pf/features/2020/07/03/feature-01.
[51]Abdul Ghani Kakar, "Pakistan Faces Growing Wave of Militancy Linked to Chinese Investment in Balochistan," May 1, 2023, https://pakistan.asia-news.com/en_GB/articles/cnmi_pf/features/2023/05/01/feature-01.
[52]Haroon Janjua Islamabad, "Militant Attacks Put Pressure on China's Pakistan plans," DW, February 16, 2022, https://www.dw.com/en/pakistan-militant-attacks-in-balochistan-put-pressure-on-chinas-infrastructure-plans/a-60796264.
[53]Wajahat S. Khan, Twitter, April 26, 2022, https://twitter.com/WajSKhan/status/1518956785188671489.
[54]Yew Lun Tian, "Chinese Premier Asks Pakistan to Hold Accountable Culprits in Attack on Bus," Reuters, July 16, 2021, https://www.reuters.com/world/asia-pacific/chinese-premier-li-asks-pakistan-hold-accountable-culprit-attack-bus-xinhua-2021-07-16/.
[55]The Hindu, "All Chinese CPEC Workers in Pakistan to Move in Bullet-Proof Cars: Report," The Hindu, November 6, 2022, https://www.thehindu.com/news/international/all-chinese-cpec-workers-in-pakistan-to-move-in-bullet-proof-cars-report/article66103267.ece
[56]Dipaneeta Das, "China Mulling Owning Private Security Company In Pakistan To Protect CPEC Assets: Report," July 8, 2022, https://www.republicworld.com/world-news/rest-of-the-world-news/china-mulling-owning-private-security-company-in-pakistan-to-protect-cpec-assets-report-articleshow.html.
[57]Ayaz Gul, "Pakistan: Growing Militant Attacks Linked to Taliban Takeover of Afghanistan," Voice of America, October 20, 2022 https://www.voanews.com/a/pakistan-growing-militant-attacks-linked-to-taliban-takeover-of-afghanistan-/6798440.html.
[58]Umair Jamal, "Does Pakistan Have the Capability to Secure CPEC Projects?," The Diplomat, July 22, 2022 https://thediplomat.com/2022/07/does-pakistan-have-the-capability-to-secure-cpec-projects/.
[59]Kiyya Baloch, "China Is Unnerved by Increasing Attacks on Chinese in Pakistan," The Diplomat, October 1, 2022, https://thediplomat.com/2022/09/china-is-unnerved-by-increasing-attacks-on-chinese-in-pakistan/.
[60]Zia Ur Rehman, "Pakistani Taliban Move Into New Territories," DW, March 5, 2023, https://www.dw.com/en/pakistani-taliban-move-into-new-territories/a-65503987.
[61]"China Puts Pressure on Islamabad, Keen on Its Own Security Companies for CPEC Projects," July 8, 2022, https://theprint.in/world/china-puts-pressure-on-islamabad-keen-on-its-own-security-companies-for-cpec-projects/1029804/.
[62]Faisal Ali Ghumman, "Punjab Police 'Unable' to Protect Chinese Workers," Dawn, February 27, 2015 https://www.dawn.com/news/1166220.
[63]Shahbaz Rana, "All Chinese CPEC Workers to Move in Bullet-Proof Cars," November 6, 2022 https://tribune.com.pk/story/2384975/all-chinese-cpec-workers-to-move-in-bullet-proof-cars
[64]Adnan Aamir, "China Wants Own Security Company to Protect Assets in Pakistan," Nikkei, June 28, 2022, https://asia.nikkei.com/Politics/International-relations/China-wants-own-security-company-to-protect-assets-in-Pakistan.
[65]Khan, "Islamabad Rejects Chinese Bid for Private Security Company in Pakistan."
[66]"Financier of Russian Mercenary Group Fails to Dodge Culpability," June 7, 2022, https://pakistan.asia-news.com/en_GB/articles/cnmi_pf/features/2022/06/07/feature-01.
[67]Pakistan Today, "Foreign Security Cell Set Up for Foreigners' Security: Murad," June 10, 2022.
[68]Deccan Herald, "Two Men Killed by American in Lahore Worked for ISI: Report," February 10 2011, https://www.deccanherald.com/content/136495/two-men-killed-american-lahore.html.
[69]Reuters, "G4S to Pullout From Pakistan: FT," August 19, 2012, https://www.reuters.com/article/us-g4s-pakistan/g4s-to-pullout-from-pakistan-ft-idUSBRE87J00520120820.
[70]"Private Security Companies," accessed on April 28, 2023, https://www.interior.gov.pk/index.php/2012-08-08-03-01-35.
[71]Helena Legarda and Meia Nouwens, "Guardians of the Belt and Road," Mercator Institute for China Studies, August 16, 2018, https://merics.org/en/report/guardians-belt-and-road.
[72]Saba Imtiaz, "Private Security Guards: On the Safe Side," July 10, 2011 https://tribune.com.pk/story/203775/private-security-guards-on-the-safe-side/.
[73]Muhammad Musaddiq Abbasi, "Disciplining Private Security Companies," March 16, 2015 https://tribune.com.pk/story/854238/disciplining-private-security-companies.
[74]Anwar Iqbal, "US Report Highlights Murky World of 'Contractors' in Pakistan," Dawn, December 8, 2018, https://www.dawn.com/news/1450162.
[75]Frontier Services Group, "Group Profile," accessed on May 9, 2023, http://fsgroup.com/en/aboutfsg.html.
[76]"Frontier Services Group Signed MOU with Pakistan Daewoo Gas," May 28, 2021, http://fsgroup.com/en/news/show-623.html.
[77]Pakistan Today, "Daewoo Gas, CNCEC Sign Contract for $300mn Offshore LNG Terminal in Pakistan," April 23, 2022, https://profit.pakistantoday.com.pk/2022/04/23/daewoo-gas-cncec-sign-contract-for-300mn-offshore-lng-terminal-in-pakistan/.
[78]"集团介绍 [Group Introduction]," accessed on May 1, 2023, http://www.cosg-ss.com.cn/jtjs/jtjj/.
[79]"外媒称中资公司易遭风险 中外保安公司争抢商机 [Foreign media say Chinese-funded companies are vulnerable to risks Chinese and foreign security companies are vying for business opportunities]," April 25, 2017, https://www.guancha.cn/global-news/2017_04_25_405230.shtml.
[80]Legarda and Nouwens, "Guardians of the Belt and Road."
[81]"COSG, Linked to China's People's Liberation Army in Financial Mess," March 22, 2022, https://www.aninews.in/news/world/asia/cosg-linked-to-chinas-peoples-liberation-army-in-financial-mess20220322223811/.
[82]"海外陆地安全服务 [Overseas land security services]," accessed on May 3, 2023, https://www.hanweiss.com/business.show/12.html.
[83]Sergey Sukhankin, "An Anatomy of the Chinese Private Security Contracting Industry," Guardians of the Belt and Road, The Jamestown Foundation, January 3, 2023 https://jamestown.org/program/an-anatomy-of-the-chinese-private-security-contracting-industry/.
[84]Khan, "Islamabad Rejects Chinese Bid for Private Security Company in Pakistan."
[85]US Department of State, "U.S. Relations With Pakistan," August 15, 2022, https://www.state.gov/u-s-relations-with-pakistan/#:~:text=Trade%20and%20
investment%20relations%20between%20the%20United%20States,for%20U.S.%20companies%20to%20develop%20U.S.-Pakistan%20commercial%20partnerships.
[86]US Department of Commerce, "Market Overview," January 27, 2022, https://www.trade.gov/country-commercial-guides/pakistan-market-overview.
[87]Jamal, "Does Pakistan Have the Capability to Secure CPEC Projects?"