China in Latin America and the Caribbean: Assessing Prospects for Chinese PSCs
By: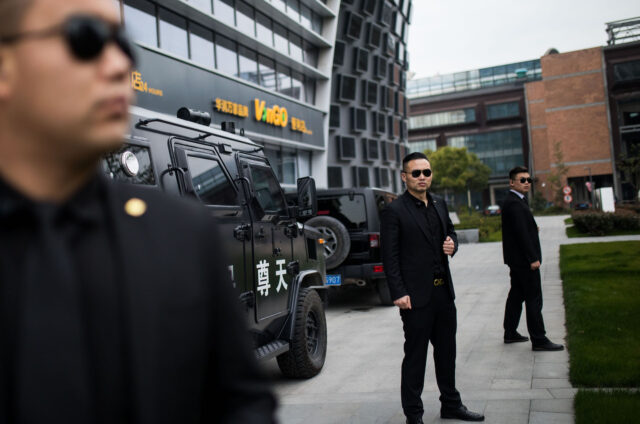 Executive Summary
Latin America and the Caribbean (LAC) constitute a rather important, yet relatively new, area for Chinese interests. Beijing's strategy in dealing with countries that comprise the macro-region (South and Central America) is primarily driven by economic and business interests, as well as trade relations. However, the defense and security aspect of the partnership—for now, by no means comparable to the United States and its role in the region—is gaining importance. In the future, China could use its prominent economic role in the region for geopolitical and even paramilitary purposes.
In terms of defense and security connections between China and the LAC countries, the delivery of sophisticated weapons and arms by the Chinese side is becoming a growing trend. In the future, this might require Chinese personnel (instructors) to be deployed in some countries to assist with mastering the equipment.
In addition to trade and business ties as well as conventional defense and security cooperation, several Chinese private security companies have been spotted working in certain countries of the region. For now, however, their involvement has been rather superficial and de-facto limited to work with local security providers.
In the future, if deemed necessary, China could ask governments of some Latin American countries to permit the deployment of Chinese PSCs in a larger scope under the pretext of spiking criminality and the activities of the Chinese mafia in some LAC countries.
Beijing's growing engagement with the countries of Latin America and the Caribbean (LAC)—quite recent, as compared to China`s cooperation with other strategically vital regions—is primarily driven by the country's economic interests. Prospectively, China's engagement with LAC countries should be expected to grow. In addition to critical natural resources and strong agricultural opportunities (vital for China), the majority of the countries that comprise the region boast higher living standards, an existing middle class, stronger institutions and significantly lower country-specific risks (unlike, for instance, Sub-Saharan Africa), which make them more appealing to China from an investment and business perspective.
At the same time, unlike the United States, the Chinese side focuses on issues—such as illegal immigration, drug trafficking, corruption networks, money laundering and populist-authoritarian governments—that create tensions between Washington and its LAC partners. On top of that, although it represents, perhaps, the most critical region for US security, the American side has decreased its attention to the region since the beginning of the 21st century, leading some experts to argue that "over the last three decades, the U.S. tendency to treat Latin America as a tertiary concern has created a blind spot in U.S. strategy, making it harder to spot threats as they emerge."[1]
One of the recent trends in Chinese-LAC cooperation that is increasingly worrisome for Washington is the growing bilateral coordination in defense and security, an area that China had never played any visible role in the region until now. Being quite meager for now, developments in this area are setting up a trend that could have an impact well beyond defense and security issues, having a spillover effect on the economic and business side of regional developments.
Thus, this paper aims to analyze Chinese involvement in the LAC, paying special attention to both actual and potential forms in which this involvement could transform, as well as whether Chinese PSCs could play any role in advancing Beijing's interests in the region. To that end, this paper relies on a broad pool of English-, Spanish- and Chinese- language sources. In addition, in terms of primary data, I interviewed two prominent experts specializing on LAC countries and China's role in the region:
Leland Lazarus, associate director for national security, Jack Gordon Institute of Public Policy, Florida International University[2];
Evan Ellis, Latin America research professor, US Army War College.[3]
China in Latin America: Strategic Importance and Scope of Presence
Chinese involvement in Latin America: Key Historical Milestones
China's recorded ties with Latin America date back to the 16th century, when the trade route between the ports of Acapulco and Manila was established.[4] In the 18th century, large numbers of Chinese unskilled workers (so-called "coolies") started to arrive to the LAC, with Cuba (125,000), Peru (95,000) and the British Caribbean (18,000) becoming the prime destinations.[5] Following the end of the Chinese Civil War (1927–1949) and the victory of the Chinese Communist Party (CCP), the role of Latin America in the Chinese political leadership's outlook has been progressively increasing.
Between 1949 and 2023, Chinese relations with Latin America went through the following five main stages. First, the "cultural diplomacy" stage (1949–1961) was marked by a relatively low level of engagement in the region and sporadic contacts. Second, the "anti-imperialist guerrilla warfare" stage (1960s) was marked by "irrational, unpredictable, and fanatical … anti-Americanism" and coincided with dramatic shifts within China itself, including the Great Leap Forward and Great Proletarian Cultural Revolution. Third, the "partial opening" stage (1970s) involved the emergence of the so-called "value-free" approach—a combination of previous stages and China's growing interest in deepening economic ties with LAC countries. Fourth, the "escalating reengagement" stage (since the late 1970s) coincided with Deng Xiaoping's economic reforms.[6] During this stage, a truly pivotal event was the 13-day tour by then–Chinese President Jiang Zemin to Latin America, when he visited Argentina, Brazil, Chile, Cuba, Uruguay and Venezuela.[7]
The fifth and final stage (since 2017) has been marked by the extension of the Belt and Road Initiative (BRI) to the LAC as a "natural extension of the 21st Century Maritime Silk Road,"[8] with Panama officially becoming the first Latin American country to endorse the BRI (November 2017). For now, experts argue that the BRI has not resulted in "a visible surge of Chinese commercial activities in Latin America and the Caribbean" and that China "has been less active in promoting the BRI in the Western Hemisphere than in other regions."[9] Yet, Beijing has already become one of the two key players (the other being the US) in Latin America, with its involvement extending to the economic, business, financial, security and humanitarian spheres, while the US seems to be on the retreat in the region.[10]
Many experts argue that, today, China's overarching goals are primarily dictated by domestic considerations and the "Chinese Communist Party's obsession with preserving power, which requires high rates of economic growth to continue its quest to reduce poverty and build a 'Chinese dream' of middle-class security." Thus, China's core interests in the LAC region are understood as follows[11]:
Gain secure access to energy, metals and food to continue fueling the Chinese economy and satisfy the needs of the growing middle class and expand export markets for its excess capacity in both heavy and retail manufactured goods;
Use the region and local countries to confront its long-term rival, Taiwan (Republic of China), which is still recognized and supported by many LAC governments;
Compete with the US to "reciprocate, at least symbolically, Washington's longstanding security presence in China's geographic orbit" and "rising to the top of the international food chain";
Spread undemocratic practices by rendering support to leftist political regimes that are thwarting democracy and economic progress to both challenge the US and achieve China's regional geopolitical ambitions.
The Geopolitics of Chinese Involvement in Latin America
Back in 2006, Peter Hakim, senior fellow at Inter-American Dialogue, stated that, following 9/11, the US "effectively lost interest in Latin America," switching much of its attention to domestic security and terrorism-related issues. Although this gruesome outcome for US-LAC relations was a shared responsibility—it not only stemmed from US inaction but also a failure of local politicians to achieve progress on many pressing issues—China managed to capitalize on Washington's weakening attention to the region.[12]
While Chinese goals in LAC countries are mainly related to economics and business, the geopolitical component—though vehemently denied by China[13]—is believed to play an expanded role in its regional outlook, which is clearly visible from Beijing's growing involvement with countries such as Mexico and Panama.[14] Arguably, the emergence of the geopolitical aspect was, for the first time, voiced by Chinese President Xi Jinping during his visit to Brazil in 2014, when he alluded to the new role China needs to play in dealing with transnational problems faced by the LAC.[15] Interestingly, now Chinese experts do not shy away from admitting that "China has the intention to compete with the U.S. for a greater sphere of influence in the region [Latin America]."[16]
From a geopolitical perspective, Chinese interests in Latin America can be broken down into three main categories:
Beijing's broader policy concerns are hinged on its aspiration to assume a leading role in the developing world, becoming its voice and speaking on its behalf with the developed world.
Rivalry with the US and expanding its influence in Latin America, which has been considered to be America's "backyard," come as a response to the US "pivot to Asia" strategy. Interestingly, in its rivalry with the US, the Chinese side not only actively exploits the neo-colonialist theme (in the form of the "neo–Monroe Doctrine") but has also switched its narrative toward alleged inequalities within American society leveled against "African Americans, Latin Americans and Native Americans."
The issue of Taiwan and its non-recognition by LAC countries was clearly articulated by China in a working paper on the LAC (2008) and a policy paper the region (2016) as one of the key principles for Beijing in developing relations with regional countries.
The Economic and Business Aspects of China's Regional Involvement
Economic and business considerations are at the heart of China's strategy in the LAC region. Known as the "South-South cooperation," Beijing heavily concentrates on three economic and business-related aspects—aid, investment and trade. The first and most viable evidence of this strategy came about in 2005, when China signed a free-trade agreement with Chile.[17]
In terms of trade and investments, between 2000 and 2020, China-LAC trade grew 26-fold from $12 billion to $315 billion. According to some estimates, if the current trajectory stays intact, trade is expected to exceed $700 billion by 2035, with China potentially surpassing the US, which is currently Latin America's largest trading partner.[18] In terms of developing trade as well as economic and business ties with LAC countries, China is particularly interested in the following aspects:
Energy. In 2021, energy-related deals accounted for $94 billion (34 percent) of all Chinese investments in South America. For instance, PowerChina (中国电力建设集团有限公司) has more than 50 ongoing projects across five Latin American countries (Argentina, Brazil, Bolivia, Chile and Peru).[19] In 2020, the China Development Bank (國家開發銀行) announced an investment of $600 million for the construction of the Dos Bocas oil refinery in Mexico, which would be the country's largest state-controlled refinery.[20] In addition to non-renewable energy, China has been actively investing in renewable energy projects: reportedly, up to 15 percent of all investments in the region's energy sector were earmarked for large renewable energy projects in Argentina, Bolivia, Cuba, Chile and others.[21]
Rare Earth Minerals. Between 2018 and 2020, China invested $16 billion in overseas mining, including in the "lithium triangle" (up to 56 percent of the world's lithium resources) located in parts of Argentina, Bolivia and Chile.[22] Additionally, China is the largest investor in Peru's mining sector, with Beijing controlling seven of the country's largest mines.[23] China also owns—through a consortium comprised of the Tongling Nonferrous Metals Group (銅陵有色金屬集團控股有限公司) and the China Railway Construction Corporation (中國鐵道建築總公司)—the Mirador mining project in Ecuador.[24]
Investments in Critical Infrastructure Projects. Chinese companies are winning bids for large transportation and infrastructure projects in, among other countries, Colombia,[25] Chile,[26] Argentina[27] and El Salvador.[28] In effect, participation in these projects is China's way of acquiring a direct stake in strategically vital countries. For instance, in 2016, the Chinese company Landbridge Group acquired Panama's largest port (Margarita Island) for an estimated $900 million. Notably, the port lies on the Atlantic entrance to the Panama Canal and within the Colon Free Trade Zone (La Zona Libre de Colón), which is a large free-trade zone in the Western Hemisphere and a major hub for the distribution of goods and materials to the Americas. Arguably, China's advancements in Panama became one of the two main factors (in addition to internal issues) that discouraged Beijing from pursuing the development of the Nicaragua Canal as an alternative to the Panama Canal.[29] The strategic importance of this canal to China is highlighted by the fact that "China is a significant buyer of Brazilian and Argentine soy. … A close relationship with Panama is vital to ensure that these shipments will be able to continue unimpeded."[30]
Crucially, in additional to traditional infrastructure projects, China has been focusing on so-called "new infrastructure"—an aspect that is believed to have become a new driver of China's post-COVID-19 economic growth.[31] This approach includes seven strategic areas, including 5G networks, industrial internet, inter-city and inner-city rail systems, data centers, artificial intelligence, ultra-high voltage transmission and charging stations for electric vehicles.[32]
FDI and Financial Assistance. Since 2005, China's state-owned banks—including, among others, the China Development Bank and Export-Import Bank of China (中国进出口银行)—have distributed 117 loans throughout the region (worth $138 billion) with Brazil, Ecuador and Venezuela becoming the main recipients (approximately 93 percent of total commitment).[33] In total, Latin American countries received 24 percent of the loans granted by Chinese official institutions worldwide between 2005 and the end of 2021, ranking behind Asia (29 percent) but ahead of Africa (23 percent) in terms of geographic distribution.[34]
Importantly, as argued in a European Union Institute for Security Studies paper, unlike international financial institutions, Beijing does not attach governance and project feasibility standards to its loans, which is one of the key competitive advantages for the Chinese side.[35] Yet, speaking about Chinese financial and investment involvement in the LAC region, the scope of Chinese FDI in the region is said to be somewhat overstated. In truth, a large part of Chinese regional involvement is done mainly through mergers and acquisitions as well as, to a considerably lesser extent, greenfield projects and other investments (representing merely 5.74 percent). Thus, Beijing's share of Latin American FDI remains small compared to that of the EU and the US, which together account for around 70–80 percent of the FDI received by the region between 2010 and 2020.[36]
In addition to providing loans, grants and FDI, China is said to be seeking access to the Mercosur regional trade bloc—which consists of Argentina, Brazil, Paraguay and Uruguay, along with associate members Bolivia, Chile, Colombia, Ecuador, Guyana, Peru and Suriname—which operates as a customs union with a nominal gross domestic product of about $5.1 trillion (2021). At certain points, there have been discussions about China striking a free-trade agreement with Mercosur.[37] Furthermore, Beijing has become a voting member of the Inter-American Development Bank and Caribbean Development Bank. Meanwhile, six Latin American countries (Argentina, Brazil, Chile, Ecuador, Peru and Uruguay) have joined the Asian Infrastructure Investment Bank (亚洲基础设施投资银行).
Chinese Soft Power: Winning Hearts and Minds in LAC Countries
At the official level, Chinese thinkers and intellectuals recognized the strategic importance of promoting Chinese culture in the late 1990s. However, only in 2007 was this clearly mentioned, when during the 17th National Congress of the Chinese Communist Party, then–CCP General Secretary Hu Jintao (胡锦涛) said that "culture has become a more and more important source of national cohesion and creativity and a factor of growing significance in the competition in overall national strength."[38] President Xi Jinping—in 2014 and 2017—also highlighted the strategic importance of Chinese soft power and its ability to "better communicate China's message to the world."[39]
In Latin America, China relies on the following tools:
"People-to-people" diplomacy is best reflected in the establishment of Confucius Institutes (28 as of 2021) in Brazil (11), Peru, Colombia, Ecuador, Argentina, Bolivia, Chile and Venezuela.
Cooperation at the levels of inter-governmental and ministerial meetings has become key for Beijing. Since 2015, the PRC has participated in three summits with the leaders and foreign ministers of the Community of Latin America and Caribbean States (La Comunidad de Estados Latinoamericanos y Caribeños),[40] a regional organization that excludes the United States and Canada. Under the umbrella of this organization, China has launched the China-LAC Young Scientists Exchange Program, a ten-year training program for 1,000 young leaders from China and Latin America that promotes a long-term scientific and technological partnership between Latin America and China.[41]
Proliferating top-level political ties and high-level public diplomacy have been utilized more and more by China. Since 2013, Xi has visited Latin America 11 times.[42] Interestingly, the Chinese side has managed to utilize consequences of the COVID pandemic and some US internal developments while promoting its own agenda. One study shared a notable insight in this regard: "China's engagement with the region connected to the pandemic, PRC diplomats, including members of the PRC Ministry of Foreign Affairs and other Chinese government organizations, have shifted their message to increasingly question rivals such as the US as advocates of democracy and exemplars of the democratic system, particularly in lieu of the January 6, 2020, overrunning of the US Capitol by protesters in Washington, DC. In doing so, they have begun to seriously contest a pillar of US soft power and influence back to the Cold War, and even to World War I and II—the concept broadly, if informally understood in the United States and the international community that the US stood for 'democracy,' by contrast to its rivals which represented 'authoritarianism,' whether communist, socialist, fascist or other."[43]
China commonly assists local countries with technological transformation and communication services. For instance, the PRC has been supplying Venezuela with skills on how to implement a national identity card program, the so-called "fatherland card" (carnet de la patria), which allows repressive Venezuelan authorities to pursue the establishment of China-style social control initiatives that include supervision of individual's social, political and economic behavior.[44]
Spreading Chinese mass culture has become more of a focus in recent years. For instance, in January 2018, a delegation from a CCTV (中國中央電視台) subsidiary made deals to air a Spanish-dubbed version of a Chinese-produced drama on state television in Latin America. There was also a claim that Phoenix TV (鳳凰衛視投资(控股)有限公司)—founded by Liu Changle (劉長樂), an officer and political instructor in the People's Liberation Army (PLA)[45]—made an attempt to purchase a radio station in Mexico near the US border, fueling suspicions that it would be used to broadcast content designed for Chinese speakers in Southern California.[46]
In addition to frequently questionable but still legal means of proliferating its influence in Latin America, China is suspected of relying on illegal practices to capitalize on local issues, such as poverty and corruption. For instance, some experts, referring to Central America, have argued that this region may be seen as a particularly fertile ground for Chinese expansion. This is because the region includes one dictatorial regime (Nicaragua); two seriously compromised states due to the activities of transnational organized crime (Guatemala and Honduras); one nation on the verge of becoming yet another populist, autocratic government (El Salvador); and three generally stable countries (Belize, Costa Rica and Panama) plagued by the financial and political challenges of long-term systemic dysfunctions that have been additionally exacerbated by COVID-19.[47] In a wider scope, Argentina, Brazil, Chile, Colombia and Mexico have experienced a resurgence of left-wing political parties, which could become a challenge to the US.
Another major issue that hinders the socioeconomic development of Latin America is corruption, and China may be using this weakness for its own purposes. At this juncture, it is hard to disagree with Evan Ellis, a research professor of Latin American studies at the US Army War College's Strategic Studies Institute, who said, "It's not that China's trying to produce antidemocratic regimes, but that antidemocratic regimes find a willing partner in the Chinese."[48] At the same time, Admiral Craig S. Faller, former head of US Southern Command, argued that corruption is one of the main drivers of Chinese ambitions in the LAC region.[49] He also noted that "PRC state-owned and private businesses often exploit pervasive corruption in the region to undermine fair contracting practices and circumvent environmental compliance. A common tactic they use is to provide lucrative pay offs to local officials in exchange for favorable deals."[50] Indeed, China has leveraged Latin America's institutional weaknesses and lack of transparency to bend the bureaucratic labyrinth in its strategic favor.
Paramilitary, Security and Defense Cooperation  
While China's strategy in the LAC region is driven by economic and business-related tools—trade, investment, grants and loans—cooperation in the realm of defense and security, which may seem secondary to economic and business ties, is becoming much more visible. This was admitted in US National Security Strategy 2017, where China was referred to as a "strategic competitor," meaning that the economic and soft power aspects are supplemented by security concerns. In effect, back in 2013, China itself clearly articulated its desire "to build a strong national defense and powerful armed forces that are commensurate with China's international standing."[51] Even though "the military interaction between China and the LAC is not very dynamic," this is primarily stipulated by Beijing's lack of interest "to aggressively advance and attract attention. … If China wants to advance in economic, political and military ties with the LAC, it is not for the conquest of this region, but to improve its bargaining power in its global agenda."[52]
Ellis has also argued that both Chinese white papers regarding Latin America (2008[53] and 2016[54]), as well as the China Defense Strategy White Paper (2015),[55] "all define military and other security activities as an important, if not necessarily leading, component of China's overall engagement with the region."[56]
Primary Areas of Security Cooperation
In terms of paramilitary and security cooperation between China and the LAC region, the following categories represent the primary areas of collaboration. First, infrastructure projects that could be used for both civilian and security purposes are a foundational element of Chinese activities in the region. For instance, Ellis has argued that potential US security concerns regarding the PRC's military goals in Latin America may be nested in infrastructure projects.[57] From her side, Commander of US Southern Command, General Laura Richardson also argued that China`s use of major infrastructure projects—including the Chinese presence around the Panama Canal and near the Strait of Magellan—may be viewed as the projection of military power for the Chinese army.[58]
Speaking about infrastructure, the role of so-called "new infrastructure" should not be dismissed. For example, China is actively expanding its presence in the region through services provided by Huawei to Argentina and Brazil as well as other regional actors. Several Latin American countries—including Venezuela and Cuba—are actively tightening control over digital communications (so-called "digital authoritarianism") with the help of the Chinese.[59] Other countries, such as Venezuela, Bolivia (the Túpac Katari 1 satellite) and Argentina[60] are actively engaging in Chinese-led space programs that could be used for military and security purposes.
Second, China and some LAC countries are diligently striking arms and weaponry deals. In 2020, the Stockholm International Peace Research Institute ranked China as the fifth-largest arms exporter in the world, behind the United States, Russia, France and Germany. In terms of the regional breakdown, approximately 77.3 percent went to Asia, 19.1 percent to Africa and 3.6 percent went to other parts of the world, with Latin America playing a minuscule role in China's exports. Importantly, in South America, Venezuela attracted 85.8 percent of Beijing's regional weapons sales.[61]
In 2022, China delivered major arms to 46 states, of which, however, over half (54 percent) went to Pakistan. Meanwhile, arms exports to South America decreased by 34 percent between 2018 and 2022.[62] While the lion's share of China's Latin American arms exports are unsophisticated types of weaponry,18 arms deals with partners in the region benefit Beijing by forging long-term strategic ties with regional actors and their military and political circles. These sales provide China with the ability to[63]:
Participate in the maintenance, training and other operations involving military equipment;
Create and expand PLA engagement with partner nations into other areas, including institutional exchanges and professional military education;
Collect information and intelligence on partner nation officials, providing material to support future operations in the region or in any environment where China may encounter Latin American militaries either as partners or opponents.
On top of that, Beijing uses arms sales to foment ties both with individual countries (Venezuela, Ecuador and Bolivia[64] are, perhaps, the best examples) as well as regional organizations that define themselves as "anti-imperialist" and "anti-neoliberal" with ALBA (Alianza Bolivariana para los Pueblos de Nuestra América) being a strong example.19
Some experts believe that the changing geopolitical environment in Latin America[65] and Western embargoes have facilitated Chinese penetration of the Latin American defense market. That said, however, not all experts share dire concerns about China's increasing role the region. For instance, Ralph Espach, senior research scientist at the Center for Naval Analyses, has argued that "China's military outreach to Latin America bears watching but is not yet cause for alarm. Meetings and agreements have increased … but China's weapons sales are insignificant, and it does not have the presence that other countries do, particularly the United States. … China builds goodwill and influence in financial and economic matters, but it is more difficult for it to do so in the military sphere. The Chinese Communist Party has more success engaging with civilian leaders and communities than military ones, especially when it is willing to accept financial losses and pay bribes in order to curry favor." Espach did, however, note that "most concerning are cases where governments face severe crises and where Western partners are holding back. Argentina, for example, is in perpetual financial trouble, and its leaders have shown a willingness to sign questionable long-term agreements for financial and development assistance. … The country can also offer China a logistical base for access to Antarctica, which could have enormous strategic significance in the decades to come."[66]
Third, China has sought to expand its knowledge exchange and training with LAC countries. According to a report released in 2021 by the US-China Economic and Security Review Commission, Chinese military officials visited with their counterparts in Latin America no less than 215 times between 2002 and 2019, with Chile, Cuba, Brazil and Argentina accounting for more than half of those visits.[67] Margaret Myers, director of the Asia  and Latin America Program at Inter-American Dialogue, defined this strategy—China's increasingly extensive engagement with Latin American militaries—as a "tangled web of overlapping interactions and a kaleidoscopic cast of characters," which should be understood within the context of a much larger and even more expansive public diplomacy initiative.[68]
In truth, the proliferation of high-level military contacts results in a strengthening of ties between Chinese and Latin American militaries at a knowledge-based level. Evan Ellis has argued that "virtually every country that recognizes the PRC in Latin America sends personnel to professional military education and training courses in the PRC, such as those in its National Defense University in Changping [中国人民解放军国防大学]. PRC and Latin American militaries already regularly send delegations to visit each other's institutions, and the People's Liberation Army has sent personnel to train in Colombia's Lanceros course in Tolemaida, and Brazil's Jungle Warfare School, among others."[69]
Yet, as impressive as China's expanding outreach is, in terms of the exchange of military knowledge, two aspects should be taken into consideration. Overall, the number of Latin American students who go to China are incomparable with the number of those who go to the US. And the students exchange programs primarily attract Chinese students to LAC-based universities and research institutes, whereas Latin American students do not attend Chinese universities in the same quantities.[70]
Fourth, China increasingly seeks to coordinate with LAC law enforcement and policing. While the US has remained the key security partner for the absolute majority of countries in the region, at the same time, Washington focuses far less on training local police forces that provide day-to-day civilian security.[71] It has been reported that China has been trying to fill this void, which is being carried out through the following measures:
While quite limited—compared to US involvement in the region—experts interviewed for this paper have expressed their confidence that Chinese activities in the LAC region pose threats to both Washington and the countries within the region. For instance, Leland Lazarus argued that "the US should be concerned about China's growing footprint in LAC law enforcement because the LAC police officials who go to China to get training get exposed to Chinese policing philosophy and Xi Jinping thought, diluting their commitment to democratic values and the rule of law." He added that "Chinese surveillance technology might give China a back door into overseas sensitive government and personal data and are also concerned that China is exporting the same intrusive surveillance and repressive policing practices it employs within its own borders against political dissidents and ethnic groups like the Uighurs in Xinjiang." That said, Lazarus also asserted: "There's also a very real concern that Chinese officials can gather intelligence about US law enforcement training and tactics from LAC counterparts. The same kind of surveillance technology can be used to spy on US diplomats, military officials and intelligence analysts in the region."
In his final analysis, Lazarus noted: "As Chinese investments, tourism and illicit activity grow in LAC, China may continue to extend its long arm of overseas policing in LAC even more. In coming years, China will likely host a multilateral forum with the Community of Latin American and Caribbean States on law enforcement and police engagement. As the region continues to suffer from high murder and crime rates, the countries may welcome more Chinese law enforcement assistance, training and exchanges."
Furthermore Evan Ellis has stipulated that, while LAC countries are sovereign and independent actors (and the US needs to respect their internal and foreign policy decisions), there are a number of strategic risks for the US as a result of China's expanding activities in the region. Specifically, he argued that threats posed by Chinese actions should be looked at through the lens of a potential conflict between the US and China over Taiwan, which might entice Beijing to act more aggressively in the Western hemisphere. Thus, some Latin American countries could be converted into an anti-US platform. Specifically, the Chinese might attempt to use its diplomatic and economic influence in the region to restrict or disrupt cooperation between the US and LAC countries (especially Mexico), whereby cutting off the Washington from critical materials and supplies. Moreover, Beijing may seek to shut down the Panama Canal (and other strategically important infrastructure) and the Strait of Magellan to disrupt US operations in the Pacific.
Thus, as argued by Ellis, China's ability to act in the region—even without possessing military bases—is quite real and should not be underestimated.
Chinese PSCs in Latin America
Overall, Chinese PSCs have been spotted conducting operations in the countries of Central Asia, Sub-Saharan Africa and South(east) Asia.[80] Several Chinese PSCs have also been noted working in Latin America. In his interview, Lazarus pointed to several forms of involvement for Chinese security providers in the region.
First, the independent use of Chinese PSCs includes the following operators:
Beijing Dujie Security Technology Company's (北京都杰安防科技有限公司) website mentions having an office in Argentina.[81] In terms of the functions performed by this company, the website mentions "successively provid[ing] comprehensive security services for overseas branches of central enterprises, state-owned enterprises and local state-owned asset system enterprises, overseas project departments of private enterprises, embassies and consulates."
China Overseas Security Company (中国海外保安集团) has reportedly conducted field research in Argentina.[82] Quite interestingly, in 2020, Argentinean media expressed alarm over "the hiring of mercenaries in Argentina by the China Overseas Security Group (COSG) company."[83]
ZhongBao Hua'an Security Service (中保华安) has claimed to have "established strategic cooperation businesses in Panama, El Salvador and Costa Rica." The company`s website claims that its operators are engaged in "providing local resident security, bodyguards, security checks, large-scale event security, security training, logistics escort, network alarm, video surveillance, diversified and one-stop modern security services such as security risk assessment, smart security, crisis management, security equipment and overall security solutions."[84]
Second, a number of Chinese companies provide bodyguard services, with TieShen BaoBiao (贴身保镖) posting advertisements for protection (and escort) services in Panama with pay of up to 100,000 yuan ($14,000) per year.[85]
Third, Chinese PSCs have struck formal agreements with local security providers. Some of the most notable examples include:
In 2010, the Uruguay Chinese Security Company[86] and Venezuela Chinese Security Company[87] were created—both connected with TieShen BaoBiao (贴身保镖). These entities perform various security services ranging from security patrolling and personnel escorting to security management and technical equipment.
In 2012, the Mexico-Chinese Security Council (墨西哥华人安全委员会) was founded[88] by former CCP official Feng Chengkang[89] to protect Mexico-based Chinese businesspeople from gang violence and banditry. In his interview, Lazarus pointed to the fact that "the Chinese embassy in Mexico apparently supports the 200 member group, which has helped Chinese diaspora clients address 450 criminal cases and more than 200 civil cases."
In 2018, China Security Technology Group (中国安保技术集团) signed a memorandum of understanding with Peruvian security firm Grand Tai Peru (deals with mining) to protect Chinese businesses. The security services contract is said to be worth approximately $21 million and was expected to continue for a five-year period.[90]
Fourth, the creation of Chinese Aid Centers also undergirds this cooperation at a local level. The responsibilities for these centers include "urgent lifesaving, integration training, legal assistance and helping the poor." In South and Central America such centers have been established in Suriname, Peru, Brazil, Chile, Panama, Argentina and Venezuela.[91]
Being quite limited, the Chinese security presence in the LAC region could expand in the future. In justifying the need for Chinese PSCs to be present in LAC countries, Beijing could potentially appeal to two main arguments. To begin with, these entities are needed to ameliorate the physical threats faced by Chinese nationals in the region. Starting from 2021, Chinese sources started to forge this idea, repeatedly posting statistics of violent attacks against ethnic Chinese in Argentina, Mexico and other places.[92] In general, in 2023, countries in the region dominated the rankings of the most dangerous in the world by murder rates.[93]
Furthermore, Beijing will argue for PSCs in addressing the growing criminal web of Chinese mafia involved in human trafficking, narco-trafficking, business extortion, corruption and counterfeiting of goods. As argued by Antonio Barrios, an international relations and security specialist at the National University of Costa Rica, the mafias of the Far East have expanded their operations in Latin America in the past 15 years and have an increasingly more destructive impact on the region. He also added: "As relations between Latin American countries and China grow deeper, illicit activities related to mafias are being noticed. The Chinese government's idea has always been to empower its Latin American colonies by establishing businesses. Their funding has been linked to mafias, and it's with this funding that these criminal groups extended their tentacles throughout Latin America."
From his side, Alejandro Riera, a Spanish specialist in organized crime, explained that "violence is characteristic of Chinese mafias. We are seeing that in Argentina, where Chinese supermarket owners are shot for not paying the protection tax." Additionally, Juan Belikow, an Argentinian security affairs specialist at the University of Buenos Aires, claimed that "in our region, it's normal for them to use extortion within their own Chinese community, and this is absolutely linked to Chinese supermarkets in Latin America. These shops sell stolen and counterfeit goods. These businesses also engage heavily in tax evasion, because they almost always use cash. Most importantly, shopkeepers have to pay a large portion of their income to the mafias to be safe."[94]
Conclusion
In sum, based on available evidence, it would be fair to argue that Chinese PSCs have demonstrated the ability to engage in certain, albeit rather limited, activities in the LAC region. In lieu of a traditional conclusion, it makes sense to provide excerpts from two interviews conducted for this report with two prominent US-based experts on China and Latin America.
In his interview, Leland Lazarus stated, "As Chinese interests in the region continue to grow, I absolutely expect more Chinese PSCs to operate in LAC. Authoritarian regimes like Venezuela, Cuba, and Nicaragua would be most likely to host Chinese PSCs, along with countries with large Chinese diaspora populations, such as Peru and Panama."
He also shared his view on the conditions that could entice Beijing to ask LAC countries to allow PSCs to be deployed on their territories "if certain Chinese diaspora communities request it." For instance, in 2013, after the Chinese government raised concerns to Jamaica about robberies and extortion occurring in the Chinese community, the Jamaican police increased protection.[95] Finally, Lazarus hypothesized that "if the Chinese Ministry of Public Security begins to get local pushback about the alleged 14 overseas police outposts in 8 LAC countries, perhaps Chinese authorities would allow PSCs to operate there instead." Undoubtedly, this may result in increasing the presence of Chinese PSCs in the region and the role they are playing there.
That said, however, it does not seem that the Chinese will attempt to go ahead with this in the short term—though much will depend on external, non-regional developments. For now, Chinese nationals and assets do not face considerable threats in the region.
From his side, Evan Ellis stated that, despite some reports on the presence of Chinese PSCs in the LAC region, the Chinese security providers "have not figured out how to navigate in the complex environment of Latin America." In his opinion, the two major factors holding back these PSCs are internal issues and Beijing's fears—based on examples of Russian quasi-PMCs—of damaging its international reputation in the case of incidents that involve Chinese paramilitary personnel. Upon further reflection, Ellis hypothesized that we should not be expecting Chinese PSCs—if allowed to be deployed on a permanent basis—to act in large numbers, rather a small handful of PSCs members should be expected. With regards to countries that are most likely to host Chinese PSCs, the expert named Venezuela and Bolivia. His secondary options were Cuba, Honduras and Nicaragua. That said, however, Ellis does not consider PSCs to be Beijing's first choice in strengthening ties with Latin America.
Thus, in the final analysis, it would be reasonable to conclude that the use of PSCs (or any other paramilitary formations) is unlikely to become China's main tool in promoting its influence and forging its agendas in the LAC region (at least not in the short term). In the next decade, Beijing's main effort will focus on promoting and developing economic and business ties as well as increasing its "soft power" influence with defense and security cooperation taking secondary role. Cooperation in the PSC/paramilitary domain will exist but its role is bound to remain marginal.
Notes
[1]Hal Brands and Ryan Berg, "The Return of Geopolitics: Latin America and the Caribbean in an Era of Strategic Competition," Jack Gordon Institute Research Publications, 2021.
[2]Leland Lazarus, written interview, June 16, 2023.
[3]Evan Ellis, phone interview, June 16, 2023.
[4]Manuel Carrera Stampa, "La Nao de la China," Historia Mexicana 9, no. 1 (July–September 1959): 97–118, https://www.jstor.org/stable/25134990.
[5]Lomarsh Roopnarine, "Chinese Indentured Servitude in the Atlantic World," May 9, 2023, https://www.oxfordbibliographies.com/display/document/obo-9780199730414/obo-9780199730414-0294.xml.
[6]William Ratliff, "In Search of a Balanced Relationship: China, Latin America, and the United States," Asian Politics & Policy 1, no. 1 (2009).
[7]Diana Roy, "China's Growing Influence in Latin America," Council on Foreign Relations, April 12, 2022, https://www.cfr.org/backgrounder/china-influence-latin-america-argentina-brazil-venezuela-security-energy-bri.
[8]Pepe Zhang, "Belt and Road in Latin America: A Regional Game Changer?," Atlantic Council, October 8, 2019.
[9]Zhang, "Belt and Road in Latin America."
[10]Milton Ezrati, "China's Latin America Move," Forbes, November 7, 2022, https://www.forbes.com/sites/miltonezrati/2022/11/07/chinas-latin-america-move/?sh=1d6360a51d52.
[11]Ted Piccone, "China and Latin America: A Pragmatic Embrace," Brookings Institution, July 2020, https://www.brookings.edu/research/china-and-latin-america-a-pragmatic-embrace/.
[12]Peter Hakim. "Is Washington Losing Latin America?," Foreign Affairs 85, no. 1, 2006.
[13]Qin Gang, "China-Latin America Relations Ushering in a New Era of Comprehensive Development," China International Studies 77, no. 1 (2019): 5–8.
[14]Janice Endersen, "Geopolitical Factors Affecting China's Belt and Road Initiative in Latin America: Brazil and Mexico," Cornell University, September 16, 2021, https://business.cornell.edu/hub/2021/09/16/geopolitical-factors-affecting-chinas-belt-road-initiative-latin-america-brazil-mexico/.
[15]Ted Piccone, "The Geopolitics of China's Rise in Latin America," Brooking Institution, November 2016, https://www.brookings.edu/research/the-geopolitics-of-chinas-rise-in-latin-america/.
[16]Megha Rajagopalan, "China's Xi Woos Latin America With $250 Billion Investments," January 7, 2015, Reuters, https://www.reuters.com/article/us-china-latam-idUSKBN0KH06Q20150108
[17]Chinese Ministry of Commerce, "China-Chile FTA," accessed May 1, 2023, http://fta.mofcom.gov.cn/topic/enchile.shtml.
[18]Pepe Zhang and Tatiana Lacerda Prazeres, "China's Trade With Latin America Is Bound to Keep Growing. Here's Why That Matters," June 17, 2021, https://www.weforum.org/agenda/2021/06/china-trade-latin-america-caribbean/.
[19]US House of Representatives, Foreign Affairs Committee, "China Regional Snapshot: South America," accessed May 10, 2023, https://foreignaffairs.house.gov/china-regional-snapshot-south-america/.
[20]Sergio Chapa, "China Invests $600 Million Into Mexico's Dos Bocas Refinery," Houston Chronicle, January 14, 2020, https://www.houstonchronicle.com/business/energy/article/China-invests-600-million-into-Mexico-s-Dos-14972999.php.
[21]Ignacio Able and Sarah Phillips, "China's Renewable Energy Investment in Latin America," The Dialogue, September 8, 2021, https://www.thedialogue.org/blogs/2021/09/chinas-renewable-energy-investment-in-latin-america/.
[22]Adina Renee Adler and Haley Ryan, "An Opportunity to Address China's Growing Influence over Latin America's Mineral Resources," Lawfare, June 8, 2022, https://www.lawfareblog.com/opportunity-address-chinas-growing-influence-over-latin-americas-mineral-resources.
[23]Evan Ellis, "The Evolution of Peru's Multidimensional Challenges, Part III: Engagement With China," August 3, 2022, https://theglobalamericans.org/2022/08/the-evolution-of-perus-multidimensional-challenges-part-iii-engagement-with-china/.
[24]"Mirador Copper-Gold Project," May 13, 2023, https://www.nsenergybusiness.com/projects/mirador-copper-gold-project/
[25]María Claudia Dávila, "Metro de Bogotá: plagado de contratiempos, comienza la reforma de la movilidad urbana." March 11, 2022, https://dialogochino.net/es/infraestructura-es/51605-metro-de-bogota-plagado-de-contratiempos-por-fin-comienza-la-reforma-de-la-movilidad-urbana/.
[26]"China Railway," accessed May 9, 2023, https://www.investchile.gob.cl/es/casos-de-exito/crcc/.
[27]Silk Road Briefing, "China to Finance Development & Logistics of Argentina's Beagle Channel Around South America?," May 30, 2022, https://www.silkroadbriefing.com/news/2022/05/30/china-to-finance-development-logistics-of-argentinas-beagle-channel-around-south-america/.
[28]John Grady, "Chinese Investment Near Panama Canal, Strait of Magellan Major Concern for U.S. Southern Command," US Naval Institute, March 24, 2022, https://news.usni.org/2022/03/24/chinese-investment-near-panama-canal-strait-of-magellan-major-concern-for-u-s-southern-command.
[29]The Russian media has emphasized a certain formula in regard to the canal, voiced by conservative Colonel-General (ret.) Leonid Ivashov: "Chinese Money, Nicaraguan Land and Russian Security Services," Moskovskij Komsomolets, January 12, 2015, https://www.mk.ru/politics/2015/01/12/novaya-tochka-protivostoyaniya-rossii-i-ssha-mezhokeanskiy-kanal-v-nikaragua.html
[30]Don Giolzetti, "China's Front Door to America's Backyard," The Diplomat, June 28, 2019, https://thediplomat.com/2019/06/chinas-front-door-to-americas-backyard/.
[31]Chinese State Council, "China Formulates Plan for New Infrastructure to Spur Domestic Demand, Economic Transformation, Growth Sustainability," September 22, 2021, https://english.www.gov.cn/premier/news/202109/22/content_WS614b2a29c6d0df57f98e0ab7.html.
[32]Zheng Junfeng, "China Launches 'New Infrastructure,' an Innovation-Driven Program," CGTN, March 17, 2020, https://news.cgtn.com/news/2020-03-17/China-launches-New-Infrastructure-a-innovation-driven-program-OVo9mgDvGg/index.html.
[33]The Dialogue, "China-Latin America Finance Databases," accessed May 2, 2023, https://www.thedialogue.org/map_list/.
[34]Louis Bertrand and Sary Zogheley, "Le positionnement de la Chine parmi les bailleurs en Afrique subsaharienne', Ministère de l'Économie, des Finances et de la Relance," Trésor-Eco 292, no. 1 (November 2021).
[35]Sophie Wintgens, "China's Footprint in Latin America," European Union Institute for Security Studies, 2022 https://www.iss.europa.eu/sites/default/files/EUISSFiles/Brief_9_China%20in%20Latin%20America_web.pdf.
[36]Wintgens, "China's Footprint in Latin America."
[37]Chris Devonshire-Ellis, "Developing Global Free Trade: Linking China's BRI with Mercosur, South America," November 19, 2019, https://www.china-briefing.com/news/developing-global-free-trade-linking-chinas-belt-road-initiative-with-mercosur-south-america/.
[38]"Hu Calls for Enhancing 'Soft Power' of Chinese Culture," October 15, 2007, http://www.china.org.cn/english/congress/228142.htm#:~:text=While%20charting%20ambitious%20goals%20
of%20economic%20and%20social,the%20Communist%20Party%20of%20China%20%28CPC%29%20on%20Monday.
[39]Asit K. Biswas and Cecilia Tortajada, "China's Soft Power Is on the Rise," China Daily, February 23, 2018, http://www.chinadaily.com.cn/a/201802/23/WS5a8f59a9a3106e7dcc13d7b8.html.
[40]Mark P. Sullivan and Thomas Lum, "China's Engagement With Latin America and the Caribbean," December 28, 2022, https://crsreports.congress.gov/product/pdf/IF/IF10982.
[41]Luiza Duarte, Robert Albro and Eric Hershberg, "Communicating Influence: China's Messaging in Latin America and the Caribbean," March 23, 2022, https://papers.ssrn.com/sol3/papers.cfm?abstract_id=4061082.
[42]Diana Roy, "China's Growing Influence in Latin America," Council on Foreign Relations, April 12, 2022, https://www.cfr.org/backgrounder/china-influence-latin-america-argentina-brazil-venezuela-security-energy-bri.
[43]"China's Use of Soft Power in Support of its Strategic Engagement in Latin America," August 18, 2022, https://dialogo-americas.com/articles/chinas-use-of-soft-power-in-support-of-its-strategic-engagement-in-latin-america/.
[44]Angus Berwick, "Como ZTE ayuda a Venezuela a implementar un control social al estilo chino," Reuters, November 14, 2018, https://www.reuters.com/investigates/special-report/venezuela-zte-es/.
[45]Wenxian Zhang, Huiyao Wang and Ilan Alon, Entrepreneurial and Business Elites of China: The Chinese Returnees Who Have Shaped Modern China, May 6, 2011, https://books.google.ca/books?id=IWqfoKe2SCkC&redir_esc=y
[46]Reuters, "FCC Orders Radio station in Mexico to Halt Broadcast of Chinese programs to U.S.," June 22, 2020, https://www.reuters.com/article/us-usa-china-radio/fcc-orders-radio-station-in-mexico-to-halt-broadcast-of-chinese-programs-to-u-s-idUSKBN23T366.
[47]Luis Guillermo Solís, "What's Behind China's Growing Push Into Central America?," America's Quarterly, July 1, 2021, https://www.americasquarterly.org/article/whats-behind-chinas-growing-push-into-central-america/.
[48]Roy, "China's Growing Influence in Latin America."
[49]Phelim Kine, "Adm. Faller: China Exploiting Corruption in Latin America," Politico, December 8, 2021, https://www.politico.com/newsletters/politico-china-watcher/2021/08/12/adm-faller-china-exploiting-corruption-in-latin-america-493948.
[50]Kine, "Adm. Faller: China Exploiting Corruption in Latin America."
[51]Information Office of the Chinese State Council, "The Diversified Employment of China's Armed Forces [中国武装⼒量的多样化运⽤]," April 2013, http://www.scio.gov.cn/zfbps/ndhf/2013/Document/1312844/1312844.htm
[52]Daniel Agramont Lechín, "China's Security and Military Cooperation in Latin America and the Caribbean: Implications for Europe," https://www.kas.de/documents/272317/12679622/China
%E2%80%99s+security+and+military+cooperation+in+Latin+America+and+the+Carribbean_Implications+for+Europe.pdf/d2ea96ac-cc60-a0a0-916a-a8e6d18bf5f2?version=1.0&t=1651220224766.
[53]"China's Policy Paper on Latin America and the Caribbean," accessed May 12, 2023, http://www.china.org.cn/international/news/2008-11/05/content_16713528_3.htm.
[54]"Full text of China's Policy Paper on Latin America and the Caribbean," November 24, 2016, http://en.people.cn/n3/2016/1124/c90000-9146474-8.html.
[55]"China's Military Strategy," China Daily, May 2015, http://www.chinadaily.com.cn/china/2015-05/26/content_20820628.htm.
[56]Evan Ellis, "Chinese Security Engagement in Latin America," Center for Strategic and International Studies, November 19, 2020  https://www.csis.org/analysis/chinese-security-engagement-latin-america.
[57]Ellis, "Chinese Security Engagement in Latin America."
[58]Christopher Woody, "The US Military Is Watching China's Presence Grow in Latin America, and It Doesn't Like Where Things Are Going," Business Insider, June 6, 2022, https://www.businessinsider.com/defense-officials-worried-about-chinese-military-presence-in-latin-america-2022-6.
[59]Jaime Moreno, "China Seen Backing 'Digital Authoritarianism' in Latin America," Voice of America, January 14, 2022, https://www.voanews.com/a/china-seen-backing-digital-authoritarianism-in-latin-america-/6398072.html.
[60]Andrew Jones, "Report Highlights U.S. Concerns Over China's Space Infrastructure in South America," Space News, October 6, 2022, https://spacenews.com/report-highlights-u-s-concerns-over-chinas-space-infrastructure-in-south-america/.
[61]Center for Strategic and International Studies, "How Dominant Is China in the Global Arms Trade?," accessed May 10, 2023, https://chinapower.csis.org/china-global-arms-trade/.
[62]Pieter D. Wezeman, Justine Gadon and Siemon T. Wezeman, "Trends in International Arms Transfers, 2022," SIPRI, March, 2023, https://www.sipri.org/publications/2023/sipri-fact-sheets/trends-international-arms-transfers-2022.
[63]Ellis, "Chinese Security Engagement in Latin America."
[64]George Gurrola, "China-Latin America Arms Sales. Antagonizing the United States in the Western Hemisphere?," US Army, July-August 2018, https://www.armyupress.army.mil/Journals/Military-Review/English-Edition-Archives/July-August-2018/Gurrola-China/.
[65]Timothy Ash, "China, the New Player in the Latin America Defense Market," April 13, 2023, https://www.defense-aerospace.com/china-the-new-player-in-the-latin-america-defense-market/.
[66]The Dialogue, "Why Is China Bolstering Military Ties in Latin America and the Caribbean?," March 28 2022, https://www.thedialogue.org/analysis/why-is-china-bolstering-military-ties-in-latin-america-and-the-caribbean/.
[67]Ash, "China, the New Player in the Latin American Defense Market.".
[68]The Dialogue, "Why Is China Bolstering Military Ties in Latin America and the Caribbean?"
[69] Evan Ellis, "Chinese Engagement in Latin America in the Context of Strategic Competition with the United States" (congressional testimony, US-China Economic and Security Review Commission, June 24, 2020), https://www.uscc.gov/sites/default/files/2020-06/Ellis_Testimony.pdf.
[70]Gabriel Marcella, "China's Military Activity in Latin America," Americas Quarterly, January 20, 2012, https://www.americasquarterly.org/fulltextarticle/chinas-military-activity-in-latin-america/.
[71]Brian Fonseca and Leland Lazarus, "China Is Exploiting a U.S. Police Void in Latin America," Foreign Policy, April 27, 2023, https://foreignpolicy.com/2023/04/27/cities-summit-americas-united-states-china-police-safe-city-bri/.
[72]Gaspar Pisanu, Verónica Arroyo and Ángela Alarcón, "Surveillance Tech in Latin America," August 2021, https://www.accessnow.org/wp-content/uploads/2021/08/Surveillance-Tech-Latam-Report.pdf; Fonseca and Lazarus, "China Is Exploiting a U.S. Police Void in Latin America."
[73]The company is known for producing equipment for civilian and military purposes. For more information, see Bethany Allen-Ebrahimian and Zach Dorfman "Defense Department Produces List of Chinese Military-Linked Companies," Axios, June 24, 2020, https://www.axios.com/2020/06/24/defense-department-chinese-military-linked-companies.
[74]Sergey Sukhankin, "Chinese PSCs in Sub-Saharan Africa: The Cases of Francophone and Lusophone Africa," The Jamestown Foundation, Guardians of the Belt and Road, June 6, 2023, https://jamestown.org/program/chinese-pscs-in-sub-saharan-africa-the-cases-of-francophone-and-lusophone-africa/#_ednref89.
[75]Sergey Sukhankin, "The Role of PSCs in Securing Chinese Interests in Central Asia: The Current Situation and Future Prospects," The Jamestown Foundation, Guardians of the Belt and Road, February 22, 2023, https://jamestown.org/program/the-role-of-pscs-in-securing-chinese-interests-in-central-asia-the-current-situation-and-future-prospects/.
[76]Jonathan E. Hillman and Maesea McCalpin, "Watching Huawei's 'Safe Cities,'" Center for Strategic and International Studies, November 4, 2019, https://www.csis.org/analysis/watching-huaweis-safe-cities.
[77]Jordan Link, "The Expanding International Reach of China's Police," American Progress, October 17, 2022, https://www.americanprogress.org/article/the-expanding-international-reach-of-chinas-police/.
[78]"Patrol and Persuade Patrol and Persuade," December 2022, https://safeguarddefenders.com/sites/default/files/pdf/Patrol%20and%20Persuade%20v2.pdf.
[79]R. Evan Ellis, "What China's Global Security Initiative Tells Us About Its Strategic Engagement with Latin America," The Diplomat, April 4, 2023, https://thediplomat.com/2023/04/what-chinas-global-security-initiative-tells-us-about-its-strategic-engagement-with-latin-america/.
[80]Sergey Sukhankin, "Chinese PSCs in South Asia: The Case of Pakistan," The Jamestown Foundation, Guardians of the Belt and Road, July 14, 2023, https://jamestown.org/program/chinese-pscs-in-south-asia-the-case-of-pakistan/.
[81]"Company Profile" (公司简介), accessed June 16, 2023, http://www.dujiebaoan.com/gywm/gsjj/.
[82]"Group Introduction" (集团介绍), accessed June 15, 2023, http://www.cosg-ss.com.cn/jtjs/jtjj/.
[83]Cecilia Degl'Innocenti, ""Mercenarios chinos", la estrategia de seguridad de una empresa de ese país en Argentina," November 19, 2021, https://www.perfil.com/noticias/actualidad/empresa-de-mercenarios-que-hay-detras-de-la-estrategia-de-seguridad-china-en-argentina.phtml.
[84]"Overseas Security" (海外安保), accessed June 18, 2023, https://www.cpitsh.org/cpitshgw/api/getColumnPage?columnId=bd02c7a10b36475c9514fc2a9b92d710
[85]"Panama Overseas Protection" (巴拿马海外保护_国际保镖_海外安保_海外护航), accessed June 3, 2023, http://www.kdlyw.com/banama/haiwaibaobiao/121.html.
[86]"Chinese Security Company in Uruguay," May 24, 2023, https://www.1baobiao.com/news/22168.html.
[87]"Venezuelan Chinese Bodyguard Company," June 6, 2023, https://www.1baobiao.com/news/36778.html.
[88]"About us" (关于我们), November 12, 2016, http://www.intscomt.com/index.php/Details/index/article/100.html.
[89]"Dedicated to Supporting the Umbrella of Overseas Chinese – Feng Chengkang" (一心为华人华侨撑起保护伞–冯成康), October 31, 2019, http://www.hkhqhr.org/content/?2836.html.
[90]"China Security Technology Group Signed a Long-Term Security Service Contract With a Peruvian Company," accessed June 19, 2023 (中国安保技术集团与秘鲁公司签署长期安保服务合同), http://www.cstghk.com/enterprises/2092.html
[91]"Disputes Arise From the Change of Overseas Chinese Groups in the United States: The Building of Harmonious Overseas Chinese Communities Is of Great Importance" (美国侨团换届起纷争 和谐侨社建设至关重要), January 5, 2018, https://www.chinaqw.com/hqhr/2018/01-05/174360.shtml.
[92]"Public Security Cases Are Frequent, How to Ensure the Safety of Overseas Chinese?" (治安案件频发,海外华侨华人安全怎么保障?), August 6, 2021, https://baijiahao.baidu.com/s?id=1707341878510132545
[93]Statista, "Ranking of the Most Dangerous Countries in the World in 2023, by Murder Rate," June 7, 2023, https://www.statista.com/statistics/262963/ranking-the-20-countries-with-the-most-murders-per-100-000-inhabitants/.
[94]"Chinese-Latin American Relations Increase Mafia Presence," March 1, 2019, https://dialogo-americas.com/articles/chinese-latin-american-relations-increase-mafia-presence/.
[95]"Police to Ramp Up Security Measures for Chinese Community in Jamaica," August 27, 2013, https://jamaica-gleaner.com/power/47538.