Iran Losing Out to Turkey in Central Asia, Frustrating Tehran
Publication: Eurasia Daily Monitor Volume: 20 Issue: 144
By: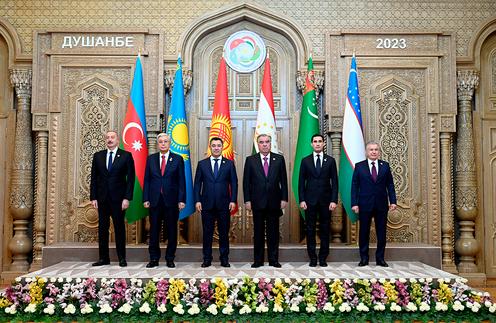 Iran has traditionally faced an uphill battle in its struggle with Turkey for influence in Central Asia. But for most of the past three decades, Tehran has successfully exploited two factors in this fight. On the one hand, the Islamic Republic has relied on its ties with Tajikistan, a country whose population speaks a language mutually intelligible with Persian even though its people follow Sunni Islam rather than the Shia interpretation favored by Iran. This distinction did not matter as much when it first appeared, as the Soviet Union's anti-religious policies left the Tajiks less certain of this difference. Relations between Dushanbe and Tehran have not always been easy, but they have generally been better than those between Iran and the other countries of the region (see EDM, July 10, 2019; April 14, 2021; April 15, 2021).
On the other hand, Iran has capitalized on divisions among the Turkic countries of Central Asia. Until recently, Turkmenistan had consistently pursued an isolationist policy of strict neutrality, and the other Turkic republics of the region were divided by controversies over borders, water and other issues. Now, Ashgabat is taking steps to end its isolation, and the other Central Asian states are pursuing enhanced cooperation on more issues than ever before. These recent developments have transformed regional posturing, and Tehran is now forced to deal with these new realities (Window on Eurasia, January 16; Nezavisimaya gazeta, May 11).
This transformation has come together in recent weeks to highlight that Iran's position in Tajikistan is far less secure than it has been in the past. Furthermore, Ankara is increasingly wielding more direct regional influence as well as indirect influence through expanded Azerbaijani activity in the region. As a result, Tehran's hopes for expanding its influence across the region have suffered a major defeat. The key event in this trend was the summit of the leaders of the five Central Asian countries in Dushanbe on September 14. Since 2018, four such meetings of this kind have taken place; however, this one was marked by increased openness to cooperation and the attendance of Azerbaijani President Ilham Aliyev as "an honored guest." Thus, this particular summit reflected more Turkic characteristics than any in the past, even though the meeting took place in non-Turkic Tajikistan. Regional observers suggest that this demonstrated Dushanbe is increasingly acting as a fellow Central Asian state, rather than a Persian-speaking, Sunni country (T.me/aqorda_resmi; Fergana.agency, September 14; Dialog.tj, September 16).
Azerbaijan plays a key role in helping Turkey expand its regional influence. Pro-Moscow commentators on Tajikistan's "Jumhuriyet" Telegram channel pointedly suggested that Azerbaijan's presence was part of "a long-running attempt by Turkey to undermine the authority of Iran in Central Asia" (Eurasia Today, September 15). According to the authors, "Direct influence of Ankara on Dushanbe will be viewed by Iran as an act of aggression by Turkey, and, therefore, to avoid that, the Turkish government has placed a bed in Azerbaijan." Ankara is confident that Baku will be able to "distance Dushanbe from Teheran now" and, "over the longer term, destroy those close ties which connect the Iranian and Tajik peoples." The current ties between Tehran and Dushanbe even include military-to-military relations, something important to Dushanbe because of instability near the Afghan border (see EDM, July 10, 2019; April 14, 2021; April 15, 2021).
Nevertheless, Azerbaijan's relations with Tajikistan are "much closer than they might appear." Stronger bilateral relations have become possible thanks in large part to Baku's assertive foreign policy in Central Asia since its victory in the Second Karabakh War (September 27–November 10, 2020)  (see EDM, January 27, 2021; May 11, 18).
Commentators in Moscow and Tehran have long suggested that Azerbaijan's, and hence Turkey's, growing role in Central Asia will likely trigger conflicts between Baku and Ankara, on the one hand, and Moscow and Tehran, on the other (see EDM, February 18, 2021). Given how tied down Russia is in Ukraine, the Kremlin is unlikely to respond immediately; but Tehran might, especially if it concludes that, unless it acts quickly, it will be surrounded by an arc of states that could threaten its security. It is possible that Iran will even try to find a way to expand cooperation with Beijing in opposing the expansion of Turkish and Azerbaijani influence in the region. However, China's primary interest in Central Asia as a key node for critical transit routes makes such cooperation less likely than it might appear.
Iran and Russia are certain to be alarmed by these developments. This is especially the case in the lead-up to the summit of Central Asian leaders that the United States is planning to host on the sidelines of the United Nations General Assembly on September 18 and 19. After that meeting, Iranian and Russian commentators will almost certainly put what happened in Dushanbe in the context of the rising tide of East-West tensions, rather than as a purely regional issue. Such interpretations will likely be overstated, but they may guide official Iranian and Russian policies. Washington would welcome a decline in Iranian and Russian influence in Central Asia. The meeting in New York will underscore the importance of Tajikistan's shift in policy vis-à-vis the four Turkic countries of Central Asia, away from Iran and toward closer links with Azerbaijan, Turkey and the West (Nezavisimaya gazeta; Aif.ru,  September 18).
In Soviet times, most observers in Moscow and the West spoke of this region as "Central Asia and Kazakhstan." This turn of phrase called attention to the fact that Kazakhstan had a far larger ethnic Russian population than any of the other countries in the region. In the past three decades, as the percentage of ethnic Russians in Kazakhstan has fallen, these commentators, with increasing frequency, have referred to the region as Central Asia. However, they invariably stress the difference between the four Turkic republics—Kazakhstan, Kyrgyzstan, Turkmenistan and Uzbekistan—and Persian-speaking Tajikistan. Now, in considering the geopolitics of the region, it may be time to stop devoting so much attention to that distinction; it is becoming far less important, while ties among the countries in the region and their links to Azerbaijan and Turkey are becoming far more consequential.