Jamestown Analyst Alexandros Petersen Killed in Taliban Attack
By: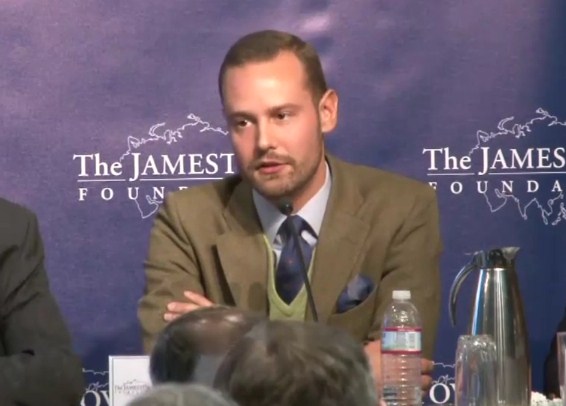 The Jamestown Foundation is deeply saddened by the sudden and tragic death of Dr. Alexandros Petersen in a bomb blast that occurred last weekend in Kabul, Afghanistan. Alexandros had recently moved to Afghanistan to take up a new position as a professor at American University in Kabul. He had worked at various think tanks in Washington, D.C., and was widely respected and admired.
A prolific writer and traveler to an area of the world he referred to as part of the World Island—in reference to the geopolitical theory of Sir Halford Mackinder—Alexandros found time to write regularly for Jamestown, and to speak at our energy conferences on the geopolitics of the South Caucasus and Central Asia. We remain grateful for his collegiality as well as his generosity with his time and insights, which contributed to Jamestown's research and analysis on Eurasia. In many ways, Alexandros typified Jamestown's ideals, combining regional expertise with on-the-ground knowledge based upon his travels to areas of the world that often go ignored in the mainstream media.
Alexandros was deeply interested in the geopolitics of the Caucasus and Central Asia, which he wrote about in his book The World Island: Eurasian Geopolitics and the Fate of the West. He had a deep fondness for Central Asia, and was in the process of finishing his latest manuscript on China and Central Asia with his fellow co-author Rafaello Pantucci.
Below please find a copy of Alexandros' bio and a list of articles that he wrote for The Jamestown Foundation.
Glen E. Howard
President
The Jamestown Foundation
Bio
Alexandros Petersen was a Senior Fellow for Eurasia and Fellow for Transatlantic Energy Security at the Atlantic Council, a Visiting Fellow with the Russia and Eurasia Program at the Center for Strategic and International Studies (CSIS), and provided research for the National Petroleum Council's Geopolitics and Policy Task Group.
Dr. Petersen regularly provided analysis to publications such as The Economist, New York Times, Wall Street Journal, Foreign Affairs, Foreign Policy, National Interest and The Atlantic. He appeared on the BBC, Sky News, CTV and NPR, and taught classes on energy geopolitics at the U.S. Foreign Service Institute, the U.S. National War College and the American University of Central Asia, amongst many others. He received a B.A. in War Studies with First Class Honors from King's College London and an M.Sc. and Ph.D. in International Relations from the London School of Economics.
Articles by Alexandros Petersen:
Click here to read more about Alexandros Petersen at The Washington Post