John Kerry's Unwelcome Message in Ukraine
Publication: Eurasia Daily Monitor Volume: 13 Issue: 123
By: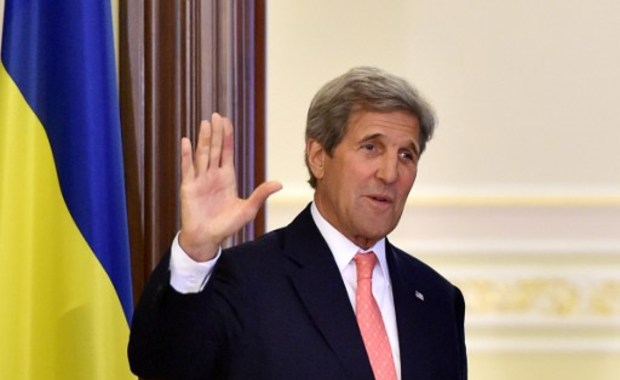 US Secretary of State John Kerry and Assistant Secretary Victoria Nuland held talks with President Petro Poroshenko and other Ukrainian officials, in Kyiv on July 7. At the joint news conference, Kerry urged Ukraine to help jump-start the implementation of the Minsk armistice through unilateral steps, in "the days ahead," "the next days," as he repeatedly put it (State.gov, July 7).
The Barack Obama administration does not set the impossible goal to "resolve the conflict," but rather to agree with Russia on some framework document or roadmap, before the imminent expiry of this administration's term in office. Such a document would chart the further course of negotiations, bequeathing these to the next administration. And those further negotiations would be irreparably compromised if they proceed from "elections" in Ukraine's Russian-occupied territory. It is no secret in Washington or Brussels that—as Chatham House's James Sherr has summed it up—"Quietly but summarily, the administration of President Obama has informed Kyiv that it wants to see elections in Donbas before Obama leaves office" (Carnegieeurope.eu, June 15).
At his news conference in Kyiv, Secretary Kerry relayed Russian President Vladimir Putin's message to President Barack Obama in their telephone conversation held the preceding day (July 6). In Kerry's rendering, Putin offers hope for a win-win-solution, equitably to all sides involved: "Putin indicated that he does have a desire to try to see this process move forward, as does President Obama. And so we are hopeful that in the days ahead, we will translate those expressions of hope and the words in the telephone call into real actions." Further, "It is necessary to find a path forward that unites the interests of the parties in a way that is fair and sensible, and provides assurance to both sides—to all sides, because there's more than one, or two—that the requirements of Minsk are met, in a way that gives everybody an assurance that their needs are going to be satisfied. Now, how does that work?" (State.gov, July 6).
That works through unilateral, pre-emptive Ukrainian concessions, according to Kerry: a special status for "Donbas" (euphemism for the Russian-controlled territory), an amnesty, and a special law for elections to be held in that territory. Kerry omitted to say that the special status would necessitate amending Ukraine's constitution, and that the amnesty would apply to crimes committed by pro-Russia armed rebels. He must know that these are explosive political issues in Kyiv and that overt pressures on Poroshenko to deliver could destabilize him, split the parliamentary majority and risk toppling the government. The pressures have resumed since June (see accompanying article) behind the scenes. The onus of responsibility weighs on Ukraine, as Kerry implied: "We pledge to work very closely with President Poroshenko to make sure that his government and Ukraine is doing all in its power to live up to its responsibilities."
According to Kerry, those Ukrainian concessions would demonstrate "good faith," enabling the Obama administration to convince Russia to respect the ceasefire and allow the Organization for Security and Cooperation in Europe's (OSCE) monitors unhindered access throughout Donbas, including the border. That done, elections could then be held in Donetsk-Luhansk. And, following such elections, the "foreign" (sic) forces should withdraw and Ukraine should "ultimately" regain control of its side of the border. If that does not happen, the economic sanctions on Russia would remain in place, Kerry assured his Ukrainian hosts.
Washington, however, cannot guarantee the maintenance of European sanctions, the consensus on which is eroding in Europe. And if Ukraine legalizes the two "people's republics" but Russia does not withdraw its forces and does not allow Ukraine to regain control of the border (the Minsk armistice does not obligate Russia to do either), then Ukraine's legalization of Donetsk-Luhansk would be irreversible, and Ukraine would experience another Budapest Memorandum–like deception (see EDM, March 10, 2014).
In contrast with Kerry, President Poroshenko at the news conference made no mention of "elections," "special [or any] status" for Donbas, or amnesty for the rebels' crimes (Ukrinform, UNIAN, July 7). Ukraine is trying to resist these demands, which Russia can no longer impose on Ukraine, but the West might yet. For his part, Kerry made no mention of Ukraine's insistent calls for an armed OSCE police mission to be deployed in Donetsk-Luhansk (see EDM, May 27). The United States and West Europeans do not support Ukraine on that issue either. These discrepancies between Kerry's and Poroshenko's remarks at the news conference reveal in part their differences in the private talks before their joint appearance.
The Obama-Putin July 6 telephone call dealt primarily with Syria (on which a "concerned" Obama asked Putin to take steps that Putin was not taking) and secondarily with the Karabakh conflict (on which Putin briefed Obama on his, Putin's, mediation between the Azerbaijani and Armenian presidents—see EDM, July 7). Both communiques listed the topic of Ukraine in third place. Obama asked Putin to de-escalate the fighting and "stressed the urgent importance of moving forward with the full implementation of the Minsk agreements." "Urgent," as the Obama administration is in a hurry, while the Kremlin is not (or is good at not showing it). For his part, Putin urged a direct dialogue between Kyiv and Donetsk-Luhansk, along with Kyiv's enactment of an "amnesty, special status for the Donetsk-Luhansk 'republics,' and a jointly drafted law for local elections [in Donetsk-Luhansk] (Interfax, Whitehouse.gov, July 6). Kerry relayed publicly the last three items on July 7, in Kyiv.