US Diplomacy, Ukraine Diverge on the Minsk 'Agreement'
Publication: Eurasia Daily Monitor Volume: 13 Issue: 123
By: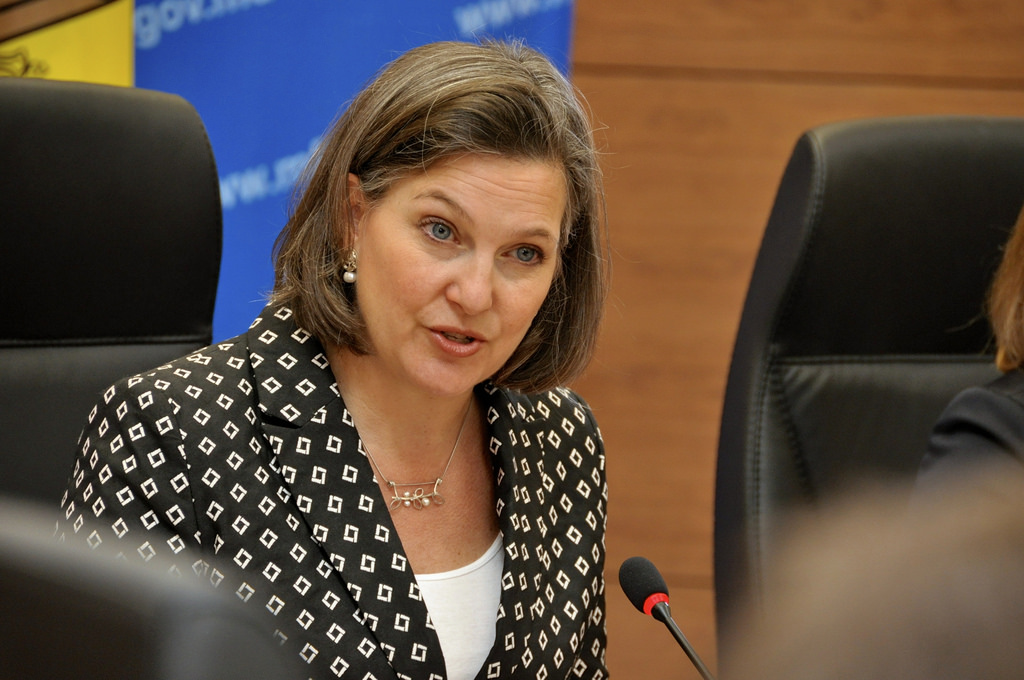 US Secretary of State John Kerry's public message in Kyiv on July 7 (see accompanying article) reaffirms, broadly, the talking points that Assistant Secretary Victoria Nuland had been delivering in Kyiv since May 2015 (see EDM, May 26). It was at that point that Kerry and Nuland initiated non-transparent bilateral discussions with Moscow about Ukraine. Soon, Nuland took charge and descended periodically on Kyiv, urging compliance with Ukraine's political "obligations" under the Minsk "agreement." Kerry and Nuland's joint visit on July 7, however, has added urgency and even impatience to Kerry's tone, reflecting the Barack Obama administration's rush to show results before the November presidential election in the United States.
By the logic and sequence of steps proposed, Ukraine would make pre-emptive, irreversible sacrifices of sovereignty, without any assurance that Russian forces would withdraw or that the two armed "people's republics" would abdicate. Almost certainly they would not. The West may help Russia enforce those political provisions on Ukraine, but the same Western powers cannot help Ukraine enforce those military provisions on Russia.
Ukrainian Foreign Affairs Minister Pavlo Klimkin reaffirmed Ukraine's position, contradicting that of Kerry and Nuland, one day before their arrival. Ukraine, Klimkin stated, would only grant opportunities for local self-government to a "Ukrainian Donbas" (i.e., when legitimate Ukrainian authorities return); and it would hold elections there only after Russian forces withdraw and Ukraine regains control of the Ukraine-Russia border in that territory. Without those prerequisites, Klimkin stated, any elections would "legitimize the authorities that were installed in power by Russia's military intervention," and any special status would "cement the situation in Donbas as a Russian protectorate" (Ukrinform, UNIAN, July 6).
President Petro Poroshenko and the Ukrainian government have moved toward that position in recent months (after considerable hesitation) and are holding to it tenaciously by now. Obama administration officials and many in Western Europe are pressing for Donbas "elections" and "status" first, and withdrawal of (unnamed) Russian forces perhaps hopefully later, which is how the Kremlin framed the Minsk armistice.
Coincidentally or not, on the day of Kerry and Nuland's arrival, the Kyiv Municipal Council "in an urgent procedure" appealed to President Poroshenko and the Verkhovna Rada (Ukrainian parliament) not to approve constitutional amendments with a special status for the Russian-controlled territory. Moreover, "no elections may be held under occupation […] until Ukraine restores its control in this territory and along the border." Special status and elections "are the demands of Russia, aiming to legalize its presence, and turn the occupants into local state officials and local administrations." The text was adopted by a large majority across party lines—a sign that the special status and special election law could well be voted down in the Verkhovna Rada, if submitted there (Ukraiynska Pravda, July 7).
For Nuland, this visit was the latest in her shuttle diplomacy between Moscow and Kyiv. (According to State Department spokesman John Kirby, Secretary Kerry is "fixated on Syria"—State.gov, June 30). Two White House officials (rather than State Department officials) flanked Nuland on her recent trips to Kyiv and to Moscow, June 22–24. According to the US embassy in Moscow, Nuland receives her instructions directly from the White House. Similarly, the Kremlin (rather than the Foreign Affairs Ministry) is handling these negotiations through President Vladimir Putin's top adviser, Vladislav Surkov (see EDM, July 6).
In Kyiv, on June 22, Nuland held pre-scheduled meetings with the Verkhovna Rada's chairman, Andriy Parubiy, and Foreign Minister Klimkin. Unusually, Poroshenko merely "dropped in," unscheduled, into that Nuland-Parubiy meeting, although Poroshenko used to personally meet with Nuland on her previous visits. Nor did Nuland meet with representatives of the parliamentary groups on this visit. In her earlier visits, Ukrainian deputies felt that Nuland was promoting the administration's views on Donbas elections and special status too imperatively. At present, chairman Parubiy is working out a parliamentary procedure to separate the Donbas special status from the pending constitutional amendment on decentralization in order to submit the latter without the former, and so potentially delay consideration of the special status (Ukrinform, UNIAN, June 28, July 4).
In Moscow, on June 24, Nuland and Surkov held their third known meeting since January. Nothing has been disclosed publicly about these meetings thus far. According to a US embassy press release, the "discussions were very detailed, thorough and constructive" (Interfax, June 24)—wording similar to the Kremlin's short announcement about the Surkov-Nuland meeting in May (see EDM, May 26). In the US embassy's version, they focused on military issues, namely: complete ceasefire, pullback of heavy weaponry and troops from the demarcation line (i.e., within Ukrainian territory), full access by the Organization for Security and Cooperation in Europe's (OSCE) monitoring mission, "as well as follow-up steps to implement the Minsk agreements." The first three items listed alluded to the first articles of the Minsk armistice; whereas the "follow-up steps" alluded to Donetsk-Luhansk elections and special status, in line with the same armistice. Kremlin consultant Aleksey Chesnakov, a specialist on Ukraine who works with Surkov, confirmed that the "special status" was discussed (Interfax, June 24).
According to US diplomats involved in these negotiations, the bilateral channel with the Kremlin does not undercut the "Normandy" forum (Russia, Germany, France, Ukraine), but supports that negotiating format. This demurral is a standard diplomatic civility. The two efforts may converge in substance—the "Minsk agreement" is their common dogma, and Moscow is trying to manipulate each—but the two efforts are competing in terms of process and the ambitions involved.
In Kyiv, on July 7, Secretary Kerry and President Poroshenko announced that a special meeting of US, German, French, British and Italian leaders would discuss "speeding up the Minsk process" during the North Atlantic Treaty Organization's (NATO) summit on July 9 in Warsaw. Bringing Italy into an already problematic Normandy format adds a Russia-friendly, sanctions-fatigued government. Such a meeting bears no relation to the NATO summit's agenda. It only shows the Obama administration to be in a hurry, therefore susceptible to a poor deal, and risking to compromise on Ukraine's interests in this process.