Kremlin's Geopolitical Fears Divide Finno-Ugric Peoples
Publication: Eurasia Daily Monitor Volume: 18 Issue: 100
By: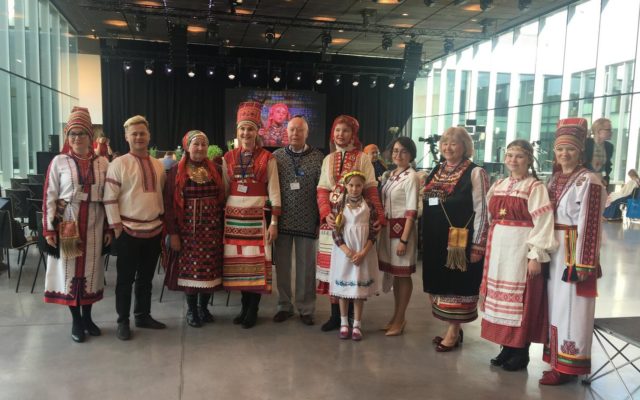 The eighth meeting of the World Congress of Finno-Ugric Peoples took place in Tartu, Estonia, on June 16–18. These congresses, which are held in a different city every four years, are also political summits, usually attended by presidents of the world's three Finno-Ugric-majority countries—Finland, Estonia and Hungary—as well as the Russian Federation, which includes five Finno-Ugric national republics (Karelia, Komi, Udmurtia, Mari El and Mordovia) and a titular Finno-Ugric autonomous district (the Khanty-Mansi Autonomous Okrug–Yugra). Speakers of the Finno-Ugric language family are collectively the third most populous group in Russia after speakers of Slavic and Turkic languages.
In 2019, during her visit to Moscow, Estonian President Kersti Kaljulaid invited Vladimir Putin to the next Finno-Ugric congress in Tartu (Estonian World, October 16, 2019). This event was then planned for 2020 but, due to the COVID-19 pandemic, was postponed to 2021.
Putin's response to the invitation was not publicly announced for two years. The answer came suddenly and with unexpected harshness in April 2021, when the Association of Finno-Ugric Peoples of Russia declared its refusal to take part in the Congress. Moreover, the group questioned the need to hold any more such world congresses in the future (Afunrf.ru, April 24).
It should be noted that this "Association" is not a real peoples' movement but a state-supported bureaucratic structure. Its chairperson is Petr Tultayev, a member of the ruling United Russia party, appointed as mayor of Saransk, the capital of the Republic of Mordovia. (City mayors are not directly elected in Russia.) Ethnically, he is a representative of the Finno-Ugric people of Moksha; but politically, he is an ardent supporter of President Putin's policies, on whose advisory board he sits.
In their statement, Russia's "official Finno-Ugrians" accused Finland, Estonia and Hungary of seeking to "patronize and control" the Finno-Ugric movement, and called the world congresses themselves "an instrument of interference in the internal affairs of the Russian Federation." In short, the Kremlin is trying to break the direct trans-border communication of kindred peoples to make these nationalities dependent on the geopolitical interests of Moscow.
Natalya Antonova, a delegate to this year's World Congress of Finno-Ugric Peoples from the Republic of Karelia and a longtime participant of the Karelian ethno-cultural movement, sought to refute accusations that the European Finno-Ugric peoples are striving to take a "commanding" position. "In our international movement, no one orders or instructs anyone but supports and shares the accumulated experience," she said in a recent interview (Stolicaonego.ru, May 31).
As the interview with Antonova made clear, the Association of Finno-Ugric Peoples of Russia's official statement against the world congresses had not been agreed with the peoples themselves. Their representatives in Russia were simply "informed" after the fact. Antonova claimed she only learned of it after reading the proclamation on the internet (Stolicaonego.ru, May 31). This is a typical practice of Kremlin officials. It is also highly characteristic that these officials, while on the one hand accusing the European Finno-Ugric movements of striving to "command" their Russian counterparts, are themselves ordering that the activists from various Finno-Ugric republics of Russia not participate in the Tartu Congress.
Nevertheless, Antonova declared that she and her Karelian colleagues planned to take an active part in the work of the Congress, albeit in an online format, which the organizers also envisioned, given the remaining difficulties with border crossing. At the Congress, their objective was to report that many Finno-Ugric languages ​​in Russia are actually on the verge of extinction. UNESCO experts confirm this fact: reportedly, all Finno-Ugric languages ​​in Russia are under threat to varying degrees—from "definitely" to "critically" (Unesco.org, 2010).
In fact, the extinction of Finno-Ugric languages in the country is hastened by deliberate Kremlin policies to this effect. And protests against this situation sometimes take the most tragic form—such as the act of self-immolation of the Udmurt scientist Albert Razin in 2019 (Region.Expert, September 20, 2019).
In the Constitution of the Russian Federation, all national republics, including the Finno-Ugric ones, are referred to as "states." But this definition should be put in quotation marks—just like the word "Federation." These "states" ​inside Russia cannot enact any local laws that would genuinely protect their political, economic or cultural rights. And those who insist on such a risky step are accused of "extremism" and "separatism"—a criminal offense since 2014 (see Commentaries, April 4, 2017).
The current Kremlin struggle against internal "foreign agents" (see EDM, May 28, 2015, December 2, 2020, February 4, 2021) turns Russia's Finno-Ugric movements into victims of that crackdown. These movements are transboundary in nature, and they cannot simply be inward-looking, as officials from the Association of Finno-Ugric Peoples of Russia suggest to them. In addition, due to their organic international ties, they are much less susceptible to anti-Western propaganda, which has flooded almost all of Russian media.
But the growing psychological antagonism toward the West (see EDM, May 26) is forcing Putin to confront the international networked nature of the Finno-Ugric peoples. They cannot be controlled by the Kremlin's "vertical of power." And the neo-imperial ideology of the "Russian World" ("Russkiy Mir") does not affect them either. The Russian authorities' demonstrative refusal to participate in the World Congress is, thus, likely based on conspiratorial suspicions that independent Finno-Ugric movements work for a "geopolitical enemy."
The majority of the Finno-Ugric movements in Russia have long stayed loyal to the Kremlin: they have largely avoided raising any political issues, limiting themselves to ethno-cultural matters. But Moscow's current aggressive behavior toward them, including the attempt to isolate Russian Finno-Ugrians from their foreign kindred peoples, may end up changing and radicalizing their views.
Thirteen years ago, the speech of then-president of Estonia, Toomas Hendrik Ilves, at the fifth World Congress of Finno-Ugric Peoples (Khanty-Mansiysk, 2008) sounded downright "scandalous" to the Russian participants. But in essence, he was prophetically right: "We made a choice in favor of freedom and democracy. Many Finno-Ugric peoples have yet to make such a choice" (Rossiyskaya Gazeta, June 30, 2008).