Lukashenka Miscalculates International Response to Ryanair Intercept
Publication: Eurasia Daily Monitor Volume: 18 Issue: 85
By: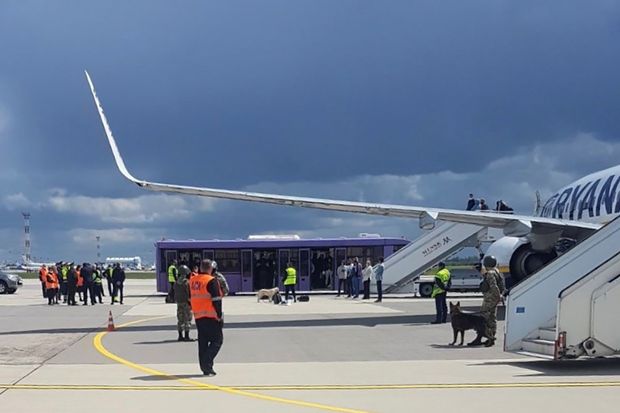 A couple of decades ago, Belarusian President Alyaksandr Lukashenka was branded in Brussels as "Europe's last dictator." At that time, Russia's strongman, President Vladimir Putin, was cultivating a close partnership with his United States counterpart, George W. Bush, and publicly talked about cooperating with the North Atlantic Treaty Organization (NATO) or possibly even joining "if conditions are right"—which then seemingly disqualified him from the "dictator" label (Kommersant, March 7, 2000).
Lukashenka has been ruling Belarus with an iron fist since 1994 but has mostly managed to avoid serious Western punitive sanctions. Belarus is Russia's closest ally as a member of the Russian-dominated Collective Security Treaty Organization (CSTO) and of the Eurasian Economic Union. Moreover, Belarus and Russia form a so-called Union State—a confederation initially intended to transform into a federation with a common head of state, legislature, flag, coat of arms, anthem, constitution, armed forces, citizenship and currency. The union treaty with Russia was signed before Putin took over. Eventually, the border between Russia and Belarus opened to the free flow of goods and people, but no genuine integration beyond that happened. Lukashenka talks about integration often; but de facto, he steadfastly resists all Russian attempts to move forward and absorb his nation. Lukashenka has maintained a "multi-vector" independent foreign policy, keeping a neutral stance in the Russo-Ukrainian conflict and refusing to recognize the Russian annexation of Crimea in 2014. Under Lukashenka, Minsk also notably never recognized the self-determination of South Ossetia and Abkhazia—breakaway statelets Russia helped carve out of Georgia after the August 2008 war—much to Moscow's frustration (see EDM, February 6, 2020).
Lukashenka's demonstrative independence—for instance, meeting publicly in Minsk with think tankers from the United States, whom Russia may have branded "undesirables," or his constant quarrels with Moscow—have gained him some favor in the West. In February 2020, then–US Secretary of State Michael Pompeo came to the Belarusian capital, met Lukashenka and promised to restore full diplomatic relations despite the regime's still poor human rights record (see EDM, February 6, 2020). Later, that August, Lukashenka apparently manipulated his reelection for a sixth consecutive term. Massive street protests and political strikes erupted in response, which Belarusian law enforcement ruthlessly suppressed. The West protested and refused to recognize Lukashenka's reelection as legitimate. Instead, Svetlana Tikhanovskaya, who ended up running as the joint opposition candidate, was (somewhat questionably—see EDM, September 22, 2020) recognized as the proper victor. Europe and the US imposed additional sanctions, but they were symbolic, aimed at regime officials not including Lukashenka himself (Interfax, September 17, 2020).
It seems Lukashenka figured he could more or less act with impunity as long as he continued to maintain at least a superficial semblance of independence from Putin. The West might punish him with another slap on the wrist; but the Kremlin would surely sustain economic, financial, political, logistic and military support to Lukashenka out of the fear that, without such Russian backing, the strongman might fall and Minsk might be taken over by pro-Western political forces that would allow NATO to eventually move its tanks up to Smolensk. Still, on May 23, 2021, Lukashenka probably overplayed his hand by forcing a nonstop Ryanair flight, en route from Athens, Greece, to Vilnius, Lithuania, to make an emergency landing in Minsk. The special operation allowed the Belarusian authorities to arrest an exiled opponent traveling onboard, Roman Protasevich, the former editor and founder of an opposition blog and social media channel, and his girlfriend, Russian citizen Sofia Sapega (see EDM, May 24). The Ryanair jet was overflying Belarus territory when Minsk air traffic controllers ordered it to land, citing an apparently false bomb threat officially attributed to the Palestinian radical militant group Hamas. Belarusian KGB agents had evidently been shadowing Protasevich in Athens and could have been onboard the flight to Vilnius. According to the latest reports, the Minsk air traffic control ordered the Ryanair jet to land 24 minutes before the phony bomb threat message actually arrived in the Minsk International Airport's e-mail inbox. Hamas denied having sent any such bomb threat (Newsru.com, May 27).
After the Ryanair flight landed in Minsk, no bomb was found, and so the plane and most of its original passengers were eventually allowed to fly to Vilnius. Protasevich, whom Lukashenka publicly accused of being a "terrorist," and Sapega were both arrested. Several other passengers on the luckless Ryanair flight had disembarked in Minsk and never returned to complete their flight to Vilnius—most likely those were the KGB agents who had been shadowing the detained opposition journalist. Lukashenka announced Protasevich and Sapega "are talking" and that they would expose Western sinister plots (Kommersant, May 27).
The apparent Belarusian KGB black op to highjack the Ryanair jet and kidnap Protasevich infuriated the EU, which moved with (unprecedented for this cumbersome organization) speed and unity to punish Lukashenka. Brussels called on European airlines to avoid Belarusian airspace; and the national carrier, Belavia, has been curtailing flights and preparing to massively cut personnel. After some initial disarray, the Russian authorities began to cancel European (French and Austrian) flights to Moscow bypassing Belarus. This, in turn, could lead to European reprisal restrictions against Russia's own national airline, Aeroflot (Interfax, May 27). Talks continue in Brussels of a possible ban on exports of Belarusian potassium fertilizer and oil refinery products—the main money-making industries that keep the Lukashenka regime afloat. Further financial and trade sanctions may be pending. In response Lukashenka announced in parliament in Minsk, "We may slacken border controls and flood Europe with narcotics and illegal immigrants." He also talked about a possible "world war," if the West imposes sanctions instead of negotiating (Interfax, May 26; Kommersant, May 27). Such blackmail could only strengthen European resolve.
Lukashenka's strategic miscalculation may, at least in part (see EDM, May 25), be good for Moscow: It could entirely invalidate the Belarusian leader's traditional "multi-vector" strategy and finally place his country solidly under Moscow's total control. As the standoff with Europe escalated, Lukashenka once again insisted Russia and Belarus will remain independent though allied: "Russia must not want to include Belarus. It does not need such a headache" (Interfax, May 26). Neither the Belarusian opposition, nor Lukashenka's supporters want to integrate with Putin's Russia at all (see EDM, January 27, May 19). In turn, Putin looks ready to continue to support Lukashenka no matter the price; but this in no way guarantees he will inherit Belarus.