Moldova Keeps Out of Russia-Ukraine Fray (Part Two)
Publication: Eurasia Daily Monitor Volume: 19 Issue: 34
By: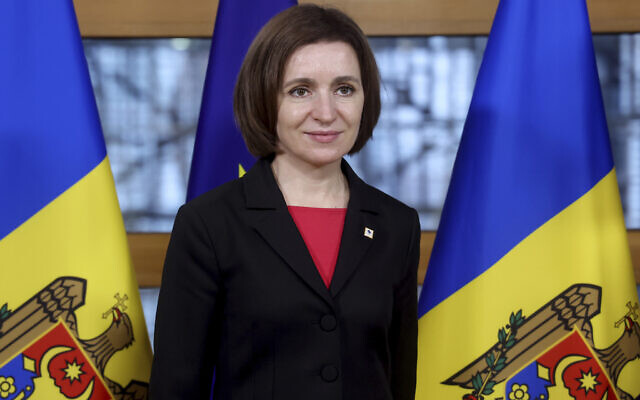 Moldova's leadership realistically views its country as the most fragile among all of Ukraine's neighbors from the standpoint of national cohesion, resilience, and economic resources. These domestic vulnerabilities compel the government to adopt, in effect, an attitude of hunkering down vis-à-vis Russia's war in Ukraine, out of tune and step with the leadership's commitment to its Western orientation (see Part One in EDM, March 10).
Given Moldova's stunted national identity, pro-Western parties must avoid the appearance of being "anti-Russian" in order to win and retain power and pursue the European course while ensuring domestic stability. President Maia Sandu and the Party of Action and Solidarity (PAS) won the presidential and parliamentary elections thanks to campaign strategies that refrained from geopolitical messaging, avoided any criticism of Russia, pledged to work constructively with Russia on bilateral economic relations in Moldova's interest, and de-prioritized as well as de-politicized the Transnistria conflict (see EDM, November 17, 2020 and July 13, 2021). Neither before nor since the outbreak of this war did Moldova's pro-Western leaders express disapproval of Russian President Vladimir Putin, the suppression of democracy in Russia, or Russia's international conduct. To abandon this caution would be to risk losing power in the next elections or even precipitate early elections.
Following Russia's all-out war in Ukraine, therefore, the Moldovan leadership quite understandably bends over backward to downplay its disapproval of Russia, keeping that sentiment largely to itself. The president and government try hard to avoid calling out Russia by name. Even when criticizing the "war in Ukraine," "military aggression against Ukraine," "violent actions against Ukraine," "use of force against Ukraine," the "attack on the Zaporizhzhia nuclear power plant," etc., they try to avoid mentioning Russia, preferring instead the impersonal, attribution-free mode. This form of self-censorship is undoubtedly reluctant and does not work every time, but it often does and produces some awkward moments when Western dignitaries visit Chisinau, e.g. during US Secretary of State Antony Blinken's visit (State.gov, March 6).
Moldova's Western partners well understand the domestic constraints weighing on the country's leadership. They do not expect Chisinau to openly criticize Russia nor to enact economic sanctions against Russia (see EDM, March 10). While Moldovan sanctions would scarcely affect Russia, Moldovan leaders expect most voters to hold President Sandu and the PAS government responsible for Russia's counter-measures and to unseat the pro-Western authorities at the next opportunity (see below).
The leadership, therefore, seeks to consolidate Moldovan society around two lowest-common-denominator objectives, phrased as: 1) "an end to the war, peace as soon as possible through dialogue and a diplomatic solution," and 2) providing Ukrainian refugees with a way station in Moldova en route to points West. A fragile and vulnerable Moldova can only position itself successfully on the side of virtue: peaceful intentions all around and humanitarian assistance to war refugees.
Moldova's pro-Russia opposition is not unhappy with the authorities' attitude. On the first day of the war (February 24), President Sandu hosted a discussion with the parliamentary and extra-parliamentary parties to establish a basis for political consensus and stability in society. That same day, most of the opposition's parliamentary deputies voted in favor of the PAS motion to declare a state of emergency for 60 days in Moldova. Based on that decision, Moldova banned Russia's Sputnik channel on February 25. The pro-Russia parliamentary opposition swallowed the ban without much ado.
The pro-Russia opposition's standard bearer, former president Igor Dodon—currently honorary chairperson of the Socialist Party as well as the head of a Russian-Moldovan business association—encourages the authorities to continue promoting a cross-party consensus, if only on a low basis. Dodon gives the authorities the benefit of the doubt and some slack: "The people expect clear guidance from the authorities, support from the state. I hope that guidance and support will be forthcoming." "Let us unite around the goal of peace. Let us help the authorities to do everything for it." "Let us go forward on common positions. If we do, there will be peace in Moldova." "I really hope that Moldova's authorities will not join the West's economic sanctions against Russia. Otherwise we would face a total economic and social collapse" (the authorities share this view) (Unimedia, February 24, 25, March 11; Noi.md, March 9).
Dodon, furthermore, expects that Moldova will continue adhering to its status of neutrality and "not allow the transit of military supplies to Ukraine. I am telling citizens not to worry. I have seen that the government and Madame President are saying that we are a neutral country and must remain as such" (Dodon.net, March 1).
Similarly, the Socialist Party's parliamentary caucus "appreciates the constructive dialogue that has been established between the opposition and the government. This dialogue has allowed us to avoid deep rifts and conflicts in society. We hail the authorities' refusal to enact economic sanctions against Russia. The government and the opposition have agreed—most importantly—to adhere to Moldova's constitutional neutrality" (Socialistii.md, March 3). "Let us close ranks irrespective of political views, ethnicity or language" (Unimedia, March 11).
Chisinau, however, acts in concert with its Western partners on the level of international organizations. On February 25, Moldova aligned itself with the European Union in the Organization for Security and Cooperation in Europe's (OSCE) special meeting of foreign ministers, where most countries condemned Russia's aggression in Ukraine. On that same date, Moldova supported the decision by the Council of Europe's Committee of Ministers "to suspend the Russian Federation from its rights of representation in the Committee of Ministers and in the Parliamentary Assembly with immediate effect, as a result of the Russian Federation's armed attack on Ukraine." The decision has not suspended Russia from membership as such (Coe.int, February 25).
On March 2, Moldova aligned itself with the European Union in co-sponsoring the United Nations General Assembly's resolution that "deplore[d] in the strongest terms the aggression of the Russian Federation against Ukraine, […] demand[ed] that the Russian Federation immediately cease its use of force against Ukraine," further "demand[ed] that the Russian Federation immediately, completely and unconditionally withdraw all of its military forces from the territory of Ukraine within its internationally recognized borders," "deplor[ed]" Russia's recognition of the Donetsk and Luhansk entities and "demand[ed] that the Russian Federation immediately and unconditionally reverse th[at] decision." Moldova became one of the 141 states (out of 193) voting in favor (News.un.org, March 2).
The Kremlin scarcely has time and attention available for Moldova at this stage. Nor does the Kremlin have reason for dissatisfaction with Moldova thus far. The attitude of Moldova's pro-Russia opposition indicates that it has been told by the Kremlin to not rock the Moldovan boat.