Moldova's Pro-Western Forces Achieve Landslide in Parliamentary Elections
Publication: Eurasia Daily Monitor Volume: 18 Issue: 111
By: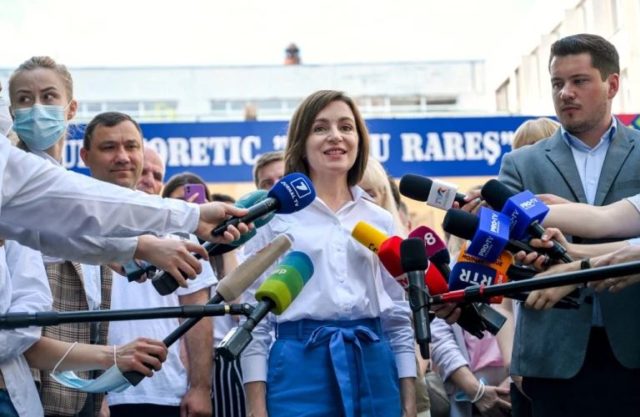 Moldova's pre-term parliamentary elections, on July 11, have produced an even more sweeping sea change than anticipated (see EDM, July 8, 9).
The Western-oriented opposition, concentrated in the Party of Action and Solidarity (PAS), surged to 53 percent of the votes cast. PAS has dethroned the leftist, Russia-oriented Electoral Bloc of Communists and Socialists (BECS), which won 27 percent. BECS's left-Russophile ally, the "Shor Party" of fugitive tycoon Ilan Shor, took 5.7 percent of the vote, barely clearing the 5 percent threshold.
Based on the proportional representation system, PAS gains an absolute majority of 63 seats in the 101-seat parliament (up from 15 seats in the outgoing parliament). BECS, led by former presidents Igor Dodon and Vladimir Voronin, ends up with 32 seats (including 22 Socialists and 10 Communists); and Shor's party receives 6 seats, including one for the fugitive Shor (RFE/RL, July 12).
The combined voter turnout (in-country and diaspora) was 48 percent, the lowest-ever in 30 years of Moldova's independence. Although this downward trend has been constant, the turnout this time was lower in "Russian-speaking" constituencies compared with other constituencies. Dodon and BECS used inflammatory anti-Western rhetoric to mobilize their core Russophile electorate, but this strategy proved ineffective and may have even backfired.
Conversely, Moldova's diaspora in Western countries, which accounts for approximately one quarter of the total ballots cast, maximized PAS's victory margin. The Western diaspora voted 86 percent for PAS and only 2.5 for BECS.
A mere 6,000 citizens of Moldova turned out to vote in Russia, although several hundred thousand work there (the actual number is unclear); and 17 polling stations were made available to them in Russia by Moldovan authorities (Alegeri.md, accessed July 13).
Moldovan authorities opened 41 polling stations in the government-controlled territory for Transnistrian residents to vote. Out of 256,000 Moldovan passport holders in Transnistria, however, only 30,000 crossed over and voted. Of that number, 62 percent voted for BECS, 14 percent for PAS and 6 percent for Shor's Party. Election observers from Russia, present in strength, were satisfied at least that Moldovan authorities did not in any way impede the Transnistrian voters (Sputnik.md, July 12).
Russia's authorities and those in Transnistria made no effort to mobilize voters in favor of BECS in these elections. Nor had they attempted to do so for Dodon during Moldova's November 2020 presidential election, when Maia Sandu defeated Dodon by 58 percent to 42 percent, thanks in large measure to high voter mobilization in the Western diaspora, contrasting with voter absenteeism in Russia and Transnistria (see EDM, November 17, 18, 2020). These are unmistakable signs that the Kremlin has been distancing itself from Dodon and his Socialist Party, or at least has left them to their own devices.
President Sandu, only seven months in that office, was the electoral locomotive for PAS in these parliamentary elections. The party is mainly her creation and it operates largely through image transfer from her to PAS.
The landslide has colored Moldova's electoral map mainly in yellow (PAS's color). This party won majorities or pluralities in 25 districts, out of Moldova's 32 districts. PAS also won (albeit with some help from gerrymandering) in the Socialist-administered city of Chisinau. PAS defeated Dodon's Socialist Party in the former president's native district and even in his native village. PAS has also won in the Orhei district, administered by Shor's organization.
BECS has been reduced to two enclaves in the north and the south, respectively. It won in six northern districts, all with ethnic-Moldovan majorities, three of which are home to numerically significant left-leaning Ukrainian minorities. BECS also won in the Russified city of Balti, dubbed Moldova's "northern capital," the second-largest city in government-controlled territory. BECS's southern enclave traditionally comprises the Gagauz autonomous territory and the Bulgarian-inhabited Taraclia district (although voter turnout declined in these units also).
Shor, an ally of former de facto Moldovan leader Vladimir Plahotniuc until both fled the country (for separate destinations), has been allied with Dodon in the outgoing parliament. Moldova's prosecutors have issued an international arrest warrant for Shor. But he will apparently be able to return safely after regaining his parliamentary seat and, with it, immunity from prosecution. Shor recently wrote on his Facebook page that he maintains some kind of a relationship with Plahotniuc: "Yes, I have said more than once that we communicate, and of course we are talking politics" (Noi.md, May 20).
Three significant political forces have been wiped out in these elections:
First, the Western-oriented Platform for Dignity and Truth, allied to PAS in the long struggle to topple the former ruler Vladimir Plahotniuc, this time scored only 2 percent of the votes cast and dropped out of the parliament. The party leader, Andrei Năstase, is a revolutionary personality who has not fulfilled expectations as a politician. PAS has now absorbed the Platform's electorate naturally.
Second, Plahotniuc's Democratic Party, currently led by former prime minister (2016–2019) Pavel Filip, has ended up with less than 2 percent of the ballots cast and dropped out of the national legislature. Filip had served Plahotniuc loyally (or at least unquestioningly) and took some time to start distancing himself from that legacy after Plahotniuc's flight in 2019.
Third, the leftist-Russophile "Bloc of Renato Usatii," with 4 percent of the votes cast, fell short of the 7 percent threshold for blocs. Usatii had hoped to participate in a post-election coalition government. He has posed security risks to Moldova ever since being parachuted into the country's politics from Russia in 2014. A political project of some Russian circles initially, Usatii went on to be coopted by Plahotniuc, gained access to law enforcement agencies' inside information, which he habitually leaked for political purposes, and spent some of his time in Russia. At present, however, he is wanted by Russian authorities on as yet unproven charges of financial malfeasance. Following these parliamentary elections Usatii resigned as mayor of Balti and as leader of his eponymous political bloc.
Two Romania-Unionist parties ran in these elections. They received only 0.49 percent and 0.45 percent, respectively, of the vote. Each of these parties is a Moldovan branch of a Bucharest-based party. Unprecedentedly for Moldova, the Romania-Unionist movement is split between a liberal pro-European Union party and a traditionalist-conservative EU-skeptical party. This split is one of the factors responsible for their combined 1 percent score. The actual Romania-Unionist sentiment, however, is much higher than this meager score would suggest. Most voters who share that sentiment rallied to PAS in these elections.