NATO Brussels Summit: Key Outcomes and Implications for Ukrainian Interests
Publication: Eurasia Daily Monitor Volume: 15 Issue: 107
By: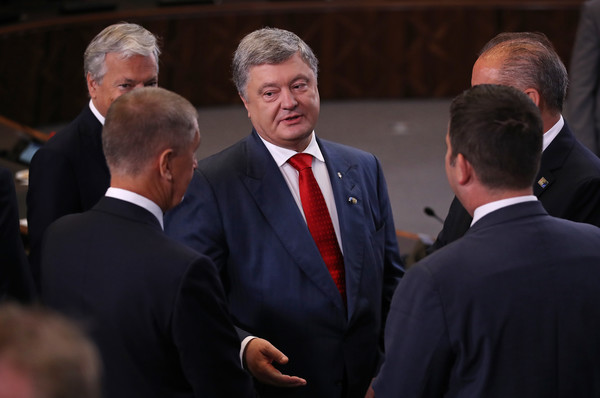 The Ukrainian issue was widely represented at the July 11–12 North Atlantic Treaty Organization (NATO) summit, held in Brussels. Notably, the final Summit Declaration (Nato.int, July 11) pointedly identified Russia's aggressive actions, both conventional military and "hybrid" (New Type), including Russian threats and examples of use of force to attain political goals. Moreover, in the document, NATO allies explicitly stated they did not recognize Russia's 2014 annexation of Crimea, called on Moscow to release Ukrainian prisoners, demanded that Russia implement its obligations under the Minsk ceasefire agreements, pushed Moscow to stop its discriminatory policies toward Crimean Tatars, and insisted that Russia withdraw its troops from Ukraine, Moldova and Georgia. Also important for Kyiv were the announced Alliance measures to adequately respond to hybrid activities and support Ukraine's and other partners' efforts to strengthen their own resilience against hybrid threats (Radio Svoboda, Glavcom, July 11). Finally, Kyiv welcomed NATO's measures to develop a so-called Tailored Forward Presence in the Black Sea region, particularly in the maritime domain, as well as the Alliance's readiness to develop cooperation with Ukraine on Black Sea security. Importantly, Ukraine currently faces intensifying Russian naval activity near and inside Ukrainian littoral waters (Nv.ua, June 25; see EDM, April 12, May 8, 22, 31, June 11, 28).
One of the key discussions in Brussels touched upon Nord Stream Two, Moscow's new pipeline project for delivering natural gas from Russia to Germany, along the Baltic seabed, bypassing Ukraine. United States President Donald Trump's forceful remarks repudiating this project were widely circled in the Ukrainian media (Hromadske, July 11; Eurointegration, ZIK, July 12; Segodnya.ua, July 13). The Ukrainian government as well as independent experts anticipate serious negative energy security outcomes not only for Ukraine, but for all of Europe if Nord Stream Two is allowed to launch (Epravda, April 13; Radio Svoboda, June 3). Nevertheless, the possible security impact on the Euro-Atlantic community of the implementation of this pipeline project was not reflected in the Summit Declaration.
"NATO is firm in its support for Ukraine's sovereignty and territorial integrity," the political-military bloc's Secretary General Jens Stoltenberg said during a joint press conference with Ukrainian President Petro Poroshenko (Kyiv Post, July 12). Whereas, President Poroshenko stressed, "The final NATO Summit Declaration contains a few very important points for Ukraine. First, Ukraine is tirelessly approaching membership in the Alliance. Second, the [2008] Bucharest Summit decision that the Alliance's door is open for Ukraine has been confirmed. Third is recognition of the significant progress in the reforms that were implemented in Ukraine. Fourth is that, for the first time, the official NATO documents note Russia's aggressive actions and contain the demand for the Russian Federation to stop this aggression and withdraw its troops and all mercenaries from Ukraine" (Hromadske Rradio, July 14). Several prominent Ukrainian experts assessed the general outcomes of the summit as successful for Ukraine, as well (Gazeta.ua, July 12; Espreso.TV, Glavcom.ua, July 13).
At the same time, it is not all blue skies when it comes to NATO-Ukraine relations at the moment. This year, for the first time, Ukraine and Georgia were addressed in two separate paragraphs of the Summit Declaration. The Allies noted Georgia's significant progress, realized since 2008, in "strengthen[ing] Georgia's defence and interoperability capabilities with the Alliance" and effectively promised to eventually grant a NATO Membership Action Plan (MAP) for this state. In light of Ukraine's restated aspirations to join NATO, paragraph 66 of the document similarly explicitly confirmed the Bucharest Summit decision on the future of Ukraine inside the Alliance (UNN, June 11). However, the Summit Declaration also asserted that Kyiv needed to do more: "The success of wide-ranging reforms, including combatting corruption and promoting an inclusive electoral process, based on democratic values, respect for human rights, minorities and the rule of law, will be crucial in laying the groundwork for a prosperous and peaceful Ukraine firmly anchored among European democracies committed to common values" (Nato.int, July 11).
Contrary to the Ministry of Foreign Affairs' expectations, Ukraine did not receive the Enhanced Opportunities Program at the Brussels Summit, which would have further augmented its integration process (UNIAN, July 11). Rather, Secretary General Stoltenberg argued that NATO already has many tools for developing its partnership with Ukraine, such as the NATO-Ukraine Commission, Annual National Programs, a comprehensive assistance package, trust funds, etc. Therefore, according to the NATO chief, the parties should focus on the aspects mentioned (Fakty ICTV, July 11).
The Alliance did express readiness to intensify activities under the NATO-Ukraine Platform on Countering Hybrid Warfare (UNN, June 11). This project was launched in 2016 (Eurointegration, June 22, 2016); but it exists without a clear organizational structure or working plan (Mil.gov.ua, November 23, 2017). Conversely, another NATO partner, Finland, together with 12 NATO and European Union countries, had earlier established the European Center of Excellence for Countering Hybrid Threats (Hromadske.ua, September 7, 2017; Hybridcoe.fi, accessed July 17, 2018).
Some Ukrainian experts have argued that Kyiv is not effectively using the North Atlantic Alliance's advisory support package for reforming the Ukrainian security and defense sectors (Ukrinform.ua, April 4, 2016; Day.kyiv.ua, November 30, 2017). It is also unclear exactly how Ukraine plans to meet key NATO standards determined in the Strategic Defense Bulletin of Ukraine—particularly those connected with Ukraine's maritime security. The US included two Island-class ships in its 2018 assistance plan for Ukraine's naval forces to help them urgently develop their "mosquito fleet" capabilities. But both ships continue to wait in the US for Kyiv to make its decision on their delivery to Odesa (5.ua, April 5; Radio Svoboda, May 22).
Regarding Ukraine's long-term goal to join NATO, Stoltenberg emphasized that now "the focus must be on reforms" (Kyiv Post, July 12). "NATO looks forward to further progress in Ukraine's efforts to overcome significant remaining challenges and ensure the full implementation and sustainability of ambitious but necessary reforms, which should be fully in line with Ukraine's international obligations and commitments," the Summit Declaration notes—a message Kyiv will need to take to heart if it expects to improve its membership prospects. Ukrainian security expert Alexander Polischuk, a former deputy military representative of Ukraine's mission to NATO (2004–2007), pointedly noted, Ukraine "says that it wants to join NATO for our own security; whereas the Georgian side declares that it shares Alliance values and is ready to protect them" (Focus.ua, July 12). Real commitments and obligations to protect liberal democratic values, not just NATO-Ukraine programs/projects/events/etc., are most important for forming a common security space—perhaps the most important lesson Kyiv should have learned from the Brussels Summit.