Newly Formed National Guard Cannot Dispel Putin's Multiple Insecurities
Publication: Eurasia Daily Monitor Volume: 13 Issue: 70
By: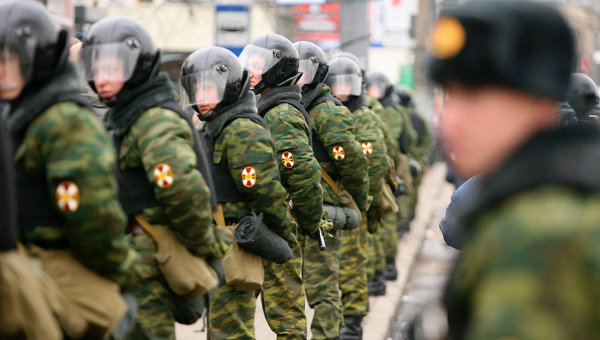 The recent release of the "Panama Papers," which revealed notorious cases of hidden money flows tied to the global elite, continues to cause a political stir across the world. But in Russia, this scandal was eclipsed by President Vladimir Putin's sudden reshuffling of the law enforcement structures. The main element of this bureaucratic coup was the creation of the National Guard on the basis of the Interior Troops. And while loose ideas on reorganizing this 200,000 strong "power structure" had been floating around the Kremlin corridors since the mid-1990s, there had been no discussion of the dubious rationale for such a shakeup since 2012, so Putin's decision came as his trademark surprise (Nezavisimaya Gazeta, April 7). Various special units (OMON and SOBR) from the Ministry of Interior were also incorporated into the planned National Guard, which thus becomes 400,000 strong (Rbc.ru, April 7). This sizeable army will be commanded by Victor Zolotov, who for many years was in charge of Putin's personal security (Gazeta.ru, April 6). No official explanation was provided for the need to form this new "federal executive body" (as Putin's decree defines it), leaving much space for speculation about the motivations for and timing of Putin's urge to take direct control over the "enforcers" of domestic security (see EDM, April 7).
The main loser in this reshuffle is obviously the interior ministry, which has lost the capacity to wield armed instruments of power—and much of the political influence coming from such muscle (Rbc.ru, April 5). In compensation, it was given control over the Federal Migration Service and the Federal Drug Control Service; but these mergers bring more headaches than benefits (Vedomosti, April 6). Both services are seriously under-resourced and show scant success in performing their tasks. The head of the latter service, Victor Ivanov, a veteran among Russia's security services personnel (siloviki), was tipped to become a deputy to Interior Minister Victor Kolokoltsev. But according to well-informed rumors, he was bluntly refused (Kommersant, April 7).
The emergence of the National Guard, with its privileged access to the Kremlin, is also a challenge to the Ministry of Defense, which certainly controls greater armed capabilities but has thus been given a clear message that in case of a domestic emergency, its tanks would be subordinated to "Pretorian" commanders. Defense Minister Sergei Shoigu gained much profile due to the swift deployment of "little green men" to Crimea, in March 2014, as well as the perfectly executed intervention in Syria. Therefore, public opinion awards him the highest degree of trust after Putin (Levada.ru, March 30). Shoigu is an experienced courtier and knows how to demonstrate loyalty, but Putin recognizes him to be his own man with quite a large entourage of devoted followers (particularly in the Ministry of Emergencies) and solid support in the officer corps. The aging commander-in-chief cannot afford another politician to develop an independent power base. So in part, the National Guard is supposed to counter-balance Shoigu's empowerment and to check his ambitions (Kasparov.ru, April 6).
Even deeper hidden is the message of Putin's dissatisfaction with the Federal Security Service (FSB), which used to be his most favored "power structure" and the main source of cadre for his administration. Former head of the FSB Nikolai Patrushev is the secretary of the Security Council, which sets the agenda for foreign and domestic policies, and he is not known to be Zolotov's friend (New Times, April 4). The FSB has many hidden channels for monitoring and controlling the interior ministry, but the National Guard will be outside such supervision (Rbc.ru, April 8). The FSB was the lead agency in the struggle against terrorism, and its director, Alexander Bortnikov, still heads the National Anti-Terrorist Committee, but Zolotov's Guard has received its own mandate to operate against terrorist networks (Rbc.ru, April 5). Bureaucratic competition is certain to be aggravated by personal animosities; and, indeed, leaks about the Zolotov family's conspicuous lifestyle started immediately after the announcement of his promotion (Navalny.com, April 8).
One particular twist in the complex intrigue around the newly born National Guard involves the long-simmering conflict between the FSB and Chechnya's maverick master, Ramzan Kadyrov. The investigation of the murder of Boris Nemtsov, on February 27, 2015, uncovered trail leading to Chechnya. But Kadyrov has resolutely refused to cooperate, relying not only on his personal access to Putin but also on a particular connection with Zolotov (Svoboda.org, April 9). Putin made it clear to the FSB that Kadyrov was "off limits" and now has ruled that all the para-military Kadyrovtsy gangs are to formally come under Zolotov's control (Novaya Gazeta, April 9). This is hardly going to make them any more disciplined or inclined to take orders from the Kremlin, but it does now make Putin responsible for any future crimes they might commit. And so, as young liberal opposition leader Ilya Yashin argues, Putin is increasingly becoming a hostage in his ties to Kadyrov (Moskovsky Komsomolets, March 25).
In the past several years, the Kadyrovtsy came in handy for Moscow in the war in Donbas and in the intervention in Syria. But their key role in the near future might be to suppress protest activities inside Russia (Novaya Gazeta, April 6). The National Guard has already started training for the forceful dispersal of street rallies (Moscow Echo, April 9). This is rather striking taking into consideration the fact that the legislative and normative acts for Zolotov's "army" have not even been prepared yet, even if the State Duma is ready to approve any paperwork delivered by the Kremlin (Slon.ru, April 7). The political elites have good reason to expect a rise in discontent caused by economic hardship. And the avalanche of evidence of shameless corruption at the top could turn meek appeals for attention into angry riots (Moskovsky Komsomolets, April 6).
The fear of revolution might appear irrational, but the Kremlin courtiers know how a desperate stance of a small group of liberals could suddenly bring tens of thousands of protesters into Moscow's streets. And the elites have no confidence in the opinion polls showing sky-high support for the supreme leader. Putin, meanwhile, apparently concerned about whether his order to use armed force against a new wave of protests would be followed, has placed his most trusted deputy in the position of power to execute such a command. This has aggrieved many other lieutenants, whose loyalty is a function of access to power convertible into cash flows. By upsetting this balance of power at the top, Putin likely also upset the balance of his fears; and the specter of a palace coup has grown scarier.