The OSCE in Agony (Part Three)
Publication: Eurasia Daily Monitor Volume: 19 Issue: 184
By: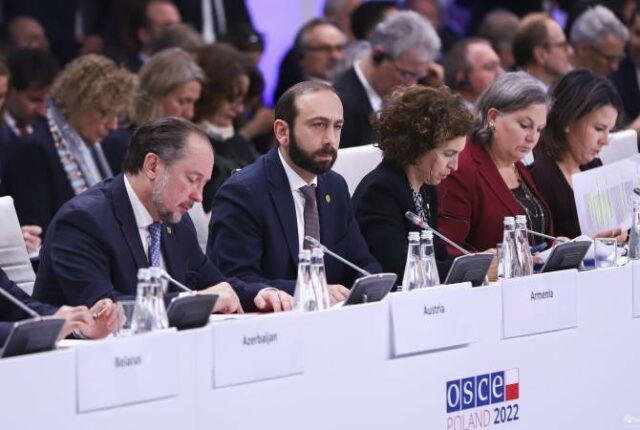 The Organization for Security and Co-operation in Europe (OSCE) has lost relevance and even access to the conflict-resolution process between Armenia and Azerbaijan over Karabakh.
The OSCE had, in 1994, mandated a haphazardly formed group of countries (labeled, until its 2020 demise, the "Minsk Group," though Belarus played no role) to mediate a political resolution of the Armenian-Azerbaijani conflict. The Minsk Group's triple co-chairmanship, made up of Russia, the United States and France, operated on the group's behalf, reporting pro forma to the OSCE. This basically meant accepting Armenia's approach to conflict resolution, which Yerevan had, in turn, adapted from the Russian "frozen-conflict" methodology. In essence, Armenian forces would, at some future time, withdraw from most (far from all) of the territories they had seized in Azerbaijan, on the condition, however, that the Armenian-populated Upper Karabakh region would receive guaranteed "special status."
Moscow had already (1993) introduced the special territorial status as a precondition to resolving the Transnistria conflict in Moldova (see Part Four); and it went on (2014) to use that instrument against Ukraine in Donbas. Whether in Karabakh, Transnistria or Donbas, the enclave would de facto become an armed state-within-the-state, the political-constitutional settlement would contain built-in ambiguities, Russia would arbitrate and exploit the disputes that would inevitably ensue between the local parties and the special status would ensure perpetual instability as well as the overall non-resolution of the conflicts.
Russian Foreign Minister Sergei Lavrov remarked on December 1, retrospectively, that Russia had become "the leading co-chairman" of the Minsk Group from 2010 onward (Russische-botschaft.ru, December 1).
Lavrov's matter-of-fact comment, prompted by this year's OSCE ministerial conference (see Parts One and Two), is accurate. The US co-chairmanship had conceded the leading role to Russia. The OSCE's mandate never envisaged any one co-chair's primacy; but neither did the OSCE object to Russia's unilateral, de-facto assumption of that role. In the run-up to the Second Karabakh War in 2020, Moscow completely bypassed the Minsk Group, working instead in bilateral channels with Baku and Yerevan, respectively. The Kremlin single-handedly brokered the November 10 armistice and follow-up negotiations for its implementation. The OSCE and the Minsk Group's US and French co-chairs found themselves out of the game and even out of the region in their capacity as OSCE-mandated representatives (see EDM, November 25, December 1, 3, 7, 2020; January 28, February 1, 2021).
The US is actively seeking to return to the process, not via the OSCE, but in its own national name, as a credible facilitator between Baku and Yerevan. It has taken Washington more than one year to make this move in its own name rather than via the defunct Minsk Group. Following Russia's annexation of Ukrainian territories, it would be untenable for US diplomats to descend on the South Caucasus arm-in-arm with Russian diplomats for conflict-settlement purposes.
For its part, France has adopted a vehement pro-Yerevan rhetoric incompatible with a mediator's role. This fact also precludes any reconstitution of the Minsk Group. Yerevan, however, seems oblivious to this contradiction as it pursues both French support and a resurrection of the Minsk Group's co-chairmanship simultaneously. Paris had for 28 years refused to yield its co-chairmanship to the European Union. At present, however, the EU is involved in facilitating a dialogue between Baku and Yerevan in the EU's own name.
Speaking at the OSCE's ministerial meeting, Armenian Foreign Minister Ararat Mirzoian insisted on the Minsk Group co-chairs' return to the process and region (Armenpress, December 1). Azerbaijani Foreign Minister Jeyhun Bayramov, ignoring that format or any special territorial status, offered instead the integration of Armenians in Karabakh into "Azerbaijan's political, social and economic space as citizens of Azerbaijan" through dialogue between Baku and the Armenian residents of Karabakh (Mfa.gov.az, December 1). The Minsk Group co-chairs issued joint statements at last year's OSCE ministerial meeting for the last time and do not seem to have met since (Osce.org, December 4, 7, 2021).
Following Azerbaijan's 2020 military victory, the conflict in Karabakh can be deemed resolved in the sense that: war hostilities have ceased (apart from border incidents); Yerevan accepts Azerbaijan's and the international mediators' (including Russia's) endorsement of Azerbaijan's territorial integrity and sovereignty over its entire territory; Yerevan also seems to accept Baku's and the mediators' view that relations between Baku and the Armenian residents of Karabakh are an internal matter for Azerbaijan, no longer a topic of inter-state negotiations.
Azerbaijani President Ilham Aliyev has repeatedly (and colorfully) referred to the "death" and "funeral" of the Minsk Group and its "special status" project, most recently in his remarks to a group of international visitors (Azertag, November 26). Azerbaijan's firmness had indirectly encouraged Ukraine to stonewall a "special status" for Donbas. In frustration, Moscow finally scuttled this project in Ukraine in February 2022 by annexing that territory directly to Russia. Moldova is the last remaining target of Russia's "special status" playbook.