Putin and Erdoğan Prepare for a Decisive Russo-Turkish Summit
Publication: Eurasia Daily Monitor Volume: 13 Issue: 137
By: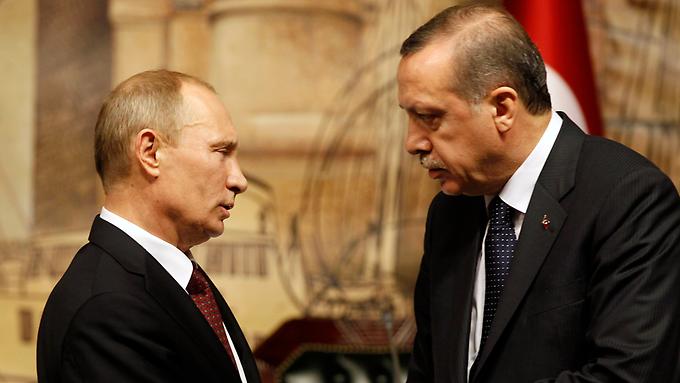 Turkish President Recep Tayyip Erdoğan will make his first foreign trip after the unsuccessful military coup to St. Petersburg to meet his Russian counterpart, Vladimir Putin, on August 9. In the aftermath of the July 15 coup attempt, thousands of Turkish soldiers, police officers, judges, prosecutors, journalists, and academicians have been either arrested or suspended, while relations with Europe and the United States have deteriorated. Turning to Russia seems like the only option open for Erdoğan.
The Russian-Turkish fray began after a Russian Su-24 bomber was shot down by a Turkish jet on November 24, 2015, on the Turkish-Syrian border. The Russian pilot was killed, a Russian marine perished, and an Mi-8 helicopter was downed during a subsequent search-and-rescue operation. Recent reports from Turkey claim the Su-24 was shot down by pilots loyal to US-based Islamic scholar Fethullah Gülen, who, according to Erdoğan, was the mastermind behind the failed coup. Former Turkish prime minister Ahmet Davutoğlu, a supporter of Erdoğan, has recently insisted he personally signed the rules of engagement that allowed the downing of the Su-24. Davutoğlu says he still stands by his decision to authorize the attack, which was a consequence of constant violations of Turkish airspace by Russian jets (RIA Novosti, July 28).
Moscow and Ankara previously enjoyed a close strategic partnership. Russian forces began a military operation in Syria to prop up the regime of Bashar al-Assad. Russia anticipated a partnership with Turkey and Israel and a measure of understanding from the US-led coalition against the Islamic State. But after the Russian Su-24 was shot down, Putin accused Turkey of treachery, of supporting terrorism, and of "stabbing us in the back" (Kremlin.ru, November 24, 2015). Putin refused to speak by phone or meet with Erdoğan for months after that. Punitive economic sanctions were imposed; the Kremlin demanded an apology, compensation for the Su-24, and punishment of those responsible (Interfax, November 26, 2015).
A month ago, Moscow and Ankara U-turned from confrontation to reconciliation (see EDM, July 7). On June 27, it was announced Erdoğan sent Putin a letter apparently apologizing for the loss of the Su-24. The apology was accepted, though some commentators interpreted the letter's sentiments as merely an expression of regret. Ankara made no immediate offer of compensation (Kommersant, June 28).
This week (July 26), Turkish Deputy Prime Minister Mehmet Şimşek and Economy Minister Nihat Zeybekci visited Moscow to prepare the groundwork for the August 9 summit. According to Şimşek: "We want to restore relations to the level from before November 24 [the downing of the Su-24] and then work to improve them further." Turkey appreciates Russia's support of its legitimate government during the failed coup as well as Putin's subsequent phone call to Erdoğan on July 16, continued Şimşek. The Turkish authorities will continue arrests "to wipe out the terrorist structures, the leader of which [Gülen] is in the US," he noted (Kommersant, July 27).
While in Moscow, Şimşek and Zeybekci discussed with their hosts the lifting of economic sanctions and the resumption of charter passenger flights to take Russian tourists to Turkish Mediterranean Sea resorts. Russia and Turkey expressed interest in resuming two major energy projects—the building of the "Turkish Stream" natural gas pipeline under the Black Sea and the Akkuyu Nuclear Power Plant in southern Turkey—which were effectively frozen last November. Both projects are, to a large extent, political in nature. Moscow is ready to invest billions to build a nuclear plant to dominate the Turkish energy market and to bypass the Ukrainian transit pipeline system by sending gas to Southeastern Europe through a hub in Turkey. Previously, Moscow wanted to build the "South Stream" pipeline under the Black Sea to Bulgaria to bypass Ukraine, but the European Commission's objections stopped the project. Gazprom has instead invested heavily in Turkish Stream—buying pipes in advance and building ground infrastructure—and is interested in resuming the project (Kommersant, July 27).
Of course, problems with Turkish Stream and the two countries' bitter natural gas pricing dispute began long before the Su-24 incident (see EDM, September 22, 2015). A number of Russian oligarch-connected companies have, in recent months, invested in domestic vegetable production to replace Turkish supplies, and there is resistance to lifting the trade embargo. Moreover, since November 24, the Russian state has been pouring out hate propaganda about Turkey, alleging Erdoğan is an enemy who sponsors the Islamic State. Today, the Russian public seems somewhat baffled by the sudden Orwellian change of Turkey from hated arch-nemesis back into a friend and partner. According to a recent poll, some 71 percent of Russians believe relations with Turkey must not be hastily restored until compensation for the Su-24 is paid and the culprits that shot it down are punished. Political decisions may be taken at the upcoming Putin-Erdoğan summit to overrule any other considerations, but the summit will also be dominated by hotly contested geopolitical considerations—Syria, al-Assad and Turkish support for his opponents, the Kurds, respective Russian and Turkish relations with the US, among others (Vedomosti, July 27).
Meanwhile, against the background of the Putin-Erdoğan summit, the situation in and around the besieged Syrian city of Aleppo—close to the Turkish border—is reaching a breaking point. On July 27, military commanders loyal to al-Assad demanded that opposition forces (whom they describe as terrorists) in Aleppo surrender or leave the besieged city. In Moscow, the fall of Aleppo is seen as leading to total victory by al-Assad in the Syrian civil war (Isvestia, July 27). Damascus's ultimatum has been backed up by Moscow. Defense Minster Sergei Shoigu has announced a "massive humanitarian operation in Aleppo, together with the Syrian government." Russian and Syrian forces besieging the rebel-held half of Aleppo will establish "safe corridors" for civilians and opposition fighters to leave the city. At the same time, al-Assad announced a limited amnesty for opposition fighters (Mil.ru, July 28).
Hundreds of thousands of civilians are apparently still in Aleppo along with an unspecified number of different opposition fighters, including those of the al-Nusra Front. A massive assault to retake the city may soon follow Russia's ultimatum demanding the surrender or retreat of opposition forces. The possible fall of Aleppo puts Erdoğan in a tight spot. According to Turkish Foreign Minister Mevlüt Çavuşoğlu, in St. Petersburg Putin and Erdoğan will discuss jointly fighting the Islamic State and al-Nusra "terrorists" (TASS, July 28). It seems everything will be on the table at the summit, and Erdoğan could be ready to reverse his previously established positions and possibly go along with Russia in Syria.