Upcoming Moldovan Presidential Vote May Spark Crisis Greater Than Belarusian One
Publication: Eurasia Daily Monitor Volume: 17 Issue: 131
By: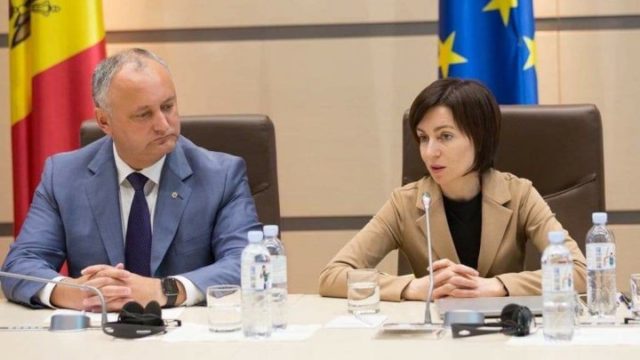 As serious as the post-election political turmoil in Belarus has been, the upcoming presidential election in Moldova could pose an even greater challenge to policymakers in both Europe and the United States. Some observers warn that the Moldovan election could lead to disputes about the outcome given widespread expectations of fraud by the incumbent president as well as spark mass protests in the streets by Moldovans who object to both his deals with Moscow and with corrupt groups in his own country. In turn, this unsettled atmosphere might encourage a new push by some Moldovans to unite their country with Romania, a North Atlantic Treaty Organization (NATO) member—quickly undermining the existing balance of power in the region and the larger geopolitical map of Central and Eastern Europe.
The first round of elections in Moldova will take place on November 1. About ten candidates are planning to run. None are expected to obtain an outright majority, thus requiring the two leading candidates—most likely to be incumbent President Igor Dodon and former prime minister Maia Sandu, the leader of the Party of Action and Solidarity (PAS)—to face each other in a runoff on November 15. Sandu has said that, in her view, Dodon, who heads the Socialist Party, can win only by engaging in massive falsifications. Her party has put up billboards in Chisinau declaring, "He thinks he can steal the election" (NG-Dipkuryer, September 20).
Given that the Moldovan electorate for most of the past three decades has been closely divided in its support of pro-Moscow politicians like Dodon and pro-Western politicians like Sandu, there is every likelihood that even the runoff between the two will be close, creating precisely the conditions for protests, even though Sandu is not the unchallenged leader of the opposition (see EDM, July 21, 23). According to Zurab Todua, a Chisinau-based political scientist, if Dodon claims victory, it is a virtual certainty that Sandu will call her supporters into the streets, thus repeating the pattern in Belarus recently and Ukraine in the past. But the situation in Moldova is different, and those unique aspects suggest that events there will develop in a wholly separate and potentially more explosive way (NG-Dipkuryer, September 20).
On the one hand, Todua argues in NG-Dipkuryer, Dodon cannot point to any of the kinds of socio-economic achievements the now-embattled Belarusian President Alyaksandr Lukashenka had for decades built his popular support on (see EDM, October 11, 2013, October 30, 2018, June 20, 2019); and Moldova's incumbent head of state has never been prepared to act decisively even to defend his own positions (see EDM, July 2, 2020). His republic's economy is in deep trouble, with GDP less than a third of what it was in 1991. And the coronavirus pandemic has hit Moldova hard (see EDM, July 15). Moreover, Dodon has been deeply mired in widely covered corruption scandals (Carnegie.ru, July 21). Additionally, he lacks the siloviki (security services personnel) that the Belarusian president has been able to count on. The Moldovan army numbers only 5,000, and the interior ministry forces, while perhaps more professional, are unlikely to be able to cope with massive protests if they occur. The Moldovan leader has placed his hopes on Moscow's support and willingness to help him present himself as the savior of the nation. But there is little indication the Kremlin is prepared to play the role he wants by changing its position on the contentious Transnistria issue (see EDM, February 18).
At the same time, Sandu and those on the pro-Western side currently are inspired by hopes they will either win the elections outright this time or be able to take power "with the help of the streets," Todua says. But even that does not exhaust the problems with the upcoming Moldovan election and its fallout. First, many in the country still believe that direct elections of the president—introduced by the Constitutional Court in 2016, at the insistence of corrupt oligarch Vladimir Plahotniuc in alliance with Dodon—rather than the selection of a president by the parliament, are fundamentally illegitimate. They thus view Dodon, the first Moldovan president elected under the new system, as illegitimate in much the same way Belarusians now view Lukashenka. (Plahotniuc was nominally excluded from Moldovan politics by a joint action of the United States and Russia a year ago; but he continues to loom behind Dodon from his new residence in Florida.)
Second, an increasing number of Moldovans, now as many as one in four, believe their country under Dodon has become "a failed state" and that the best way out is to unite it with Romania. They have been driven to this conclusion, Todua asserts, because none of the problems Moldova faces have been or are likely to be solved by Dodon. And perhaps most importantly, they believe that, unlike when some pushed for that outcome in the 1990s, there is more willingness by the international system to support a change in borders today. Yet, even if that judgment is correct, the unification of all or most of Moldova with Romania would send shockwaves through the nearby Balkans, potentially leading to the activation of territorial demands by other neighbors and certainly sparking concerns in Moscow about its power position in the region.
If that process begins or even threatens to ignite, the Chisinau political analyst argues, "neither Brussels, nor Washington, nor Moscow" will be able to stop it. Consequently, what is going on in a republic few devote much attention to may prove far more significant than events elsewhere that are now focusing their attention.